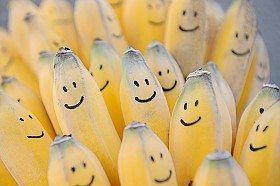 "Customers may forget what you said but they'll never forget how you made them feel." ~ Anon
Welcome to the first Happiness Report of 2013!
Each month we share how we are managing support here at Buffer, as well as take a look at how happy people are when using our product.
We walk through what worked well, what perhaps didn't work so well, as well as mention new things we're trying as we push to improve how we deliver support and happiness.
A look at our numbers in January
Digging straight into the data for January, here are some of our most important stats for the first month of the year.
Customers reached out to us with 3,375 new email conversations during January, an average of 142 new conversations each weekday.
Out of these 3,375 email conversations, these were our response times:
56% of all emails got a reply within one hour
a further 14% within 1-3 hours
9% waited more than one day
overall: 78% of people who emailed Buffer during January received a reply within 6 hours.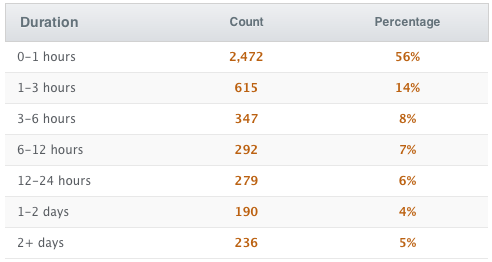 The average number of replies per conversation increased to 1.76, as we replied 4,425 times.
Month on month, the number of new email conversations we received dropped by around 600 – from 3,965 in December to 3,375 in January. Interestingly though, it seems our conversations in January were a little more, well… conversational.
Even with the number of new conversations lower than the month before, the number of replies we sent was higher – up 500 on December when we replied only 3,673 times.
Unfortunately a couple of pesky bugs proved pretty hard to reproduce in January, with a ton of back and forward emails between ourselves and our super patient customers adding to the number of replies, as we worked together to play detective!
Jumping across to Twitter, where we responded to just over 4,200 mentions, down 800 from December. Having relaunched both our web app and iPhone app last month, a little calm after the buzz was to be expected!
How are people feeling about our replies this month?
Through January we continued to add Hively smileys to the end of every email reply we sent, which allow us to measure if people are happy, satisfied or unhappy with both our support and product. This also allowed us to see how many times we managed to deliver a little bit of WOW!

Out of our 3,375 email conversations, 576 people decided to hit one of the 3 smiley options (happy, satisfied or unhappy) and here are the feedbacks we received:
97% were happy with our response
2% were satisfied
1% were unhappy
16 people were WOWed
The number of people who took an extra minute to give their feedback increased to 17%, up 5% on December, so it continues to let us know daily how we're doing.
Behind the scenes: routines and realizations
Early in January, with volumes riding high, we had the first of two brainstorms that would significantly impact support here at Buffer.
Me and Carolyn gathered in a Google Hangout with Joel and Leo to talk through our high volumes and also when we thought the time would be right to hire a third Happiness Hero.
Joel spoke more about our brainstorm and our realization to 'not to wait until it's too late' in his next SoundCloud clip, and the hunt for a hero began.
With Happiness Hero #3 now firmly in our sights, we continued to plough through a heavy inbox each day. Believing volumes would reduce once launch buzz had passed or we would be rescued by an extra pair of hands! An inbox of 50 emails suddenly felt light and manageable – crazy, but true!
For Joel and Leo (thankfully!) coping wasn't good enough. It wasn't good enough for our customers and it wasn't good for us as a team either.
During our second awesome brainstorm, which we affectionately call 'the intervention', we all agreed coping wasn't the solution. It was time to shake things up a little. Together, we sculpted new routines which we hoped would reduce volume in the inbox but also reduce our levels of 'inbox guilt' too.
Rather than diligently plodding away from dawn till dusk, we shaped our day to work without distraction for one full hour (a method we called 'beastmode').
At the end of each hour, we stepped out of the inbox to fully disengage. Grabbing the opportunity to work on our improvements – perhaps read a little, meditate or even exercise – before re-engaging for a second beastmode burst and so on.
Working less but with greater focus improved our productivity, allowed us to whip through the backlog and reach inbox zero for the first time in a long time. Boy, did that feel good.

As January came to a close, with FAQs live and the whole team now solidly munching their 5 veggies (replies) a day, we feel healthy, full of energy and in a good place for more awesome changes to come in February.
How are we looking to improve in February?
Big changes are coming to Buffer support in February and I couldn't be more excited to push things forward, here's our top two:
1. Happiness Hero #3
Our hunt for a third Happiness Hero led us to discover an awesome new person in Australia, who will be joining the team later this month. We're super excited to feel their impact inside the inbox as we cover more of the 24 hour day.
2. Happiness Engineer
In addition to our new Happiness Hero, we will also be joined in February by a Happiness Engineer. A unique mix of engineer (mostly working on metrics and internal tools with maybe the odd bug fix too!) as well as delivering happiness to all our awesome users.
Over to you
If you have any awesome ideas for how we could improve further, or any questions about our work so far, I'd love to hear your thoughts in the comments.