LinkedIn has a reputation for being a professional networking platform where users can learn about the latest industry trends. This is because, unlike other social channels, LinkedIn revolves around helping its members stand out and attract potential employers. But these days, I've found myself scrolling through LinkedIn more than ever before as it has grown from simply a job site into an active and thriving social platform. In fact, many people build their personal brands with the help of LinkedIn.
With their latest drop of features, the site has made it even easier to create a great profile and connect with like-minded individuals and organizations.
Here are LinkedIn's latest features that you can start using today as well as some of their upcoming releases.
LinkedIn's latest features for your personal profile
We'll go over LinkedIn's newest features with examples to help you get a sense of how to best use these new tools.
Creator Mode
Creator Mode is a relatively new feature launched in late 2022 that provides access to several new tools members can use as well as transforms the way a LinkedIn profile is displayed. With this setting turned on, LinkedIn claims a user can grow their reach and influence on the platform.
Once Creator Mode is enabled, the "connect" button converter to a "follow" button, meaning along with having connections, you will also be gaining followers. These profiles will also be eligible to get discovered by others as LinkedIn may feature you as a suggested creator.
Writer and marketer Anjali Oberoi's LinkedIn profile has the "Follow," button because she's enabled Creator Mode.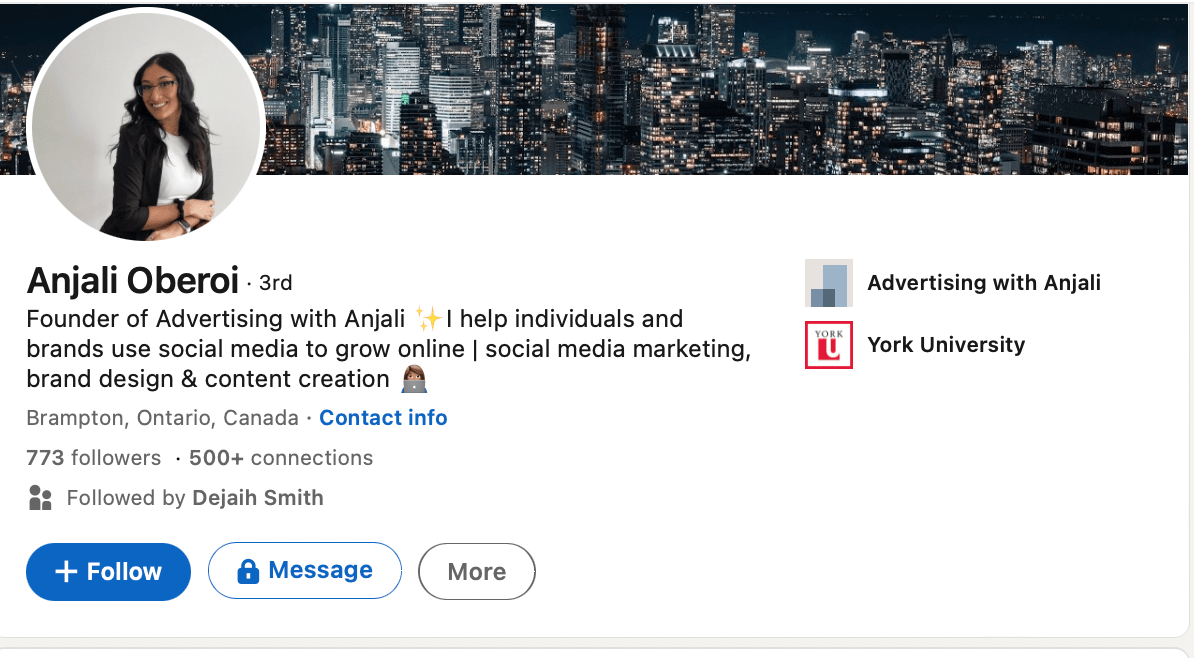 When a profile is in Creator Mode, the first block that will be displayed is the Featured section, rather than the About section. The Featured block showcases one's pinned posts as well as any work samples a creator chooses to highlight.
This section differs from the Activity section because while Activity simply showcases what you've been up to on the platform within the last 45 days in chronological order – including your likes, posts, and comments – you get to curate your Featured block to spotlight what's most important to you like specific posts.
Creator analytics
LinkedIn members who turn on Creator Mode benefit from accessing advanced analytics for their LinkedIn page. Rather than just viewing the basic LinkedIn analytics for your profile and posts, creator analytics gives you a deep dive into how your content is performing on the platform.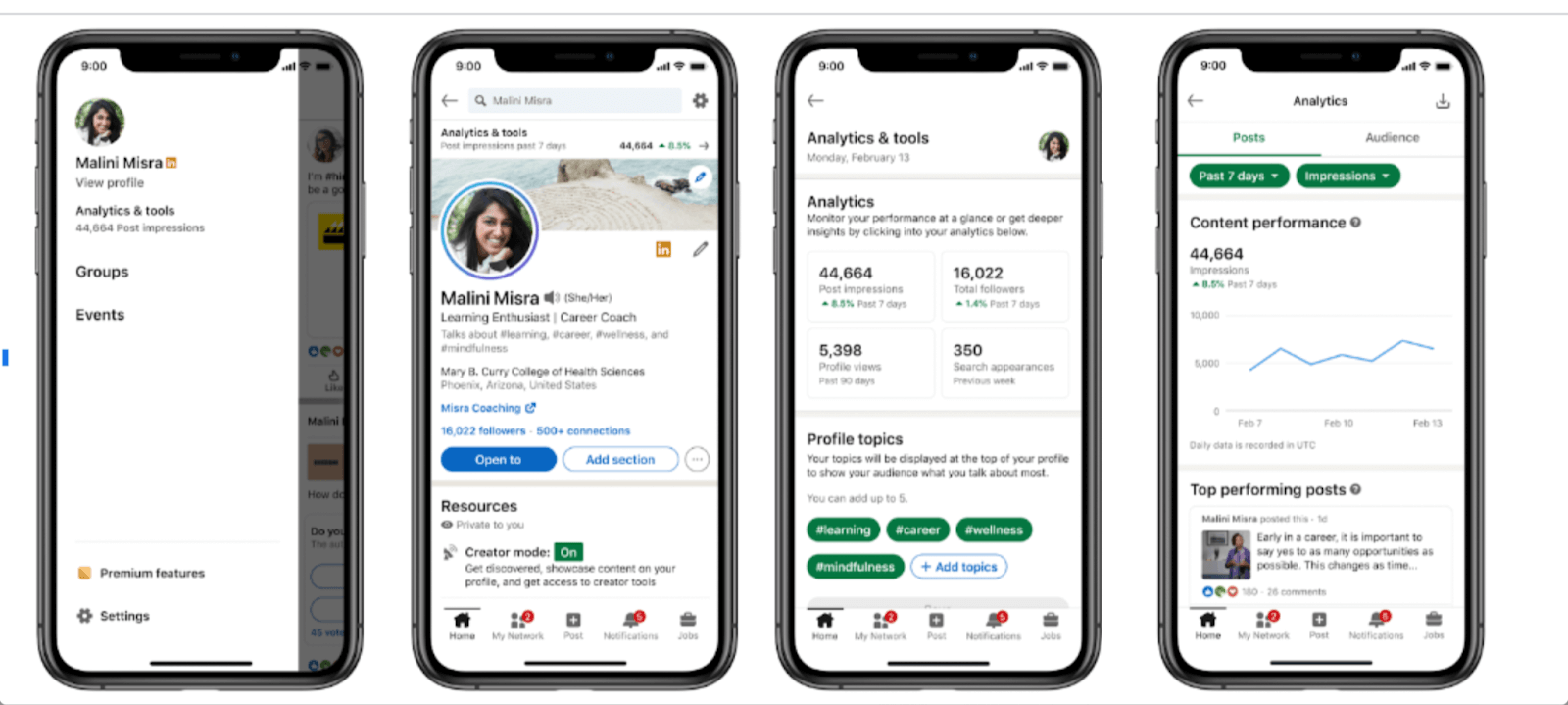 Call out: Check out our blog post on everything you need to know about LinkedIn Analytics.
Combined post analytics
The first set of analytics in Creator Mode is combined post analytics, which shows users how their content has performed over time.
Content performance: You'll be able to specify the date range here and see the number of impressions and engagements on all of your posts.
Top-performing posts: LinkedIn will show up to three of your top-performing posts.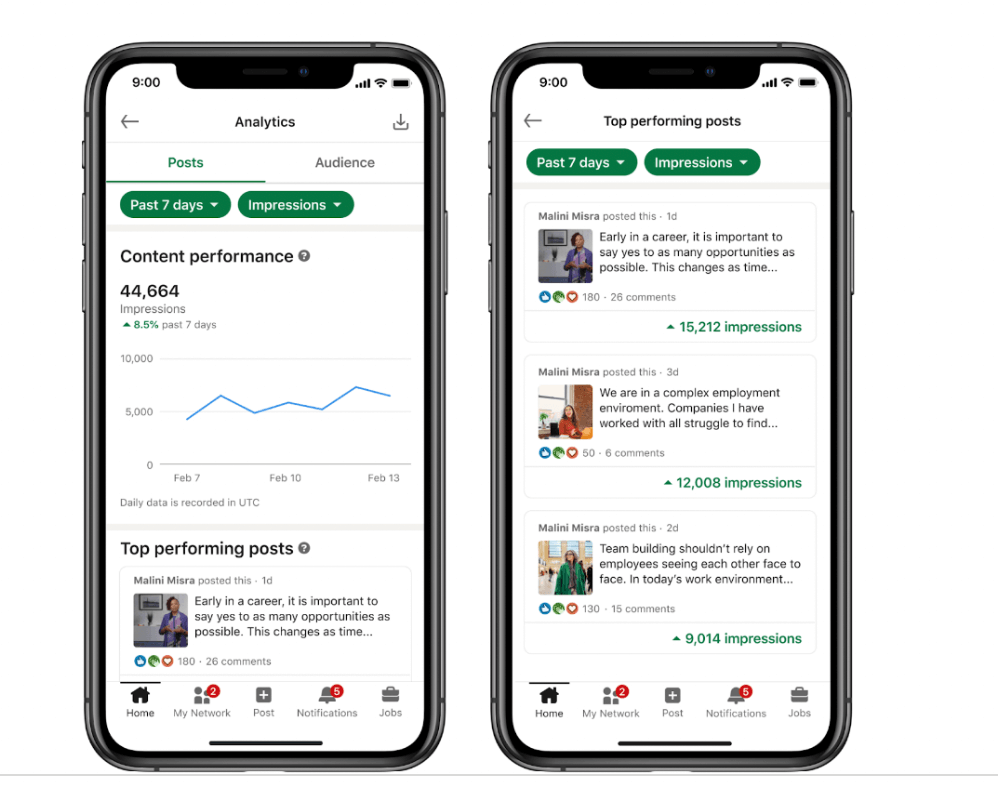 Audience analytics
With audience analytics, you'll be able to see detailed information about your followers on LinkedIn.
Follower Insights: This section will list out your total followers as well as display a graph showing the number of followers you've gained each day in a given time period.
Top Demographics: This section provides a detailed breakdown of your followers including their job titles, location, and industry.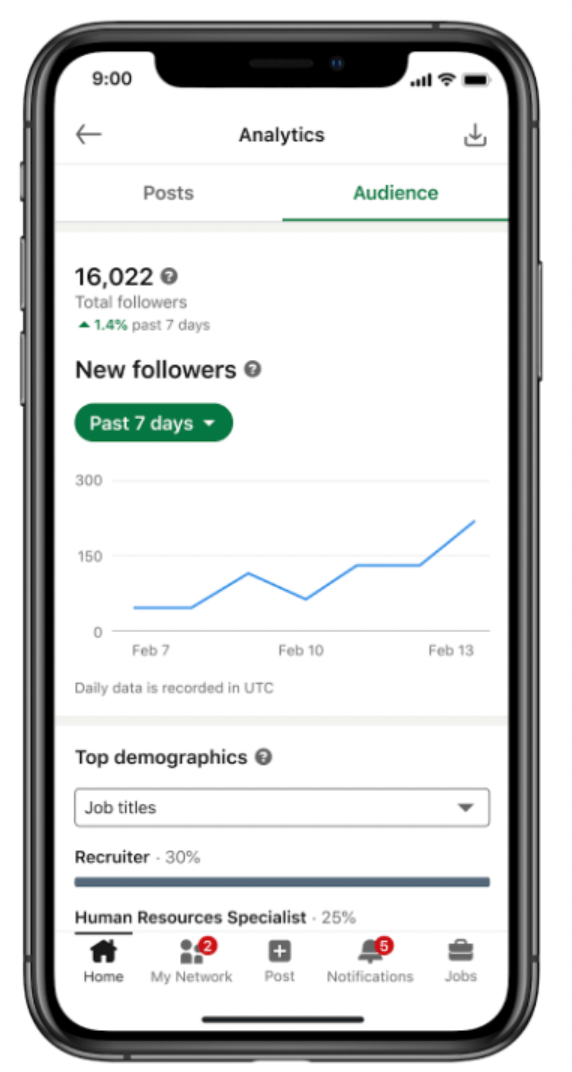 LinkedIn Live
Similar to going live onTikTok or Instagram, LinkedIn Live lets creators broadcast real-time to their profile. This is a great way to further deepen your connection with your LinkedIn community and have meaningful conversations that transcend the comments.
Minda Harts, an author and equity advocate, has created a weekly LinkedIn Live show called, Secure the Seat where she covers topics pertaining to equity, diversity, and leadership.
Newsletters
Certain creators are also allowed to start their own newsletters via Creator Mode. A LinkedIn Newsletter is defined as, "a set of regularly published articles on LinkedIn, typically about a specific topic." Your subscribers will get a notification every time you drop a new newsletter.
Note, in order to access this feature not only do you have to turn Creator Mode on, but you also need to qualify for the LinkedIn Newsletter Access Criteria.
Anjali publishes her LinkedIn Newsletter biweekly and it revolves around social media news and her experience as a freelance writer.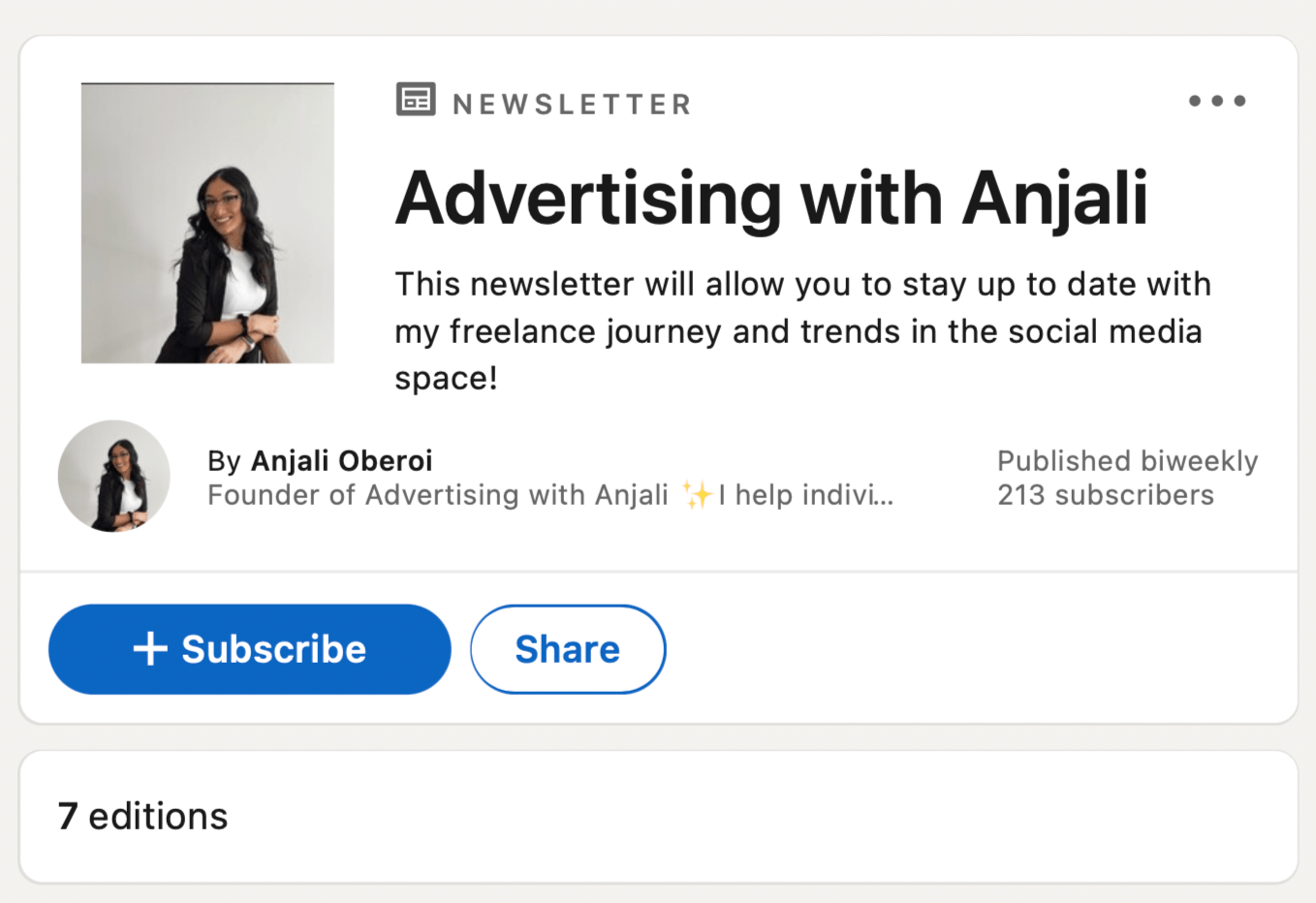 While not everyone can create a newsletter on LinkedIn, the social media site has made it possible for all members to view what newsletters their connections are subscribed to as a way to facilitate the discovery of newsletters on the platform.
If you'd like to turn on creator mode to access these benefits, follow these steps:
Click the Me icon at the top of your LinkedIn Homepage
Click View Profile
Scroll until you find "Resources," and clock on "Creator mode: Off."
A creator mode box will pop up on your screen. Click next.
Follow the instructions and click "Turn on."
LinkedIn Audio Events
LinkedIn has also introduced audio-only conversations similar to Twitter Spaces, where members can come together and have an audio call about a specific topic. LinkedIn dubs this experience as listening to a podcast where listeners can participate.
Audio Events are public and can be attended by anyone, but In order to be eligible to host one, a user must have a minimum of 150 connections and/or followers as well as a history of abiding by LinkedIn policies.
In order to see if you are eligible, LinkedIn simply advises users to attempt to create an audio event, those who can access the feature will be able to start one.
The LinkedIn for Creators team hosted their own Audio Event answering user questions and had over 3,000 attendees.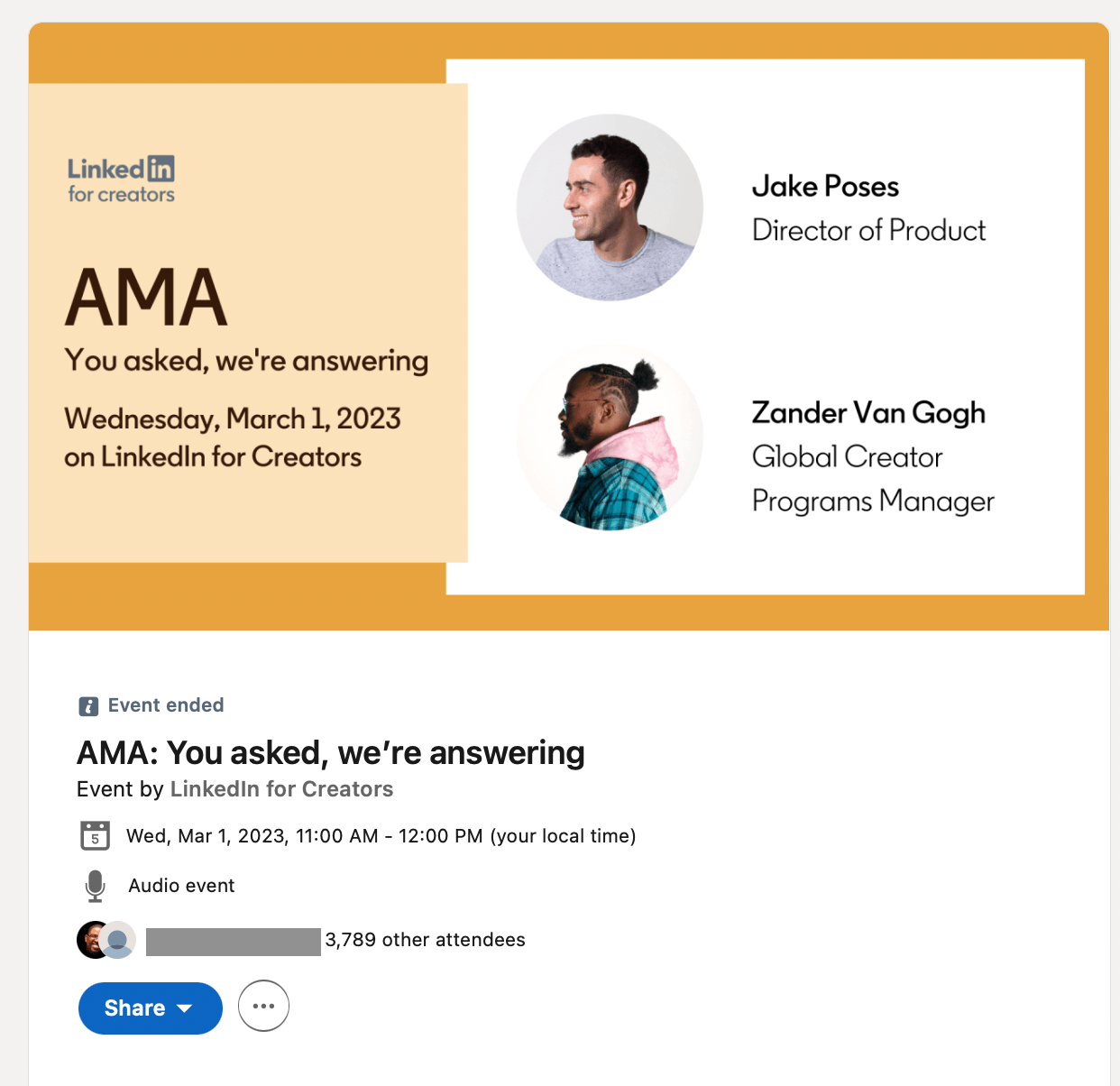 Collaborative articles
In early March, LinkedIn dropped a new feature called collaborative articles. These posts are curated by LinkedIn's editorial team but entirely generated by AI. LinkedIn's VP called the feature, "AI-powered conversation starters," in a blog post. Essentially, collaborative articles are meant to facilitate engagement among members as well as be an educational resource.
Because I am a content writer, LinkedIn suggested this article to me and also included a call to action (CTA) for me to "add my insights."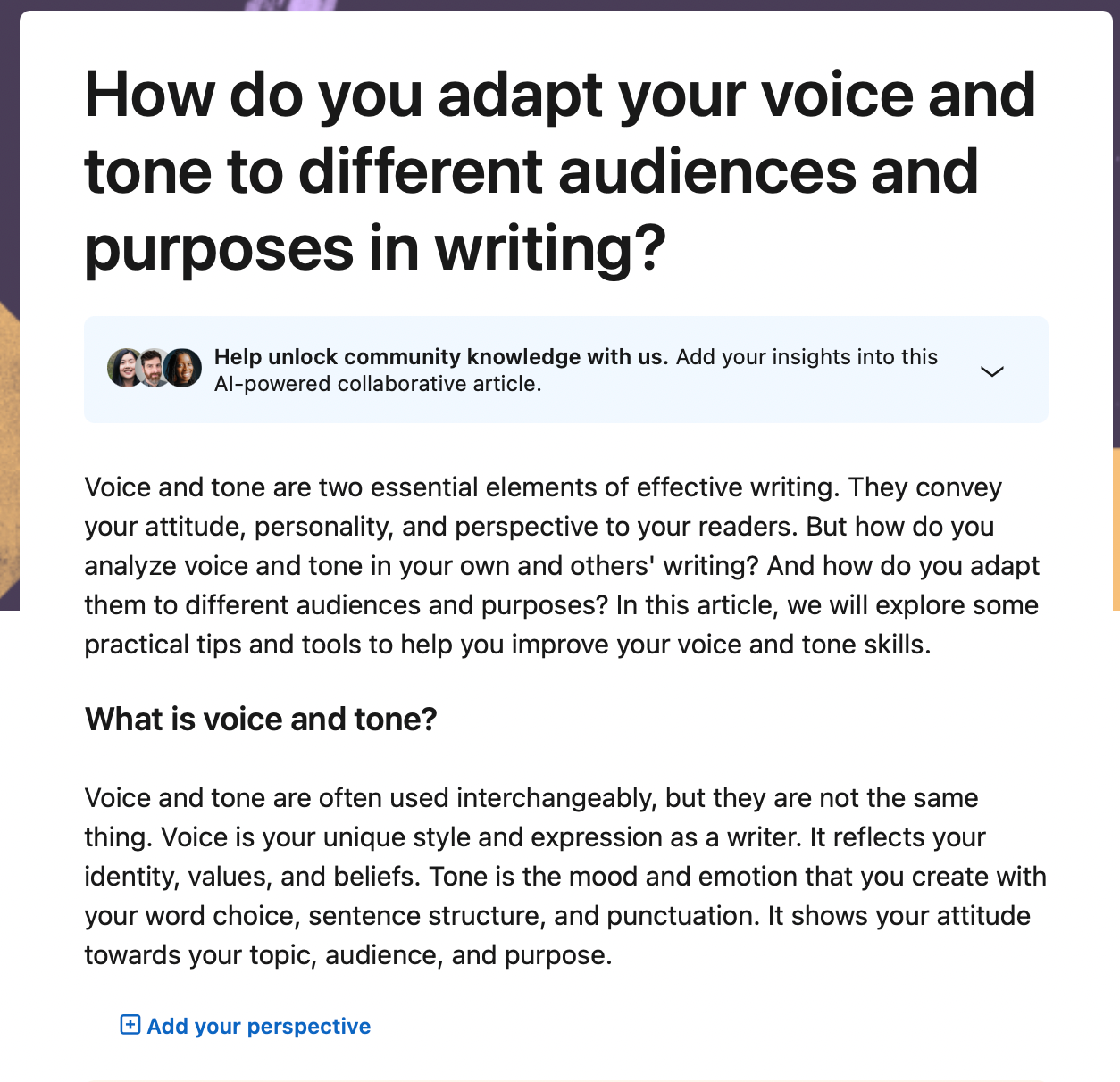 While many people have conflicting feelings about AI content, LinkedIn is emphasizing that what makes these articles so powerful is that real members can contribute to them, too. Here, writer Catherine Nikkel adds her thoughts on the importance of voice and tone.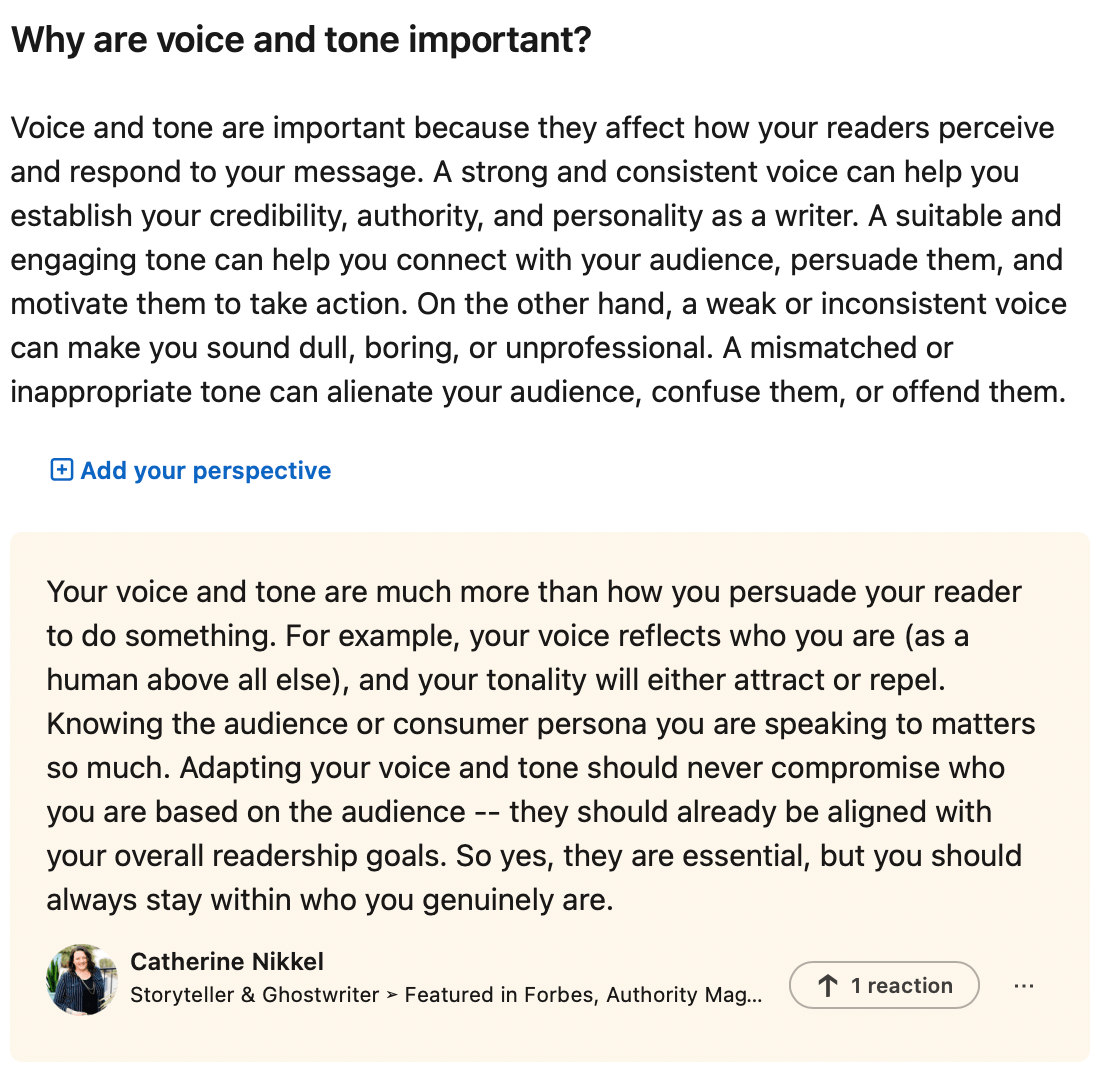 Not only can these collaborative articles be educational, but they also give LinkedIn users an opportunity to highlight their expertise.
The latest features for your LinkedIn Company page
If you run a business page, LinkedIn has also added new features to enhance your experience.
Automatically post open roles to your page: Now when you post a new job opening it will automatically publish as a post to your page. In order to enable this feature go to settings to opt-in. This will ensure more visibility for your job roles.
Pages can now follow each other: Just like an individual user is able to follow a company page, now brands and company pages can follow one other.
Schedule posts in advance: Both company pages and individual members can now schedule posts up to three months in advance. Of course, you can also schedule all of your social media posts with Buffer for free as well.
Upcoming 2023 LinkedIn features
While LinkedIn has already dropped quite a few exciting features, there are more on thee way! Below we'll go over a few of the upcoming features that will be soon available on LinkedIn.
AI-powered experiences
Like many companies, LinkedIn is teasing several upcoming AI-powered features.
Personalized Writing Suggestions
Now when LinkedIn members are writing or editing their "About" and "Headline" sections, they can get suggestions from an upcoming LinkedIn tool that will provide profile suggestions. Specifically, this new feature will recognize all of your top skill sets and use that to write compelling copy you can use on your profile. The feature is currently being tested on certain Premium subscribers and will roll out to all Premium subscribers over the next few months.
AI-Powered Job Descriptions:
LinkedIn is currently testing an AI job description tool that would allow companies to save time by pre-populating job listings with most of the required information. All an individual would need to do is enter basic information about the role, and then the tool will fill out the rest.
In launching all of these AI features, LinkedIn has also released over 100 free AI Courses to help members keep up with the latest trends and learn how to leverage AI. These courses will remain free and accessible to all LinkedIn members until June 15, 2023.
Individuals can message a company page
LinkedIn currently is beta testing a feature where members can message single admin company pages, allowing users to initiate conversations with brands directly like they can on other social platforms including Twitter. This means Company Pages would have a "message" button on their profile.
Top Skills
Members will soon be able to add up to five top skills directly in their "About" section, making them more noticeable to employers. Currently, skills are displayed towards the bottom of one's profile, so this added visibility could be helpful in allowing LinkedIn members to connect with potential job prospects.
This is the latest on all of LinkedIn's newest and upcoming features! If you're looking to expand your professional network, highlight your business, or just learn more about a specific industry, LinkedIn is a site you should be spending time on.
Try Buffer for free to plan, brainstorm, and generate your LinkedIn content as well as schedule all of your posts. Get started for free today!