Imagine that you arrived at your local movie theater this weekend to see a show and the options featured were "The Final Destination," "Inglorious Basterds," and "District 9."
If none of those movies sound familiar to you from recent buzz, that's because they topped the box office charts in 2009—the year Brian Halligan and I released the first edition of Inbound Marketing: How To Get Found Found Using Google, Social Media and Blogs.
It's hard to believe that it's been five years since the 1st edition of Inbound Marketing came out. It's even harder to believe that we didn't create the 2nd edition sooner. (In our defense, we've been busy building HubSpot, which keeps us pretty busy. And that was before HubSpot filed to go public).
But, I'm thrilled to announce that today marks the release of the 2nd edition of Inbound Marketing.
A lot has changed in the world of inbound marketing in the past 5 years. For one thing, the adoption of the term itself. Here's how search traffic for the term has grown since 2009.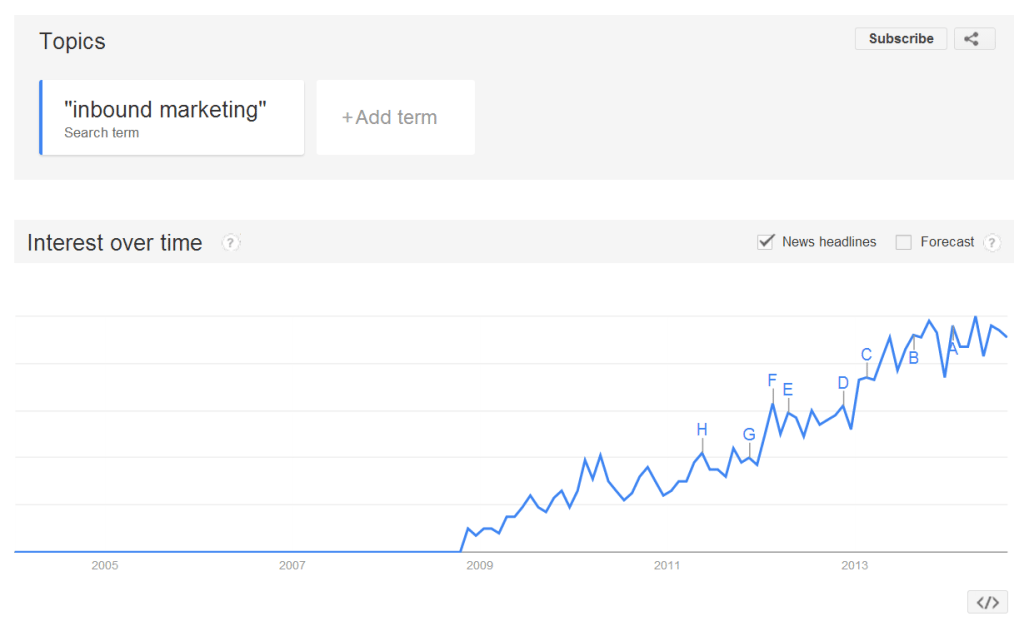 The origins of "inbound marketing"
Some of you might be wondering: Why come up with the term "inbound marketing" anyways? Didn't the world have enough marketing terms already? Was a new term necessary?
I have wondered that a lot—back then, and even now. When we first coined the term inbound marketing (this was 8 years ago, three years before we published the first book), we were looking for a way to describe the set of marketing activities that we considered organic and empathetic.
The activities themselves existed long before we ever came along. Savvy marketers had being doing SEO, social media, blogging—all the things that were the opposite of pushing messages out to people that they didn't want.
But as it turns out, there really wasn't a term to capture that collection of activities. So we made one up and start calling those activities "inbound marketing." (If I had liked acronyms, we might have called it something like "Human Centric Marketing.")
I'm biased, but I think giving this approach a name has helped spread an idea that is worth spreading.
The five biggest changes since 2009
But that was then. In the (admittedly adapted) words of Ferris Bueller: "Marketing moves pretty fast. If you don't stop and look around every once in awhile, you could miss it."
From new social networks to publishing channels, there are more opportunities today than ever to meaningfully attract and engage your customers.
It's easy for any of us to sit back and pat ourselves on the back for the tactics and techniques that worked for us five years ago, but that's a mistake. What worked for your website or social media channels five years ago may no longer be effective today. Now more than ever, companies need to always be measuring and optimizing what works in their marketing efforts.
Below are the five biggest changes in inbound marketing since 2009, and how to adapt your strategies to make the most of them.
1. Facebook is bigger, but trickier for marketers
Facebook has a staggering 839 million daily active users (as of June 2014), which is great news for marketers. The bad news is that it's getting progressively harder to reach Facebook's audience organically. Ogilvy analyzed more than 100 brand pages and observed organic reach for content published on brand Facebook changes dipping from 49% to just 6% between October 2013 and February 2014.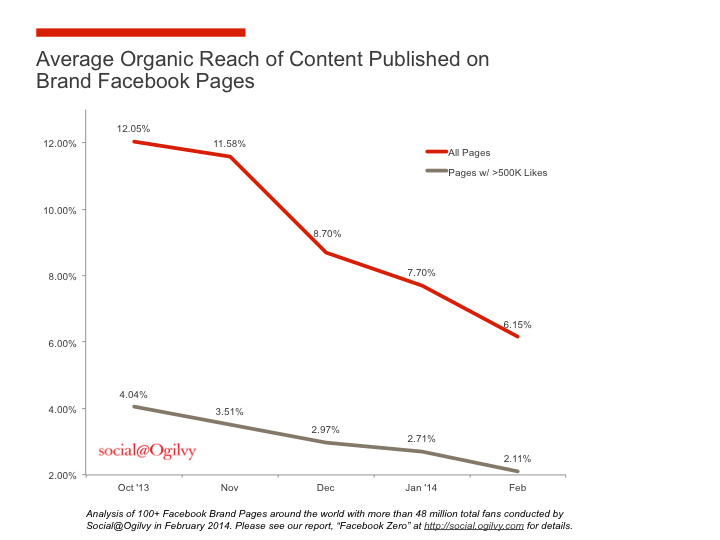 Does this mean you should forego Facebook altogether? Certainly not: the potential the Facebook audience represents is simply too great.
Instead, experiment with the type and timing of content that breaks through the clutter for your audience. The macro trend of diminishing organic reach should inform your strategy, but not discourage you from the importance of Facebook as a channel. As a marketer, I would double down on visual content for Facebook and invest heavily in measuring what works and what doesn't: a potential audience of more than one billion people worldwide is worth the time and effort.
2. Marketers grapple with Google+
If a cat has nine lives, Google+ has had ten. Truly, it's hard to think of a social network whose death has been more exaggerated or whose success has been more prematurely lauded. Regardless of Google+'s overall adoption as a social network, I wouldn't ignore it. Why? Hint: It has something to do with the characters before the "+" (namely, the G-O-O-G-L-E).
When we wrote the first book, Google+ didn't even exist, but since the network launched in 2011, there have already been a significant number of ups and downs in its reach, impact, and reputation.
When it comes to Google+, I recommend taking advantage of low-hanging fruit by creating a Google+ business page and connecting it to your local page (Google Maps listing) to augment your organization's SEO value. Photos and text currently get the most "+1s" on Google+: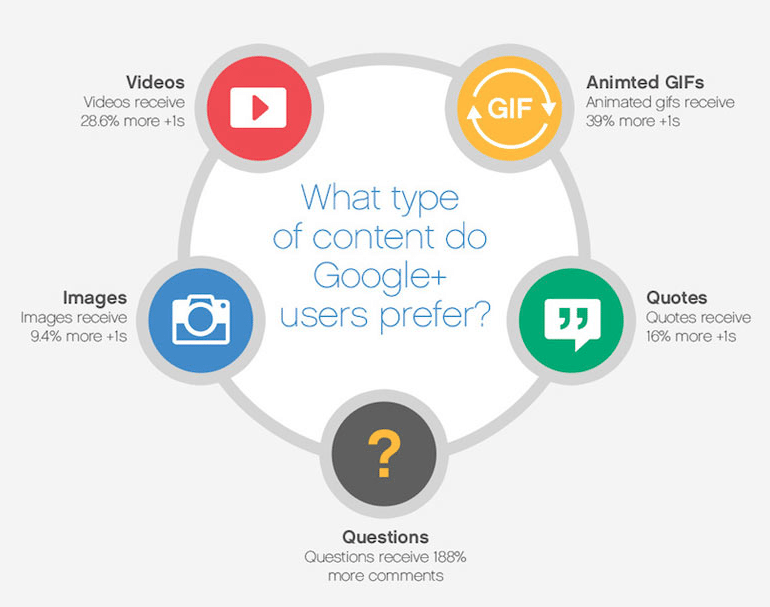 But a recent feature update allows businesses to import Google+ videos to YouTube, which may lead to an increase in the quality and quantity of video engagement on your business page.
3. SEO continues to evolve
Marketers watch Google's search algorithm like the rest of us watch the weather. The latest algorithm change, Hummingbird, is most well-known for having infused higher importance on comprehensive questions and associated context (versus solving for individual words), while the roll-out of "in-depth articles" has created a brand new category of content results that goes well beyond click-bait.
Though SEO has changed considerably over the last five years, my recommendation for businesses as it relates to search remains the same. Don't solve for search engine algorithms; solve for humans instead. The way to make Google happy, and get improved rankings is to figure out how to make searchers happy (hint: high quality, relevant content + a great user experience).
Back then, I wrote about the perils of "black hat" SEO tactics that try to trick Google's algorithms. I argued that they could be dangerous. Now, they're not just dangerous — they can be potentially toxic and deadly. They're definitely misguided.
My advice then is the same as it is now: Avoid tricks. They're just not worth it. Instead of spending calories trying to outsmart the Google algorithm, spend that same energy working with it and delivering value to the end user. That's a sustainable strategy.
On a related note, I think one of the most underappreciated skills in SEO is design. The reason is simple: Great design makes humans happy.
4. Talent is getting harder and harder to find
Everybody is shifting more resources to inbound marketing, so demand has been skyrocketing. But supply is not growing fast enough.
In 2013, IDC predicted that half of marketing hires would be technical in nature. But as my friend Scott Brinker @chiefmartec) is very quick to point out on his blog, that prediction assumes that supply matches demand, which is simply not the case. What Brinker calls "the triple threat" (individuals with marketing, management, and technical skills) has become a rare and valuable find.
This is exceptional news for inbound marketers: effective ones can write their own ticket to work in roles and projects that truly interest them. But for businesses looking to radically shift their approach, the people they need to help power that transformation are in high demand and short supply.
The massive proliferation of marketing technology across every industry segment, geography, and company size has fundamentally transformed how companies value marketing talent. In addition to creating huge opportunities for talented marketers, it's also created room for a new kind of marketing agency.
Specifically, companies used to hire agencies to create their ads and to run their public relations strategy. Now, more companies than ever are looking to agencies to help fill their existing skills gap, developing and delivering marketing technology solutions ranging from web redesign to content creation to marketing automation management to marketing and sales SLAs.
Whether you're an agency or a marketer, the market today rewards people who fit the DARC profile:
Digital natives
with Analytical chops
strong web Reach, and
Content creation skills
If your skill set doesn't match those criteria, it's time to update your resume. If your job profiles don't actively seek and reward people based on those core requirements; it's time to update your marketer wish lists.
By the way, this inefficiency in the market (great teams not being able to find the great marketers that are out there) is partly why the http://inbound.org community exists. (It's free). It has 34,000 members already, and some of the best content and people on inbound marketing that you'll find anywhere. You should check it out.
5. Visual content continues to grow in popularity
Marketers have always known that a picture is worth a thousand words, but now there are social networks predicated solely on this notion. The visual trend is impossible to ignore.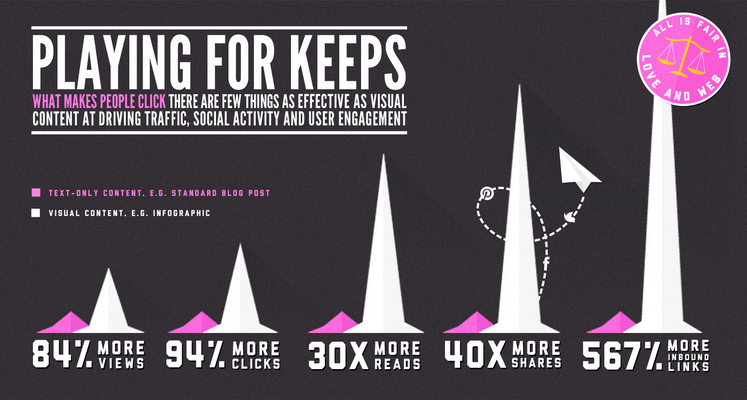 When we wrote the first edition of the book, Pinterest and Instagram hadn't even launched yet (both companies launched their official products in 2010). Now, with Pinterest growing in importance for both engagement and search, Instagram as part of the Facebook portfolio, and SlideShare a critical component of LinkedIn's content strategy, social networks are upping the ante on photo and video content, and brands and businesses must follow suit.
Five years ago, publishing content on the web was a surefire way to attract and engage your customers. Now, the popularity of inbound marketing combined with dwindling consumer attention spans means you can no longer just create content and hope it resonates with your customer, you need to be significantly more remarkable than your competitors in your efforts to educate, inspire, or entertain your customers.
One of the best ways to stand out from the pack is with highly visual and aesthetically pleasing content, both of which are rewarded handily on channels like Pinterest and Instagram.
The biggest misconception about visual content is that is has to be expensive: Canva, Visage, your iPhone, and even PowerPoint can all be great levers for creating inexpensive but beautiful visual content, so there's no excuse not to experiment with more photo or video in your marketing efforts.
The new world of inbound marketing
The last five years have flown by, and the adoption of inbound marketing has been humbling to watch unfold. So, what's next?
Frankly, I don't know. But five years from now, whatever we end up calling this enlightened form of marketing, I fully expect that those marketers will win out in the long term over those that are continuing to blast people with messages they didn't ask for.
Oh, and in the meantime, if you or a friend are just getting started with inbound marketing, I recommend the 2nd edition of inbound marketing (yes, I'm biased). You can buy it in paperback or Kindle at http://inboundbook.com. If you don't find it useful, I'll personally refund you the $20.
If you don't have time to read the book, glance through the slidedeck below. It's a summary of some of the ideas in the book, presented in a visual style (see point 5 above).
What are the biggest changes you've noticed in your time in marketing, and what do you see on the horizon? I'd love to hear your insights in the comments. And if you have any questions about the book, the slide deck or inbound marketing in general, I'll be hopping into answer.
Image credit: oskay