Is social media best used for sales or for brand awareness and engagement?
The age-old question that marketers have been debating even before Mark Zuckerberg started TheFacebook in his tiny Harvard dorm room back in 2004.
So what's the right answer? Is there one? Many marketers lean towards the side of brand awareness and engagement, while others can't quite see the point of social media unless it's eventually leading to sales. But what if we could mesh the two and build a system that looks at social media as one continual, relationship-building process that eventually turns fans and followers into customers and evangelists?
Ian Cleary, Founder of RazorSocial and Outreach Plus, online marketer, Forbes contributor, and kick boxer, shares his insights into how we can do just that. As marketers, we can benefit from beginning to look at social media as one fluid process instead of segmented, unrelated puzzle pieces. The process? Ian Cleary's PRISM funnel.
A huge thank you to Ian Cleary for packing episode #51 of The Science of Social Media full of inspiration and actionable takeaways for marketers looking to build a social media sales PRISM funnel that works. (Part of our brand new podcast series!)
This episode is available on:
In this episode, here's what you'll learn:
Ian Cleary shares insights into his unique social media PRISM funnel – giving marketers a great model for understanding how to connect social media to the bottom line. You'll also learn other useful things like:
The importance of an editorial process
Automation tools that help to find great content
Why both awareness and sales are an important part of social media
How relationship building is time well-spent on social
B2B marketing tactics on LinkedIn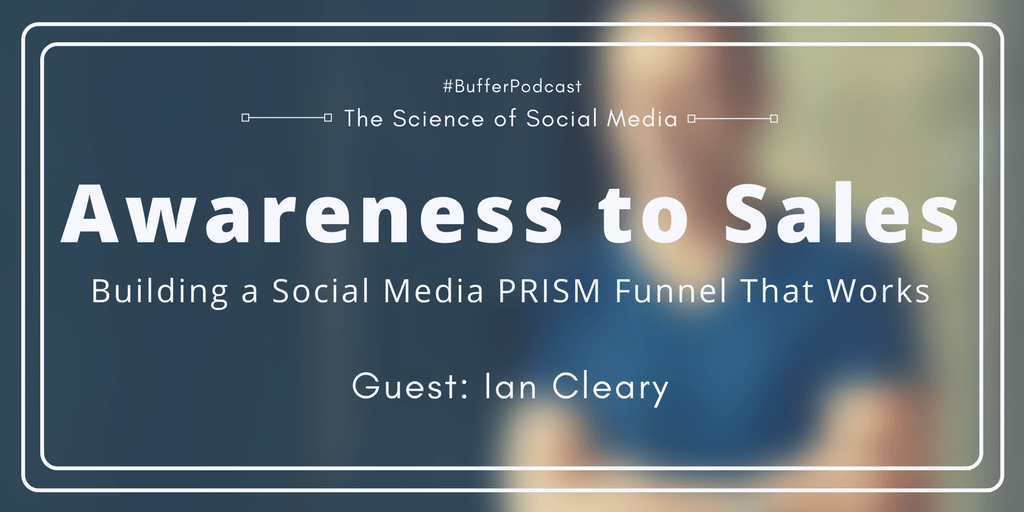 The PRISM Funnel by Ian Cleary
PRISM Funnel Overview (Source):
P for People – You build an audience of people interested in your products and services (followers/fans).
R for Relationships – If you have a relationship with your audience, they are more likely to take action. Valuable content is a great way of building an engaged audience.
I for Inbound Traffic – When you share out your content (e.g. blog posts) on social media to an engaged following, you get traffic to your site.
S for subscribers and social retargeting – Most people arriving on your site won't buy your products or services immediately, so you need to capture their details. You can do this by building email subscribers or retargeting them with ads if they don't subscribe.
M for Monetization – You then build a sales funnel to monetize the traffic.
A Great Moment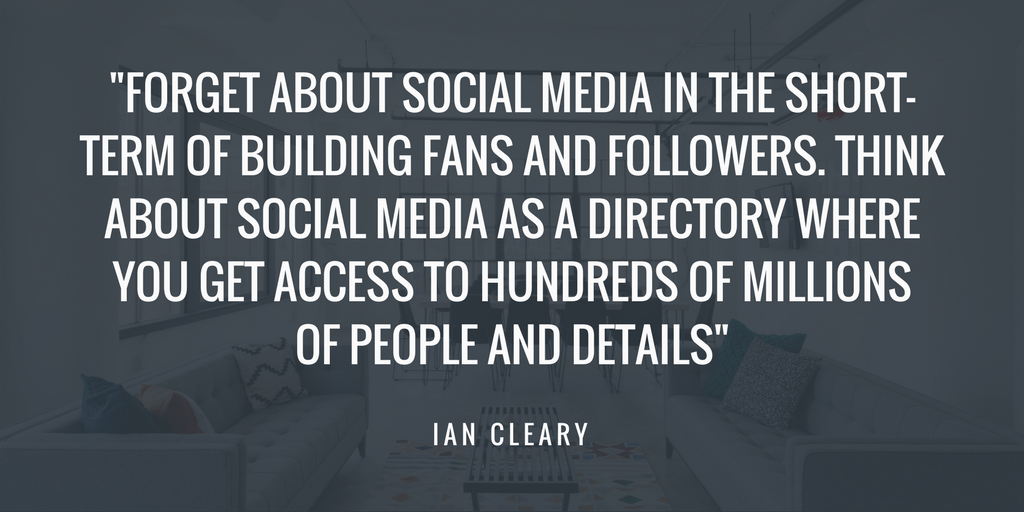 "Forget about social media in the short-term of building fans and followers. Think about social media as a directory where you get access to hundreds of millions of people and details"

– Ian Cleary
Awesome People and Stuff Mentioned in the Show
Favorite Quotes
It doesn't matter if you're a team of one or a ten-person team, you do need to have some sort of editorial process at the top of your social media funnel.
I say to people that, "How can I help?" is a mindset, you don't have to actually say it.
Is social media all about awareness? Not if you're using it for direct outreach. That's straight into generating leads, partnerships and business.
You need to have your eyes and ears open all of the time for new and exciting content to share with your audience. Inspiration can strike anywhere.
Your audience (should) be naturally growing if you're sharing good and relevant content on a consistent basis. That is why I always look to my follower growth metrics as a sign of the overall health of my social media accounts.
If I want to build a real relationship with someone on social media it's not going to happen after one Tweet, one share, or even one phone call. It happens over a period of time, even months, to get to a point where the relationship is fruitful.
How to Say Hello to Ian (and us)
Ian Cleary is an absolute whiz to follow on social media. He always keeps the Buffer team updated with the latest in social media marketing and tech. And he'd love to say hello and connect with you, too! You can find Ian on Twitter here and if you're interested in checking out more of Ian's work (or anything else), head on over to www.razorsocial.com.
Thanks for listening! We'd love to connect with you at @buffer on Twitter or with the hashtag #bufferpodcast.
Enjoy the show? It'd mean the world to us if you'd be up for giving us a rating and review on iTunes!
—
About the Show
The Science of Social Media is your weekly sandbox for social media stories, insights, experimentation, and inspiration. Every Monday (and sometimes more) we share the most cutting-edge social media marketing strategies from brands and influencers in every industry. If you're a social media team of one, business owner, marketer, or someone simply interested in social media marketing, you're sure to find something useful in each and every episode.  It's our hope that you'll join our 10,000+ weekly iTunes listeners and rock your social media channels as a result!
The Science of Social Media is proudly made by the Buffer team. Feel free to get in touch with us for any thoughts, ideas, or feedback.