We've found that one of the biggest challenges for social media marketers today is connecting social media to real business objectives and goals.
From brand awareness right on down to customer conversions, social media has the potential to fit into many parts of the marketing and sales funnel.
But where does social media fit best?
That is the important question we set out to answer!
We had the privilege of speaking with entreprenuer and social media expert, Neil Patel, about specific ways marketers and businesses can incorporate social media as a viable and integral part of their sales funnel.
A huge thank you to Neil for packing this episode with great insights and actionable takeaways for social media managers and marketers looking to demonstrate the true value and ROI of social media.
This episode is available on:
In this episode, here's what you'll learn:
Neil Patel shares his unique insights into the most effective ways brands and marketers can use social media to attract and acquire new customers. You'll also learn some other great things like:
Why social media is so valuable for brands and businesses
How marketers can tie social media into key business results
Proven marketing tactics to help improve social media ROI
Social media remarketing and how to get going with targeting ads
Top performing channels for reaching new customers on social media
Key Takeaway for Marketers Looking to Demonstrate the ROI of Social Media
In Neil's Words…
"People and brands are advertising on it and so it must be working!"
Think about how big these social media networks are. The key takeaways that I have are simple:
Make sure you set up your Google Analytics so that you can track.
Don't expect a conversion right away. Try to collect the email address from your users.
When you're collecting the email addresses look to use Facebook authentication or Twitter authentication which is an easier way to collect emails without people having to go through all of the work. It's a lot quicker and easier.
Mentionable Quotes and Shareable Snippets
In Neil's Words…
"You'll be shocked. Social media doesn't just drive users. It drives paying users and it's really effective. And you can track all of it with analytics these days."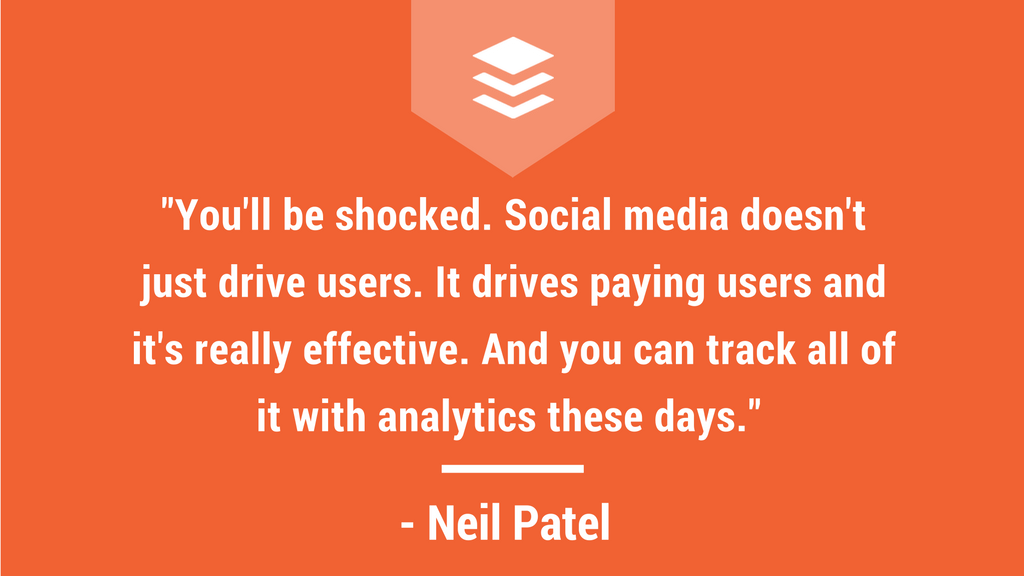 Show Notes and Other Memorable Moments
Thanks a million for checking out this episode! Below are the websites and other tidbits that were mentioned in today's podcast about personal branding on social media. If you have any questions for us, feel free to drop us a line in the comments and we'll respond right away!
Other Great Quotes from the Show
"When blogging first started, if you blogged you got good traffic… Now it's changing to where the websites that have the best content get the best links and they tend to get the most traffic over time."
"There's so many people on the social web if you're not on there you're missing out on a ton of revenue – It's that simple. Facebook, Twitter, Snapchat, Instagram – these websites are so popular."
"The trick with remarketing is, if someone was on your product page and they didn't buy, don't send them to the same exact product page. I'm not saying sell a different product, I'm saying you have to adjust the design and copy to convince them to buy the second time."
"Facebook and Google are the best performing networks for us. And what works is that on Google we combine it with YouTube where we do pre-roll videos which convert very well. Then, we send them to a landing page that talks about the product and answers objections."
"The social media channels that are bringing in the most people and have the best quality traffic (based on your Google Analytics data) are where you should be focusing your time and attention."
Awesome Companies and Articles Mentioned in the Show
How to Say Hello to Neil (and us)
Neil Patel is super active on Twitter and would love to say "hello" at neilpatel and you can read more about Neil and all of the great things he's working on at neilpatel.com
Thanks for listening! We'd love to connect with you at @buffer on Twitter or with the hashtag #bufferpodcast.
Enjoy the show? It'd mean the world to us if you'd be up for giving us a
rating and review on iTunes
!
—
About the Show
The Science of Social Media is a podcast for marketers and social media managers looking for inspiration, ideas, and results for their social media strategies. Each week, we interview one of the very best in social media marketing from brands in every industry. You will learn the latest tactics on social media, the best tools to use, the smartest workflows, and the best goal-setting advice. It is our hope that each episode you'll find one or two gems to use with your social media marketing!
The Science of Social Media is proudly made by the Buffer team. Feel free to get in touch with us for any thoughts, ideas, or feedback.