Some people might be surprised to hear that we didn't used to get time off for Christmas at Buffer—or for Hanukkah, Canadian Thanksgiving, Chinese New Year or any specific holiday at all!
Instead, we had unlimited time off and the full trust of our teammates to make great decisions about how to use this privilege.
Great in theory, but as it turns out, challenging in practice. Over time, we learned that unlimited vacation policies statistically see employees take less time off, not more. And having no set holiday schedule meant that every holiday absence seemed to require a long justification and an offer to work if needed, like this one: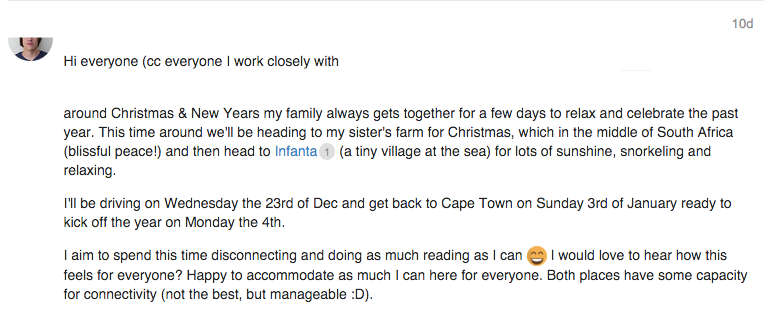 As we discovered, working on a remote, international team is particularly unique when it comes to holidays. Here's a look at our current holiday philosophy and guidelines.
Our holiday guideline:
Today, our holiday guidelines are pretty simple: The holidays of your country are assigned as days off by default!
On a global team, we all celebrate different holidays – which is great! But it's important to make it easy for teammates to be fully off for the holidays of their region without putting the burden on them to ask for the time or have to justify it.
Our biggest iteration on holidays has been to switch from having teammates ask to take them to proactively assigning holidays in each teammate's country.
We use a tool called Timetastic for time off tracking, and they helpfully have many countries' holidays pre-loaded into the app (with an option to create new listings for any countries they lack).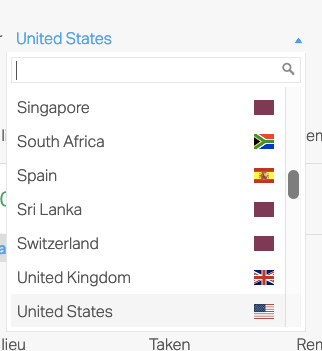 With this small but significant change, folks now take the holidays of their region automatically. No need to message anyone, no need to share why the holiday is important or what you're going to do.
We tell teammates:
Default to taking time off on the public holidays of the country in which you're living, or the public holidays of your home country that are important to you.
All holidays are in addition to our minimum 3 weeks vacation recommendation.
Request other time off with team leads
Learning about holidays around the world
With teammates in nearly 20 countries, we get to learn a ton about holidays and traditions around the world (and rest easy that there's pretty much always someone around to take care of Buffer's customers).
Here's Juliet sharing a reflection on Taiwan's National Day: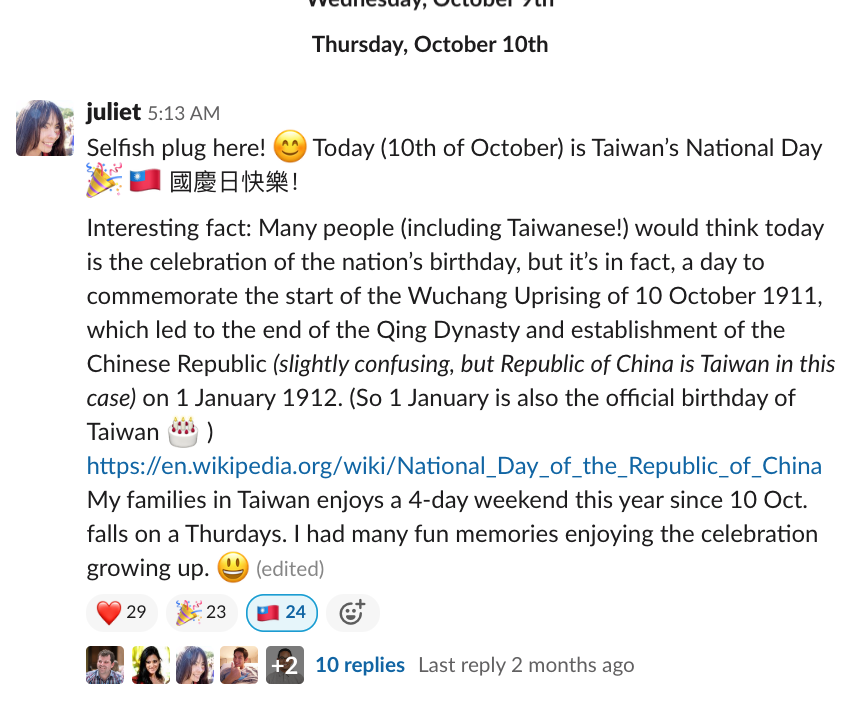 And I recently learned more about Nov. 11, known in the U.S. at Veterans Day but honored in many countries around the world as it was the day World War I came to a close.

Buffer holidays: Strategically timed "office closures"
In addition to vacation time and each country's holidays, a new category of time off has emerged more recently at Buffer.
As we grew over the years, we realized that there was no time where everyone on the team stopped working. Great news for customers! But for the team, this can lead to a low-grade but persistent stress, knowing that others are working while you're away and feeling like a blocker, or knowing that you'll come back from time away to a lot of missed communication.
To remedy this, we started experimenting with "Buffer is closed" time a few years ago in December and have expanded it since.
We now regularly close for at least a few days at the end of every year.
So far we've discovered that company-wide time off for a global remote team is powerful because there's no catch-up afterwards!
Over to you
What's your organization's holiday policy? How would you or do you handle holidays across many countries? I'd love to hear from you in the comments!