Social media has the power to spread great content across the web like wildfire.
One share from an influencer or one read from the right publisher might result in thousands of page views and shares. But creating a rock solid content strategy and executing on that strategy on a consistent basis is a tall order.
Luckily, the content team over at First Round Review might have found a formula for success. Their deep understanding of their target audience and experimental content promotion techniques have paved the way for incredible success.
Head of Content Marketing at First Round, Camille Ricketts, and editor, Shaun Young, share their specific content creation and promotion strategies in this episode of The Science of Social Media.
A huge thank you to First Round's Camille and Shaun for jam-packing this episode with actionable wisdom and takeaways for social media managers and marketers looking to create a content strategy that drives shares and engagement on social media.
This episode is available on:
In this episode, here's what you'll learn:
Camille Ricketts (Head of Content Marketing) and Shaun Young (Editor) at First Round share their insights into what it takes to create incredible, highly-shareable content on social media. Camille and Shaun also share insights into:
Utilizing your greatest content marketing and social media assets
Leveraging influencers in creating and sharing quality content
Channels that are driving big growth for First Round Review
The importance of a delivering a quality email newsletter
Promoting content organically across various platforms
First Round's Biggest Marketing and Social Media Lessons on Creating Shareable Content
In Camille and Shaun's words…
1. The future of content marketing
"Right now we're at a critical juncture of content marketing where it's becoming a real career path – where you need training and you are a true professional content marketer. Which, is a lot more formal than it has been in the past. And it's going to become vital for any company that wants a sophisticated marketing arsenal to have content in their quiver. For that reason, you're going to see it become a lot more developed as a field. Quality and differentiation are going to become more important than ever." – Camille Ricketts
2. The people I admire most are the ones that practice restraint
When I think about those on social that I admire more, it's those that practice restraint. That might be a little counterintuitive in a world of sharing at a certain cadence and frequency… But I find that when I start to get my favorites and start to trust the relationship that I have with those who are sharing really good content – I don't need to hear from them as often, but when I do hear from them, it's something new and something different." – Shaun Young
3. Really great content and social strategy is a team sport
"I know that my personal game was up-leveled dramatically when Shaun joined the team. We're able to bounce ideas around with each other (with both content and social media). We're constantly having those brainstorming types of conversations. I encourage marketers to, even if they don't have a direct teammate, to find someone else who likes this type of stuff and is willing to spend a few minutes here and there thinking through these questions." – Camille Ricketts
Mentionable Quotes and Shareable Snippets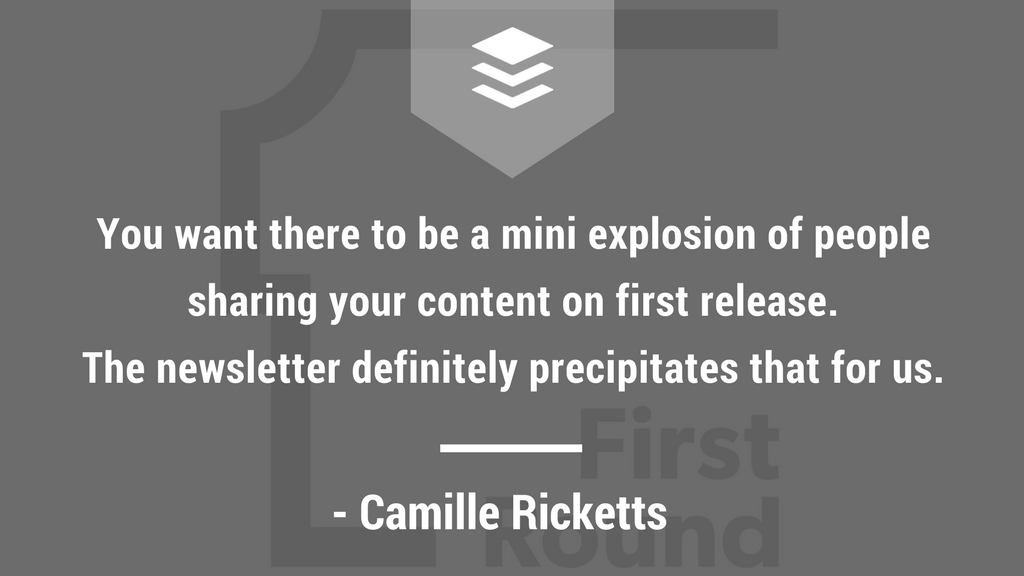 "You want there to be a mini explosion of people sharing your content. The newsletter definitely precipitates that for us."

– Camille Ricketts
"We try to make it extremely pithy, but something that also delivers on the promise of what we said."

– Shaun Young
Show Notes and Other Memorable Moments
Thanks a million for checking out this episode! Below are the websites and other tidbits that were mentioned in today's podcast about creating incredible Facebook communities using groups. If you have any questions for us, feel free to drop us a line in the comments and we'll respond right away!
Awesome People, Things, & Articles Mentioned in the Show
Great Quotes
"One of the greatest assets for First Round Review is that we were one of the first to the content marketing game in the VC space." – Camille
"If you look at the majority of the social media channels that we focus on, you'll see that we choose to focus on Twitter, Facebook, LinkedIn and more recently, Pocket. They each represent a different type of audience we're looking to reach." – Shaun
"Every time we publish a new article we have a very thorough process of sharing it through social media and our newsletter – we use MailChimp for that. We're very careful to send new pieces to our newsletter first as exclusive access." – Shaun
"When influencers write for the First Round Review it's an experience we want them to enjoy from end-to-end. We never want them to feel pressured. This tends to help in organic sharing of their articles." – Camille
"Being able to try and capture a headline and have each element mean something is a little bit like writing Haiku – You want everything to count." – Shaun
"If anyone out there is writing social media messaging for a company, be sure to ask: What are you offering? What is the value of whatever content it is and can you express that in a pithy manner." – Camille
How to Say Hello to Camille and Shaun (and us)
Camille Ricketts and Shaun Young are true leaders in the world of content marketing and would love to share their insights with you. You can find Camille on Twitter @camillerickets and Shaun at @shaunyou.
If you'd like to learn more about their work at First Round, you can view Camille's About Page (here) and Shaun's About Page (here).
Thanks for listening! We'd love to connect with you at @buffer on Twitter or with the hashtag #bufferpodcast.
Enjoy the show? It'd mean the world to us if you'd be up for giving us a rating and review on iTunes!
—
About the Show
The Science of Social Media is a podcast for marketers and social media managers looking for inspiration, ideas, and results for their social media strategies. Each week, we interview one of the very best in social media marketing from brands in every industry. You will learn the latest tactics on social media, the best tools to use, the smartest workflows, and the best goal-setting advice. It is our hope that each episode you'll find one or two gems to use with your social media marketing!
The Science of Social Media is proudly made by the Buffer team. Feel free to get in touch with us for any thoughts, ideas, or feedback.