We've posted huge, helpful lists on social media tools for small business (61!) free Twitter tools (59!), and free marketing tools (29!). Facebook is next—though the list won't be quite as huge.
The built-in tools that Facebook offers to business pages and advertisers are robust and detailed. Hence, you're likely to uncover a smaller stash of third-party tools than you might for a network like Twitter.
Still, there are some fabulous Facebook tools out there, and they can help push your Facebook marketing campaign forward with contests, insights, advertising, and more.
Here is a selection of our top picks for Facebook marketing tools.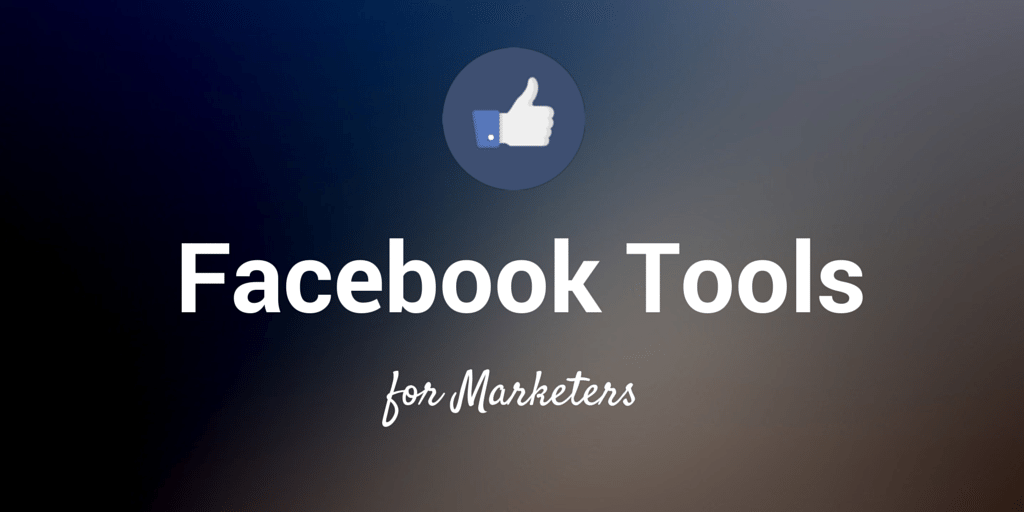 11 Facebook Marketing Tools
1. Agora Pulse (link)
This Facebook (and Twitter) dashboard shows you an overview of all activity on your page and lets you schedule posts and begin campaigns right from the dashboard. What kind of campaigns, you wonder? Just about anything you could ever need. Here's a list: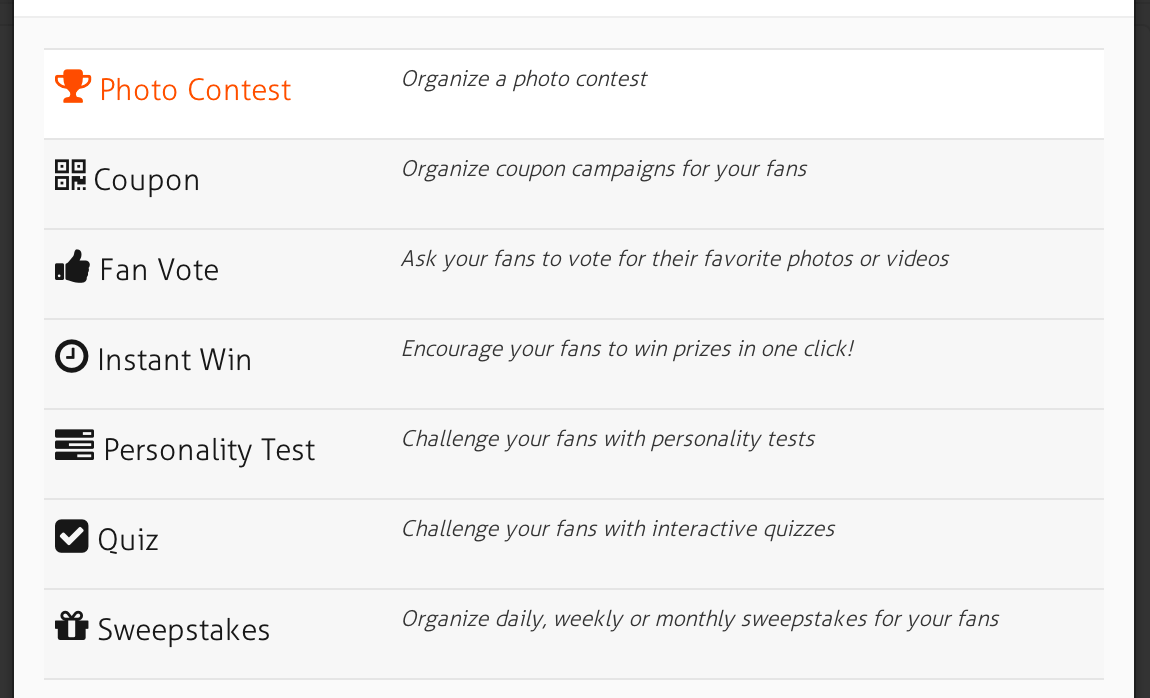 Photo contest
Coupon
Fan Vote
Instant win
Persoanlity test
Quiz
Sweepstakes
Campaign information can be added as a page section, and you can promote your campaign via a post to your page. The free plan has a cap on participants, which you can lift by upgrading to a paid plan.
Price: Free trial, then plans starting at $29 per month
Alternative Facebook app and campaign tools:
2. EdgeRank Checker (link)
Owned by Social Bakers, one of our favorite social media research sites, EdgeRank Checker offers a complete overview and analysis of a Facebook page with some really neat charts and graphs for their free score and some extra advanced features—like page recommendations and key metrics—for their paid plans.
Here's a view of the heatmap for when our Buffer fans are online.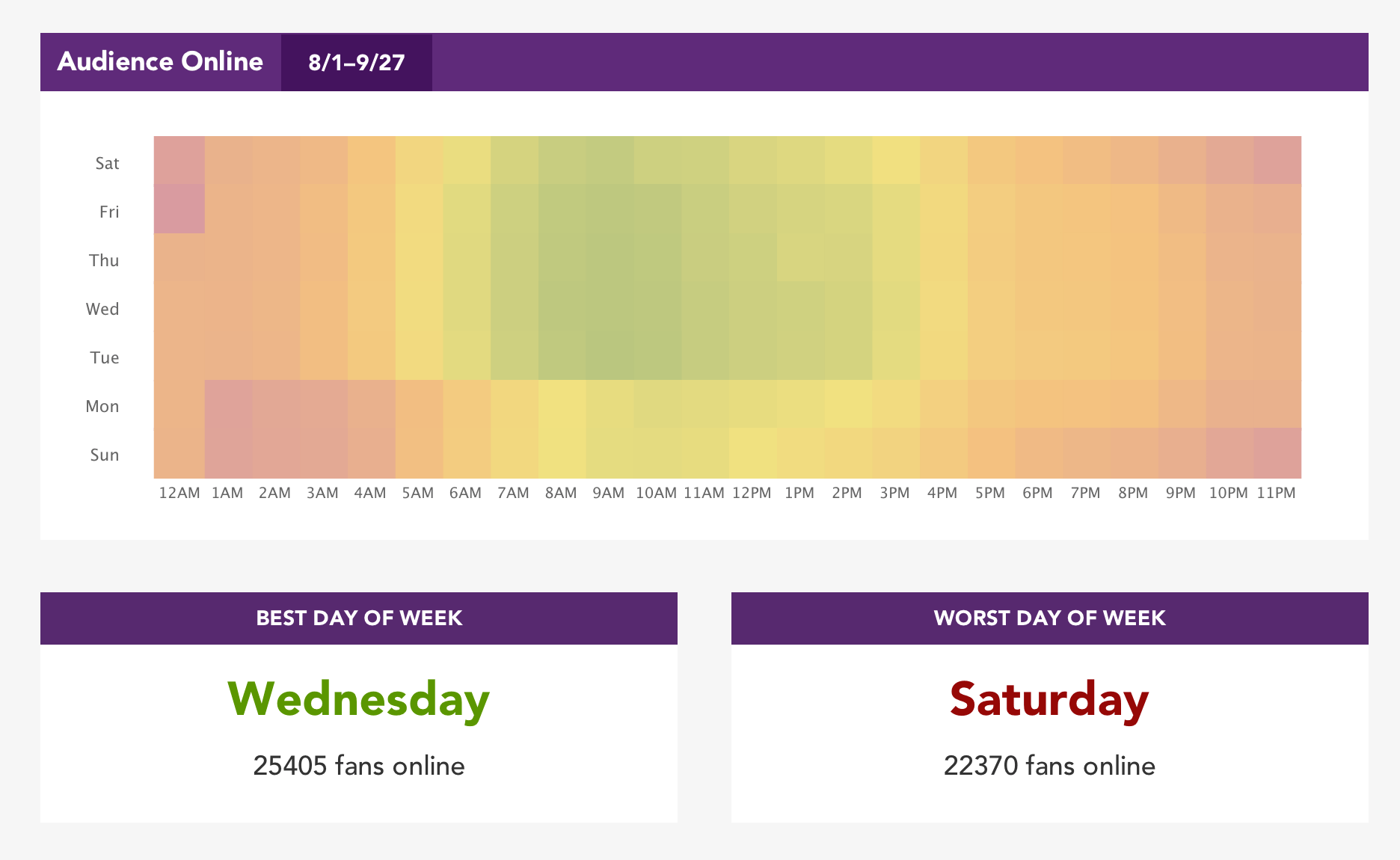 Price: Free score, free for two weeks, then
3. ShortStack (link)
A comprehensive Facebook campaign tool, ShortStack works to make it easy to add any sort of campaign—a staggering number of options, really—to your page. ShortStack offers templates to start from, or you can build a campaign from scratch, using an intuitive visual editor.
You can push a campaign live in minutes via ShortStack. For advanced options with your campaign (and to remove the ShortStack branding), you'll need to upgrade to a paid plan.
Price: Free
Alternative Facebook contest tools:
4. Facebook Page Barometer (link)
Want to know the health of your Facebook page? Want to see how it stacks up to pages of a similar size and scale? This tool from Agora Pulse delivers stats on reach, engagement, feedback, virality, and more, and it compares your results to results of pages with a similar amount of fans. The benchmark breakdowns (which you can view no matter your page size) are as follows:
Under 1,000
Between 1,000 and 10,000
Between 10,000 and 50,000
Between 50,000 and 100,000
More than 100,000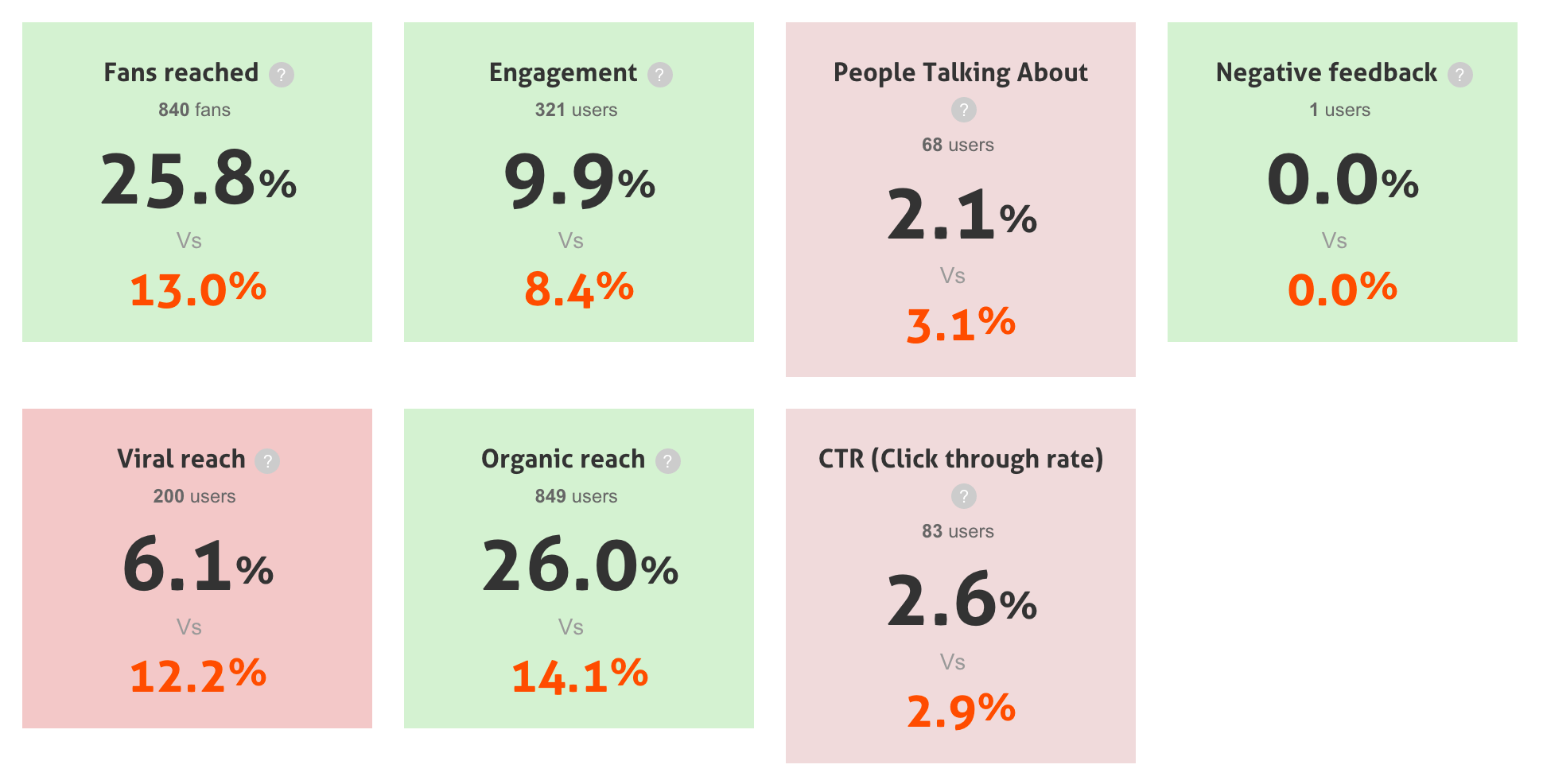 Price: Free
5. AgoraPulse Contest (link)
Another neat tool from AgoraPulse, this simple contest app lets you connect your Facebook pages and try out three different types of contest to reward those who engage with you.
Sweepstakes – Randomly pick winners among the fans who have liked or commented on a post
Quiz – Ask fans a question, pick a winner among those who answered correctly
Photo contest – Ask fans to comment with a photo, pick a winner among those with the most likes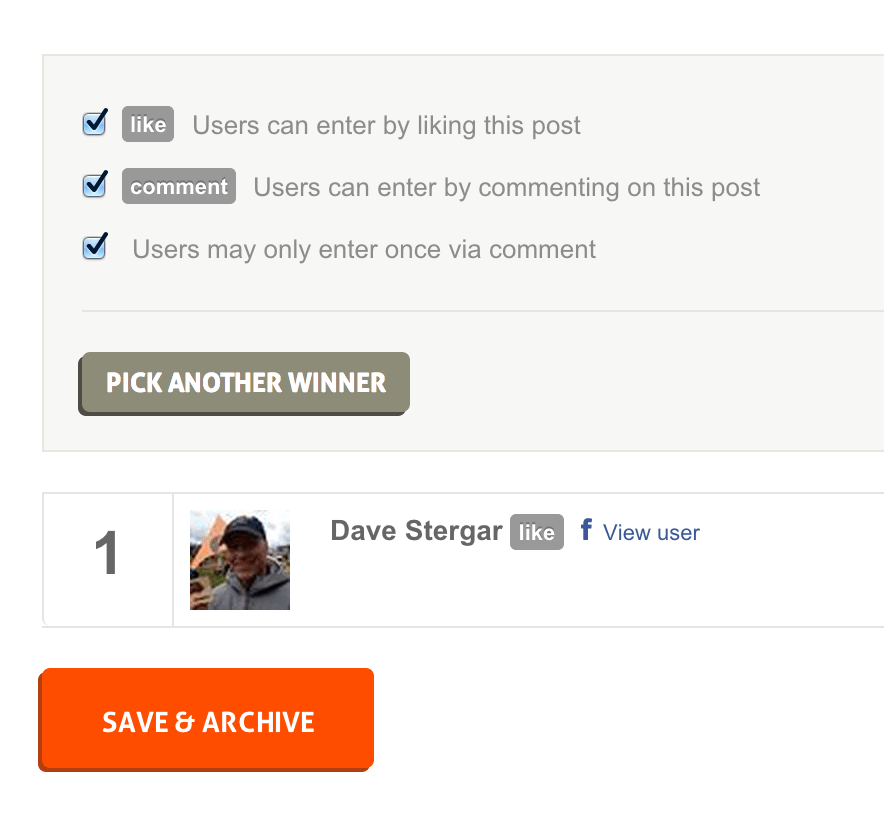 Bonus cool thing: You can store the winners for reference later, in case you don't want the same person winning multiple times.
Price: Free
6. Conversation Score (link)
Discover any page's influence, engagement, and performance simply by entering the page URL into the Conversation Score tool. No Facebook authorization required.
Price: Free
7. Likealyzer (link)
A tool similar to Conversation Score, Likealyzer reviews Facebook pages and comes up with an overall score and recommendations on where to improve. All you need to do is enter a Facebook page URL (no Facebook authorization needed), and Likealyzer will return blocks of easy-to-read data and advice on the health of your page.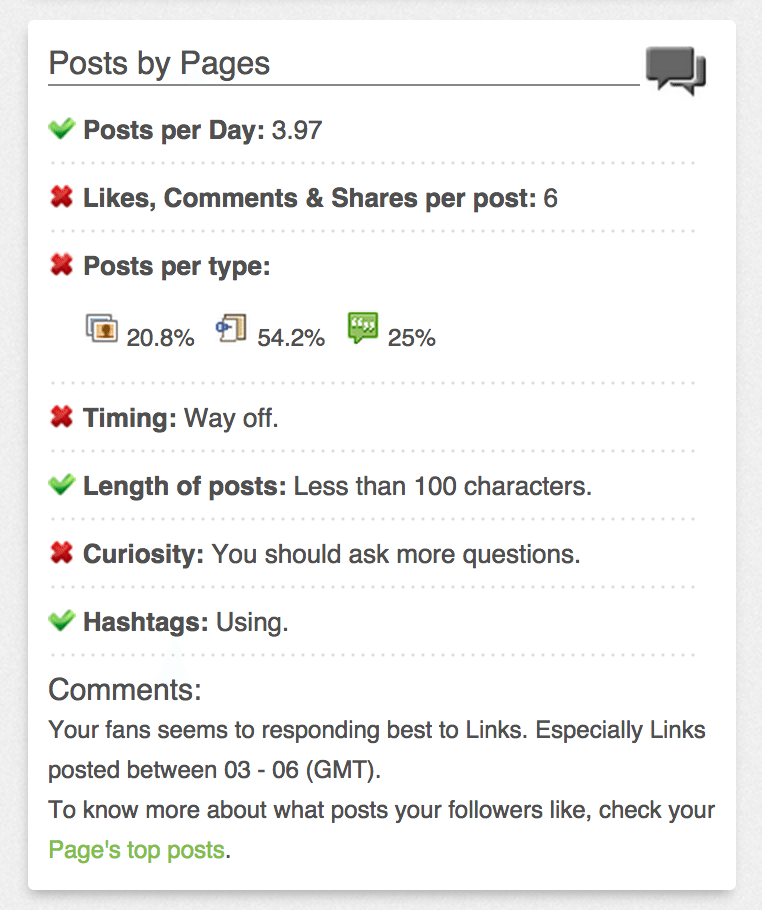 Price: Free
8. FanPage Karma (link)
Another in the line of Facebook analytics tools, FanPage Karma shows an overview and score for your page. Best of all, you can get super detailed if you only need analysis on one page. Fanpage Karma lets you unlock a full report once, and the full report details the page content, timing, influencers, fan engagement, tagging, benchmarking, and more.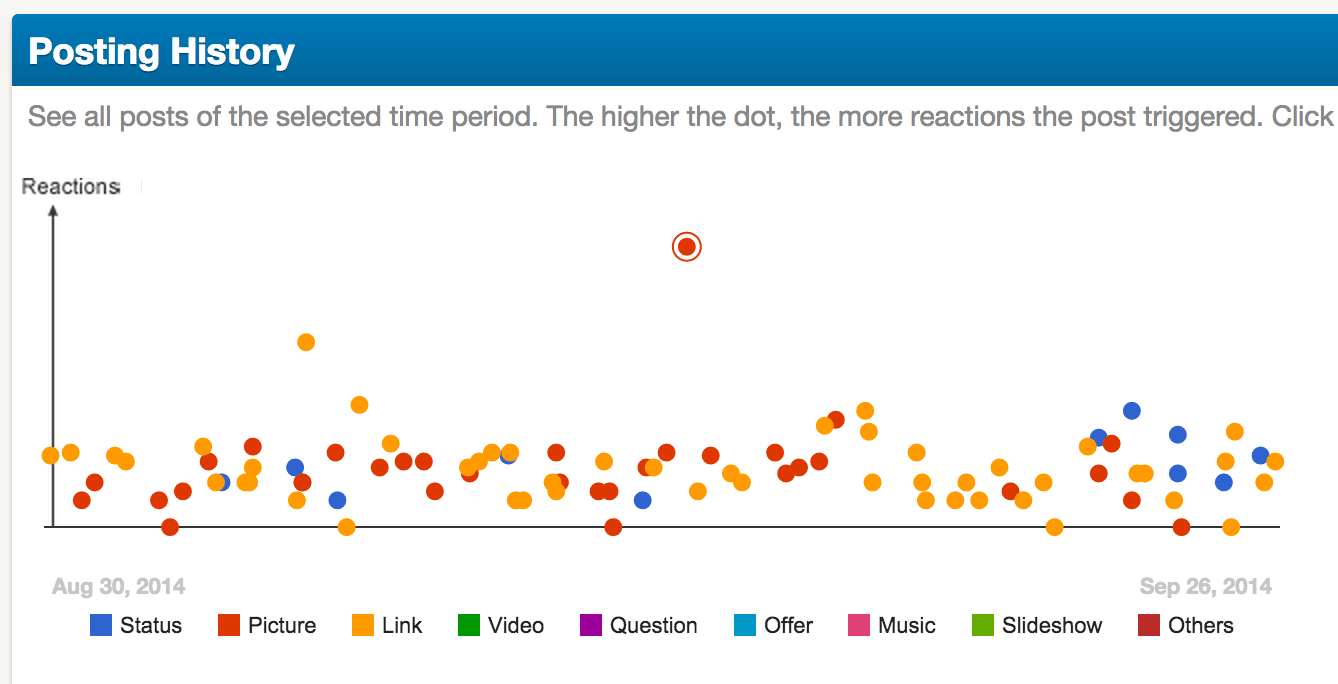 Price: Free
9. Wolfram Alpha Personal Analytics (link)
Personal brands and profile pages might find this quick-and-easy tool illuminating, or at least entertaining. The Wolfram Alpha knowledge engine searches individual Facebook profiles (sorry, no business pages) and returns a wealth of information on you and your connections.
Types of Facebook activity: links, photos, statuses
Weekly post distribution
Post statistics
Post lengths
Word frequency and word cloud
Most-liked posts
A few of the fascinating friend insights include:
Gender split
Relationship status pie charts
Ages, plus oldest and youngest friend
Friend locations and friend local times
Network map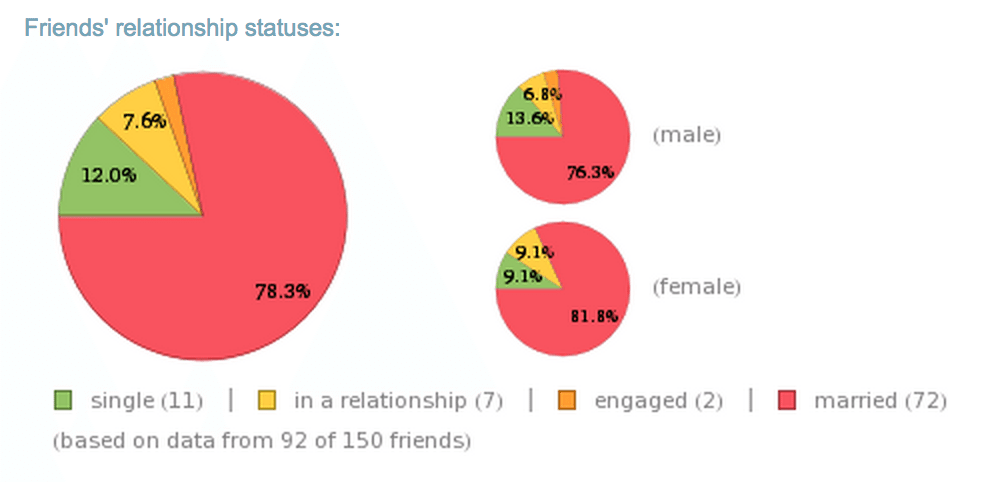 Price: Free
10. Postplanner (link)
Their tagline: Triple Your Engagement in 10 Minutes a Day. Hard to argue with that! PostPlanner even pitches their own case study on the home page of the app, telling the story of how they achieved nearly 3 million views on a single post from a page that has 59,000 fans. The key: PostPlanner's viral search feature.
The app's powerful "Viral Photos" feature makes it so easy to find a *scientifically proven* viral photo.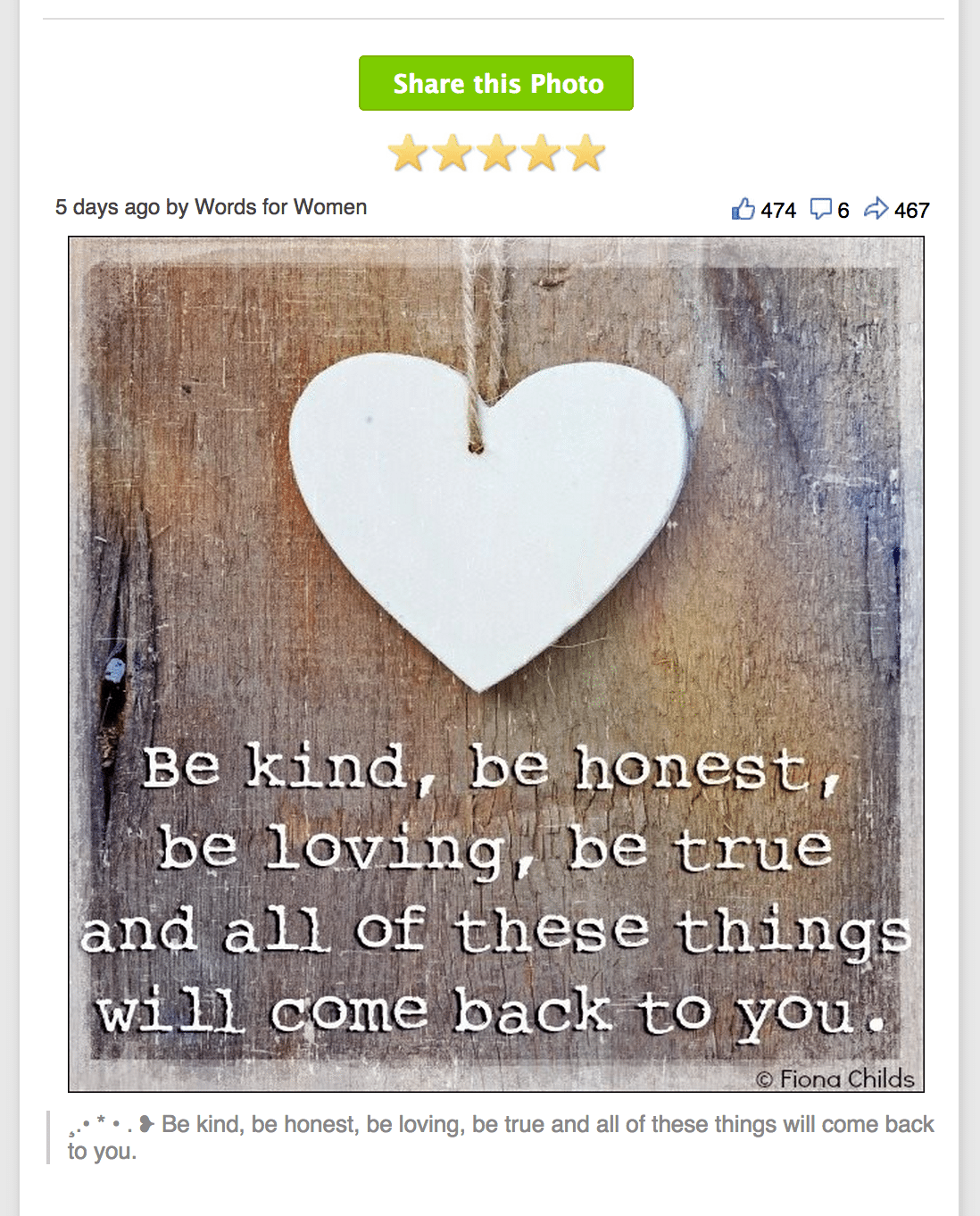 You can search for the most viral content on Facebook and reshare or post to your timeline. Also, you can set up custom schedules (even as granular as "only post images at 7:30 a.m.).
Plans start at $29 per month. If you'd rather get your feet wet for free, you can try out the PostPlanner app direct from Facebook.
Price: Free, with paid plans starting at $29 per month
11. Pagemodo (link)
Connect to Pagemodo to create custom Facebook tabs, run contests, design a cover image, design a visual post, and even schedule posts and find content.
Their cover creation tool is similar to what you might find at the design tool Canva: Pagemodo gives you the dimensions, you fill in and arrange the photos. A similar setup takes place for designing visual posts. You choose the template, fill with your custom content, and you can post directly to Facebook from within Pagemodo.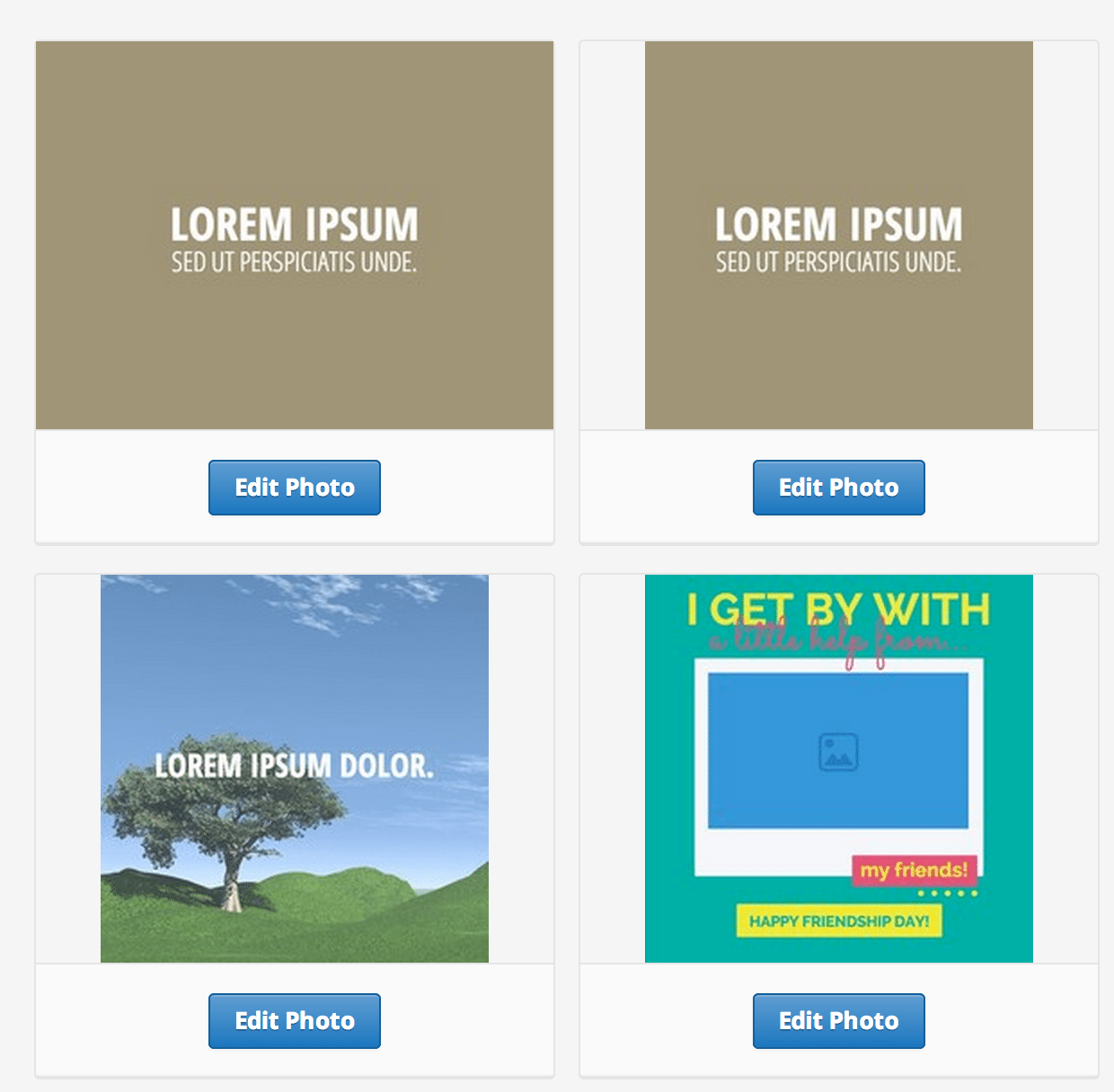 Price: Free, with paid plans starting at $3 per month
+ 3 more tools to jumpstart your Facebook advertising
Many people are turning to Facebook advertising to get more bang for their buck on Facebook. Good news is there are a handful of neat tools that can help with this marketing focus. Here are three of the best:
AdRoll – Retargeted Facebook ads in the sidebar and in the Facebook News Feed
Perfect Audience – Facebook retargeting (Twitter, too!)
Qwaya – Create, optimize, and organize Facebook campaigns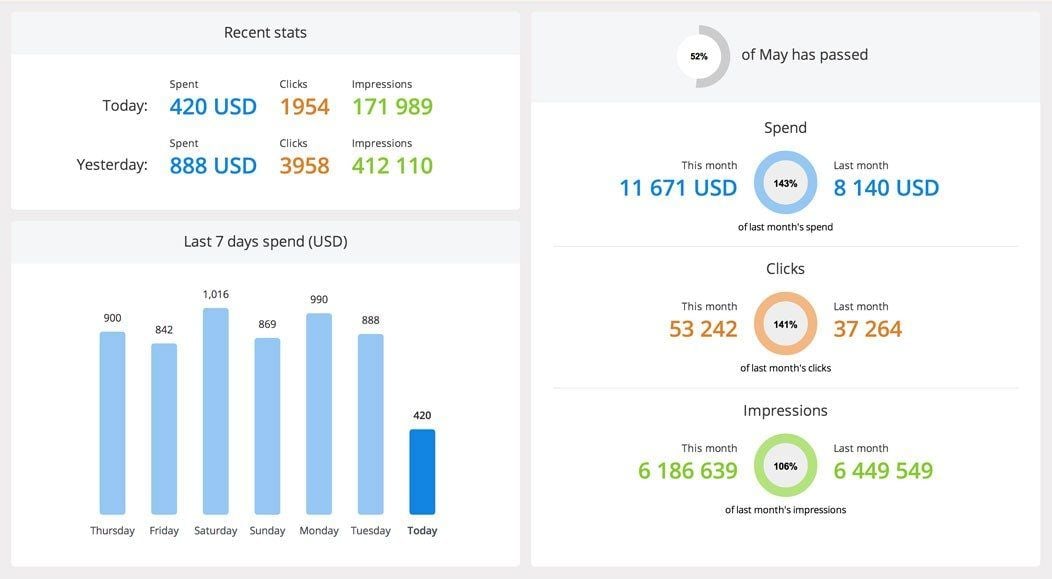 Bonus: A pair of unique Facebook tools, built by Facebook
You can accomplish a huge number of marketing tasks using nothing but Facebook's built-in analytics and tools. Beyond Facebook page insights and basic advertising, here are a couple advanced tools that might be new to you.
Dark posting
Sounds ominous, right? Dark posting on Facebook is publishing a post that does not appear on your page's timeline. Instead, these posts are targeted to a select audience of your choosing.
Why might this be helpful? Split testing is one great use of dark posts. You can create three or four different variations of the same post, then send them out to see which type performs best (without flooding your timeline with each and every variation).
Here's how to find this Facebook tool:
Click Power Editor in the left column of your Facebook ads manager. (Note: Power editor is only available for Chrome browsers.)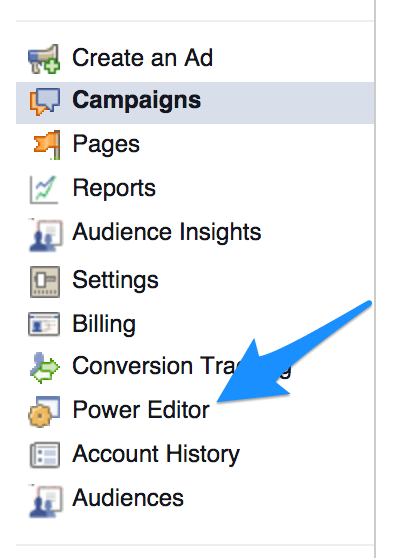 From here, you'll want to click Download to Power Editor at the top of the page to download the accounts you want to manage.
Strata Blue has put together a list of very detailed instructions on where to go from here in order to build your dark posts. You can follow their instructions to try this out.
Custom audiences and Lookalike audiences
To target your ads and posts to a specific type of audience, you can create custom sets right from within Facebook's ads manager.
Click on the Audiences link in the left column of your ads manager.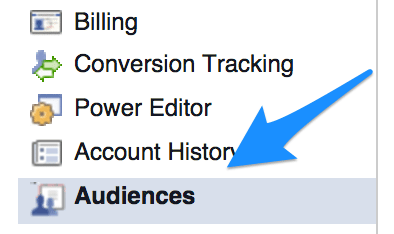 At the next screen, you have the choice of Custom Audience of Lookalike Audience.
Custom audiences – created from customer contacts, web traffic, or mobile app
Lookalike audiences – created based on people who like your Facebook page, conversion pixels, or any of your existing custom audiences
One of the neatest integrations with custom audiences is to pull in your email list via MailChimp or a CSV file. MailChimp connects directly, or you can export your contacts (if you're using another email tool) and upload direct to Facebook.
With these custom audiences, you can then focus your ads on a super-specific group, even more detailed than the audience insights you can pull direct from Facebook. Best of all, with the email list imports, you'll be targeting users who should already be interested in you and your product!
Conclusion
What do you need to accomplish with your Facebook marketing? Chances are there's a tool out there that fits the bill—either a tool already baked into Facebook's interface or a third-party tool that gets the job done.
Oh, and just one more bonus tool to add to our list: Buffer can save you hours every week and help you create a consistent posting schedule that fans love. Try it for free!
Which Facebook tools do you use in your marketing?
I'm a big fan of the AgoraPulse suite as well as the Wolfram Alpha report. I'd love to hear from you in the comments.
Image sources: Pixel Buddha, Blurgrounds, Startup Stock Photos