The goal of Facebook's News Feed is to show people the stories that are most relevant to them. That's no small task when you have over 1.65 billion people to keep happy and over 1,500 stories per day to prioritize for each of those individual users. Now, Facebook has announced one of their most significant News Feed shuffles.
On Wednesday, Facebook shared that the News Feed algorithm is going to shift so that it will more favorably promote content posted by the friends and family of users.
These changes are likely to mean that content posted by brands and publishers will show up less prominently in News Feeds. In the announcement, the company explained their priority is keeping you connected to the people, places and things you want to be connected to — starting with the people you are friends with on Facebook.
Back in April 2015, Facebook made a similar algorithm update trying to ensure that stories posted directly by the friends you care about will be higher up in News Feed, so you are less likely to miss them. But based on feedback, Facebook understands that people are still worried about missing important updates from the friends.
This update is likely to affect all types of content posted by brands and publishers, including links, videos, live videos and photos. Facebook said it anticipates that this update may cause reach and referral traffic to decline for many Pages who's traffic comes directly through Page posts.
The update will have less of an impact, however, if a lot of your referral traffic is the result of people sharing your content and their friends liking and commenting on it. Links or Page content shared by friends or content your friends interact with frequently will still appear higher in the feed.
For example, the post from my personal Facebook account (on the right below) would be more likely to appear above the post from Buffer's Page (on the left) in the News Feed: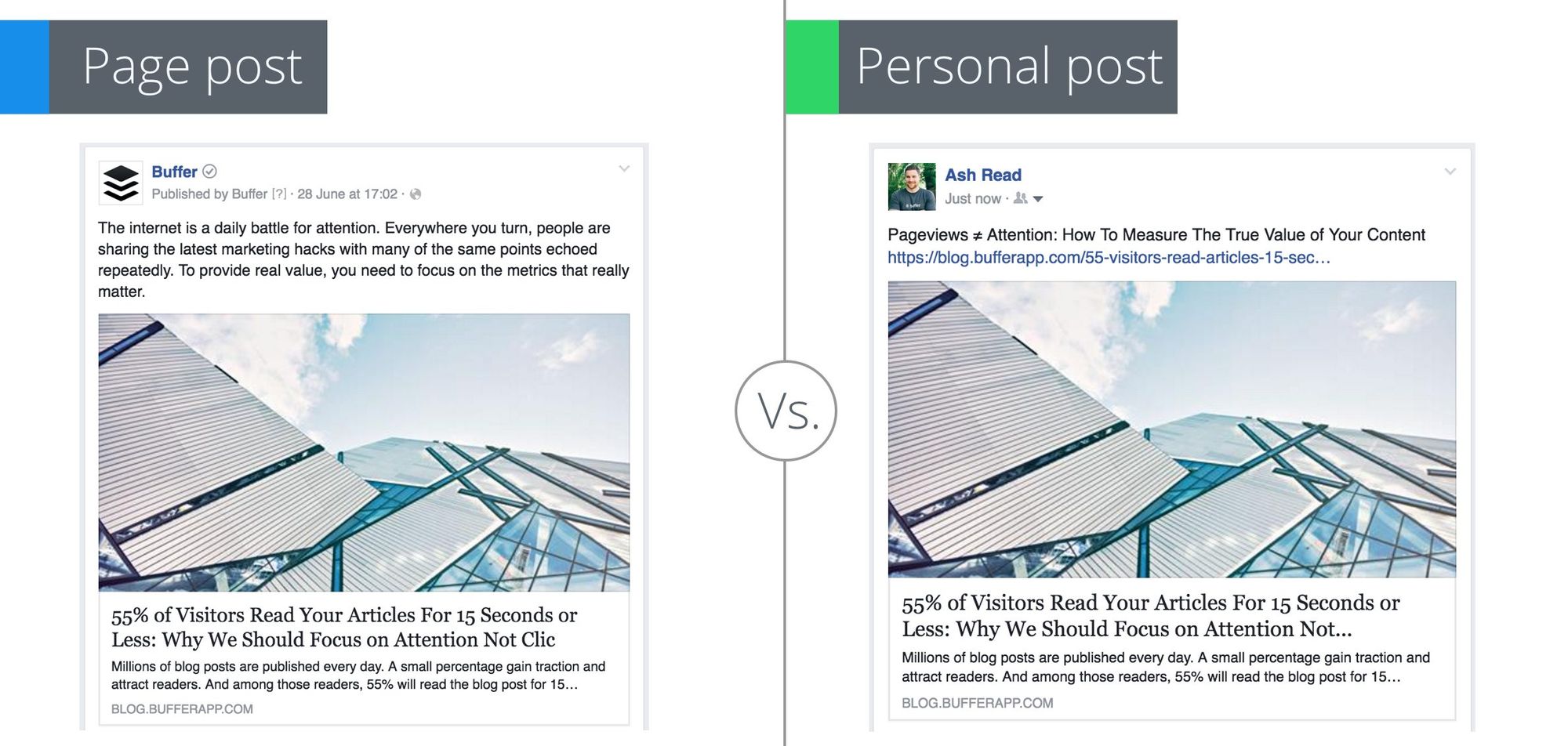 What do users expect from the News Feed?
Facebook's success is built on getting people the stories that matter to them most.
To help make sure you don't miss the friends and family posts you are likely to care about, Facebook try to put those posts toward the top of your News Feed. The News Feed learns and adapts over time based on the content you interact with the most, too. For example, if you tend to like photos from your sister, they'll start putting her posts closer to the top of your feed so you won't miss what she posted while you were away.
Facebook research has also shown that, after friends and family, people have two other strong expectations when they come to News Feed:
The News Feed should inform. People expect the stories in their feed to be meaningful to them — and we have learned over time that people value stories that they consider informative. Something that one person finds informative or interesting may be different from what another person finds informative or interesting — this could be a post about a current event, a story about your favorite celebrity, a piece of local news, or a recipe. Facebook's algorithm is always trying to better understand what is interesting and informative to you personally, so those stories appear higher up in your feed.
The News Feed should entertain. Facebook also found that people enjoy their feeds as a source of entertainment. For some people, that's following a celebrity or athlete; for others,  it's watching Live videos and sharing funny photos with their friends. Again, the company's News Feed algorithm tries to understand and predict what posts on Facebook you find entertaining to make sure you don't miss out on those.
The makeup of a successful social network (and why this update is essential for Facebook)
Despite its venture into publishing and partnerships with large news and entertainment brands, at its heart, Facebook is still a place for friends. And without solidifying our connections with those closest to us, Facebook could face struggles to keep its 1.65 billion monthly active users coming back.
To understand the inner-workings of social networks and what makes us keep using them, the Swiss Federal Institute of Technology studied networks like Friendster and Myspace with the goal of figuring out what factors can be detrimental to a social network.
They found that when the time and effort (the costs) associated with being a member of a social network outweigh the benefits, then a decline in users becomes likely. If one person leaves, their friends become more likely to leave and as more people leave, this can lead to a cascading collapse in membership.
Networks like Friendster and Myspace were the Facebook of their day. Both had tens, and eventually hundreds, of millions of registered users, but what the study found is that the bonds between users weren't particularly strong. Many users had very few close connections, and it appears there's a direct correlation between how connected we feel to our friends and family and our affiliation with each network.
If Facebook users are worried about missing important updates from the people they care about most, then their affiliation with the network could begin to decline as they find other ways to stay connected. And once user begins to leave, or become un-engaged, it could have a waterfall effect on the network. David Garcia, a professor at the Swiss Federal Institute of Technology, explains:
"First the users in the outer cores start to leave, lowering the benefits of inner cores, cascading through the network towards the core users, and thus unraveling."
You can see how a social network unravels in the below graphic (Friendster is used in the image):

For Facebook, the News Feed is the most integral part of their product to make us feel connected with those we care about. And as such, it's important for Facebook to keep the content we want to see the most at the top of the feed.
How will this update impact business Pages?
The changes will affect all types of content posted by Pages, including links, videos, live videos and photos.
In their "News Feed Values" shared alongside this announcement, Facebook made it clear that content from friends and family will come first. And the company also highlighted the importance of authentic communication and being inclusive of all perspectives and view points without favoring specific kinds of sources — or ideas.
We expect that this update may cause organic post reach and referral traffic to decline for some Pages. The impact will vary for every page and will greatly depend on the composition of your audience or the way in which your content is shared on Facebook. For example, if a lot of your referral traffic is the result of people sharing your content and their friends liking and commenting on it, there will be less of an impact than if the majority of your traffic comes directly through Page posts.
As with all Facebook algorithm updates, it may take a little time to determine exactly what will continue to work and how to increase organic reach (though Facebook feels like it's shifting more towards a pay-to-play market for businesses).
One tactic that could become increasingly important is the amplification of brand content. With Facebook favoring content shared by users rather than Pages, it feels essential to find new and innovative ways to encourage your audience to share your content directly to Facebook. Ensuring your content is discoverable away for the Facebook News Feed could be another key play as well.
It also feels important to keep a focus on what people are looking for from the News Feed. As mentioned earlier, aside from friends and family, Facebook users turn to the News Feed to be informed and entertained. With those goals in mind, it's worth thinking about how the content you create for Facebook can satisfy those desires.
Over to you
In their announcement, Facebook says their work is "only 1 percent finished" so it feels like there are plenty more twists and turns ahead for the News Feed.
I'd love to hear your thoughts on this update and how it may affect the way you use Facebook and the types of content your share? Please feel free to leave a comment below and I'm excited to continue the conversation with you.