What started as a simple app to send disappearing videos to friends, Snapchat now attracts some of the biggest brands and influencers in the world.
More than 300 million people use the app every month – generating an astounding 10 billion videos views per day!
Which is why Snapchat presents a huge opportunity for businesses and brands to get in on a platform that is growing exponentially by the day.
But how?
Carlos Gil has been helping brands and businesses successfully develop and implement their Snapchat marketing strategy for years. And he's really, really good at it, too. In 2016, Carlos was listed as one of the world's top Snapchat marketing influencers by Inc. and a host of other publications.
We had the pleasure of chatting with Carlos all about how marketers can get started with Snapchat and how they can tie their Snapchat marketing efforts into overall business ROI. A huge thank you to Carlos for jam-packing this episode with actionable wisdom and takeaways for social media managers and marketers alike looking to create winning habits and goals that will take their skills to the next level.
This episode is available on:
In this episode, here's what you'll learn:
Carlos Gil shares his expert insights on what it takes to get started on Snapchat and how marketers can use this platform to build a engaged community as well as drive real ROI for their business.
Carlos' story of becoming a Snapchat influencer
Answering the question: Is it too late to join Snapchat for brands?
How to get started on Snapchat and provide value to your audience
Tying Snapchat marketing efforts to business ROI
How to run an influencer marketing campaign on Snapchat
3 Key Takeaways for Marketers Looking to Expand and Go All-In on Snapchat in 2017
In Carlos' words…
1. Be real
I often look to DJ Khaled for inspiration (keys to success) – he's one of the most watched people online today. They key to DJ Khaled's success has been just being real and he's set the model of consistency for every brand marketer should aspire to be. What people really want is to be entertained, engaged, and inspired. Think of Snapchat as product storytelling.
2. Take risks
Snapchat is not Facebook, it's not LinkedIn, and it's not YouTube – it's Snapchat. Take risks and tell short, engaging stories on the platform.
3. Develop a long-term strategy
You're not going to get on Snapchat and see success overnight. There's no such thing as overnight on social media, but especially on Snapchat. Really start building your strategy over the next 12-18  months. How are you going to first grow your audience? How are you going to keep them engaged long-term? And then, most importantly, how are you going to take that growth and engagement and convert that into sales?
Mentionable Quotes and Shareable Snippets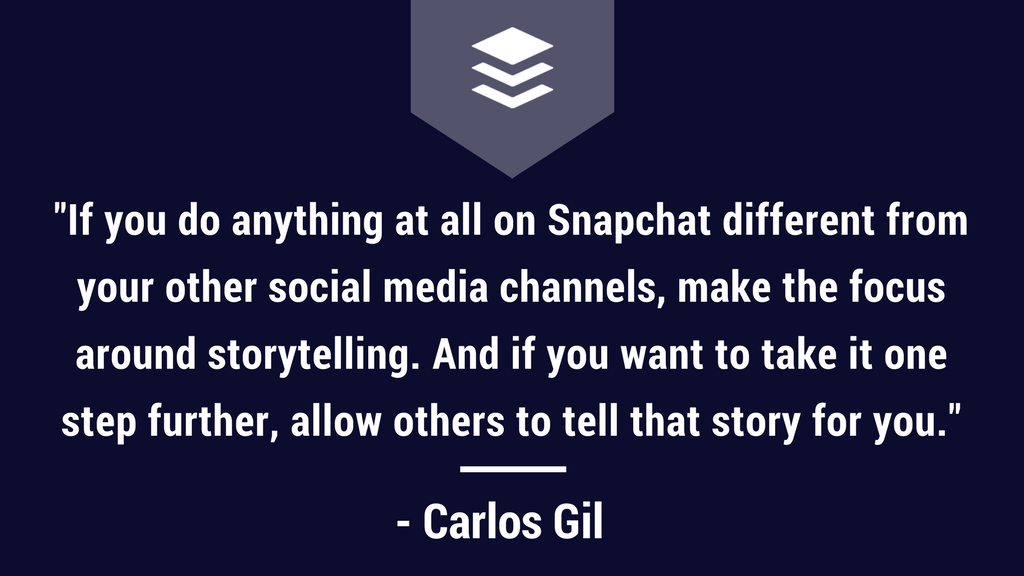 "If you do anything at all on Snapchat different from your other social media channels, make the focus around storytelling. And if you want to take it one step further, allow others to tell that story for you."

– Carlos Gil
Show Notes and Other Memorable Moments
Thanks a million for checking out this episode! Below are the websites and other tidbits that were mentioned in today's podcast about creating incredible Facebook communities using groups. If you have any questions for us, feel free to drop us a line in the comments and we'll respond right away!
Awesome People, Things, & Articles Mentioned in the Show
Great Quotes
"My perspective of social media is completely different than your textbook version of how these channels work. For me, this was a lifeline for me to grow a business and feed my family."
"It's definitely not too late to join Snapchat. Even though the train has already left the station, there's still time for brands and businesses to get on board."
"We see a lot of 'rinse and repeat' across social media channels. You have to ask yourself: How is my content going to be different on Snapchat than my other social media channels?"
"Reach out to influencers directly if they align with your brand and if everything checks out, run a campaign with them on Snapchat."
How to Say Hello to Carlos (and us)
Carlos Gil is a fantastic person to follow across social media for daily marketing tips, tricks, and motivation. You can find Carlos on Snapchat here, Twitter here, Facebook here, and read more about Carlos' journey at carlosgil.biz.
Thanks for listening! We'd love to connect with you at @buffer on Twitter or with the hashtag #bufferpodcast.
Enjoy the show? It'd mean the world to us if you'd be up for giving us a rating and review on iTunes!
—
About the Show
The Science of Social Media is a podcast for marketers and social media managers looking for inspiration, ideas, and results for their social media strategies. Each week, we interview one of the very best in social media marketing from brands in every industry. You will learn the latest tactics on social media, the best tools to use, the smartest workflows, and the best goal-setting advice. It is our hope that each episode you'll find one or two gems to use with your social media marketing!
The Science of Social Media is proudly made by the Buffer team. Feel free to get in touch with us for any thoughts, ideas, or feedback.