Hi there! Buffer has evolved a lot since we wrote this blog post back in 2015. Some of the content and screenshots are now out-of-date. Check out the new-and-improved Buffer at buffer.com.
---
We do not often write articles focused on Buffer here on the social blog, but we wanted to try something different this time around and hope you will find it useful!
If you are already using Buffer to share on Social Media (THANK YOU!!) and are looking for some tiny tweaks that could make the experience better and faster, I might have what you are looking for.
I wanted to share with you 12 things you can do in your Buffer account that will help you streamline your process even more. Let's jump right in!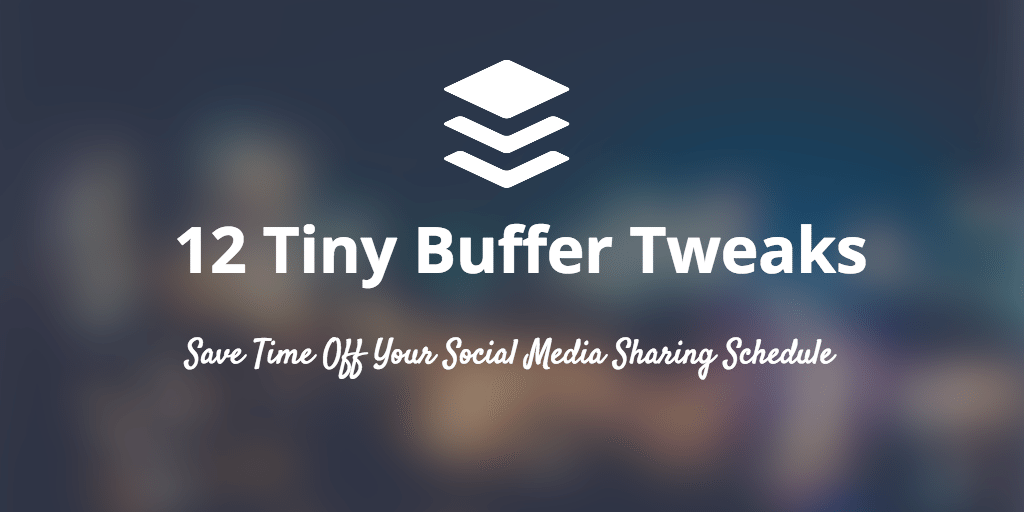 1. Select Default Accounts
Are there specific social networks in your Buffer account that you always share to? There is an easy way for them to be automatically preselected every time you open the extension or composer.
In order to do this, simply click on the left of the profiles you would like to set as default.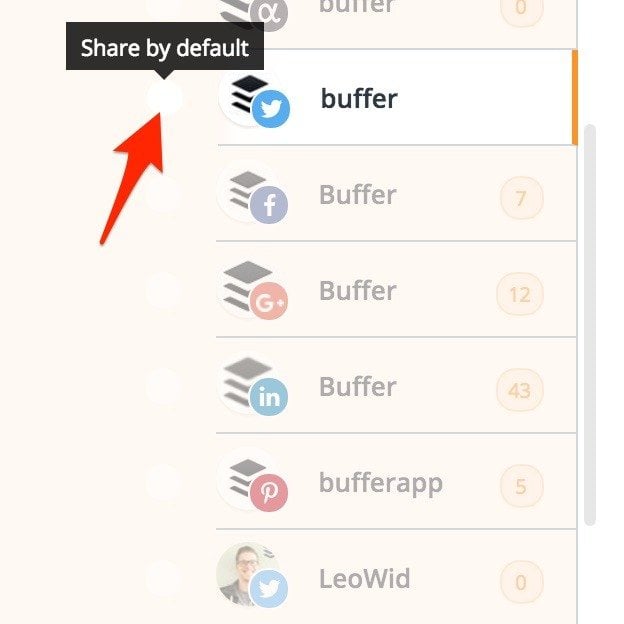 You will notice that a check mark appears next to profiles selected by default. If you would like to remove default profiles, simply click on the check marks and they will be removed.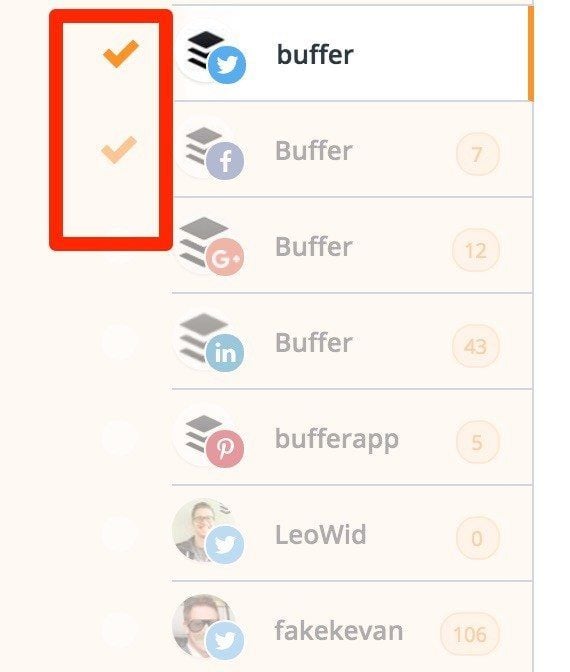 2. Turn Off Your Schedule
Have you ever wanted to pause your sharing schedule without losing any of the times you have made sure to perfect?
There is an easy way to achieve that. Go to the schedule tab and click on each day of the week in order to set them all to white. This will put your schedule on pause until you are ready to start sharing again.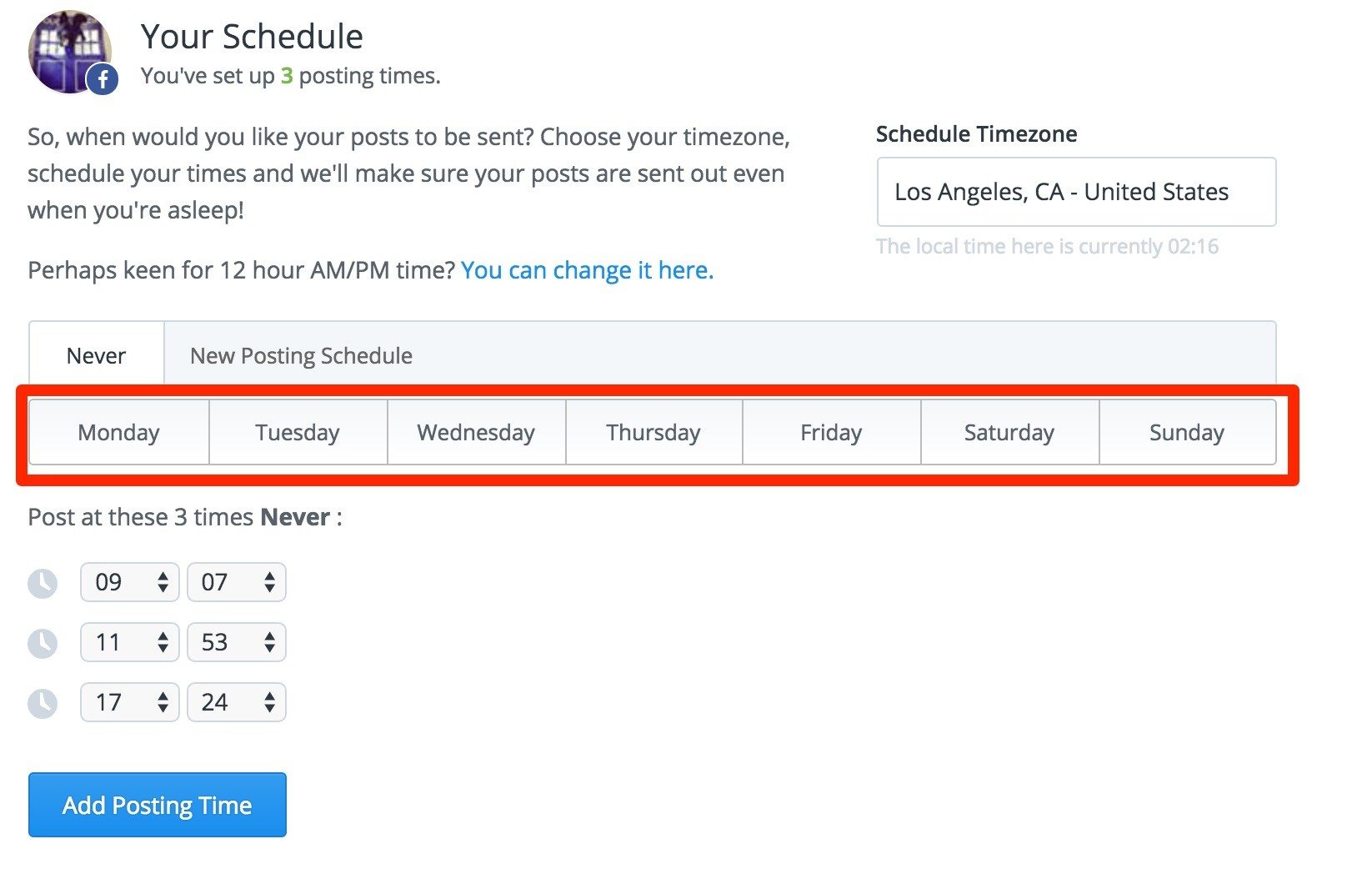 In order to turn it back on, click on the days to turn them back to blue and everything will resume as if nothing happened. ?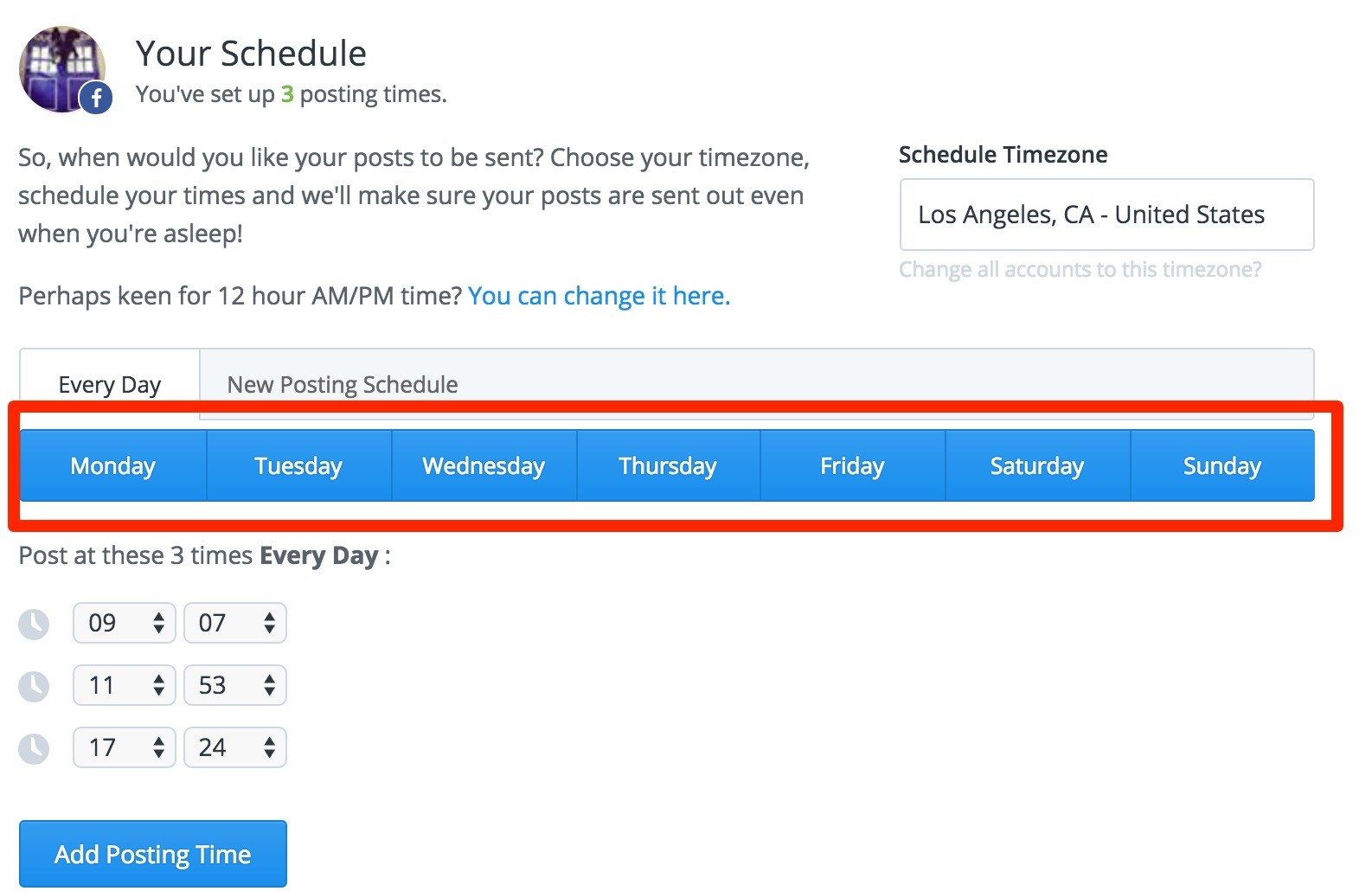 3. Change Your Timezone
Did you know you could change the timezone of each one of your profiles to whatever you like? Let's say you are traveling to a different timezone and would like your schedule to change according to that new timezone, it's simple!
Go to the schedule tab, above your schedule you will notice a text field to set your Timezone.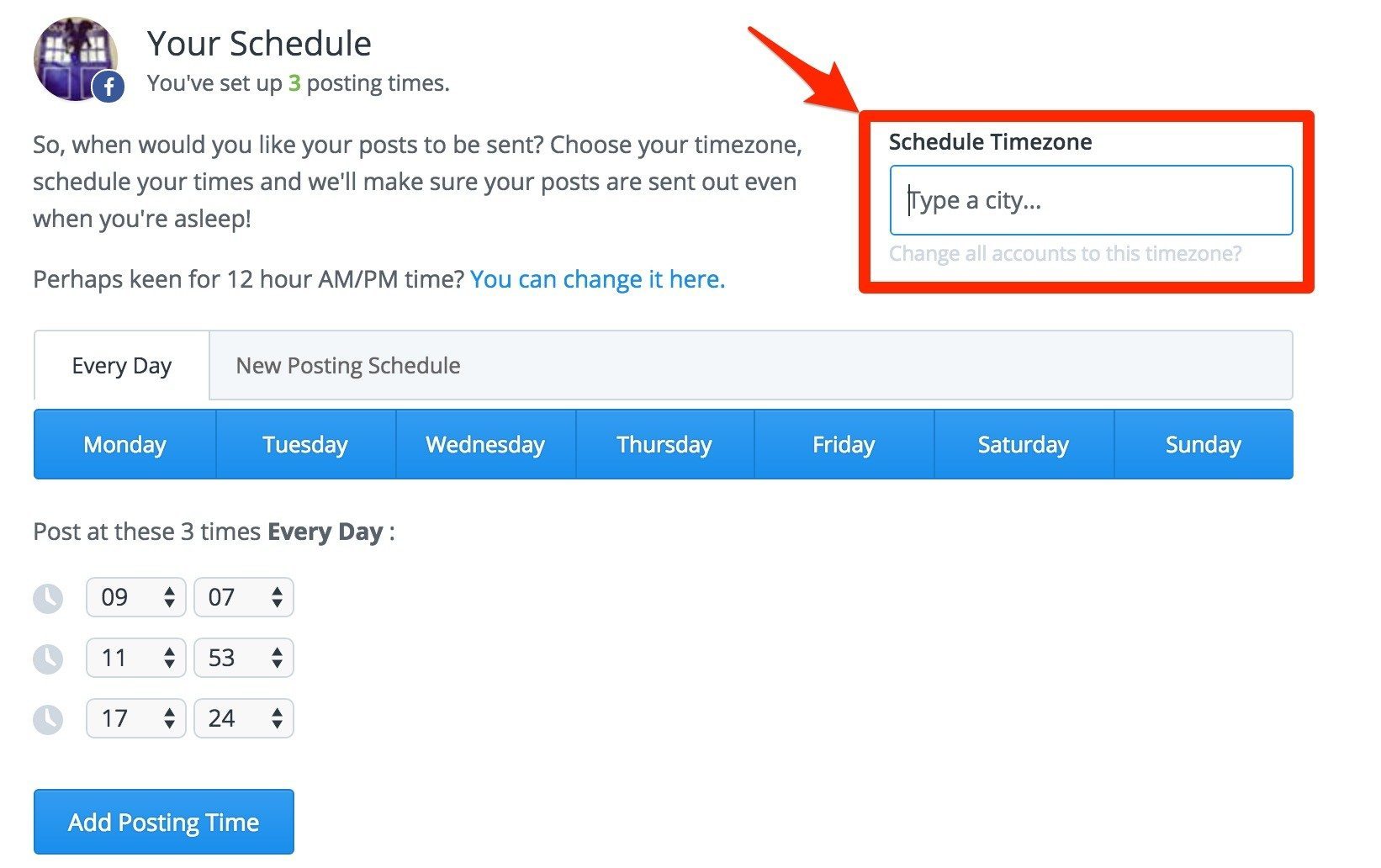 Type your city (or nearest big city) in there and select the desired city from the options provided. And you're set.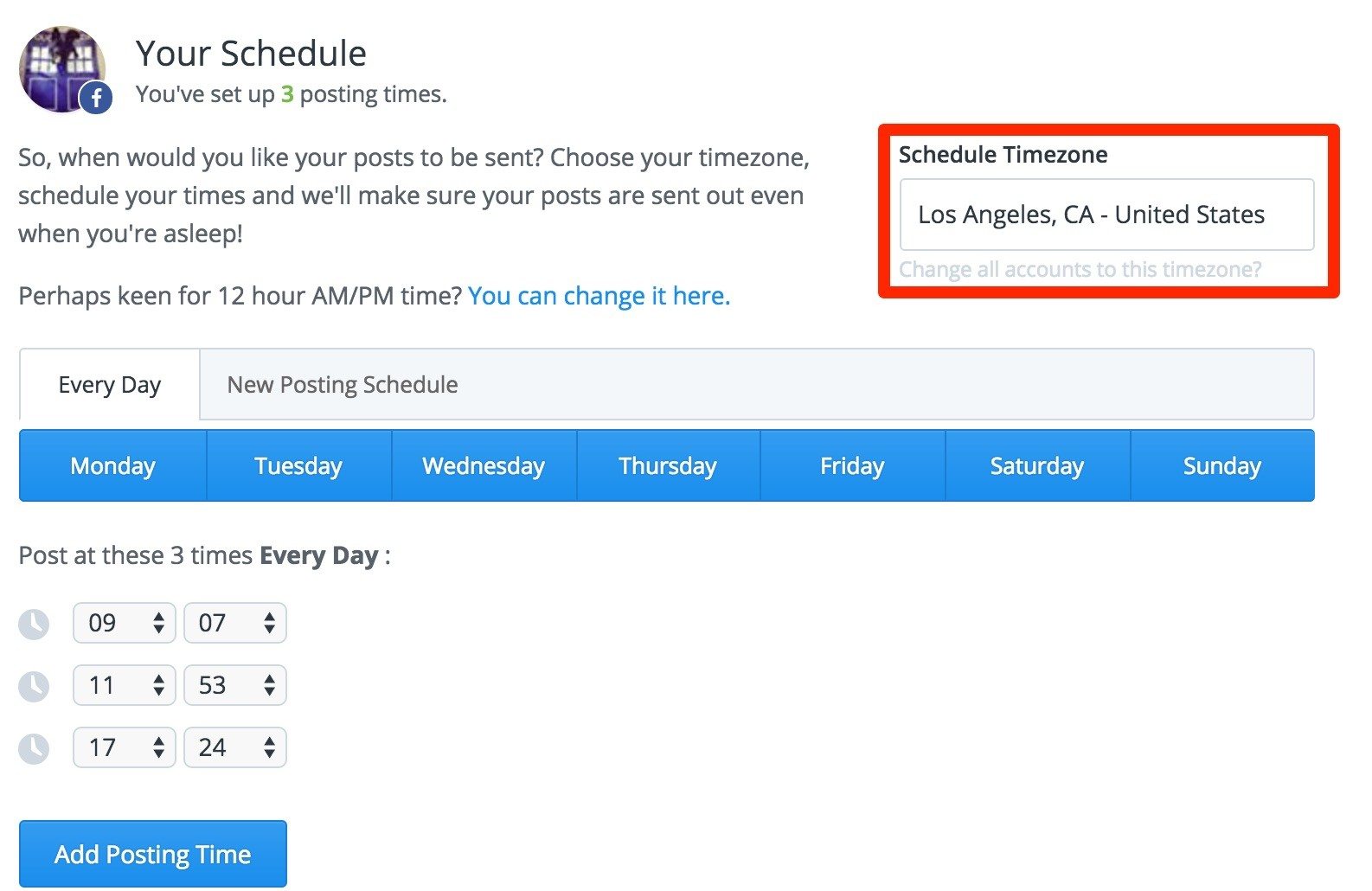 If you would like to apply that timezone to all your accounts, you can click on the text below that says "Change all accounts to this timezone?" and all your accounts will be set to that new timezone.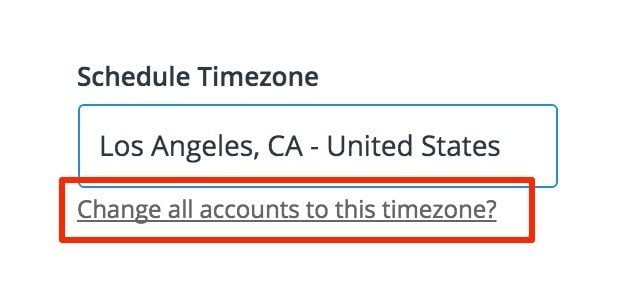 4. Click on any Date to see the Post
If you ever need to find the post of an update you sent, just head over to the analytics tab, find the update and click on the time the update was shared. This will send you to that update on the social network it was shared.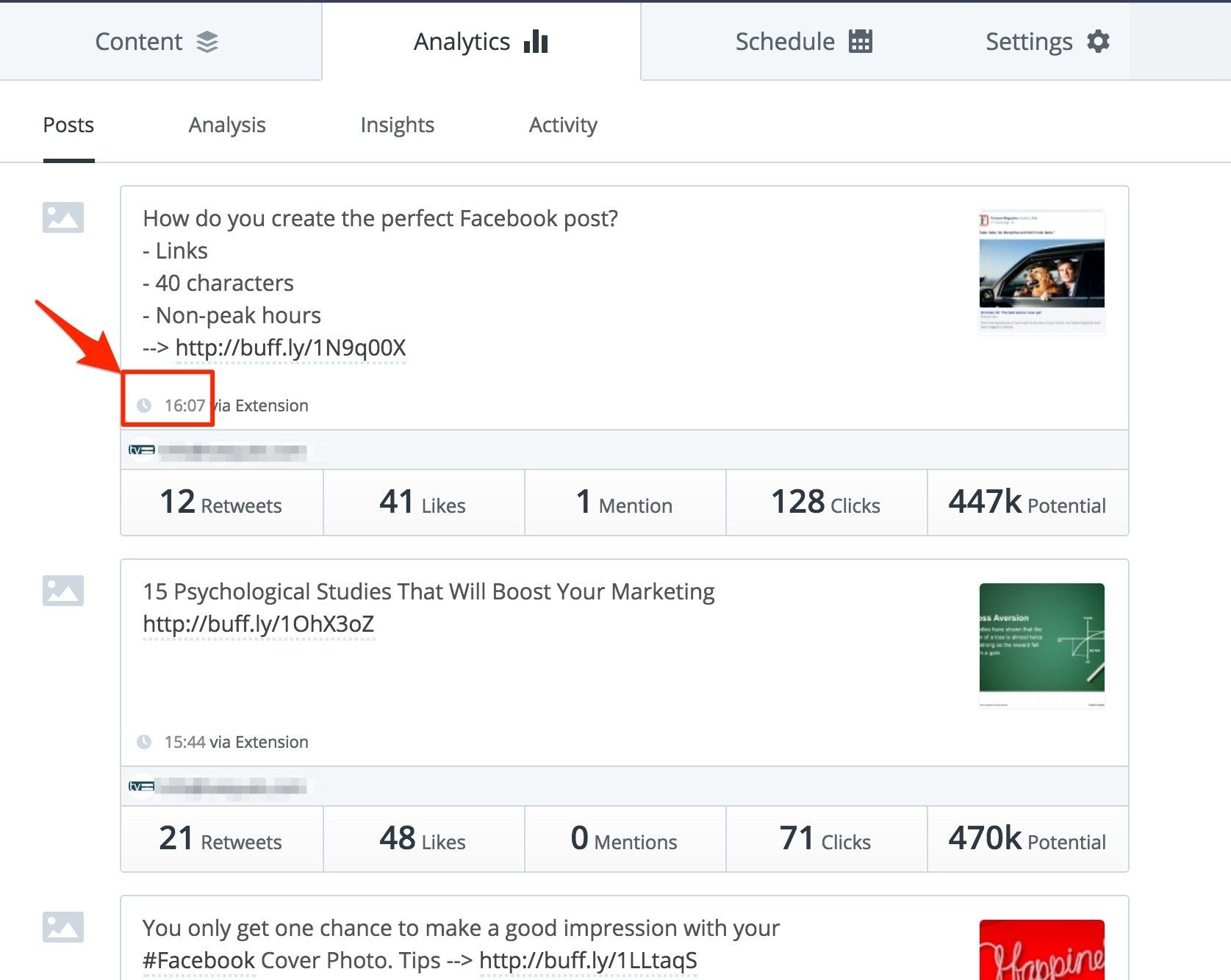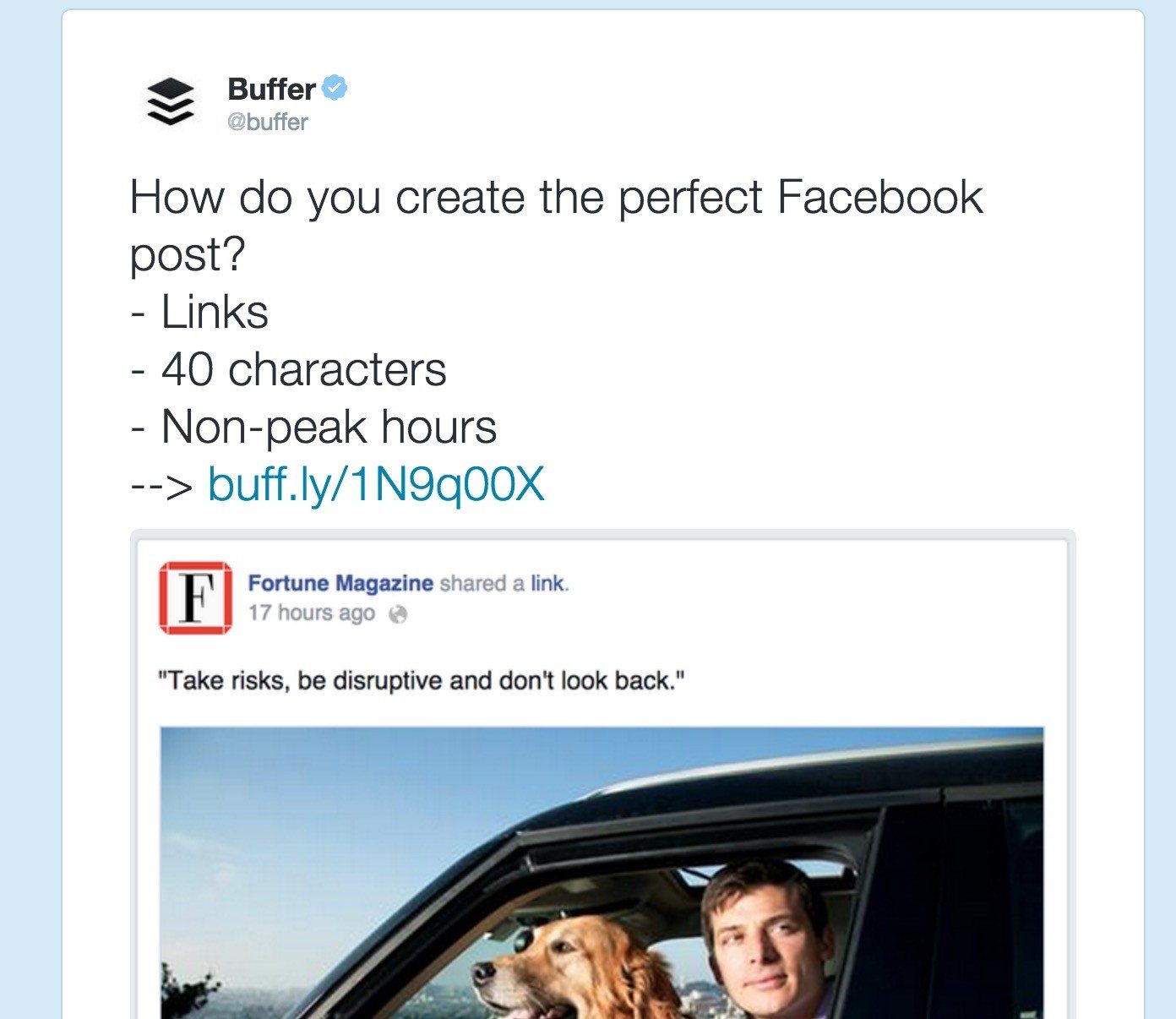 5. Swap between a 12- and 24-hour clock
Do you have a preference in the way time is displayed? Buffer allows you to pick between a 12- and 24-hour clock.
Go to the schedule tab and click on the text link above your schedule.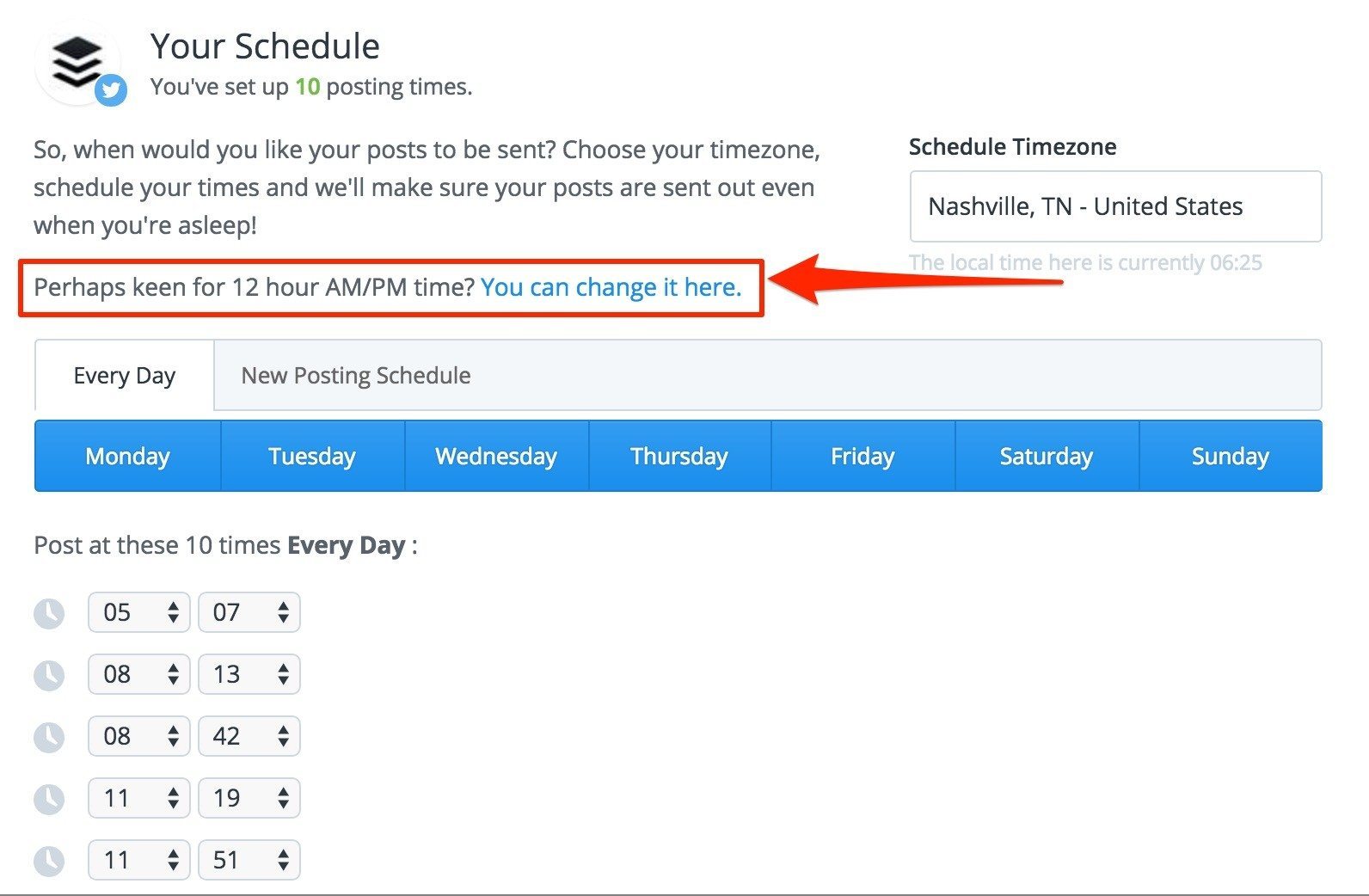 This will take you to the Time Settings page where you can select your preferred format by clicking on the button.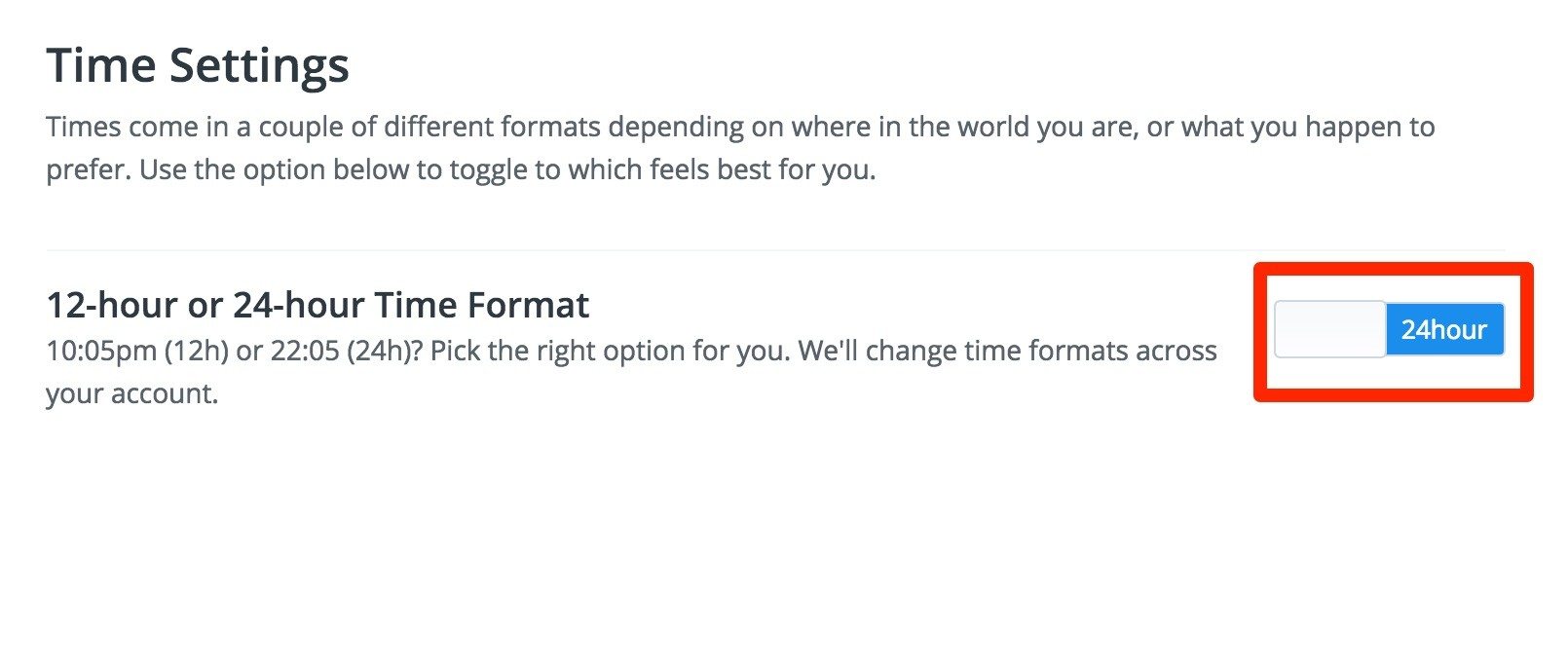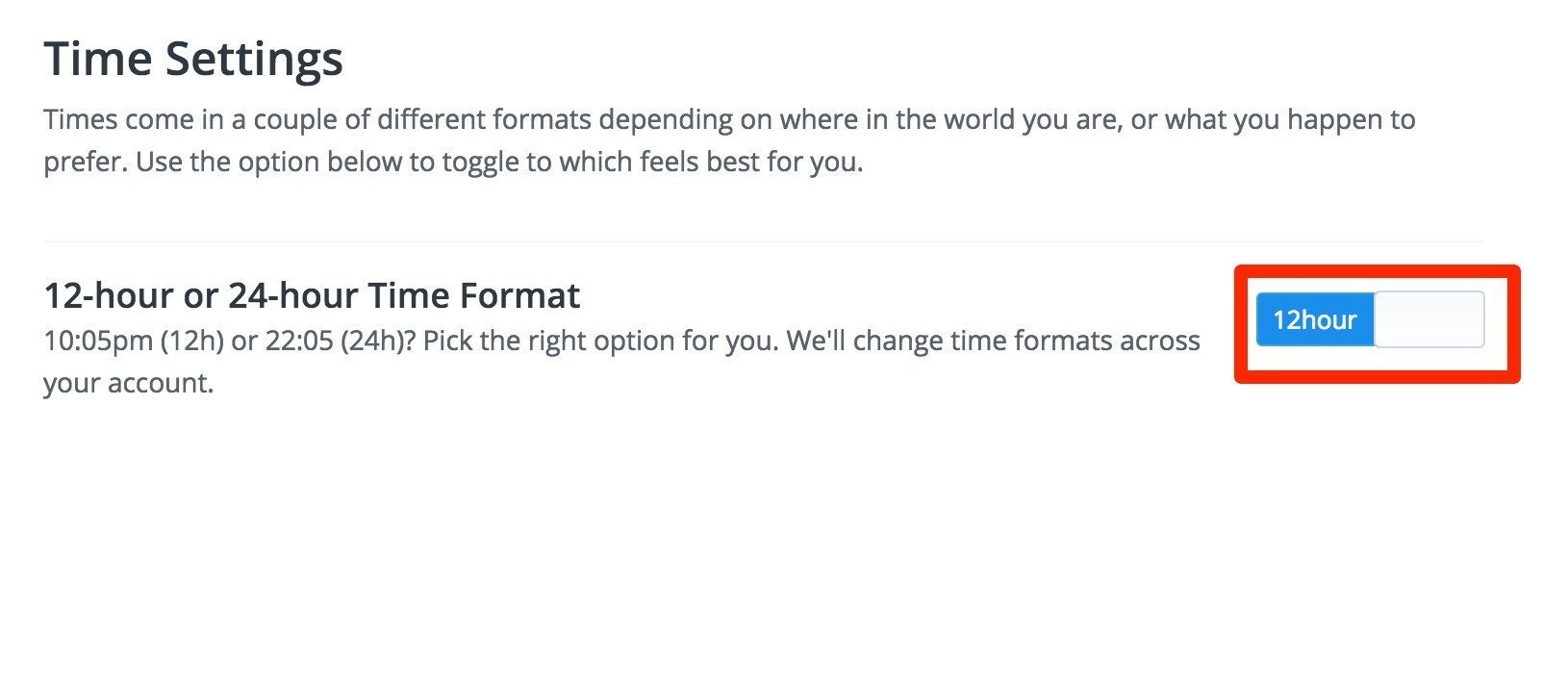 6. Drag the Extension Composer Around the Page
Did you know you can move the extension composer around the page?
Let's say you need to check something on the article you are sharing, simply put your cursor on one of the blank areas until you see a four headed arrow cursor, click and drag the browser where you want on the page.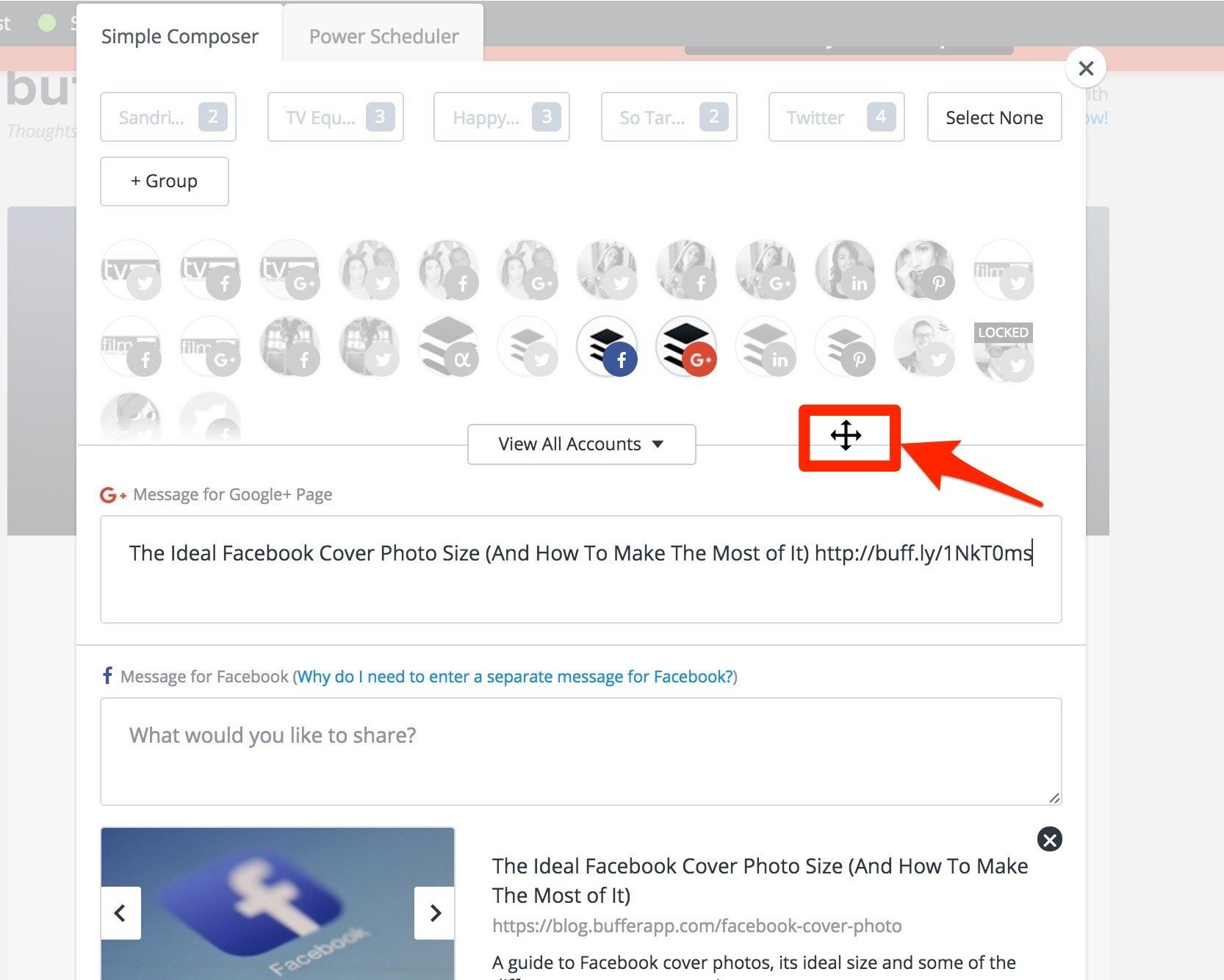 This also helps if the "Add to Queue" button falls out of the page. Click to drag it back up on the page.
7. Upload a Custom Thumbnail
Do you like picking specific photos to be shared on Facebook and LinkedIn when sharing a link? You can with Buffer.
When sharing a link on Facebook and/or LinkedIn (not Google+ at the moment find out why here) hover over the current image attached to the link. Click and select the image you would like to upload. And you're all set!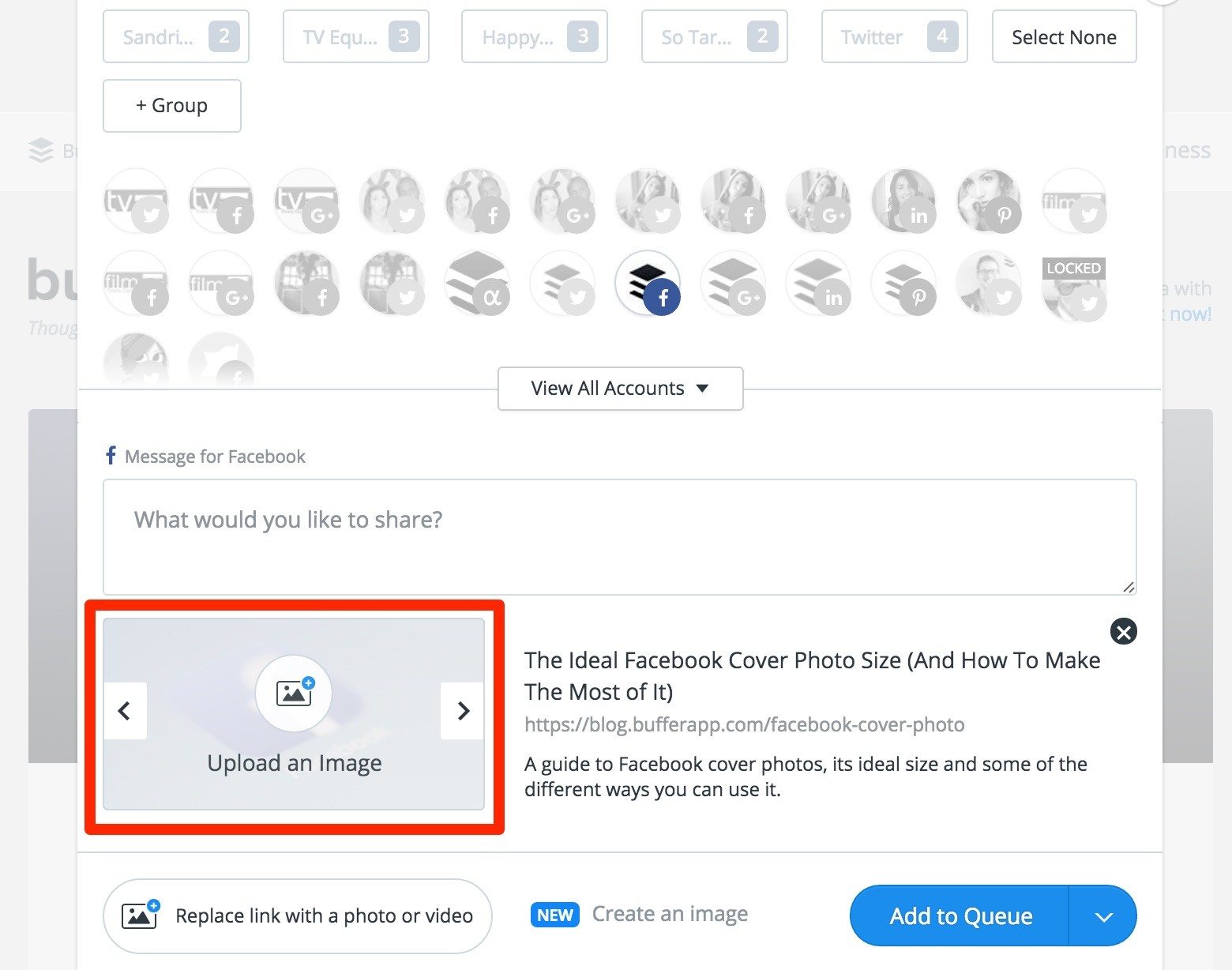 8. Shuffle your Queue
Ever feel like shaking things up? Let me introduce you to the Shuffle button! You will find it at the top of your queue. Clicking it will mix up your updates into a new order.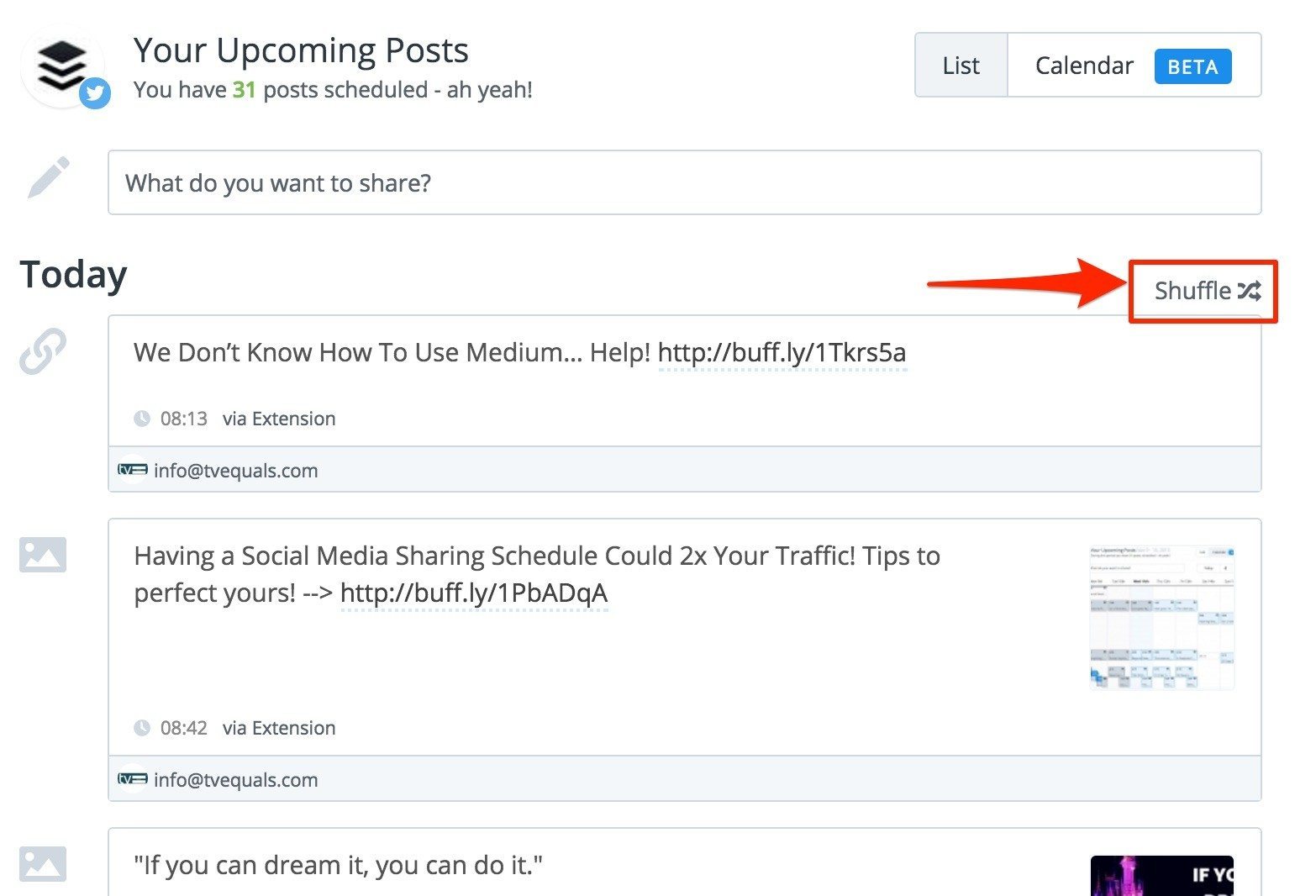 9. Move a Update to the Top of the Queue
As you add new updates to your queue you realize that you would like the current update you are writing to be added to the top of your queue so that it is the next update to be shared.
There are a couple of ways you can achieve this:
1. If you haven't added the post to your queue and are still in the process of writing it, click on the arrow next to the "Add to Queue" button. This will give you three options to choose from. Click on "Share Next" and the update will automatically be added at the top of your queue.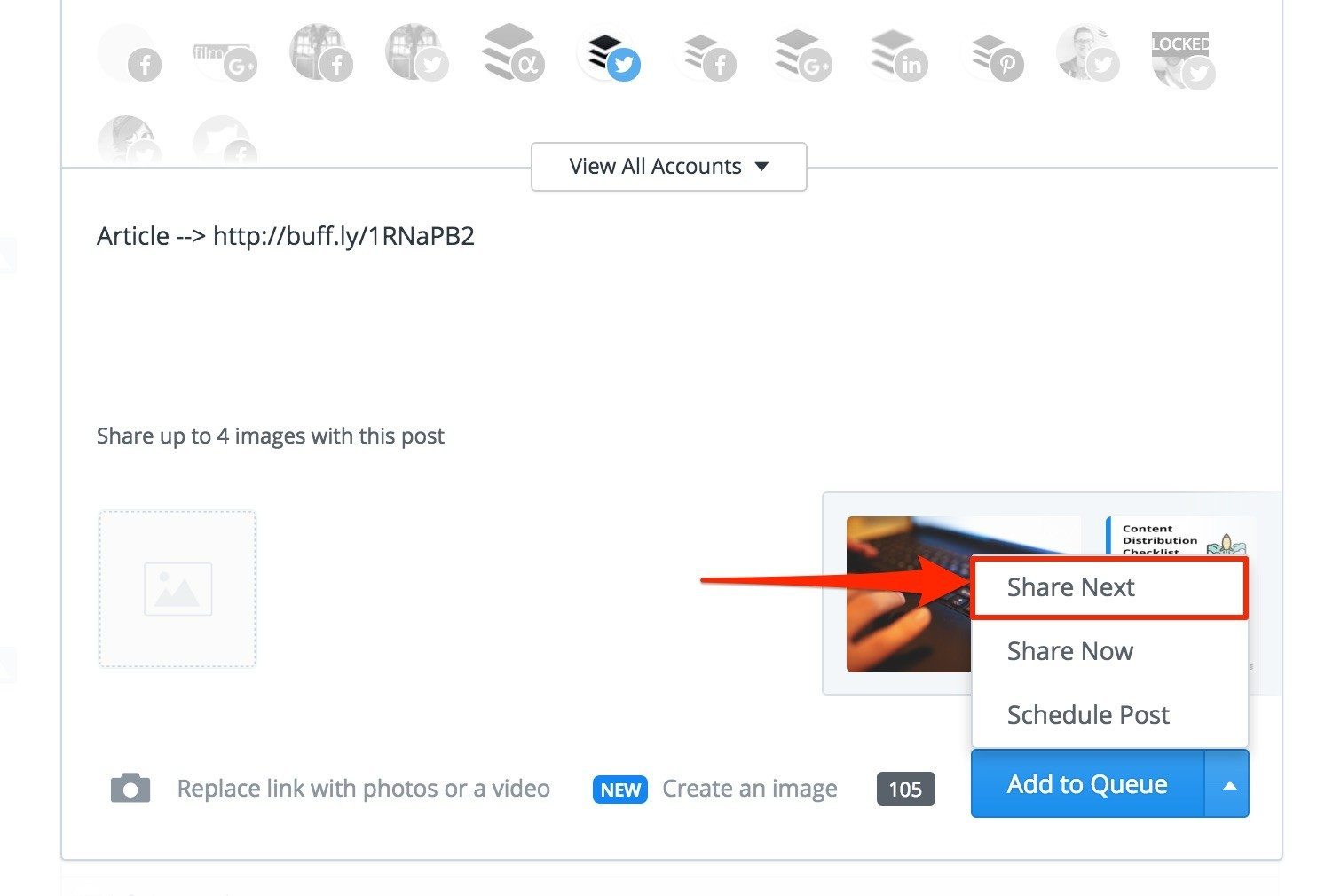 2. If you have already added the post to your queue, find it in your queue, hover your mouse over it and click on the "Move to Top" link. This will move the post to the top of your queue to be shared next.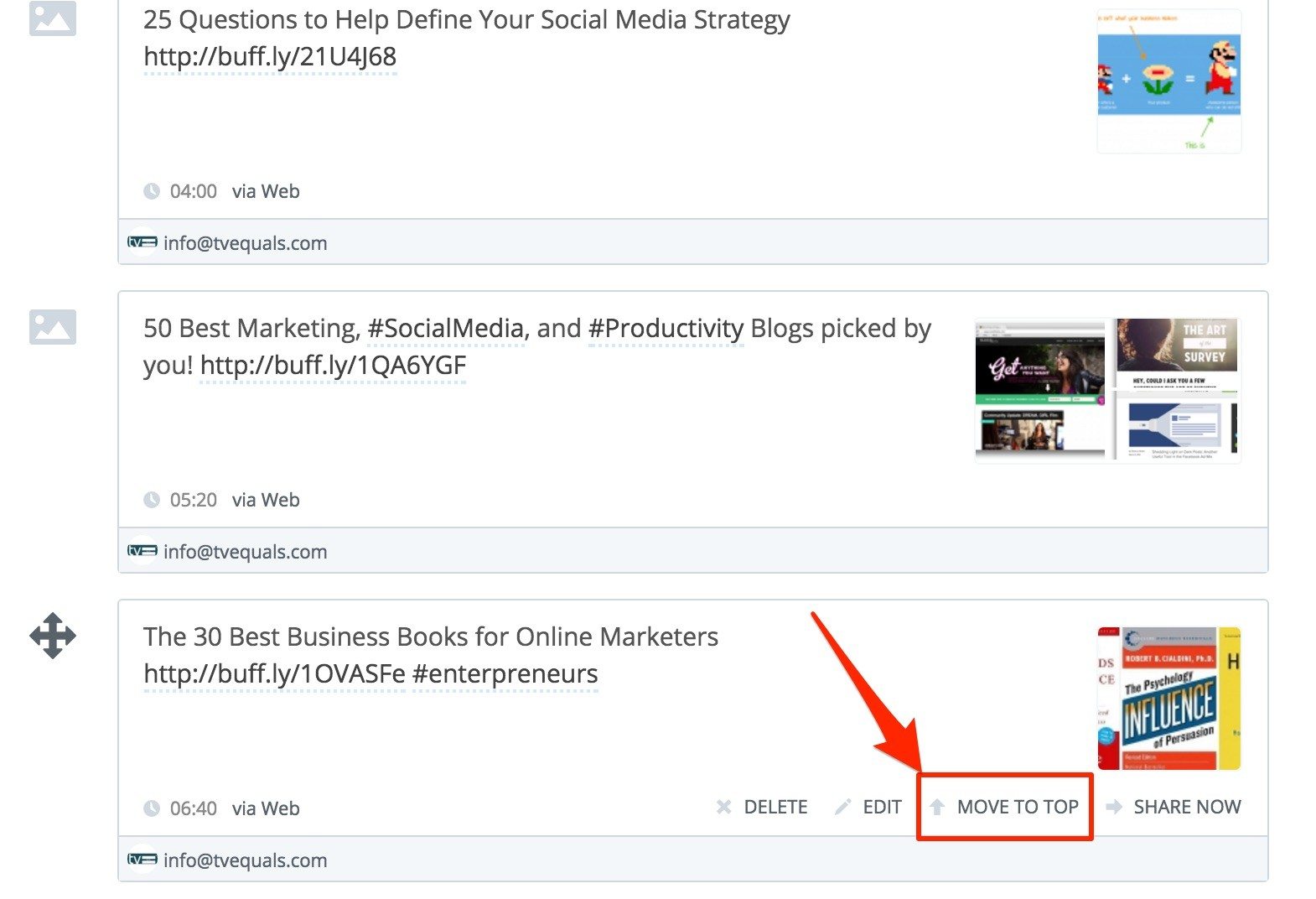 This also works if you would like to share an update right away. Instead of "Share Next" or "Move to Top" simply click "Share Now."
10. Keyboard Shortcuts
If you love shortcuts, then you're going to enjoy this! Buffer offers a few keyboard shortcuts that can help you share even faster:
"alt + b" (option+b for mac) to open the Buffer share box in the dashboard
"alt + b" (option+b for mac) to open the Buffer browser extension on any website
"ctrl + enter" ("cmd + enter" for Mac) to add to queue
"alt + (number)" to switch between your profiles
See It In Action!
Are you more of a visual person? We have a video for you! You can take a look at all 10 tweaks in action in the video below.
If you enjoyed the video, you can find more videos on the Buffer YouTube channel. ?
BONUS
11. Re-Buffer with The Social Media Calendar
We recently launched the Social Media Calendar which allows you to view and manage your social media updates at a glance.
Something you might not know is that you can Re-Buffer your past updates directly from the Calendar! This can save you time because you can simply tweak an older post to be re-shared instead of creating one from scratch.
When in your queue, go to the Calendar view.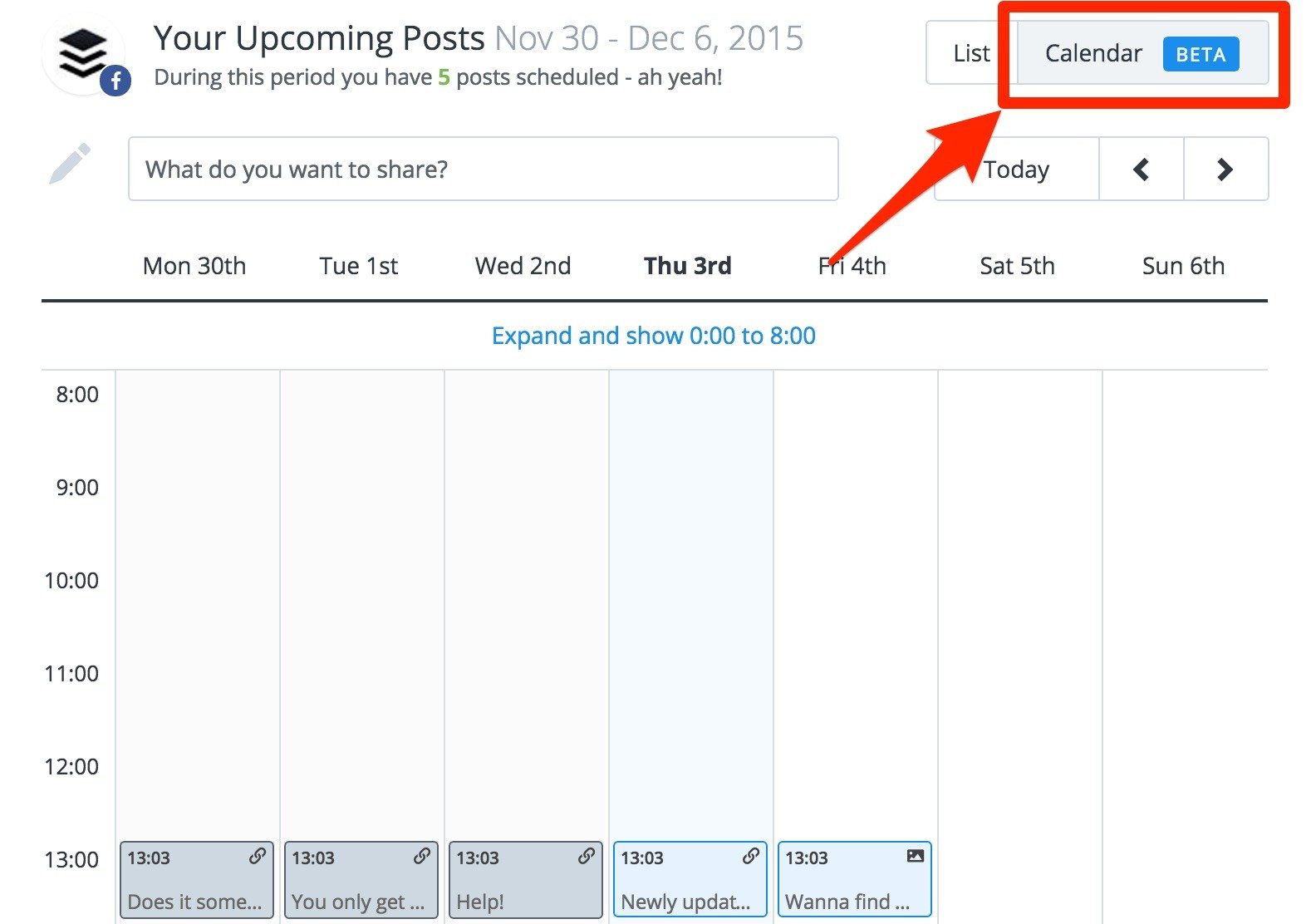 Navigate to past weeks and when you find an post you would like to share again, simply hover over it and click on the Re-Buffer button.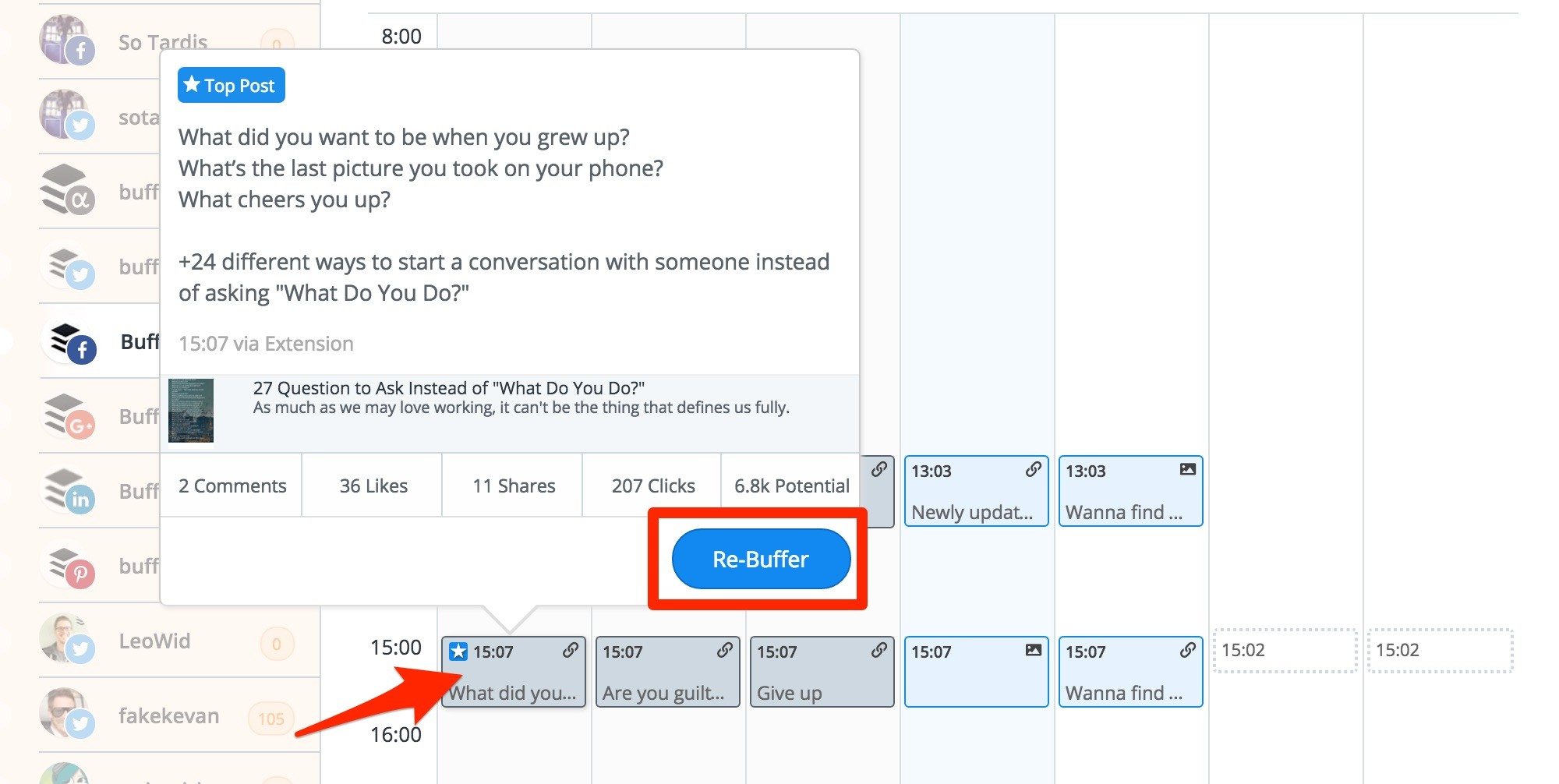 The Buffer composer will open and you can write a new update as usual.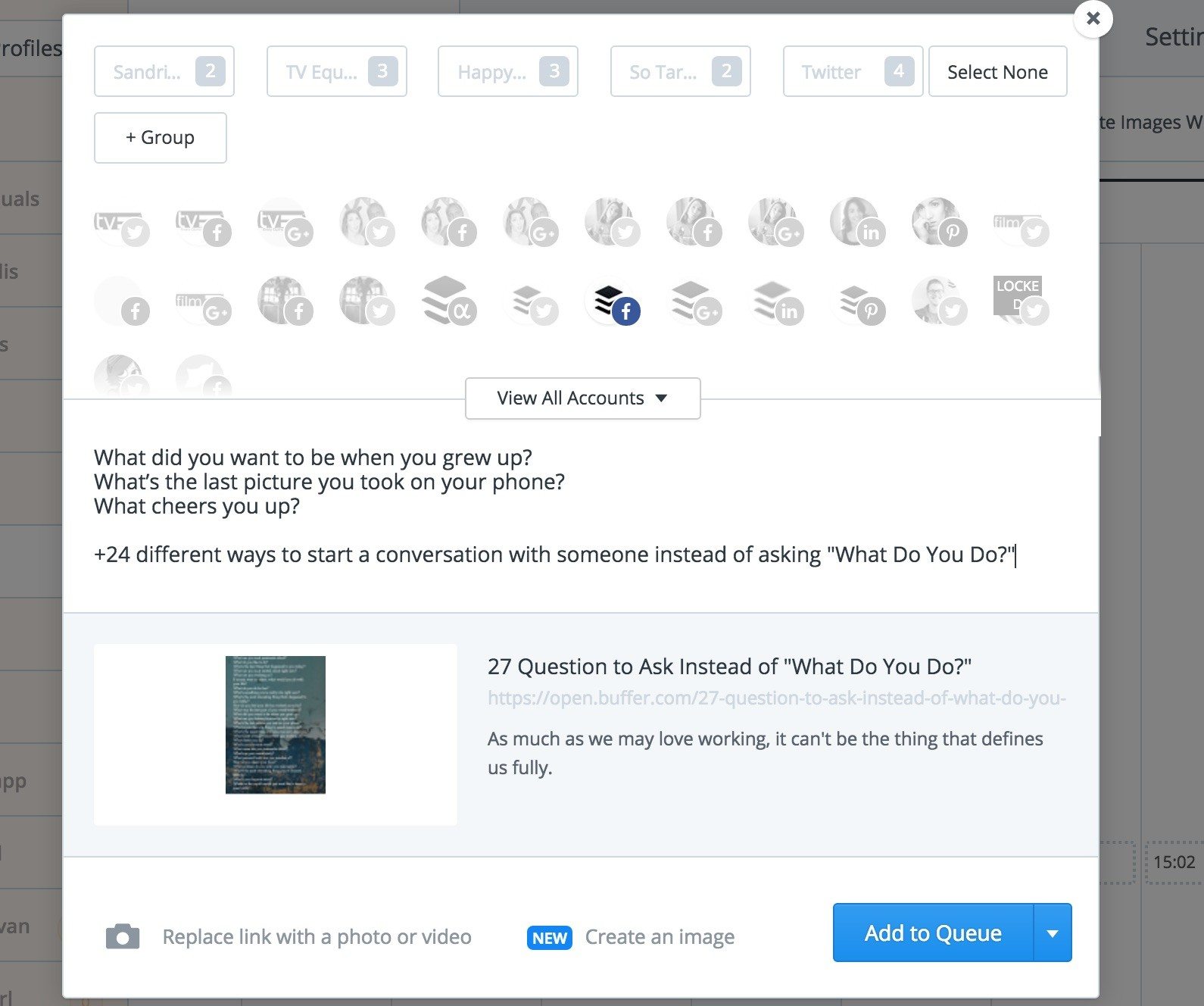 12. Create An Image
Images are a great way to get engagement on social media (research shows that images provide more engagement) and you can create your own easily and quickly using our very own tool Pablo. There is even an quick way to get to Pablo!
When you are writing a post and want to create an image to add to your post, simply click on either "Create an image" link (one at the bottom of the composer or one at the top right of the page).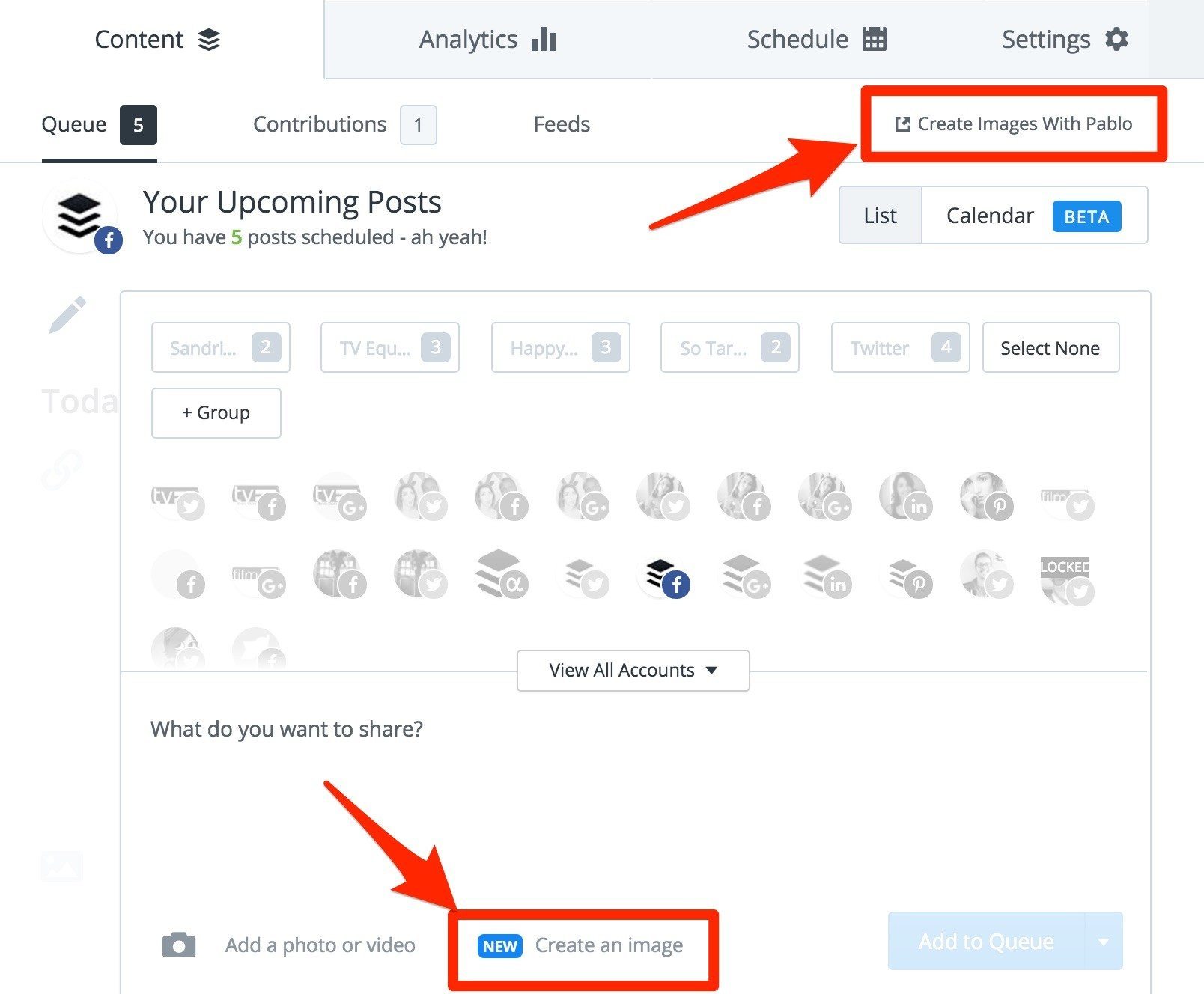 I new window will open to Pablo. You are now free to create your image, download it and attach it to your post.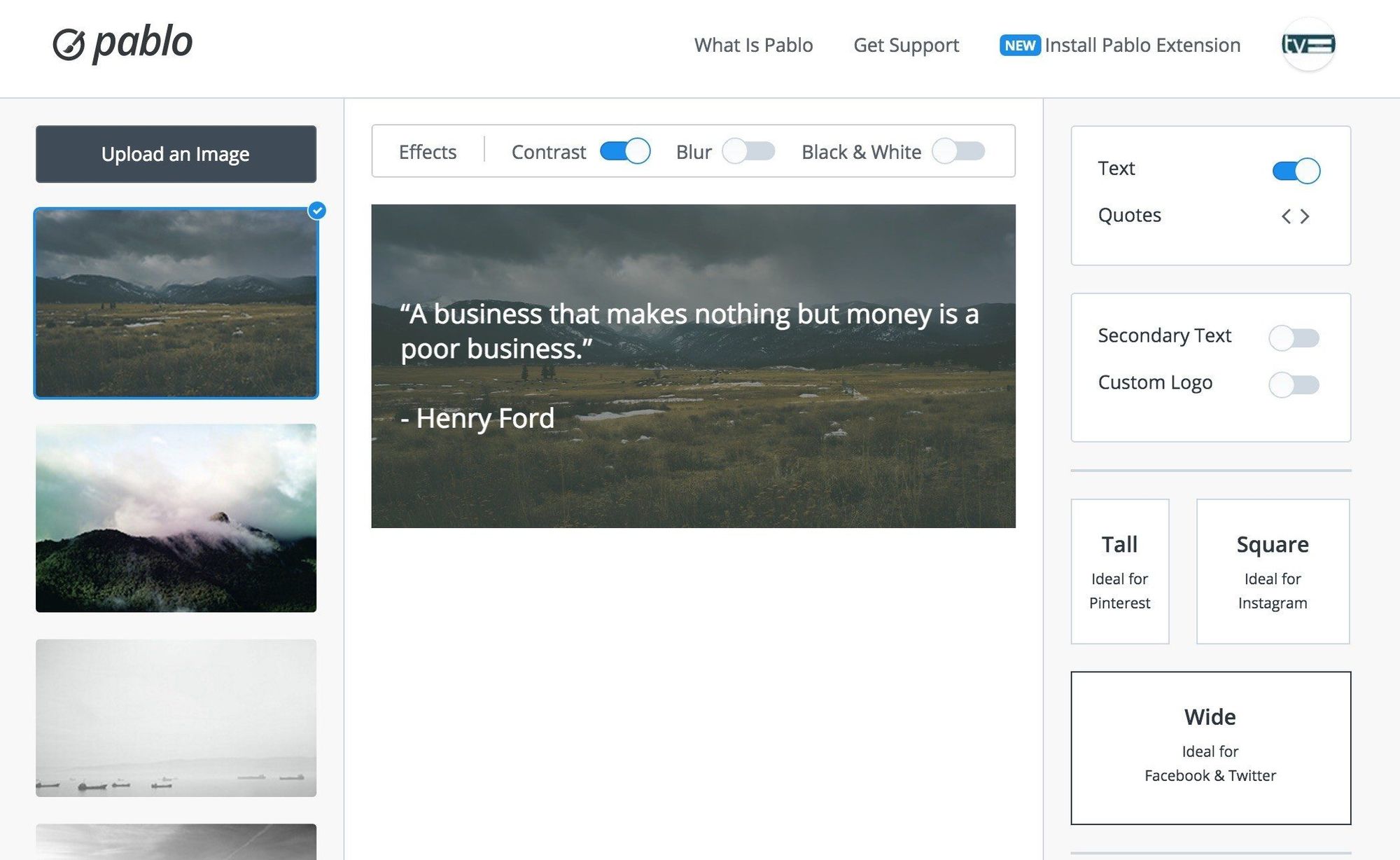 Over to You!
I hope these tweaks will help you get even more out of Buffer and share even faster!
I would also love to hear about some of your tweaks and the ways you have found to share faster using Buffer in the comments. ?