We hope you've had a great year.
We've had a lot of fun here at Buffer, and have learned a lot while serving our customers and building our business this year. And, as always, we've done our best to capture all these learnings here on the Open blog to share with you.
Thinking about all that's happened here over the last year, several key moments stand out. We'd love to look back with you on some of the biggest Open blog posts from 2018 and some of the stats behind the articles that were enjoyed the most. From workplace culture to practical email tips, our blog posts covered a lot of topics that affect our work each day.
If you have any questions that we can answer or anything you want to see the on the Open blog in 2019, we're all ears!
Please enjoy the articles below, and from all of us here at Buffer, we hope you have a very happy New Year! ?
---
One of the biggest steps we made for the future of Buffer this year was spending $3.3 million of our cash reserves to buy out a number of our investors and shareholders. This was a huge, momentous occasion for us and sharing it on the Open blog was a big step. This buyout helped us gain even more control over our future, and we're excited to use this freedom to deliver value to customers quickly and regularly and to continue building the type of business we love!
Check out all the details about the buyout event in this post by our CEO, Joel:
We Spent $3.3M Buying Out Investors: Why and How We Did It
Our hiring plans picked up pace as the year went on, and we found ourselves super grateful for having put a solid set of hiring practices in place. We have a good foundation for each new role, and we're lucky to have brought in some amazing folks to join the team this year!
How We Hire: A Look Inside Our Hiring Process
All this emphasis on process and inclusion led to …
On our diversity dashboard, we share our full diversity numbers publicly. As you can see, we still have work to do as we continue on the path to a diverse and inclusive workplace. As we continue along that journey, though, we're excited to celebrate some progress. Our team is currently 60 percent men and 38 percent women. We are 76 percent white. We're eager to continue making progress on this in 2018!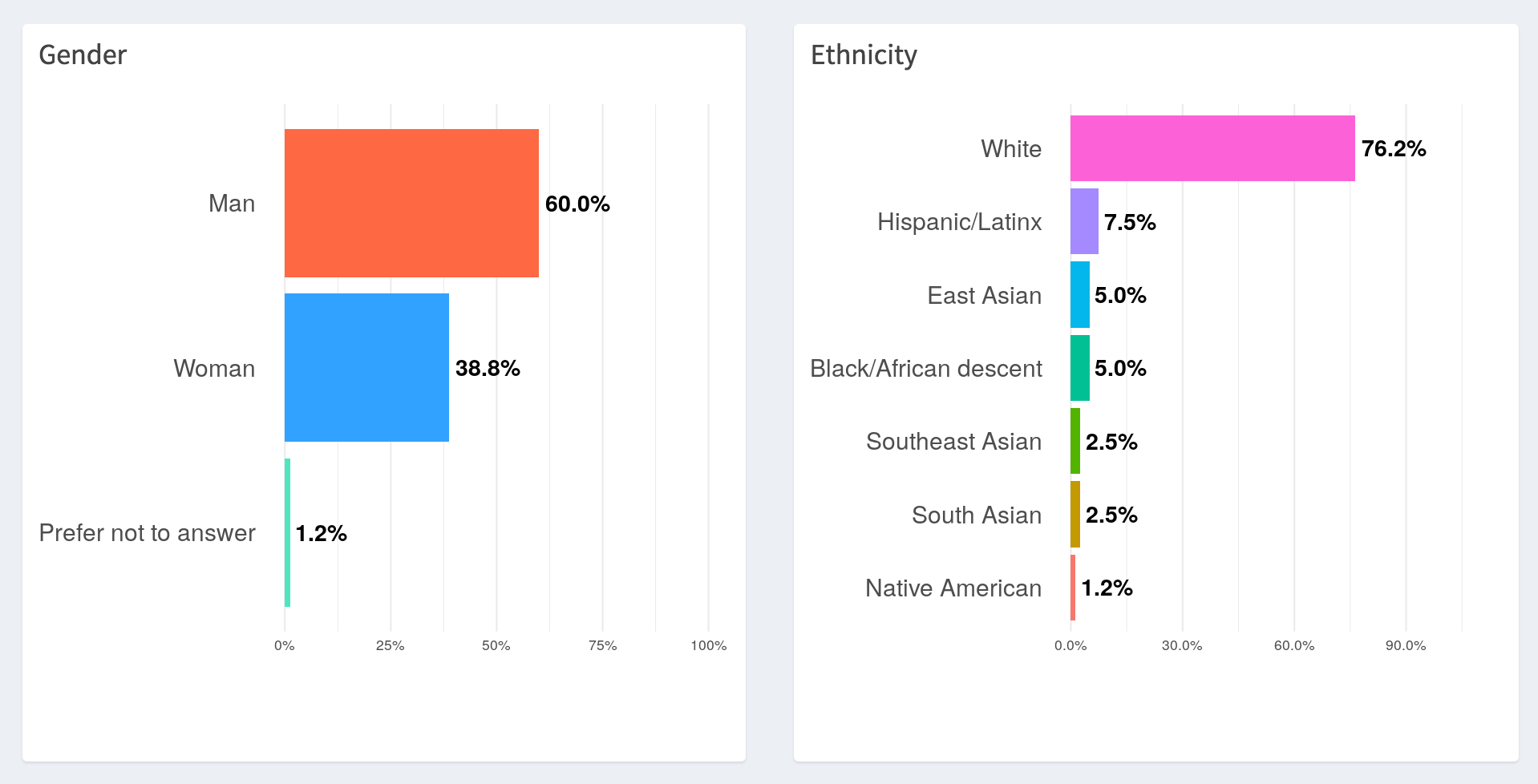 Remote work is something very near and dear to us at Buffer because we are a fully remote company, and we want to do all that we can to spread the word about remote work to others. To that end, we surveyed thousands of workers from around the world to capture a sense of where remote work is in 2018. Check out the full post for all of the numbers and takeaways.
State of Remote Work 2018 Report: What It's Like to be a Remote Worker in 2018
---
Even more:
Most popular Open Blog articles of the year:
Most shared Open Blog articles of the year:
---
Want to stay in touch? We'd love to have you join our email list where we share our latest Open blog articles and the occasional bonus content.