This is a guest post by Mandy Kilinskis from Quality Logo Products. More about her at the bottom of the post.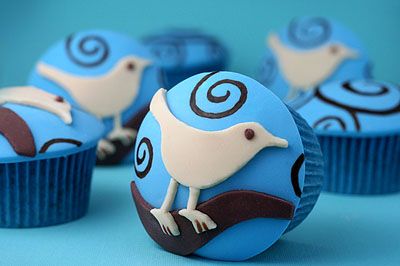 If it was possible, I would spend all day on Twitter.
What can I say? I'm a fan of the quick communication and the ease of retweeting.
But I, like all of you, know it's not possible. We have jobs to do, blogs to write, and projects to finish for clients.
And while engagement is essential to any kind of quality following, there are still things that you can do away from Twitter to bulk up your followers.
For this post, I've rounded up eight ways to do just that! Four of them are passive, set-them-and-forget-them tips; and four require a little effort each day, but are well worth the time investment.
So let's get to it! We'll start with the simple ones.
1.) Add your Twitter handle to your email signature
Who better to follow you than your current customers and fans? Adding a line to your signature that says "Find me on Twitter" (or even better "Follow me on Twitter") and including a URL to your account saves your recipients the step of looking it up. They simply click and they're there!

Since images grab attention more than text, adding a Twitter badge and hyperlinking it to your profile would be even better.
Just don't forget the call to action!
2.) Place social icons on your website
Your audience is already browsing products on your website or reading the content of your blog. So direct them to your Twitter account by showing them the different ways to contact or connect with you on social media.
Place social icons on your "about us" or "contact" page, though a presence on your homepage (like Fast Company) is even better.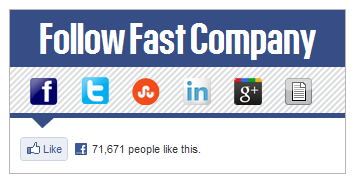 If possible, use the icons that come with calls to action, like Mashable's subscribe box on their homepage.
3.) Take advantage of the Twitter follow button
Even better than a Twitter social icon is the Twitter follow button. Perhaps it's the built in call to action, perhaps it's the social proof by displaying how many followers you already have, or perhaps it's the one click action: but this button is an absolute must-have if you want to collect followers.
If you scroll up and look to the right, you can see that the Buffer guys use it on their blog; and their follower numbers are always going up. For other creative ways to display your Twitter follow button, check out this article.
4.) Add links to your Twitter account from your other social networks
You never know how people will stumble onto your company. Maybe they find one of your videos on YouTube, or one of their friends likes a status on your Facebook page. Luckily, Facebook, YouTube, Google+, LinkedIn, and Pinterest all have the capability to link to your Twitter account.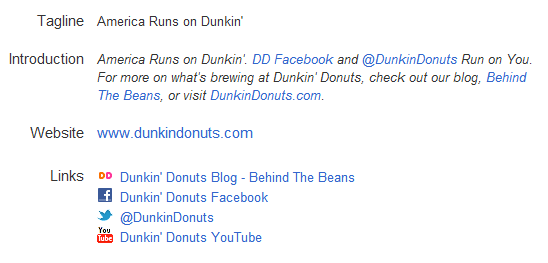 For example, Dunkin Donuts' Google+ profile contains links to all of their other social networks.
Once you spend some time updating your email and social networks, and tinker with your blog or site design (or pay a designer to do it for you), you're done! You never have to think about them again!
The next four strategies do take a little more time out of your day, but as I said earlier, it's well worth the time investment.
5.) Use a scheduling tool
You've seen this equation before: Be real + share interesting content = new twitter followers. So to make your sharing smarter and more effective, schedule tweets to post at better times throughout the day.

With an 8-5 job, I don't have the time (or access) to log onto Twitter every few hours and share an article I read at 7 am. So with tools like Hootsuite, TweetDeck, and my personal favorite, Buffer (pictured above), I can schedule my social media presence in the morning and don't have to think about it the rest of the day.
Pro tip
: As I accidentally found out, attributing authors in your tweets of their articles is a great way to pick up new, quality, like-minded followers.
6.) Write guest posts
While this is the most time consuming way to gain new followers, writing guest posts is also (in my experience) how you can get the most Twitter followers.
Write a killer piece of content, put a link to your Twitter account in your author bio, and send it over to a relevant blog. If people love what you've written, they'll also love to follow you on Twitter to gain additional knowledge and insight.
Gregory Ciotti, and all of us that write guest posts for Buffer, put our Twitter handle in our author bio.
7.) Enter your Twitter handle when leaving blog comments
I had someone tell me in the company blog as my website link in blog comments, but you can just as easily use your personal or company Twitter URL.

You can also make the default URL on your Disqus account your Twitter handle. Some blogs like Social Media Examiner even allow you to leave a comment with Twitter.
8.) Enter your Twitter handle in comments of blogs with Comment Luv
But if you're hoping to attract people to your website AND you want to increase your Twitter followers, there is a way to have the best of both worlds.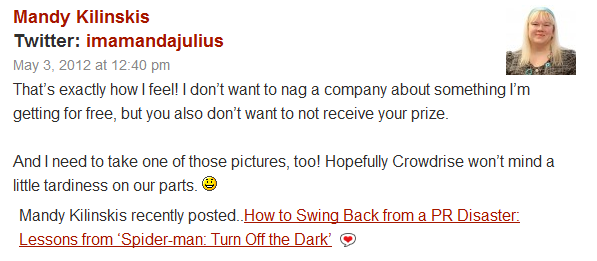 By commenting on websites like Smart Boy Designs and Kikolani that have CommentLuv and the Twitter add-on, you can get links to your website, Twitter account, and a blog post.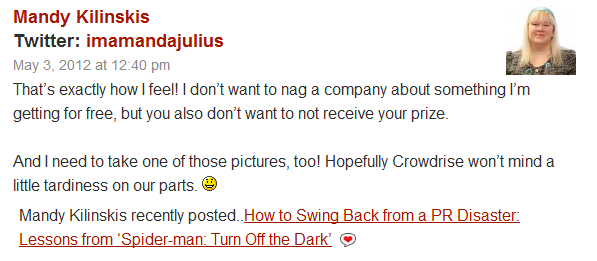 That's a lot of exposure, and a lot of potential to gain new Twitter followers (and blog readers)!
By the way, I'm
not
saying you should ignore blogs without the CommentLuv + Twitter add-on. You should leave comments on quality posts regardless of the comment system – you can always use your Twitter account for your website URL.
Okay, if by chance you've made it this far and you're thinking, "That's great, Mandy. But I rather get Facebook fans or Google+ followers," then fear not! Most of these tips can be applied to other social networks!
You can use any URL that you want when leaving comments, you can (more or less) link all of your social media accounts to each other, and the handy Facebook subscribe button works similar to the Twitter follow button. Many guest bloggers will rotate their bio links depending on which social network they want to grow. Scheduling services like Buffer can post on other social networks.
Being active on your accounts and crafting trustworthy tweets can definitely help your following, but it's nice to know that you can also take a break when you need to get other things done.
Now over to you!
Have you tried any of these techniques to grow your social media following? Which ones worked best? Any tips that you'd like to add?

About the author:
Mandy Kilinskis is a content developer for Quality Logo Products. In addition to helping manage the company's Twitter account, she writes blogs and product descriptions for promotional tote bags. Feel free to say hi to her on Twitter @ImAmandaJulius!