This is a guestpost by @BeckyNeely, Content Queen at HelpScout, Online Customer Service with a Personal Touch. More about Becky at the bottom.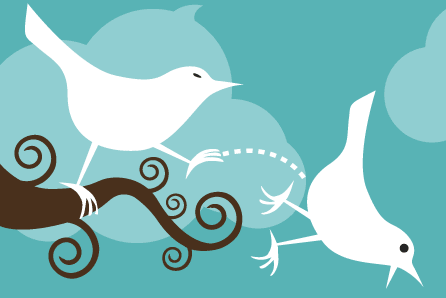 Twitter currently hosts more than 100 million active users. That's a statistic that couldn't show the social media site's meteoric and influential rise over the last five years and better. Given Twitter's reach, it's understandable for customers to view it as an accessible forum where their opinions will be heard.
Unfortunately, I found that most of these opinions aren't the "Your customer service rocks our world!" kind. Here is what Touch Agency [report] found:
80 percent of customer service tweets are negative or critical in nature.
Ouch, I thought. It's ok for businesses to take a moment to indulge in a collective cringe. Then steel your resolve, and arm yourself with the knowledge of how to fight back against Twitter attacks.
Why we naturally just Tweet about companies
Through our startup, we found that the preference for a business should be the efficiency and clarity afforded through email feedback. Email gives the customer the opportunity to fully articulate their points. But for individual users and customers?
A full email explanation takes a bit more effort on the customer's part and lacks the public shame factor a Tweet carries. I am sure you know this, as it's much easier to fire off a 140-character tweet for all the world to see. The result: customers are turning to social media before even giving companies the opportunity to privately respond to their concerns and make things right.
So here are 4 tips on handling negative Tweets most efficiently:
4 Tips for Dealing with Negative Tweets
1.) Prep your team.
Make sure someone on your team is monitoring your company on Twitter. Plan a course of action to respond to negative online feedback. One thing I found very useful is to outline scenarios showing how responding publicly versus responding via DM is more suitable.
Over at Help Scout, we were purposeful about making a Twitter response plan an early priority, and have found it to be beyond useful. We made it a key aspect that every single member on the team should reply to jump through whatever hoops necessary to keep a customer happy.
2.) Always respond, and do it in a timely manner.
This shows that you're listening and indicates that you value feedback. More than 70 percent of companies do not respond to a Twitter gripe, according to a recent Maritz and Evolve 24 [study]. But customers want a response: 83 percent of complainants reported they "liked or loved hearing from the company," and 75 percent were "somewhat satisfied" with the company's response.
Since our startup makes software that helps companies deliver outstanding online customer service, it's only fitting that we put our money where our mouth is. We respond to tweets good or bad as quickly as possible and try to not exceed responding within 2-3 hours, so that our attentiveness shines through. We often go a step further, too. The one question we always ask ourselves is this:
How can we wow this person in an unforgettable way so that any bitterness is forgotten?
3.) Show responsiveness publicly, but address sensitive issues privately.
The last thing you want is a public Twitter spat with a customer. If the customer lets loose a provoking, damaging tweet, something like this, has had tremendous success for us in the past:
"@SuperAngryOne So sorry to hear about your experience. Sending you a DM now to see how we can make this right for you."
Your other customers see that you responded—and you give a care—but SuperAngryOne's issues get addressed in private.
4.) Mine the gold, and take it to heart.
It may be difficult to feel thankful when you're dealing with negative feedback online, but unfiltered opinions from your customers are gold. Set up internal processes to track complaints and use this insight to filter out recurring issues. Fixing these weaknesses and not repeating these mistakes will undoubtedly make you a better business.
An unhappy customer airing their grievances on Twitter is a perfect opportunity to give a timely, personalized response (not a company response) and show customers just how far you're willing to go to resolve their issue. More often than not, your efforts can turn a bad situation into a loyalty-building customer experience.
Over to you now. How are you handling tough questions or feedback on Twitter? Would love to hear your tips.
—
About the author:
Becky Neely (@BeckyNeely) is the Content Queen at Help Scout, where she writes about helping companies delight customers with outstanding service. Check out the Help Scout blog and follow @HelpScout for daily thoughts on how to love your customers.