Social media is always evolving – as should your strategies for creating content. While you may have tried and tested methods when it comes to your social media posts, testing out something different is a great way to stay on top of trends and potentially grow your following.
Here are four examples from small businesses and content creators who're implementing new social media strategies in 2023.
How These small businesses are changing up their social media strategy
Whether it be posting a new type of content or to a new channel, tweaking and adjusting your social media game plan can lead to positive results for your online brand. Here are how these four small businesses are doing exactly that.
Connecting with customers authentically via YouTube
Janet Hoang grew her small business from an Etsy store to a lifestyle brand, known as Janet Gwen, that now pulls in seven figure sales. She attests much of her early growth to social media as her marble iPhone and Macbook cases went viral on Pinterest, Tumblr, and Instagram.
Even now, years later, social media is just as important to Janet and the entrepreneur is very intentional in how she approaches her social strategy. Instead of just posting on any platform, she looks at which channels are bringing in the most traffic to her website, and prioritizes them accordingly.
Recently, the brand has seen a good amount of traction from their YouTube channel, specifically their YouTube Shorts.
"We have noticed a lot more traffic on YouTube because of our YouTube shorts. We will just repurpose our content from Instagram Reels onto YouTube Shorts. And then, some videos have like 1,000s of views, and we didn't realize it."
But beyond sales, Janet is also focusing more on creating vlogs on YouTube as a way to forge a stronger relationship with her customers. She hopes viewers will also have a better understanding of the ins and outs of her small business through these videos.
"So I felt that starting a YouTube and starting to vlog will help bring more of that authentic side to the business and show that we are a small business, because most people don't realize that all of our concrete statues are produced in house," Janet said.
YouTube is accomplishing two goals for Janet this year – bringing in sales and allowing her to build community with her customers.
Choosing to prioritize the right social networks for your goals
Jack Appleby is a social strategist, writer, and marketer who has developed his own personal brand through his Twitter account specifically. But this year, the writer will be shifting his focus from Twitter to LinkedIn.
Jack wrote about this move recently in his newsletter for the Morning Brew, where he discussed how despite getting his start on Twitter, he feels that LinkedIn is a better place for his content.
"But my focus won't be on Twitter anymore," he said. "I hit LinkedIn hard last year and realized it's the more effective, healthier, and cleaner way to build a professionally minded personal brand. More importantly, the type of content that wins isn't all that different."
That doesn't mean Jack won't be on Twitter at all, the marketer tweeted that he plans to use Twitter differently moving forward.
I've been a little looser with Twitter recently. It's ~against best practices~ to niche out, but I've enjoyed talking more about my life, what I'm feeling, what I'm trying to accomplish.

I thiiiink I'll likely do more of that on TikTok, then keep my Twitter to Marketing. TBD.

— Jack Appleby ☕️ (@jappleby) January 8, 2023
This year, Jack is leaning into using his TikTok for more personal updates, while revolving his Twitter account around marketing related content like it used to be. Jack's willingness to play around with the various platforms allows him to figure out which content fits best on each channel.
Monetizing content and being more intentional when sharing
Canadian entrepreneur Charly Goss runs her styling firm, Charly Goss Style Inc., and has grown her personal Instagram to over 120,000 followers. The small business owner has shared tons of fashion advice on her Instagram Stories and credits that to her account's success.
Followers have flocked to Charly's Instagram Stories where she gives detailed information about upcoming fashion trends and realistic advice on how to incorporate said trends into anyone's wardrobe. Like here, when Charly shares which silhouette and color is in for evening wear.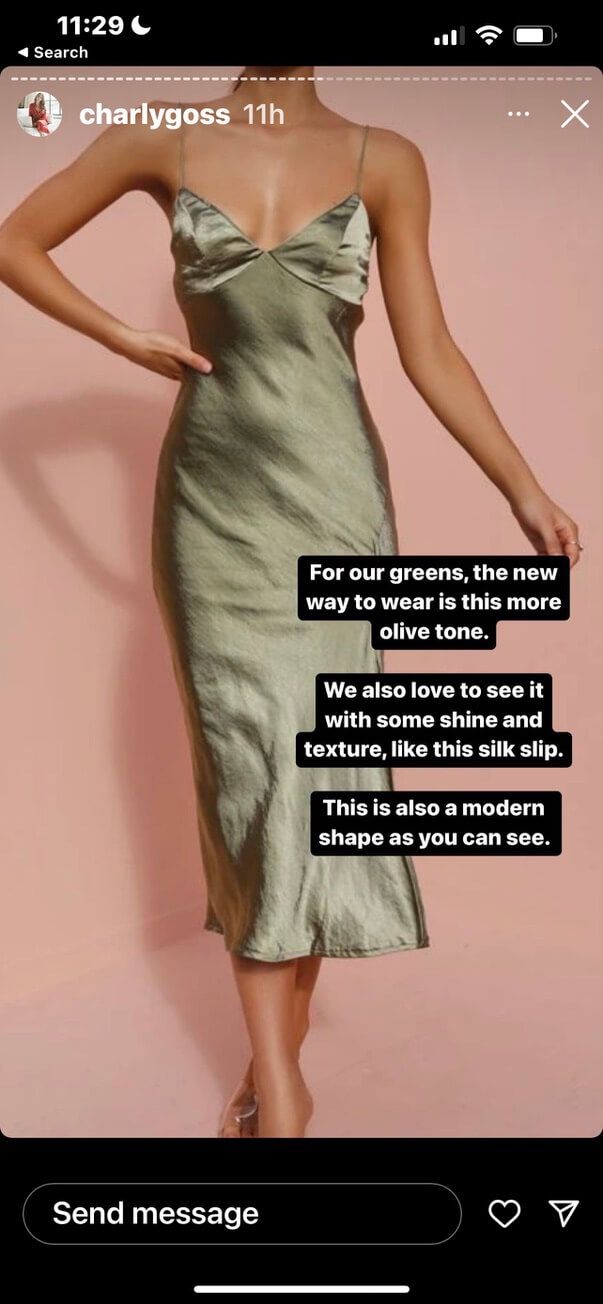 In the beginning of this year, however, the entrepreneur told her Instagram followers that while she'll still be posting on her Instagram Stories, she will now be posting most of her educational content for Instagram Subscribers only.
In an Instagram story Charly explained, "I will be creating stories all (or most) days as always. Everyone will be able to see those … Then, when I am creating particularly educational content like cool/not cool, deep dives on items, trends or brands, I will tap the 'subscriber only' button on my end."
She explained how this feature is a great way for creators like her to be compensated for the hard work that goes into generating content.
Including more of the team on social media
At Buffer, we're also implementing a new social media strategy this year. Recently, we've felt our social media – particularly our Instagram – has begun to look a little too polished and curated. We want to connect back to our roots as a small business, and one way we're hoping to achieve this is to include more of our team's faces onto our socials.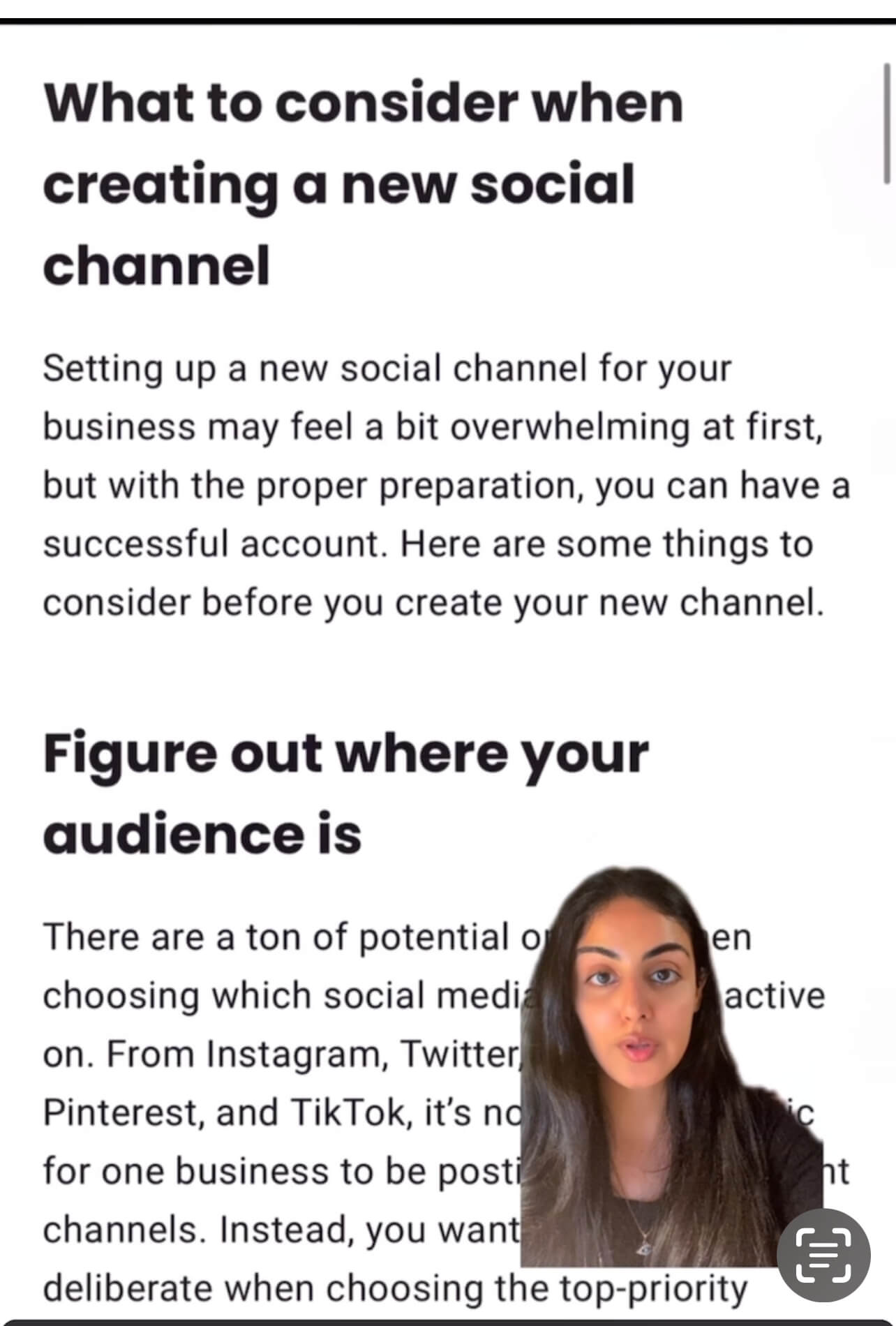 I've recently been filming videos for our Instagram stories where I highlight the key points of an article. This is replacing fancy cover graphics we used to create for our blog posts. With the videos, followers get to see my face which feels more authentic as I'm just using the TikTok green screen feature to record them.
We're hoping to continue featuring more of our team onto our social channels this year to really highlight the people behind Buffer.
We hope these examples have inspired you to try something new on your social accounts this year.
To track your social media performance and find what content is really resonating with your followers, we recommend using Buffer Analyze. Start for free today!