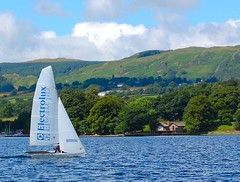 Here are 10 new quotes by our amazing users and friends.
They will all be officially added to Buffer Tweet Suggestions.
I hope they give you a boost for your day and set you off to a great weekend:


"It is the set of the sails, not the direction of the wind that determines which way we will go." – Jim Rohn Via @DanielSharkov
"As you walk down the fairway of life you must smell the roses, for you only get to play one round." Ben Hogan Via @Iconic88
"Your life is your message to the world. Make it inspiring." – Lorrin L. Lee Via @JamesRing
"When I thought I couldn't go on, I forced myself to keep going. My success is based on persistence, not luck." – Estee Lauder Via @Joshva
A man may learn wisdom even from a foe. ~ Aristophenes Via @BadrTweet
"If it is to be, it is up to me." ~Wordsworth Via @DanielleMcGaw
Worrying is like a rocking chair, it gives you something to do, but doesnt get you anywhere! http://j.mp/fFjQ6j Via @gurlwiththekurl
"It Always Seems Impossible Until it's All Done." – Nelson Mandela Via @mqtodd
Be encouraged. Stay on your hustle. You can't fail until u quit. ~@UncleRUSH Via @2morrowknight
I've always felt it was not up to anyone else to make me give my best. -A. Olajuwon Via @LXLEE
Want to be on this list too?
It works super simple. Just drop in a great quote, joke, picture or timeless article you have written below and tell us your Twitter ID so we can give you credit for it.  The 10 best of each week will be featured in this post and then become part of "Suggested Tweets" feature, which you can see once you are signed in to Buffer.
Any Favourites this time?
This time I am going to make a call on the most inspiring. Again, I liked them all a lot, but especially the first quote via @DanielSharkov, Nelson Mandela's quote via @mqtodd and @LXLEE's find were particularly inspiring for me.  How about you? Any favourites this time?     Photocredit: dkodigital