A URL shortener reduces the length of your web links so it's easier to remember and track. Your original URL remains unaffected. There are tons of tools available to cut the height of your long links. How do you choose the right software for this simple task?
It depends on what your priorities are.
How much do you care about the simplicity of the tool?
How crucial is it for your ideal URL shortener to provide comprehensive data?
Are you willing to pay for the right tool, or do you want something free to use forever?
Do you care about personalizing shortened links to your brand or topic, as you need?
I found five URL shortening services matching different priorities — elaborating on what makes them great. Let's go! 👇
The 5 best URL shorteners for different use cases at a glance

This table might give you a rough idea about the tool that's right for you. Keep reading to find more details on each software.
1: Buffer
Best for shortening links for social media
Buffer is a social media management tool that helps you create, schedule, and analyze your posts across a host of social media platforms. It has an in-built link shortener (even in the free account!) — called buff.ly — that automatically shortens your long URLs to be short, sweet, and social media friendly.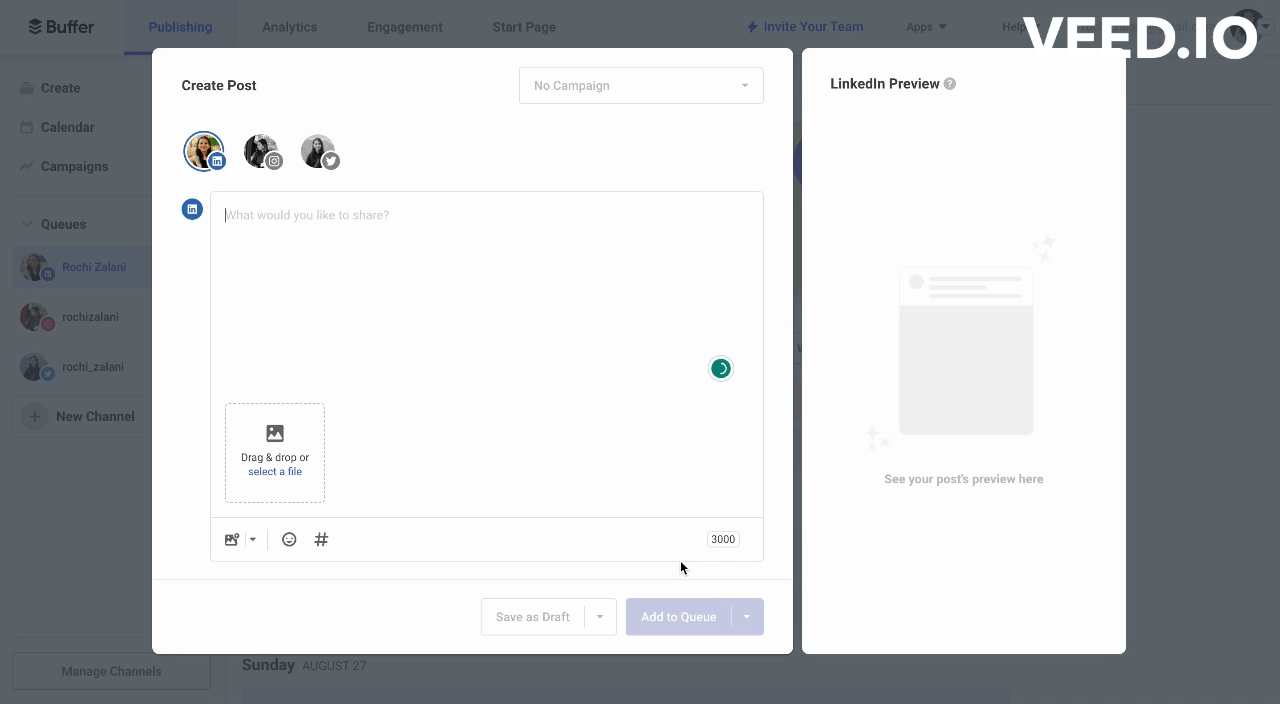 If you have a custom link shortener in Bit.ly, Buffer lets you connect that too.
To track your link clicks, connect your personal Bit.ly account to your Buffer account. How?
1. Select the channel from the left-hand side of your Buffer dashboard.
2. Click on "Settings" at the top.
3. Under the "General" tab, you'll find a section called "Link Shortening."
4. Click "Connect Bit.ly" and authorize Buffer to connect to your Bit.ly account.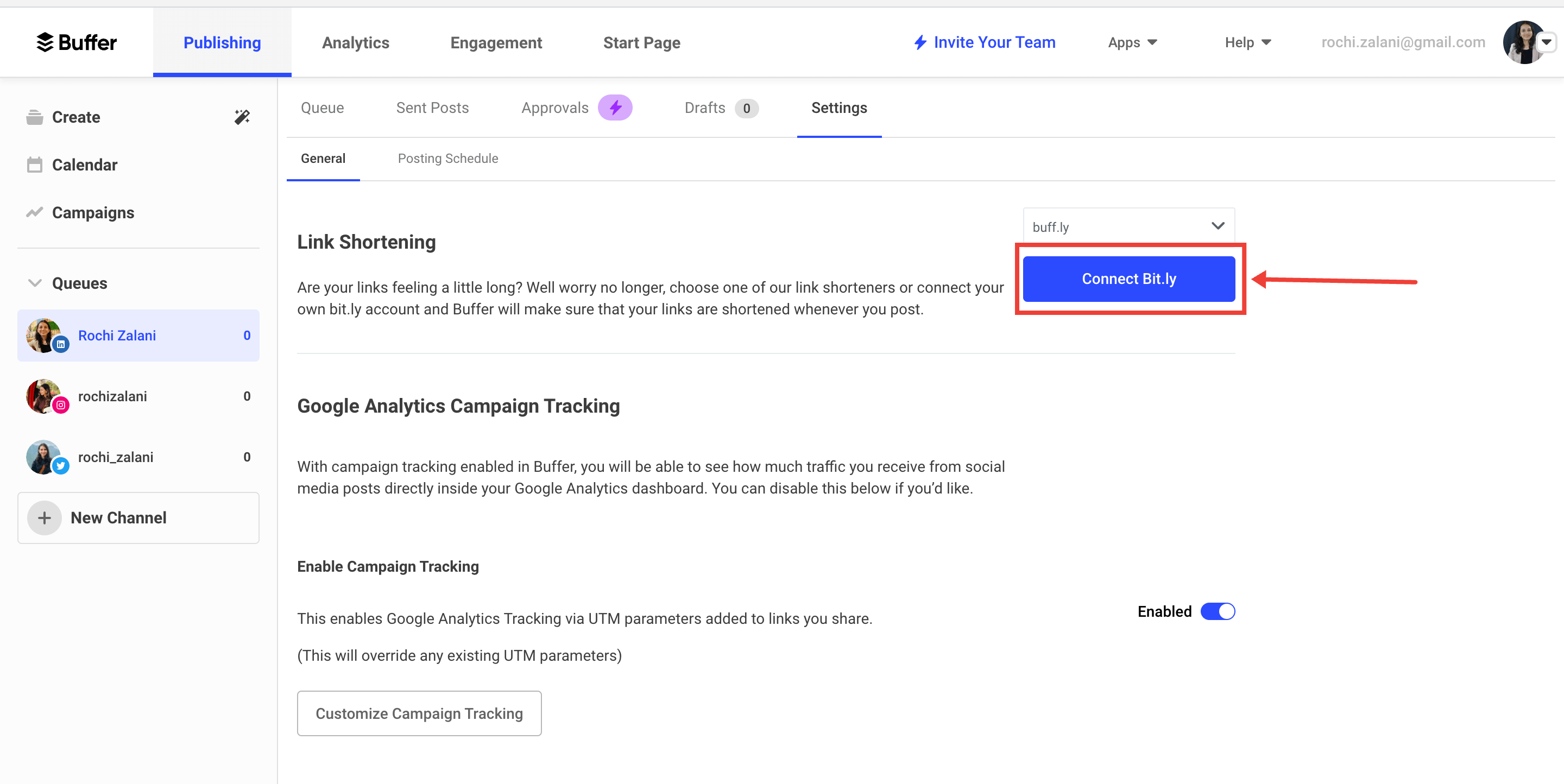 What if you want to add UTM parameters to your links so you can track the traffic coming in from social media? Customize UTM parameters in Buffer in a few clicks and attribute all that traffic to the right source.
Related: The Complete Guide to UTM Codes
1. Choose the social media channel for which you want to set up custom UTM parameters.
2. Click on "Settings."
3. Enable "Campaign Tracking" under "Google Analytics Campaign Tracking."
4. Click "Customize Campaign Tracking."
5. Customize the details however you wish and update the settings.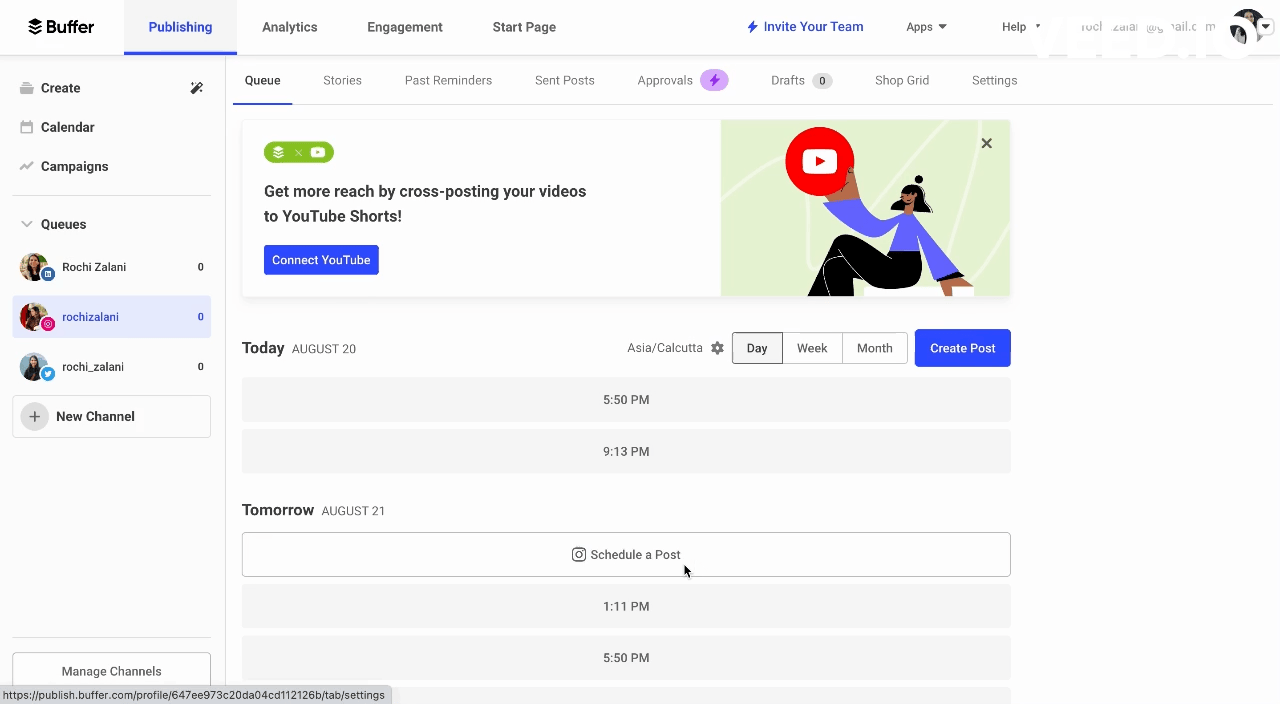 Easy, right?
The best part: Now, whenever Buffer shortens your link, it'll automatically add your chosen custom UTM parameters.

Price: Automatically shortening your links via buff.ly is available on plans, including the free ones. Integrating branded or non-branded bit.ly links is available only on the paid plans. Buffer has a free UTM builder, but connecting them to social accounts and tracking them is available only on the paid plans. The paid plans begin at $6/month for one social media channel.
2: Bitly
Best for large businesses requiring robust link analytics
Bitly is a household name for link-shortening services, but its use-case and price is suitable for only enterprise businesses with deep pockets that share many links online and offline.

Bitly lets you create short links, branded links, QR codes, custom logo QR codes, and UTM links. In metrics, you can track:
link device data
click-through rates
OS & browser data
country & city-level data
Like in Buffer, you can create custom campaigns and UTM parameters to track how much traffic is coming from each channel in your marketing arsenal.
The problem? Most of Bitly's best features are available only in the paid plans. In the free plan, you can only shorten 10 links and create two QR code generators (with limited flexibility on QR code appearance). Custom domains and detailed analytics aren't available in the free plan at all.
Price: There's an affordable $8/month plan in Bitly where you can shorten 100 links per month and create five QR codes, but you have to pay for it annually — there's no month-over-month payment option. This Core plan also doesn't have the custom domain feature. Above this, the paid plans start at $35/month ($29/month if you pay annually).
Alternative: If you're looking for a slightly more affordable option with similar features, Rebrandly is a good choice. It lets you create 25 branded links per month and track link analytics for free.
3: Short.io
Best for creating multiple personalized domains' short links for free
Short.io allows you to make custom links for five domains for free. If you want to shorten the links and track sources from multiple websites, Short.io is the best URL shortener.

You can add your own domain or buy one from Short.io itself. Each website can have its individual settings, and you can track the audience data separately for each website. How great is that?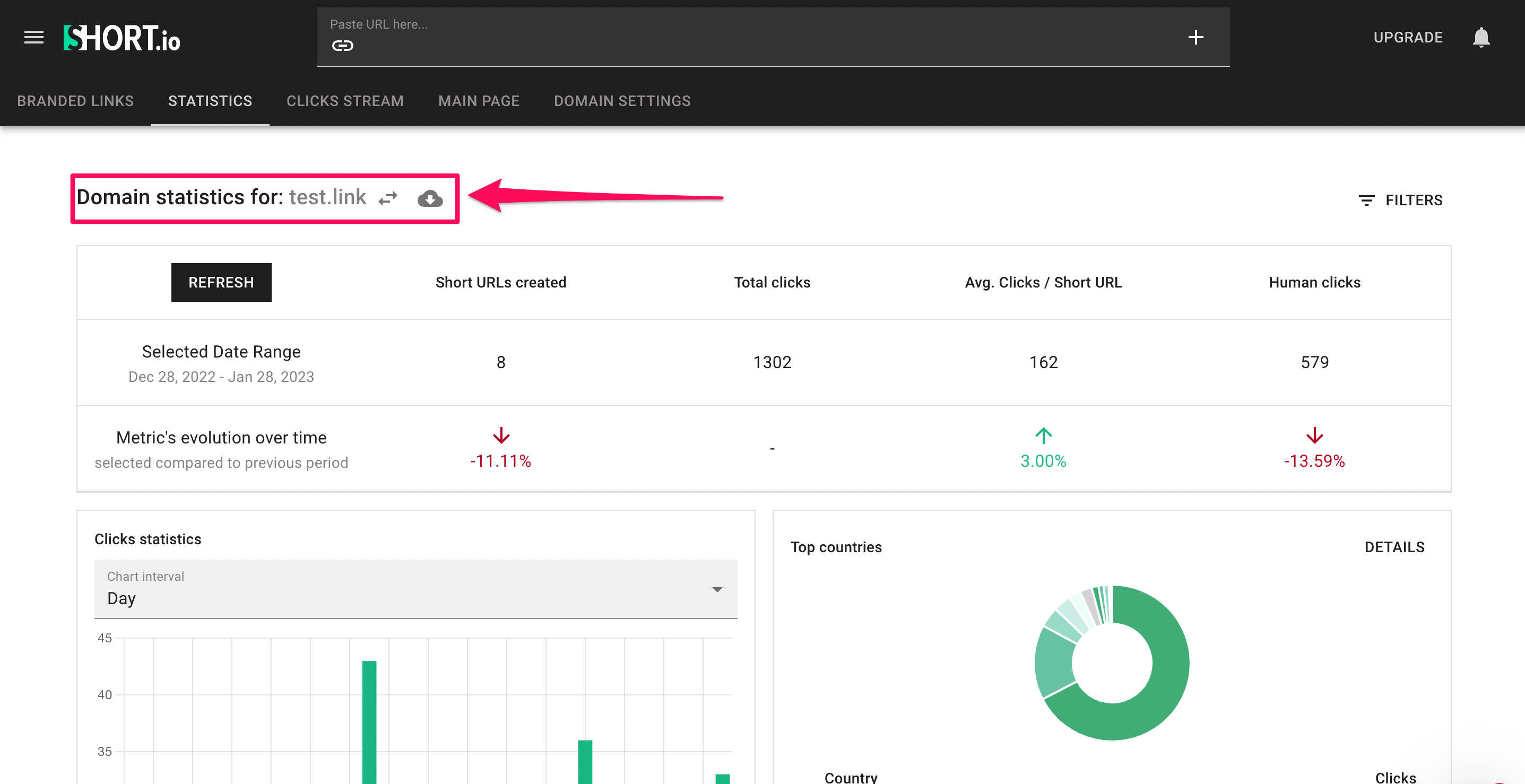 Apart from this standout feature, Short.io has all the other basics you'd need in a URL-shortening app: a QR code generator, detailed link statistics, and a UTM builder.

Price: Short.io's free plan has five custom domains and 1,000 branded links. Paid plans begin at $19/month for ten custom domains and unlimited branded links.
4: Sniply
Best for adding a call-to-action to every shortened link
Sniply is a URL shortener that lets you add a custom call-to-action (CTA) to every link you shorten. The CTA can be a button, form, image, or text. You can customize these CTAs with your brand color and design and even do A/B testing of two CTAs.
The CTA is an added feature to entice more people to visit the link you're promoting. Sniply would be particularly useful for marketers, solopreneurs, and small business owners who want the branded feel, but don't have the time to create a customized CTA on the backend of their web page.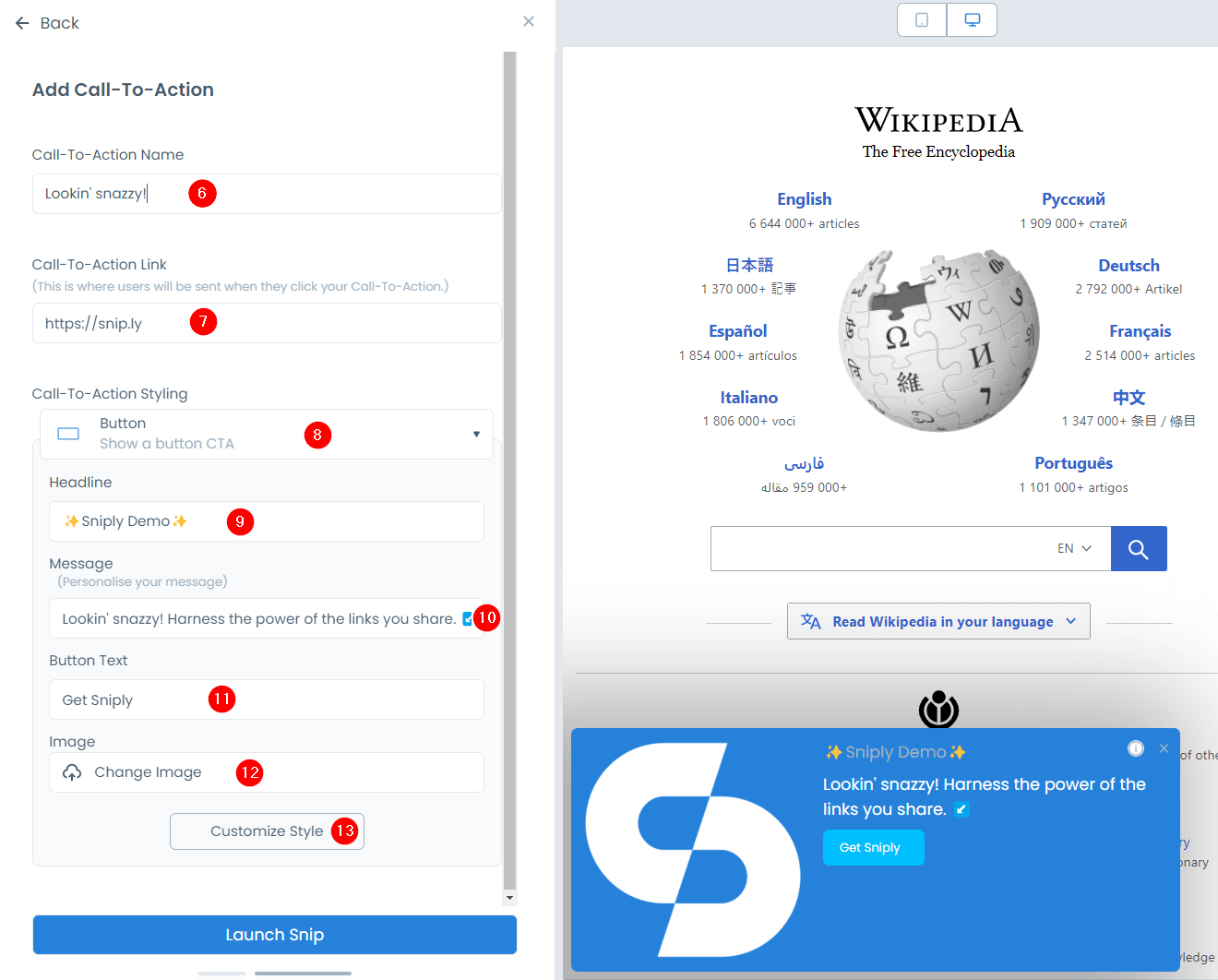 Sniply also has the basic URL shortening services features of UTM tags, detailed analytics, and custom domains.  There are no QR codes, though, and the analytics aren't as in-depth as Bitly or Short.io.
Price: Sniply has no free plan. Its paid plans begin at $9/month, which allows you to shorten 250 links per month and add five call-to-actions.
5: TinyURL
Best for sporadic URL shortening
TinyURL should be your go-to choice for URL shorteners if you only need to shorten your links every once in a while and are looking for a free URL shortener. You can use it without signing up and create a short link in seconds.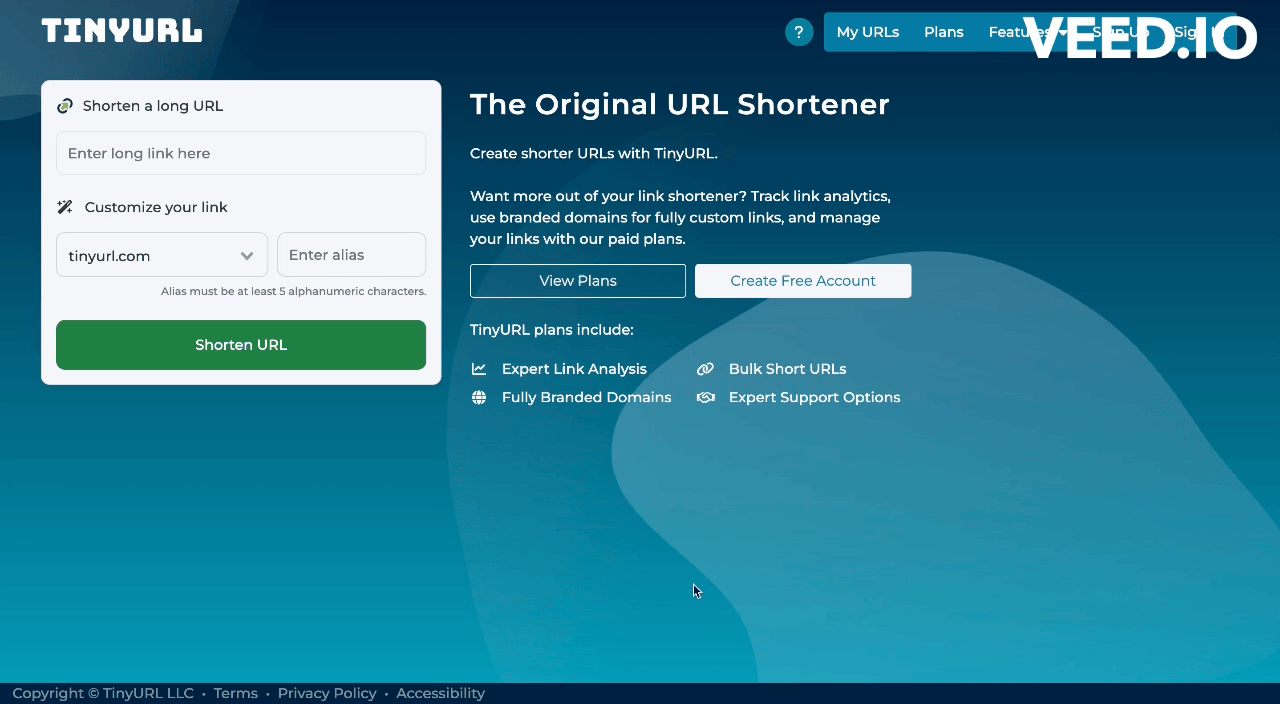 If you only need a URL shortener for sending a neater link here and there, go with TinyURL.com. You can customize the end of your URL, and these links will never expire.
If you wish to, you can also create an account and track how your links are performing in the wild — along with adding a custom domain.
Price: There's a free plan available with limited features and no branded domain. Paid plans with premium features start at $12.99/month. There's no option to create QR code links, and the analytics aren't as in-depth.
What's the problem with long links? 5 benefits of a short URL
It starts innocently: you purchase your domain name, publish a few blogs or product pages, and start sharing your home on the web online. To understand where all your website visitors are coming from, you start using UTM parameters — and there's a domino effect from there.
One link leads to another and another and another — until your URL starts looking like another language altogether.
Short URLs come to your rescue.
1: A short URL is neater
The most see-through (pun intended) advantage: A short URL is aesthetically superior to a long one and thus more user-friendly.
A shorter URL doesn't distract you with complex UTM tags and numbers. A neat link is especially crucial on social media. You don't want your message to drown under the weight of a complicated URL.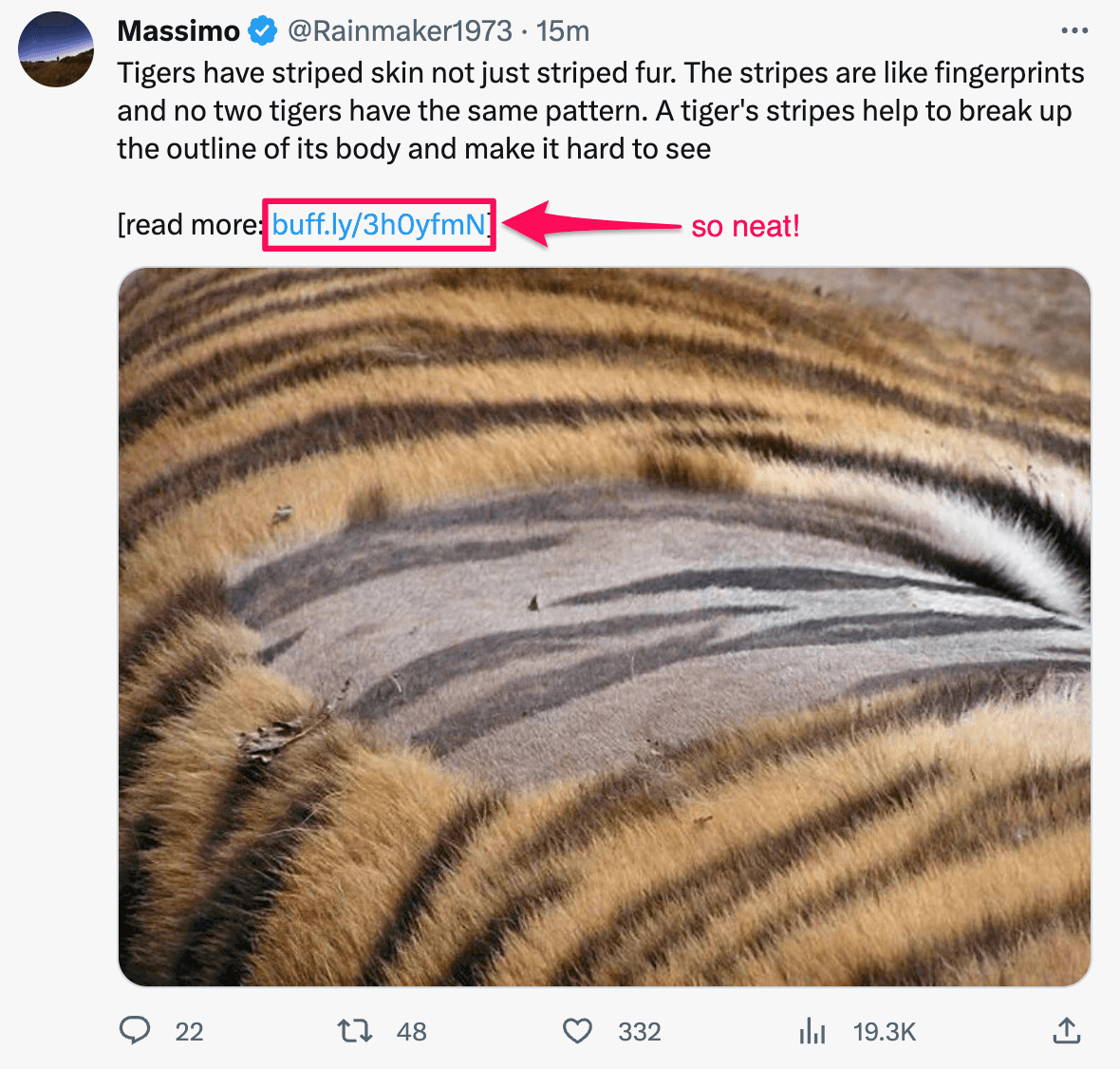 2: A short URL appears safer
Long links look spammy. You look at them and worry if there's a scammer waiting on the other end. Or a host of ads you don't need.
While there's no guarantee a shorter URL is safe to open, it doesn't have a red flag over its appearance as a long link does.
3: A short URL is more memorable
Link shorteners let you customize the end of your links, even if you aren't using a custom URL shortener.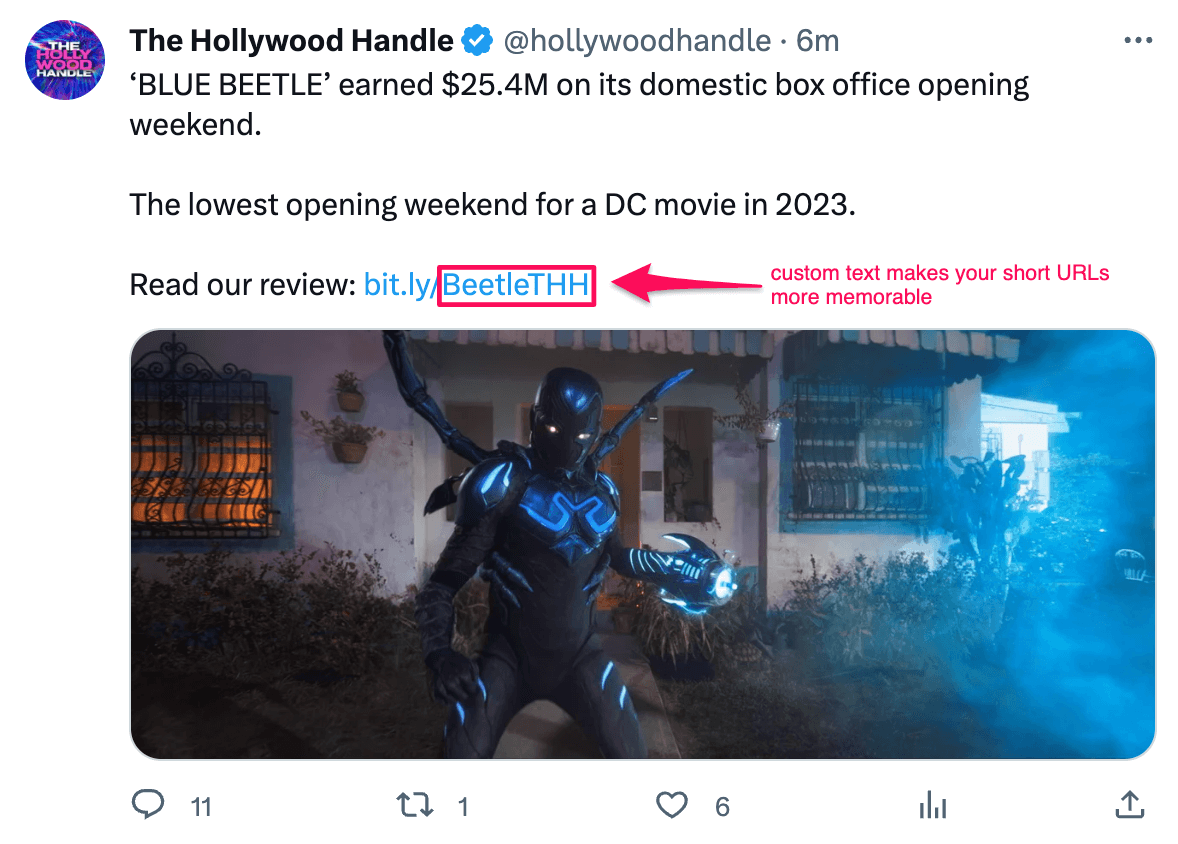 Snipping your URL into a customized few words — custom domain or not — gives you a chance to share what your link is about and make it more memorable. Your target audience can easily search for short links. They can't hunt or remember a long-winded URL full of hyphens, numbers, and UTM codes. Imagine how easy sharing links is when the URL is short and memorable.
4: A short URL doesn't take up precious content space
This benefit is only relevant to social networks and SMS — but it's a big one. Platforms like Twitter limit how many characters you can use in a post. Even for platforms like LinkedIn, long links aren't attractive.
Short links are fewer in characters and don't take the spotlight away from your content.
5: A short URL provides valuable analytics
Most shortener tools have detailed analytics about how often someone clicked your link, what the source was, location information, and more.
These analytics will help you determine your most profitable marketing channel, click-through rates, and more answers that set you up for data-driven success. Link management in most URL shorteners is also easy and intuitive.
Short and sweet
A link shortener has plenty of advantages, but it shouldn't be a time-suck in your content creation process. It's best if it's automated and not another item on your to-do list.
Find a URL shortener that blends seamlessly into your workflow — like Buffer. You enter a link, and it's automatically shortened; you don't even have to think about it twice.
Brought to you by
Did you find this article helpful? You might also like our all-you-need social media toolkit.
Get started for free now