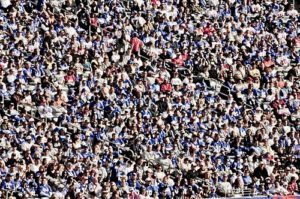 Can one ever have enough Twitter tips?
I know I can never get enough of them. Twitter is a constantly evolving, constantly challenging place to experiment, enjoy, and discover, and we all have a unique approach to the way we get things done with our tweets and followers.
I've shared some of my favorite tips before—both for beginners and for intermediates—and we thought it might be fun to tap you all to share your expertise!
Below you'll find some tips from the Buffer community, as well as a fun video about Twitter tips from Bryan Harris of VideoFruit. See if there are any tips here that might hit home for you.

Video: 5 fun Twitter tips to get more enjoyment and engagement
Follow along with Bryan—here's a transcript of the video:

Hi, I'm Bryan with Videofruit. I first joined Twitter in October 2008, and since then I've changed my twitter username five times, I've followed and unfollowed hundreds of people, and I've grown my company account and my clients' accounts to over 100,000 followers.
To be honest with you. Twitter can be a gigantic distraction and complete waste of time. I've learned a ton over the last six years, and in today's first-ever Buffer video guest post, I'm going to share with you the top five techniques I have learned to turn Twitter into a channel I enjoy and something that can drive traffic to my website.
So let's get going!
Tip #1: You don't have to read every tweet.
After a few months of being on Twitter and following a couple hundred people, Twitter became a source of anxiety for me because I was literally trying to read every tweet that came across my feed, and it simply wasn't feasible.
The average person tweets 22 times per day, and I was following a lot of people in the marketing space who tweet a lot more than that. Understanding how my stream worked was a huge undertaking at first. Retweets brought different accounts into my feed, sponsored content appeared seemingly at random. It was exciting and new, but a little too much to take in.
Thankfully, I discovered lists.
My greatest value from lists is that I see the most important original content from the people that I want to pay attention to. There are no retweets, no sponsored content. In many ways, it's a minimalist Twitter.
I follow all types of people, so I have broken them down into different lists. I have a list for marketing, a list for Auburn football, a list for family members and one for friends. This lets me enjoy Twitter without being completely overwhelmed.
Tip #2: Use a scheduler.
A massively important element of Twitter is consistency. Tweet often and tweet regularly. However, consistency isn't always easy and that's where social media tools like Buffer come into play. With Buffer I can curate a bunch of great content to share—even retweets— it all gets dispersed at the best times throughout the day.
I can control as much or as little of the process as I want, and I can check the analytic section later on that day or week to see which posts get the most interactions.
Tip #3: Engage others.
Engagement is the sure-fire way to get the most out of Twitter, to make the most connections and to actually have fun. I found the greatest way to do this is in the way that I manually compose my tweets.
Anytime I link to a new piece of content or share something that someone else had tipped me off to, I add an @ mention of the author or originator as a hat tip or HT. Give credit where credit's due, in other words. People very often appreciate this.
Likewise, responding to anyone that mentions you is a huge part of being engaged on Twitter. When someone retweets you, mentions you in a tweet, or favorites one of your tweets they're seeking a connection with you. Someone has valued you or your profile enough that they want to connect. It's kind of an honor. One of the most engaged brands on Twitter—the @Notebook account—places a huge emphasis on responding to everyone.
Tip #4: How @-reply tweets work.
I used to visit individual Twitter profiles
and see a whole string of tweets that had never showed up in my  feed or on the lists I follow. Turns out I was completely oblivious to the number one rule of Twitter: If you want everyone to see your tweets, don't start it with the @ symbol.
Twitter treats any tweet that starts with an @ symbol as a direct conversation with another user and treats those tweets as if they were to be private. Only the person that's tweeting, the person being tweeted at, and those that follow both accounts will see the tweet and in their streams. This was huge. From the start of using Twitter, I was always nervous about tweeting @replies to people because I didn't want to blast all of my followers with tweets
they might not be interested in. Knowing that these @-reply tweets are kept out of
the main feed made me feel much more comfortable with replying to people.
Tip #5: It's OK to tweet out the same thing multiple times.
Twitter is not email. Not every tweet gets read. So it's OK to tweet out the same content multiple times over a long period of time. Let's say you have an amazing piece of content that you love and your audience loves. It would be a shame to bring it up once and to never share it again.
The two biggest reasons for reposting content are 1) to hit multiple time zones and 2) to reach people who just ignored it the first time.
So now if I find a great link, I don't worry about having already tweeted it because because chances are the vast majority of my audience didn't see it the first time.
And that's it! Those are the top five lessons I learned in the first six years of using Twitter. What do you wish you would have known when you started out on Twitter? I'd love to hear about your experience and what you've learned along the way. H
it me up on Twitter at Harris_Bryan.
Until next time, happy tweeting!
15 of your top tips for new Twitter users
We have loved getting to know you all better through conversations on our online profiles at Twitter, Facebook, Google+, and LinkedIn. (Are you hanging out with us at these spots? We'd love to chat with you!) We've asked questions, and you've responded! And who better to tell us what works and what doesn't than those of you in the field?
We asked for some Twitter tips from our followers, and we've collected them here to share. (All these tips can be viewed on our new Pinterest board, too. We'd love to have you follow us there, too!)
The question: What's one great tip you'd give to someone new to Twitter?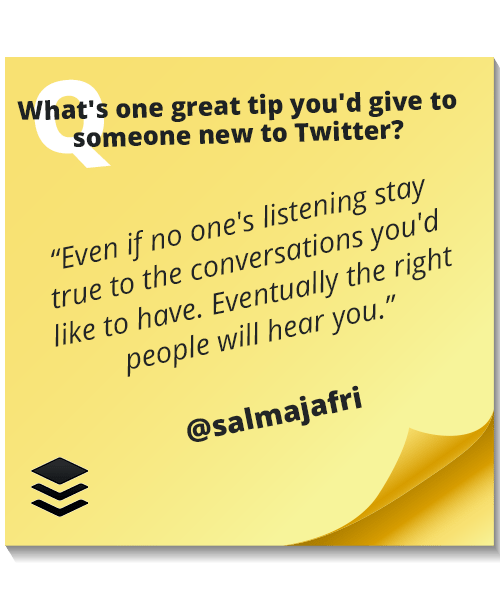 Even if no one's listening stay true to the conversations you'd like to have. Eventually the right people will hear you. –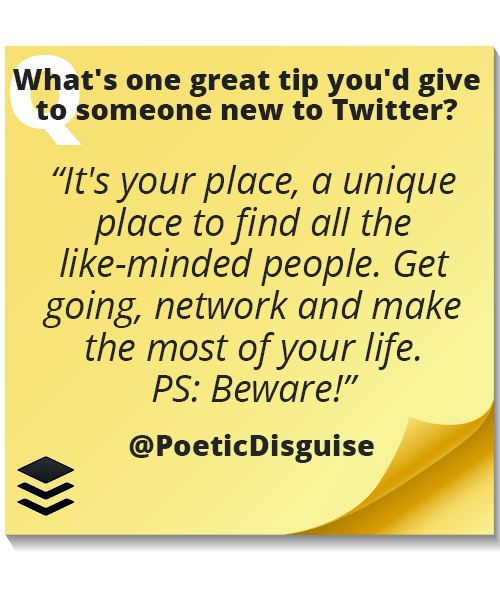 It's your place, a unique place to find all the like-minded people. Get going, network, and make the most of your life. P.S. Beware! – @PoeticDisguise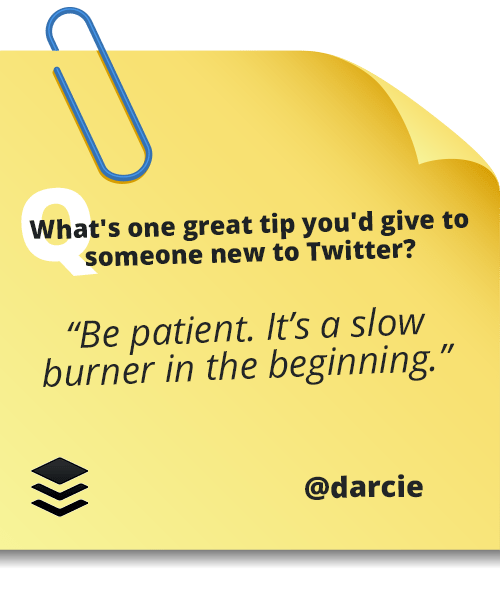 Be patient. It's a slow burner in the beginning. – @darcie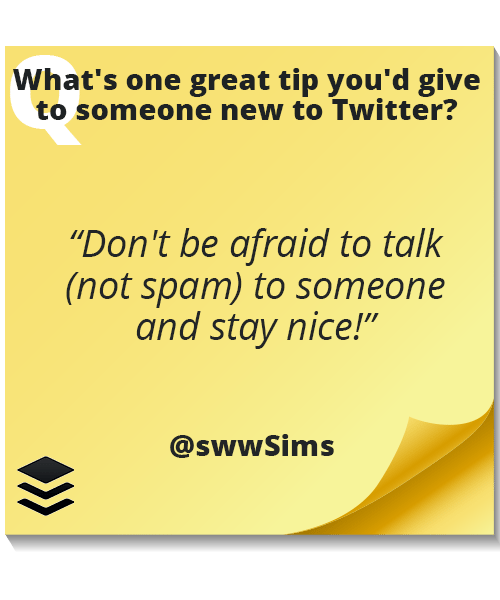 Don't be afraid to talk to (not spam) someone and stay nice! – @swwSims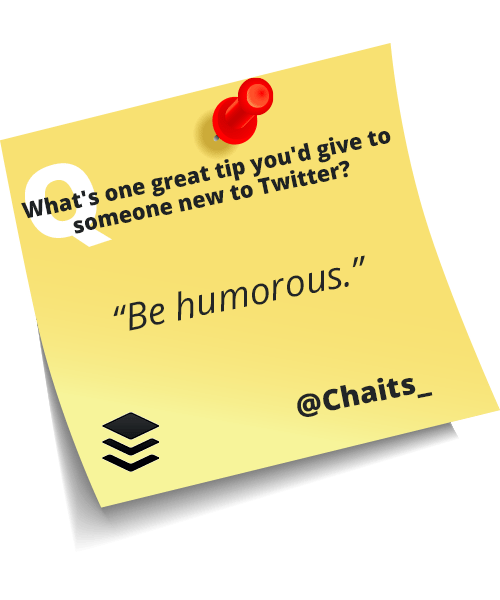 Be humorous. – @Chaits_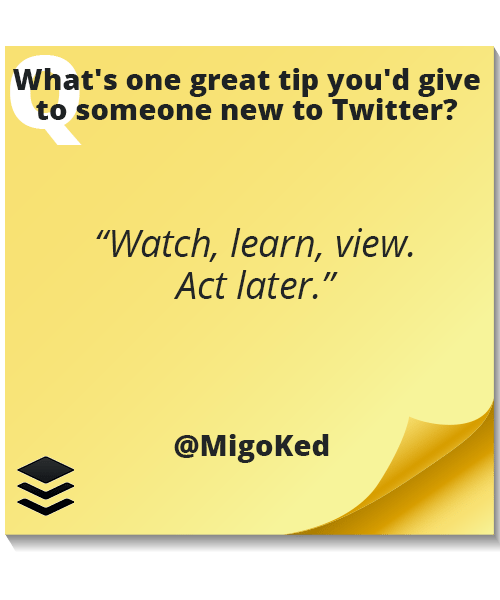 Watch, learn, view. Act later. – @MigoKed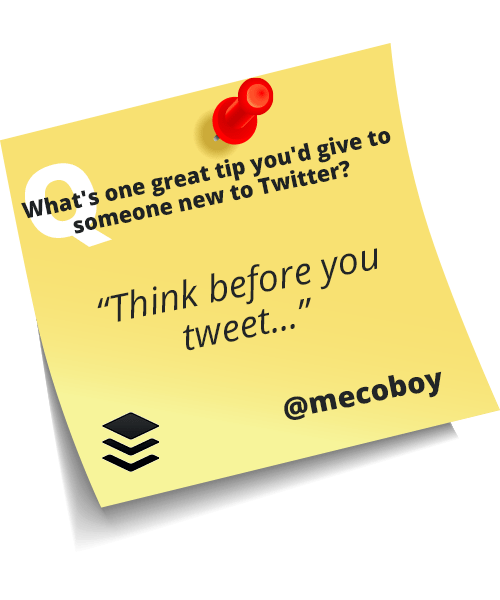 Think before you tweet. – @mecoboy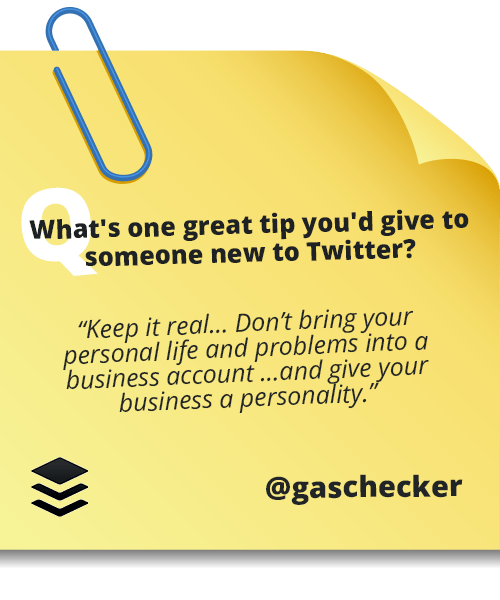 Keep it real. Don't bring your personal life and problems into a business account, and give your business a personality. – @gaschecker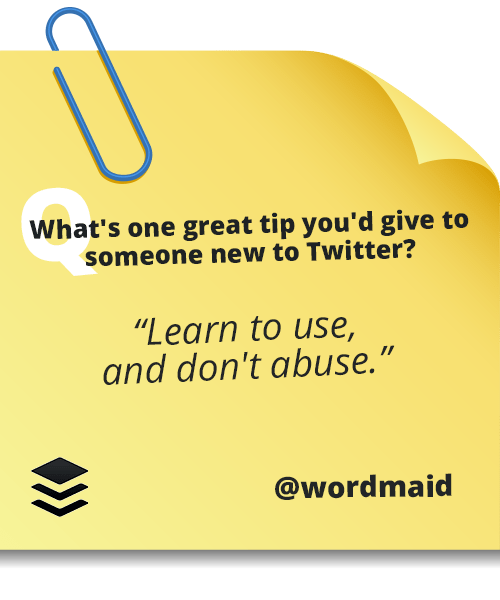 Learn to use, and don't abuse. – @wordmaid
Twitter is not about selling your product but giving helpful information. Give, give, give, and your product will sell. – @phildrysdale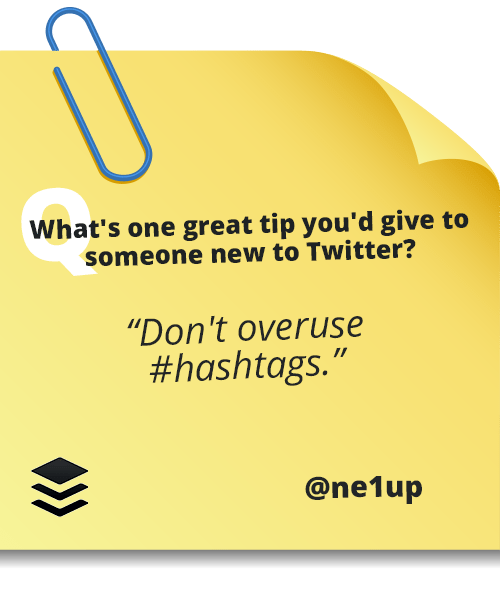 Don't overuse #hashtags. – @ne1up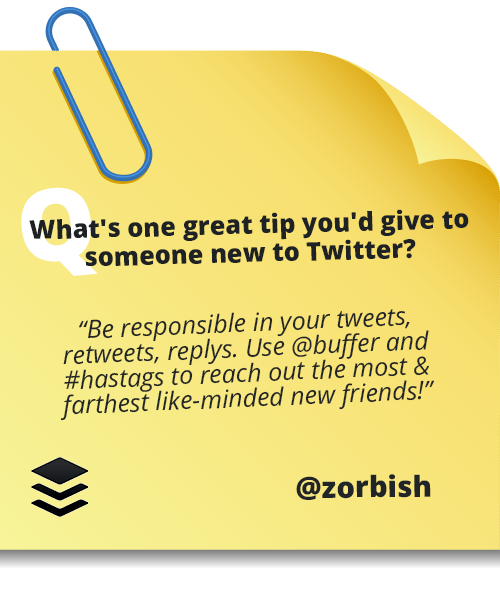 Be responsible in your tweets, retweets, replies. Use @buffer and #hashtags to reach out the most and farthest like-minded new friends! – @zorbish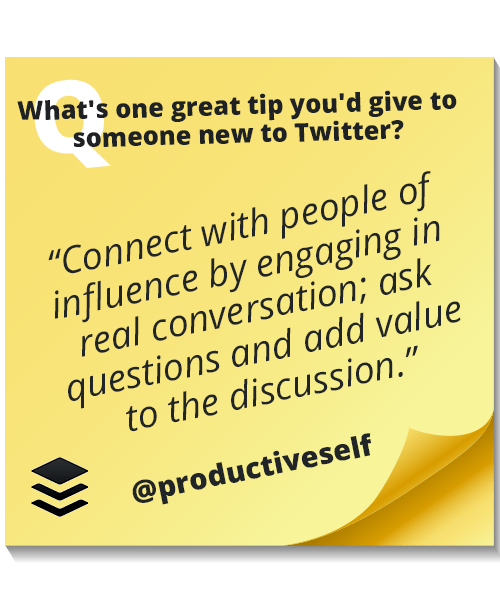 Connect with people of influence by engaging in real conversation; ask questions and add value to the discussion. – @productiveself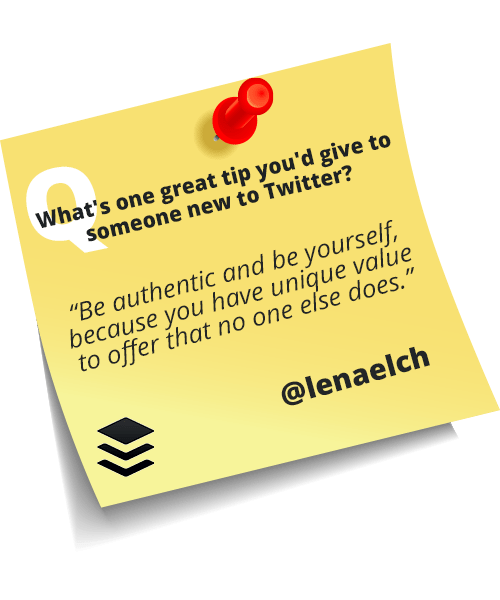 Be authentic and be yourself because you have unique value to offer that no one else does. – @lenaelch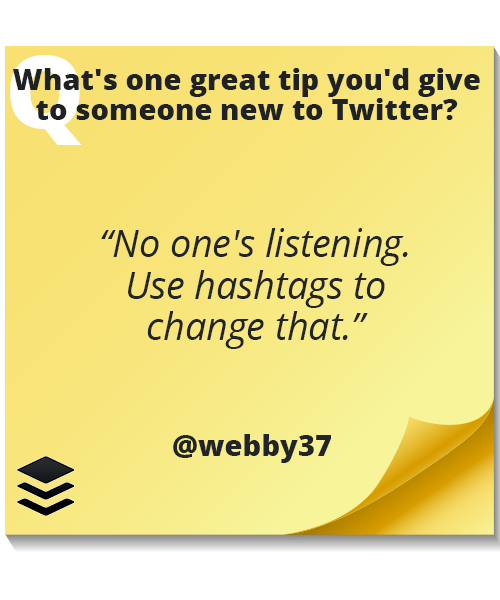 No one's listening. Use hashtags to change that. – @webby37
For even more Twitter tips …
We couldn't even keep up with everyone's great responses to this question on Twitter (way to go, you guys!), so be sure check out the original thread to see all the tips.
Keep an eye on our Twitter profile for more Twitter discussion and tips from those who know Twitter best—you! We're eager to hear even more of your responses on how you get the most out of Twitter.
Do you have a favorite tip we didn't mention here? And would you like to see more video content like this? It'd be awesome to keep the conversation going in the comments or on Twitter!).
P.S. If you liked this post, you might also like Twitter Tips for Beginners: Everything I Wish I Knew About Twitter When I Started and A Scientific Guide to Writing Great Tweets: How to Get More Clicks, Retweets, and Reach.
Image credit: wesbs
Brought to you by
Did you find this article helpful? You might also like our all-you-need social media toolkit.
Get started for free now