TikTok has become a go-to source for creating or watching short-form videos, but just because the concept is simple, doesn't mean the app is as well.
There are many features that you may have heard terms for thrown around, but never known how to use like stitching or duetting. And there are others that may be a surprising, new way for you to create content on the app.
Here's how to use the different TikTok features you may or may not be aware of.
💡
Schedule your TikTok videos and reach a new audience with Buffer
Plan, create, and schedule content to get more exposure and engagement with Buffer's
TikTok scheduling and analytics tools
.
How to duet videos
If you've spent any amount of time on TikTok, you've seen duets. These are the videos with a split screen where the original video appears to the right and the new video from the person creating the duet appears to the left, like this:
You can create a duet with any video that allows duets. Just find the video you want to duet with and tap the share button on the right side of the screen. Then, tap Duet.
Duets can be used for reacting to user-generated content, videos from others in your industry, or just general content that relates to what your brand is about. A great example is this duet from Leze the Label which shows a brand representative reacting to a video by a customer.
Alternatively, the brand representative for Slø Jeans is reacting to a video from a customer complaining about jeans sizes and then reiterating their USP at the end of the video as well as creating anticipation for their product release.
How to stitch videos
Stitches are similar to duets, but show up a bit differently with the original video playing for a few seconds before the new video does. So instead of there being a split-screen, it's one before the other. Here's an example:
To create a stitched video, tap the share button on the right side of the screen. Instead of tapping Duet here, you'll tap Stitch.
Stitching is usually used to respond to a video or add a follow-up or connecting idea. It has also become a way of participating in trends, where someone asks an open question and different people give their answers. You can only use up to five seconds of a stitched video before your own begins, and this may not capture the whole section you're responding to, so be sure to reiterate what the original creator said.
Some ways to use Stitches include elaborating on a topic, countering an argument or showing your version of something that the original creator has done. and answer questions that your audience asks you. In this video, user @ottilie.edu elaborates on @trashling's video by adding more detail and scientific fact.
And in the following video, user @christxiee stitches a video showing her experience with a product that the original creator, @glowwithava is using.
How to use TikTok Stories
In the footsteps of other social platforms like Instagram and Snapchat, TikTok allows users to create 'Stories' that disappear in 24 hours. A blue ring will also appear around your profile picture, indicating to other users that they can tap to view your Stories.
If you share a story on TikTok, you will be able to see who has viewed it in a separate tab located next to the comments section. Viewers can also publicly react and comment, which will appear on the story itself.
To create a Story, tap the "post" button in the bottom center of the navigation bar and swipe to the 'Story' option. Then you can either record a video on the spot or upload one from your camera roll.
Next, edit your video — Stories have the same creation options as normal TikTok videos. Then, tap the "Post to story" upload icon to add it to your story.
TikTok Stories are always great for sharing quick thoughts that you don't want to make a proper video for, or content you don't want to stay on your profile for too long. For some ideas on what to post to your TikTok Stories, check out this article.
How to create a TikTok sound
In addition to using audio from other TikToks, you can also create your own custom TikTok audio. When you've put in the effort to create a custom sound you're proud of, you're probably going to want to make sure other TikTok users can find it and use it, too.
To create a sound, open a video where you've used your custom sound and tap on the spinning record icon in the lower right corner of the screen.
Click the Edit button next to the title and change the title to whatever you want. When you're happy with it, just tap Save.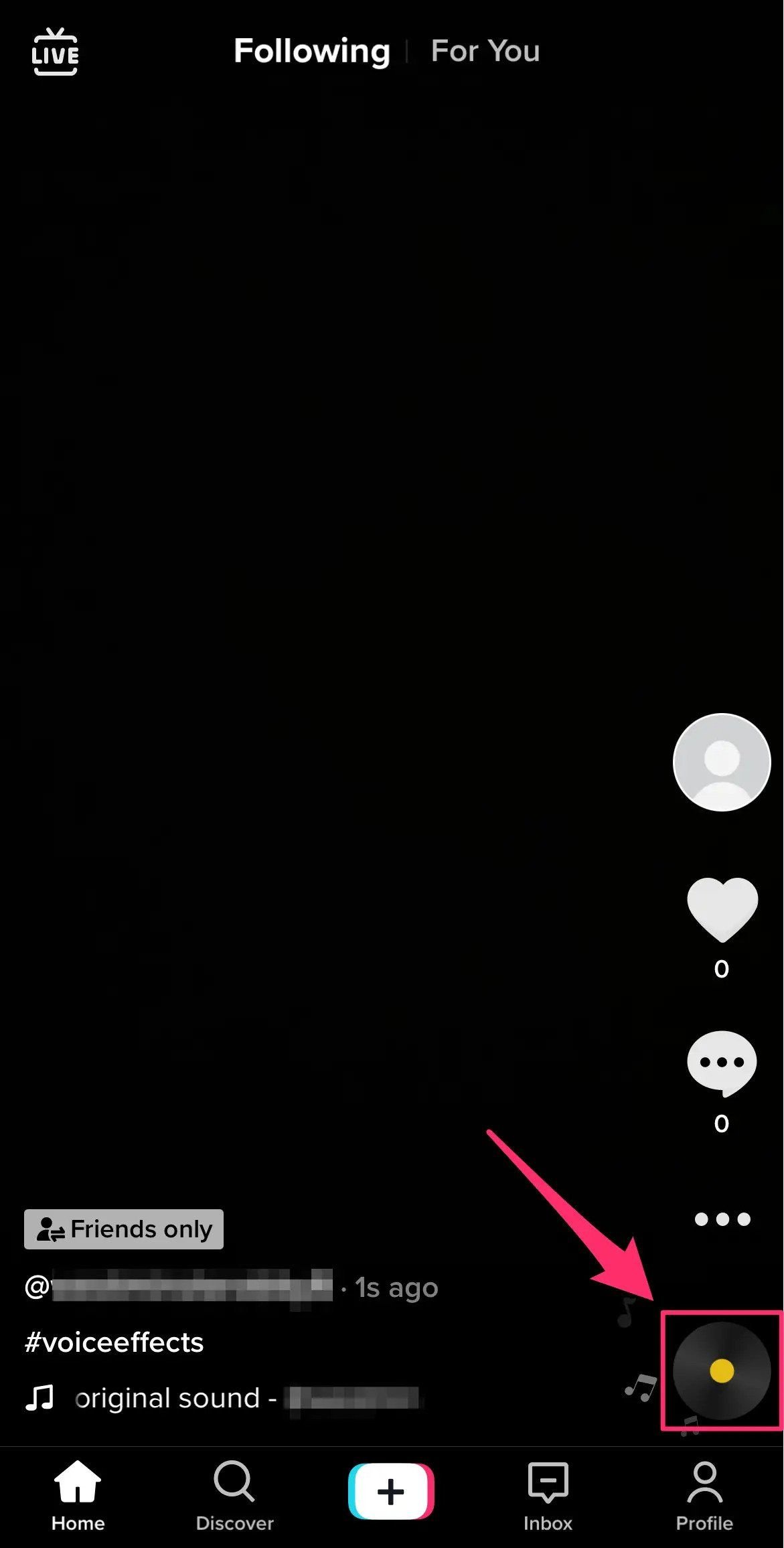 Creating a TikTok sound can be used to claim your original content, whether it's a catchphrase or a new song. This is more important than it seems – in this newsletter, Rachel Karten interviews the creator of several trending audios who talks about her experiences with unauthorized use of her sounds by brands.
How to use the same effect as another TikTok creator
TikTok has hundreds of visual effects, from green screens to interactive backgrounds to facial masks. If you see a video that uses an interesting effect, it's easy to see more videos that use the same effect — or use it yourself.
The name of the effect appears in the lower left of the video; tap it to see search results for that effect. You can create your own video with any effect by clicking the 'Use this effect' button at the bottom of your screen. You can also access many more effects by clicking 'Effects' at the bottom left side of the screen.
Here's @worklouder using the Green Screen effect to showcase their products as well as social proof of a high-value customer making a big purchase from them.
How to create a video reply
Video replies are a great way to engage with your audience and create content that they want to see. You may have run into TikToks like the one below, where to answer a question in the comments, a creator will make a reply video.
To create a video reply to a question, just long-press the comment you want to reply to and create your video. The comment will appear as a widget, but you can limit the amount of time it shows up for. So make sure to keep it to only a few seconds at the beginning or end.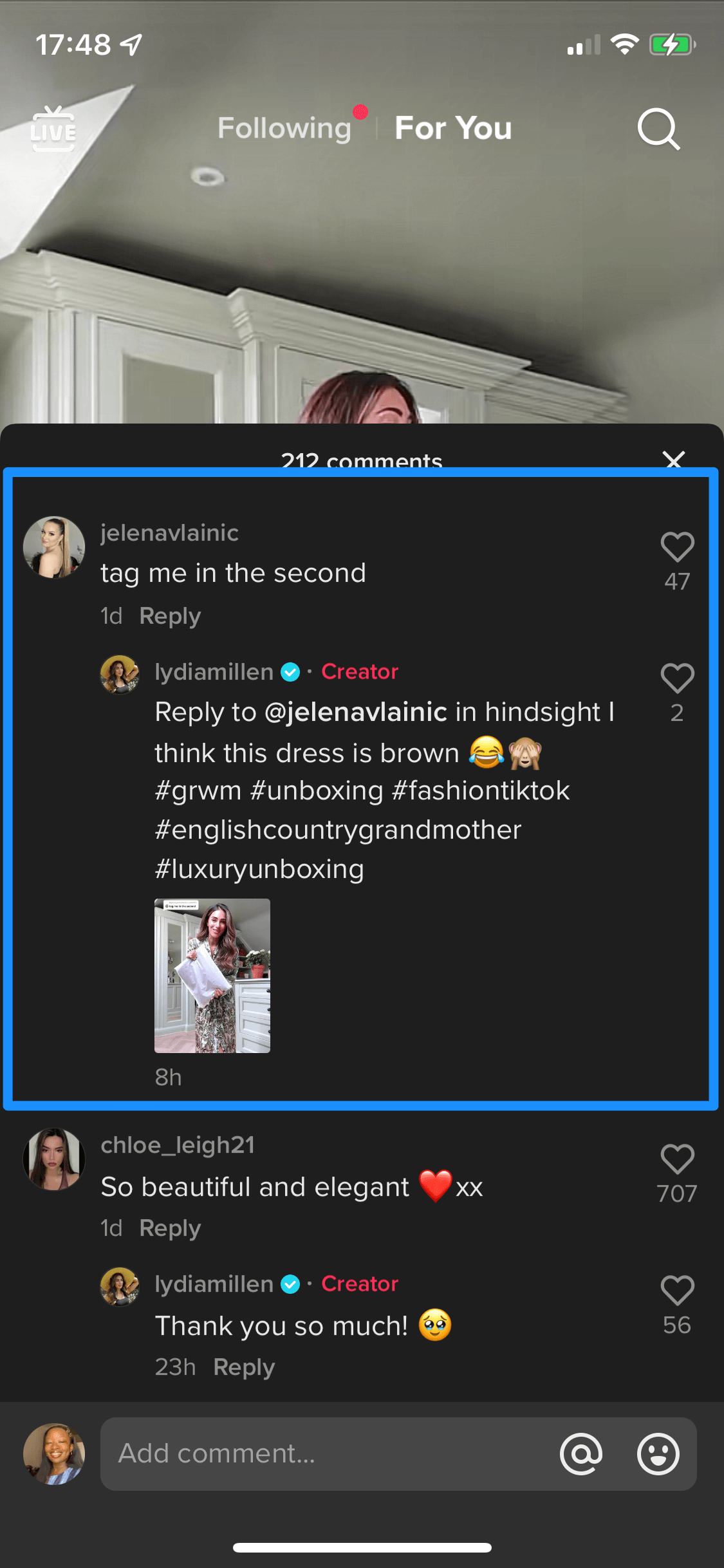 The luggage brand, @BEIS used the Reply feature to answer a customer's question about their suitcase's feature using Shay Mitchell, the brand's founder.
In this video, @alchemy_salon creates a video reply to a customer's questions about their hair and includes pictures of the customer as well as offering advice
Use the different TikTok features to drive engagement
A lot of the available features are aimed at getting people to engage with each other on the app. You can Duet a user's video or start a trend by uploading your custom audio. Whatever type of content you choose to create, think of how the viewer can engage with you or your brand most effectively on the app first.
👉Once you're ready to publish, we've got you covered – you can schedule your TikTok videos directly through Buffer! Get started here.
Brought to you by
Did you find this article helpful? You might also like our all-you-need social media toolkit.
Get started for free now