If you've ever gotten lost in the rabbit hole of swiping through Instagram Stories, you know that they can be impactful as a user. From signing up for a product waitlist to buying a product recommended by your favorite influencer, Stories are a great way to quickly share content, and engage and influence users on the platform. It's just as great for users as it is for businesses – agencies report two to three times more engagement with Instagram Stories posts than with regular content.
However, to get the attention of the massive audience for Stories, you'll need to get creative. Stories' ease-of-use means that you need to grab the attention of your viewer quickly because as easy as it is to reach people, it's just as easy to lose them.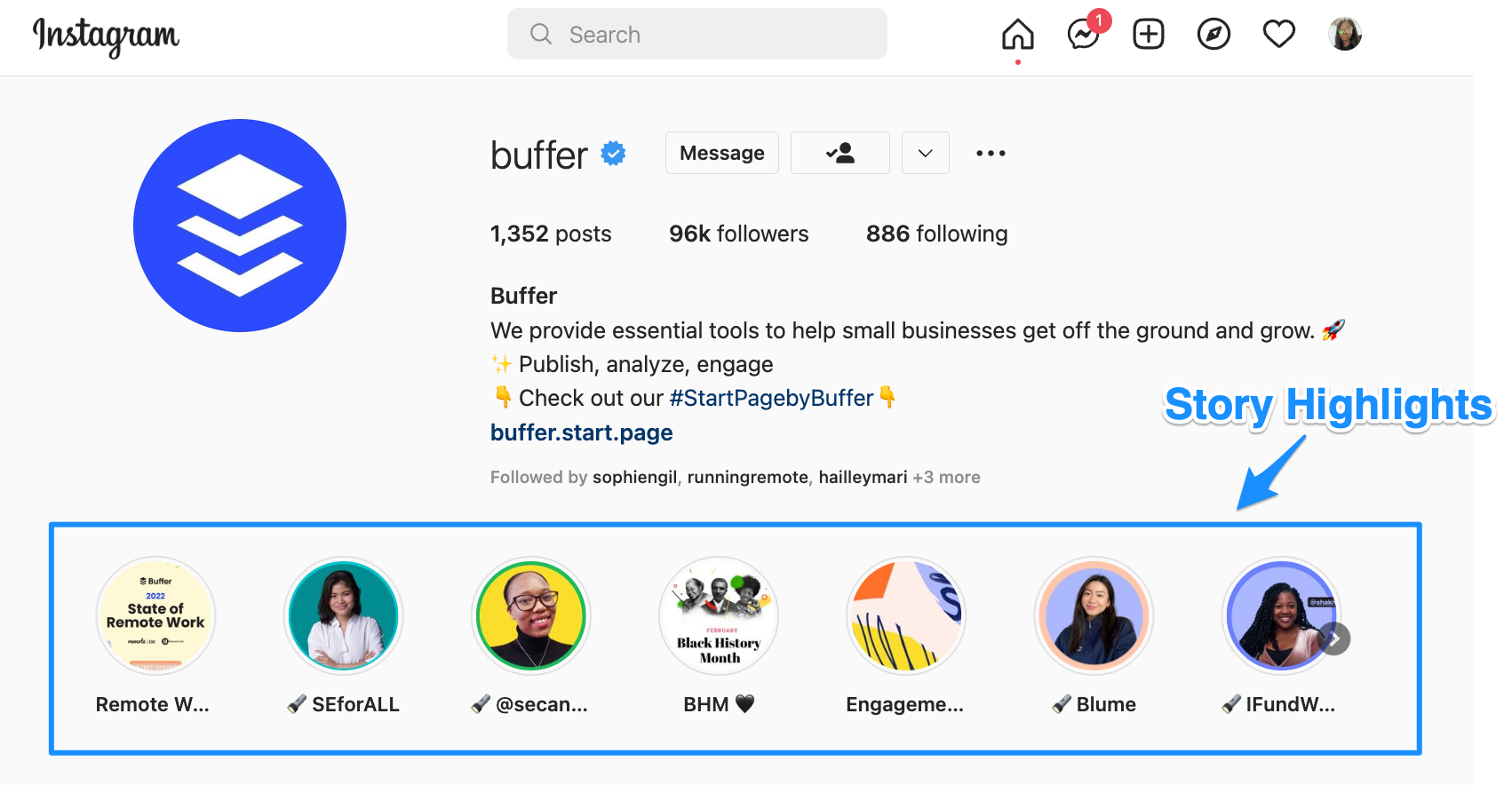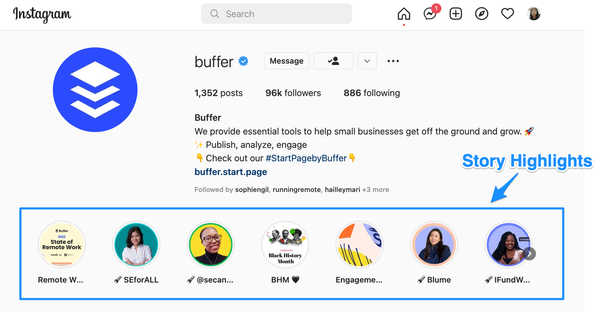 Thanks to Story Highlights (which are at the top of every profile), you can turn your temporary Stories into evergreen content. We've put together some great uses we've come across that you can apply to your next Story.
Guide your audience to the right products for them
Instagram can be a great tool for discovery – one in two people use Instagram to discover new brands and products. Using Stories, you can guide your followers down the sales funnel by showing them specific products for their specific needs. Then they won't go to your website without a plan – they'll just add the relevant product to their cart.
Examples of brands doing this:
Plantmade: Plantmade shared the different results customers can expect to see by using their different hair oils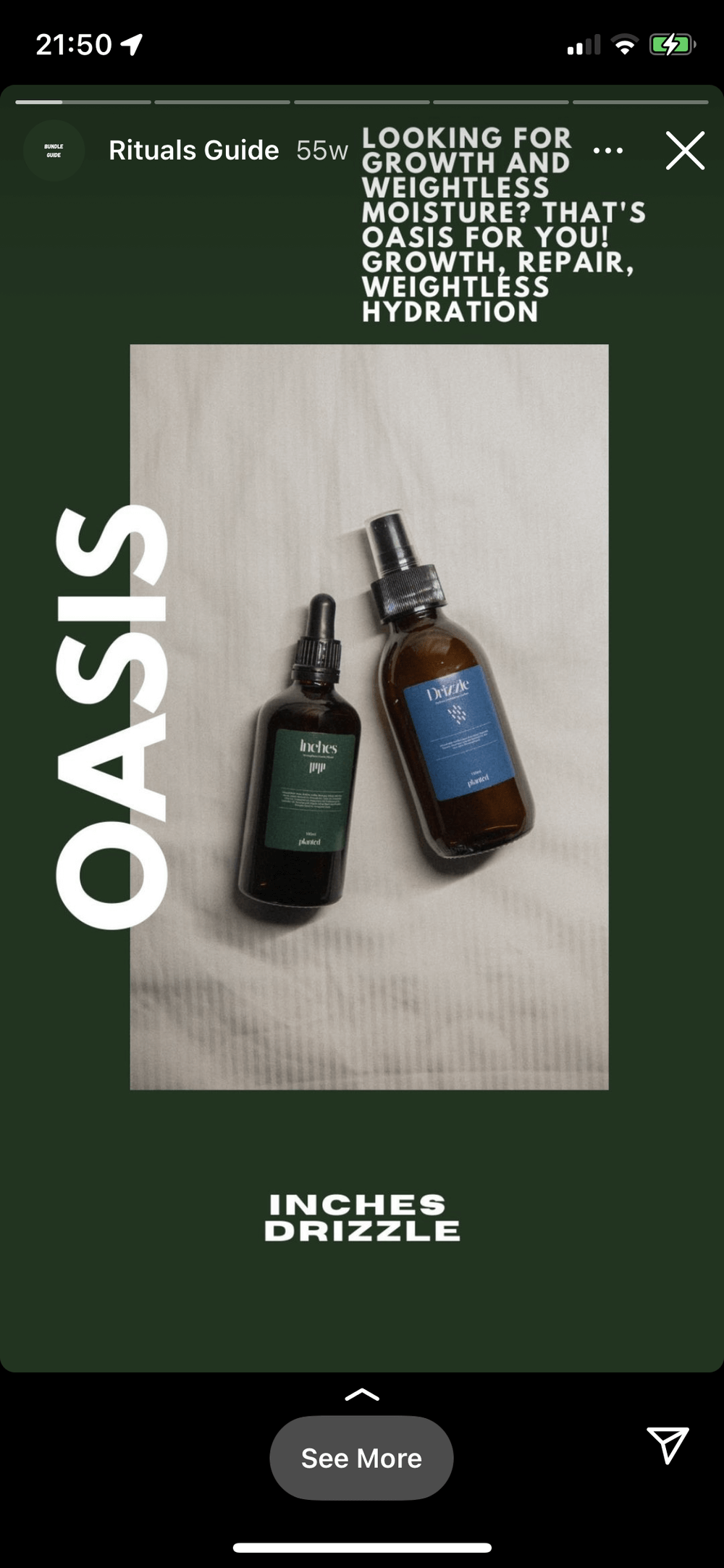 Loft: Loft's Style Assist series is focused on having different people from employees to influencers, share how they style their products for different occasions.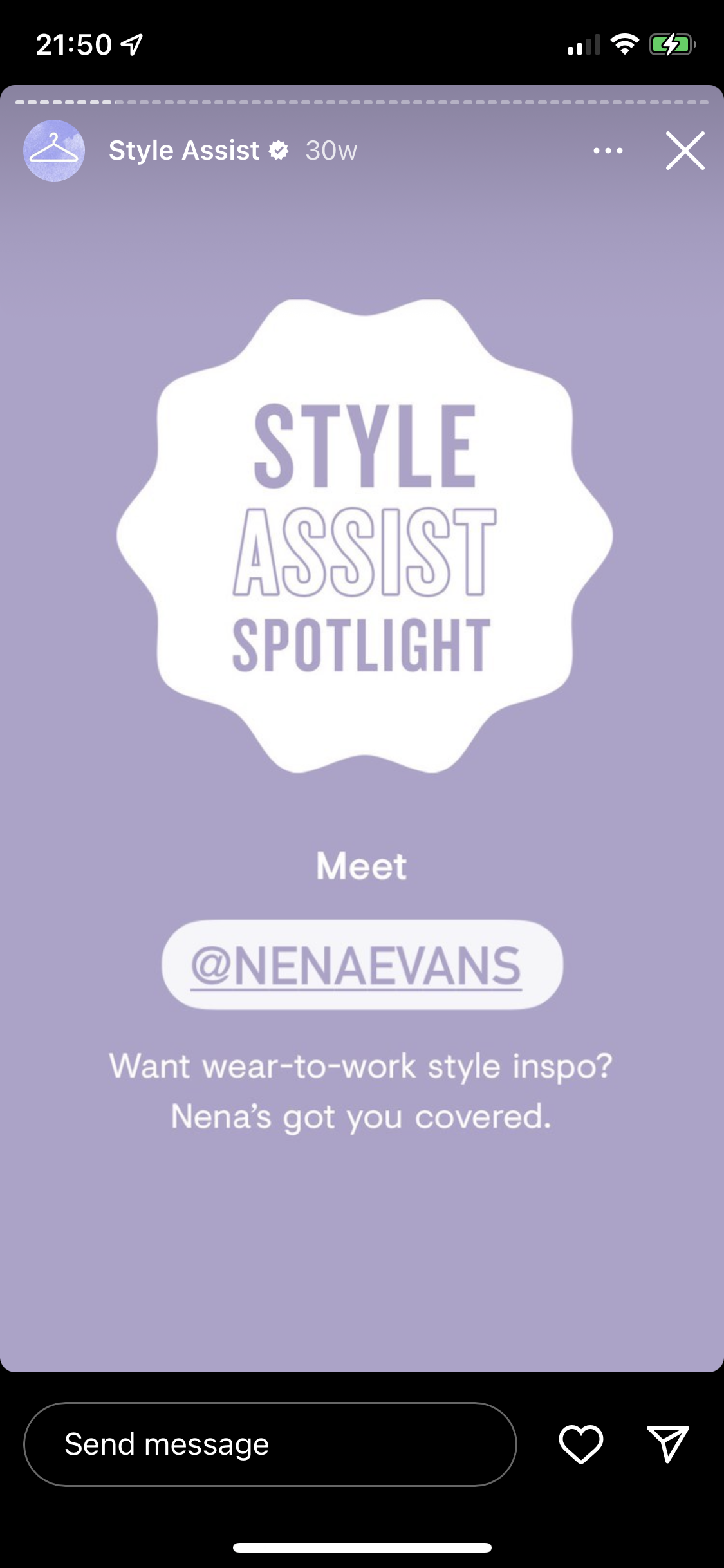 Hers: Hers uses their 'skin care' Story Highlight to what each of their products does for the skin.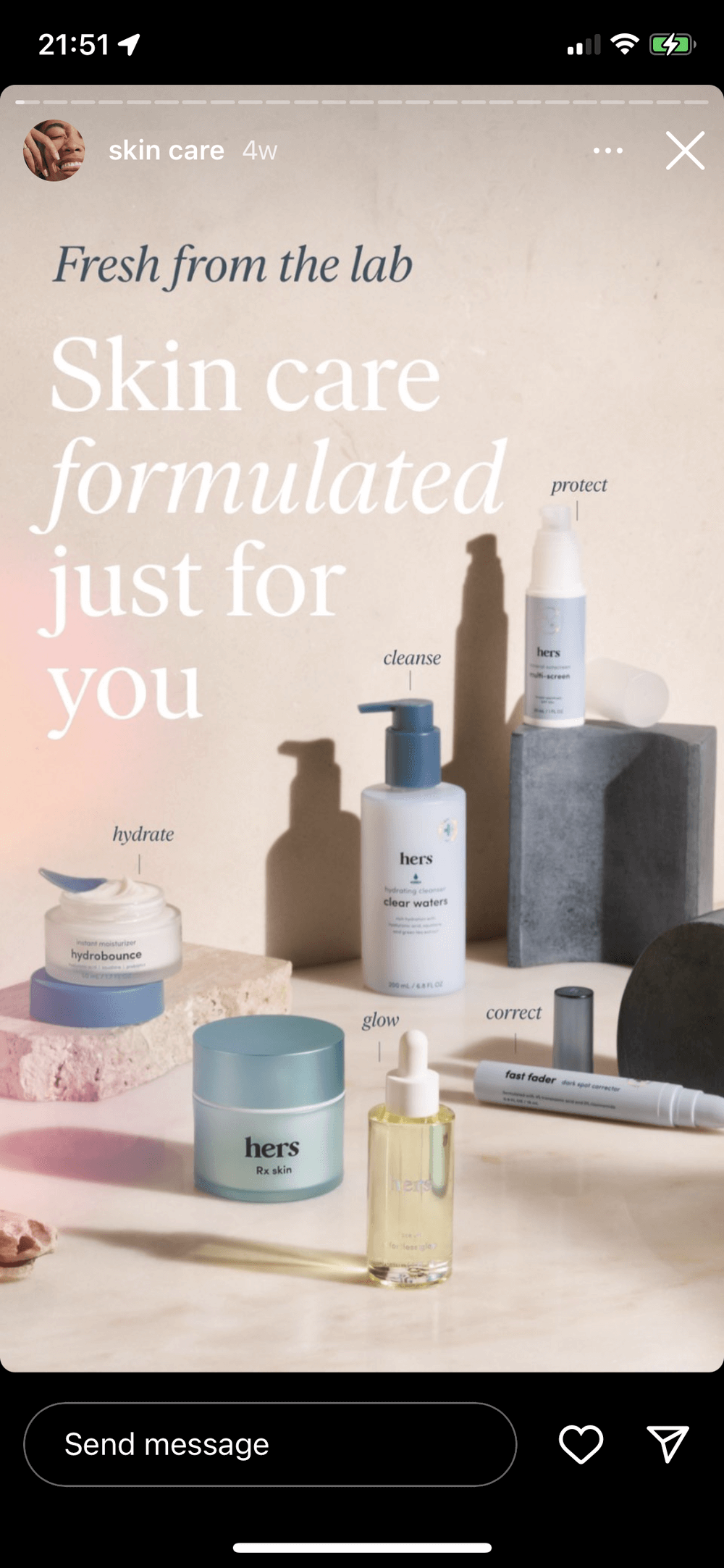 Take your followers behind the scenes
Authenticity is a big part of what helps audiences connect to brands, and your Stories are a great place to do that. And showing the behind-the-scenes of your business doesn't have to be limited to what goes into making a product. You can showcase different employees in different contexts – doing their jobs, showing what they do outside of work, answering prompts or frequently asked questions, and more!
Examples of brands doing this:
Djerf Avenue: In the Story we caught, the employees at Djerf Avenue shared what made them happy.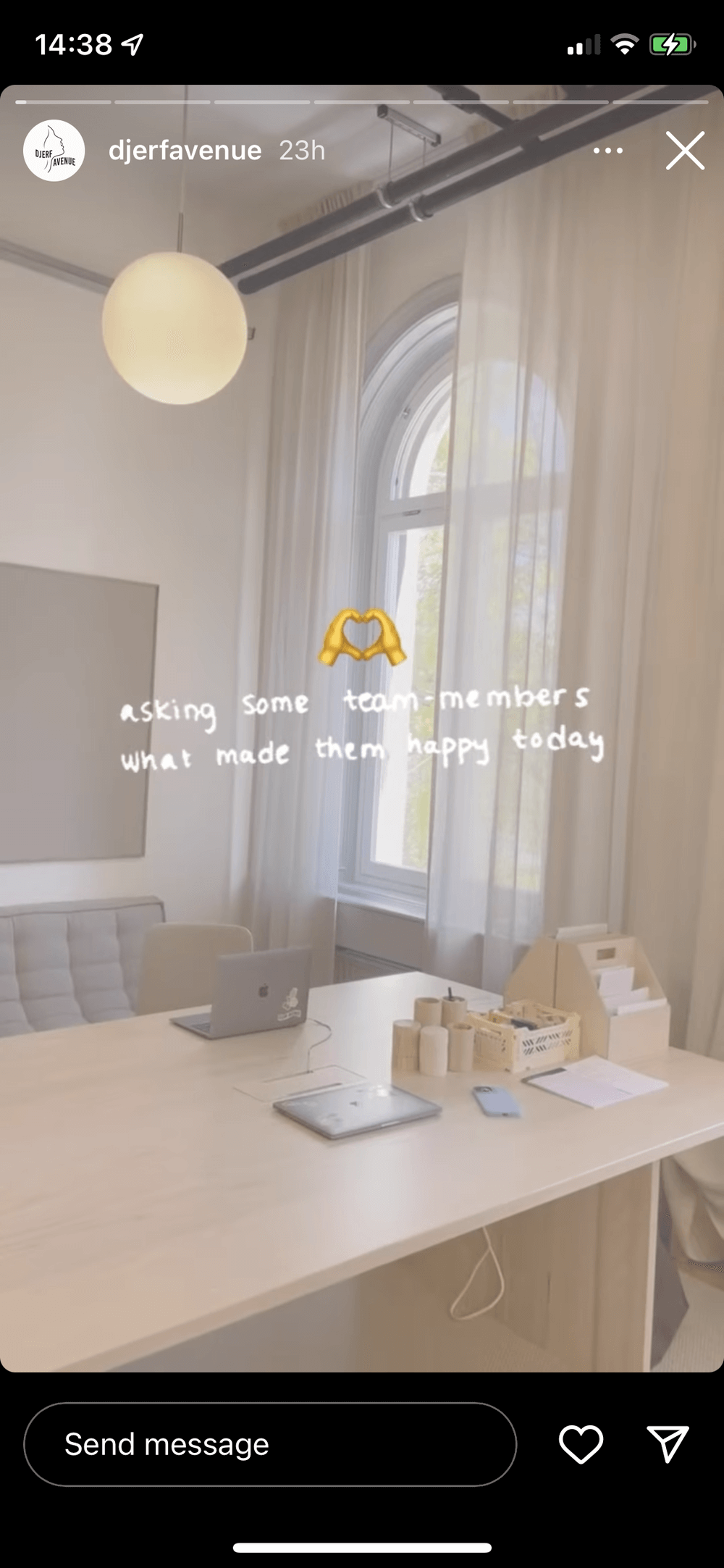 Youth Marketing: YMC's '#YMCrew' Stories throws a spotlight on different employees, showing who they are and what they like to do outside of work.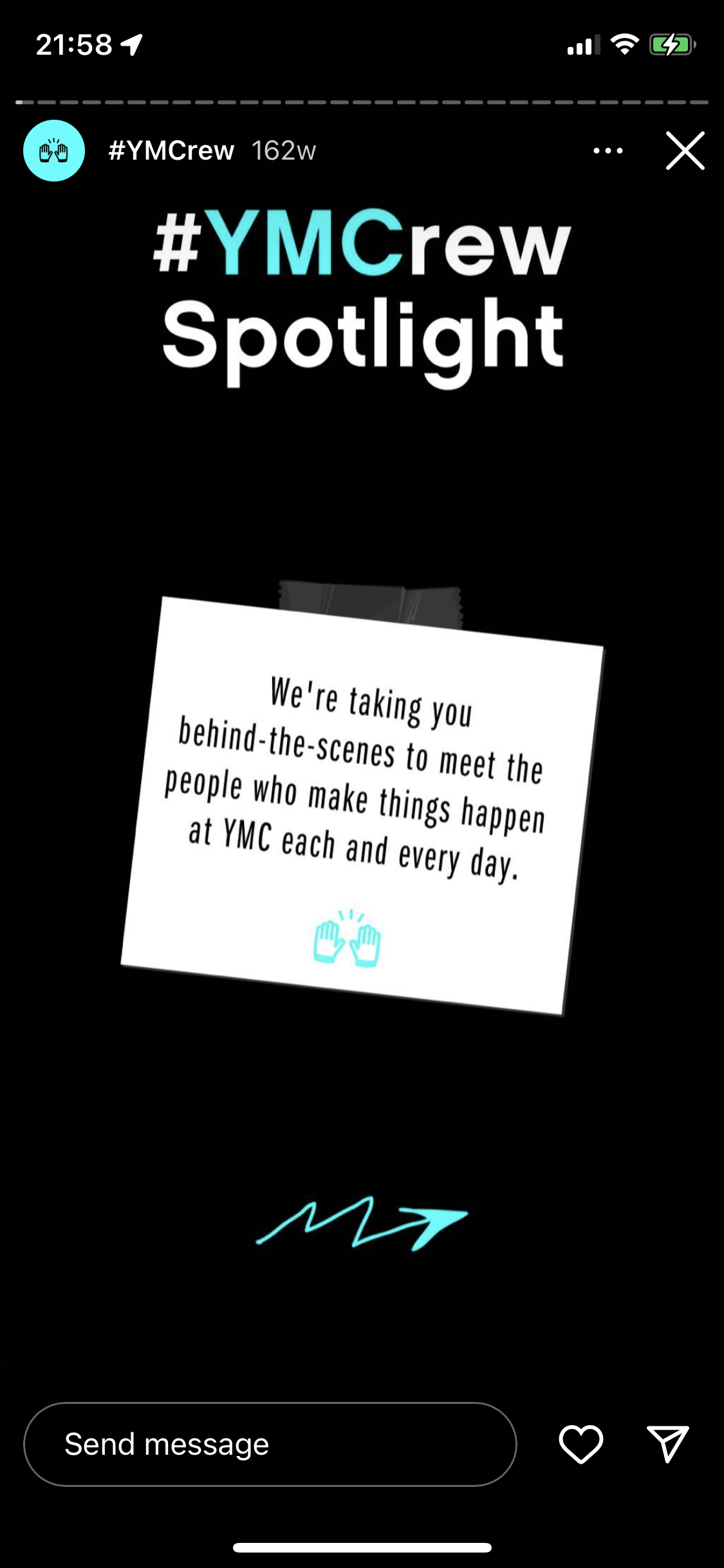 Mejuri: Employees at Mejuri share how they get ready in the morning while working from home in their 'Staff Styling' Stories.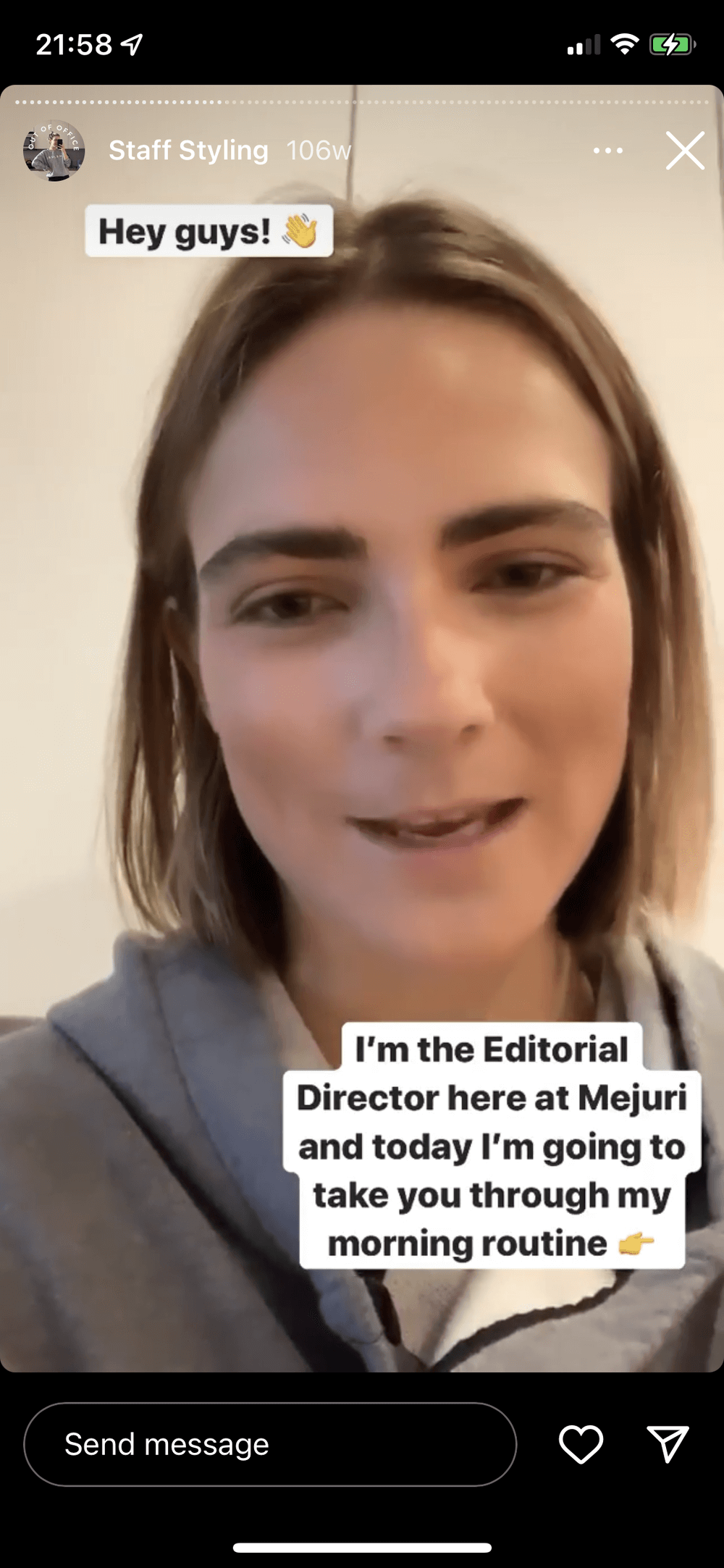 Create anticipation for a launch
If you're in the process of creating and launching a new product, or service, or even just publishing a blog post, Stories are a great way to create anticipation.
From the Countdown sticker showing how long till your launch to linking to where your customers preorder/join a waitlist, adding stickers to your Story is a great way to engage your audience while building anticipation.
Example of a brand doing this:
Good Molecules: Ahead of the launch of their new product, X, Good Molecules shared a series of Stories that explained what the product was and what type of customer would benefit from it.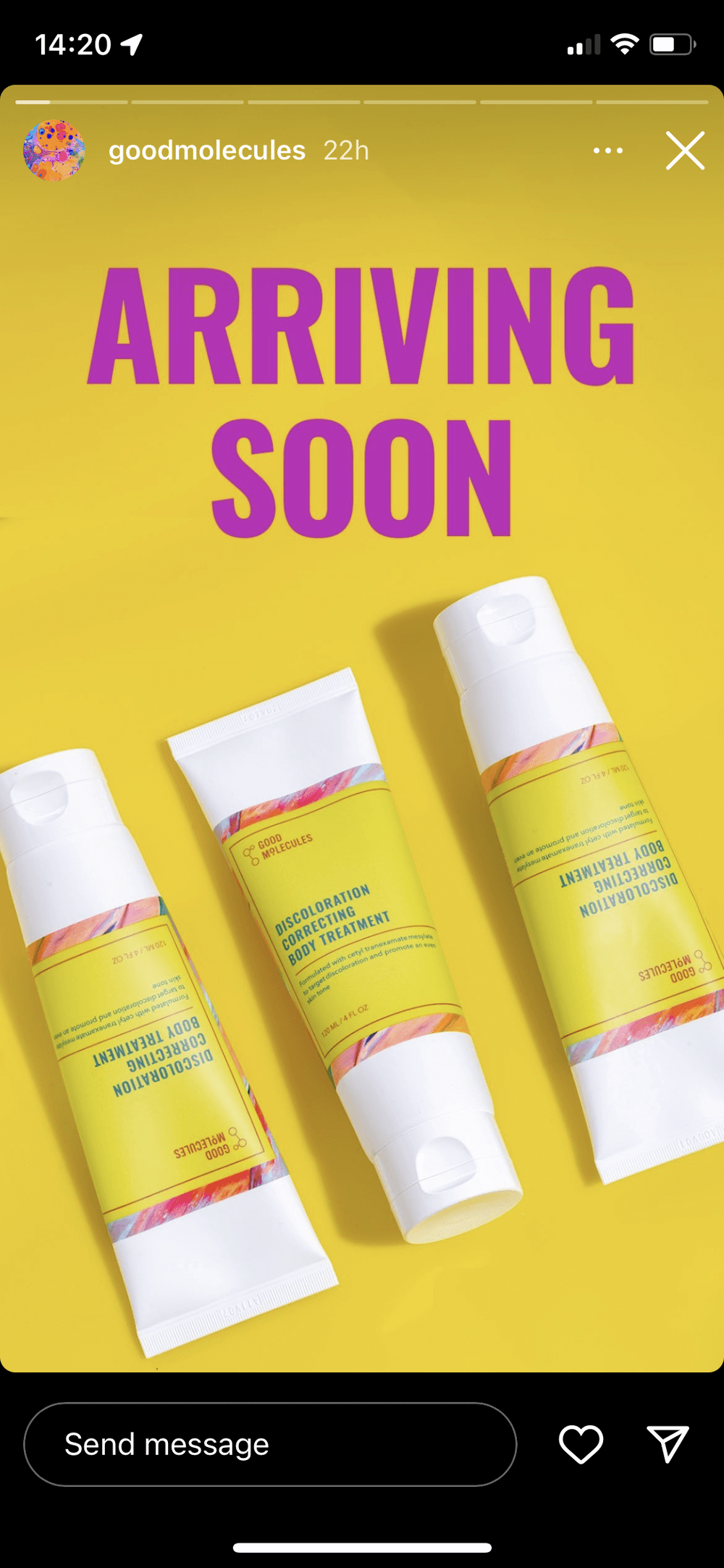 Share tutorials and how-tos
If you want to keep your audience coming back to your Stories, it's important to create content that adds value. This means providing your audience with something that they would find helpful in their day-to-day lives or their work – all while integrating your product or brand values.
Along with sharing tutorials, add a competition element to make it fun for your audience. You can encourage viewers to share their take on using your product and tag you for a reward.
Examples of brands doing this:
Caraway: Using Story Highlights, Caraway keeps a guide to storing your kitchen items (specifically, the ones you might purchase from them) forever pinned to the top of their profile.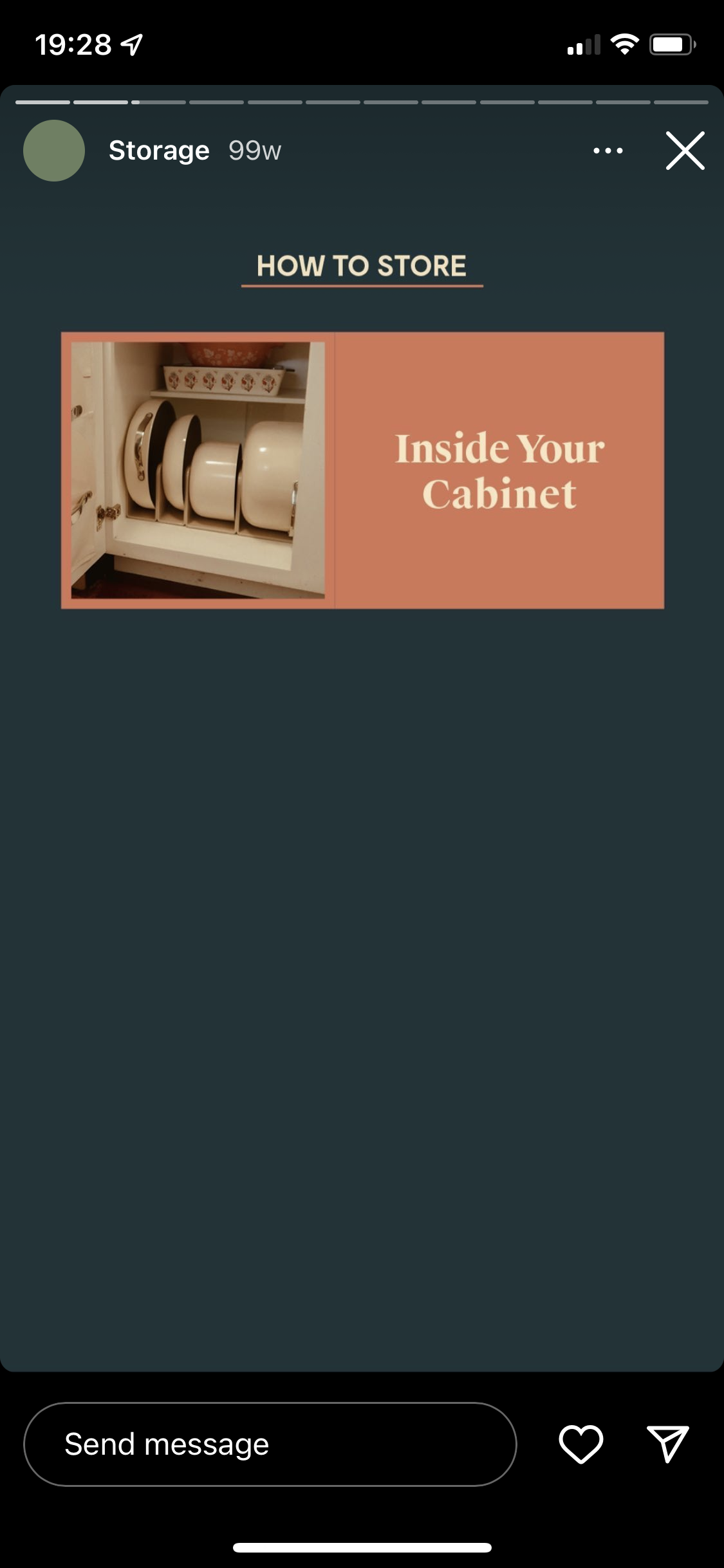 Fur: The grooming brand communicates their views on sustainability in this Story, encouraging and showing viewers how to reuse their empty containers.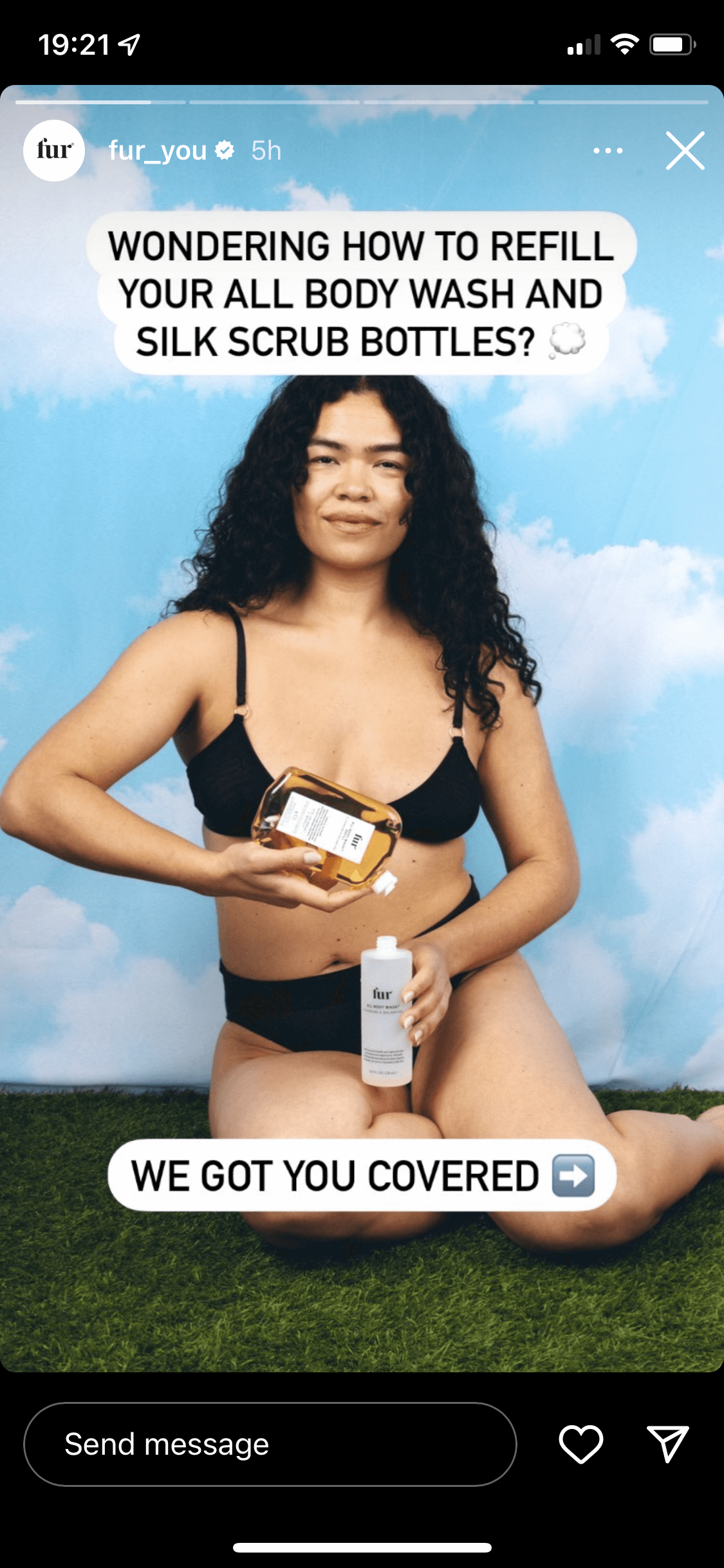 Share social proof
There's nothing quite as effective to build trust as seeing regular people talk about a product for free. You can use your IG Stories to quickly highlight posts from customers and content creators that talk about your brand. Keep an eye on your tags so you can highlight those who mention you in their posts. You can also use Remix by Buffer to grab tweets that mention your brand and share them on Instagram.
Examples of brands doing this:
Arami Essentials: Arami, a skincare brand capitalizes on its audience's excitement to use its products and share the results, by reposting mentions from their audience in a dedicated highlight.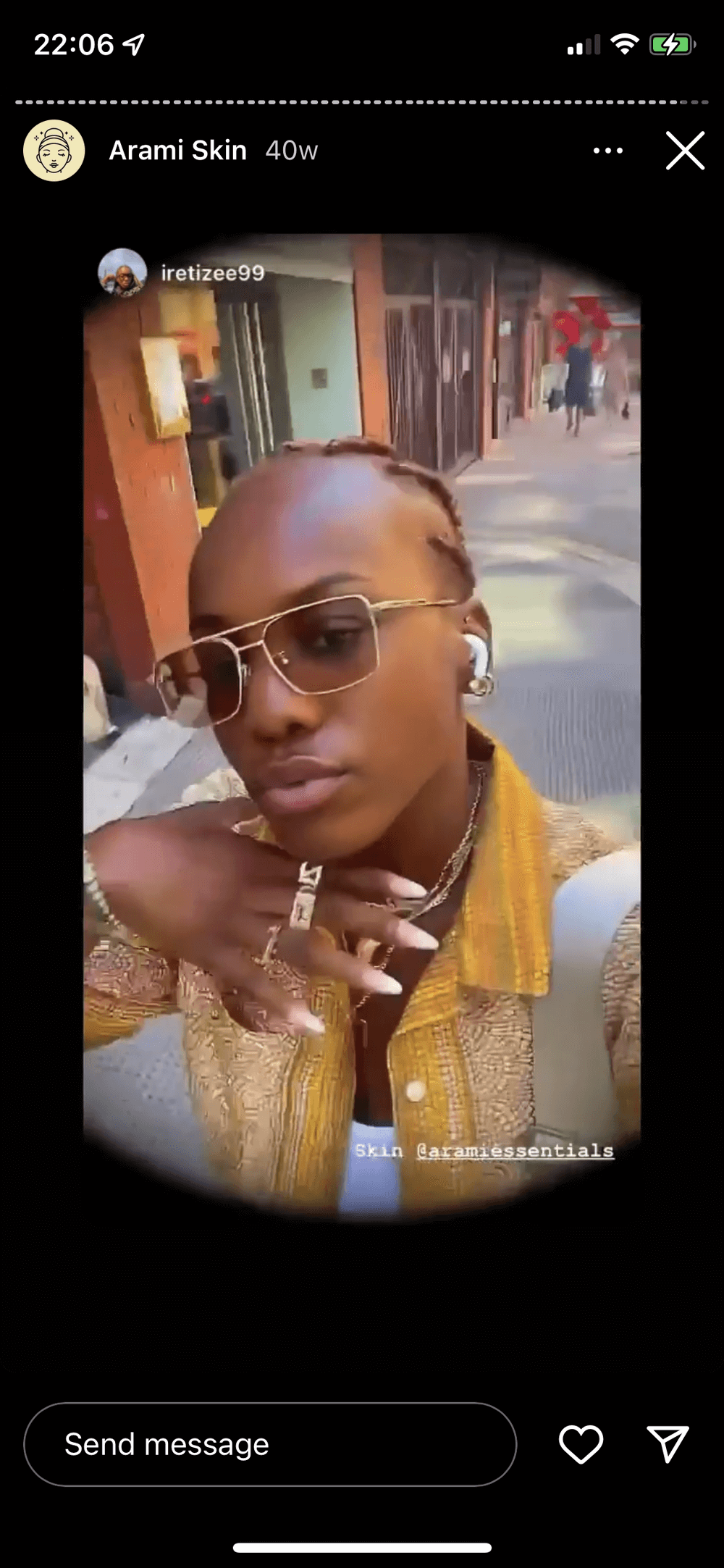 Kai Collective: The fashion brand shares messages, tweets, and different social mentions of their brand as Testimonials on their page.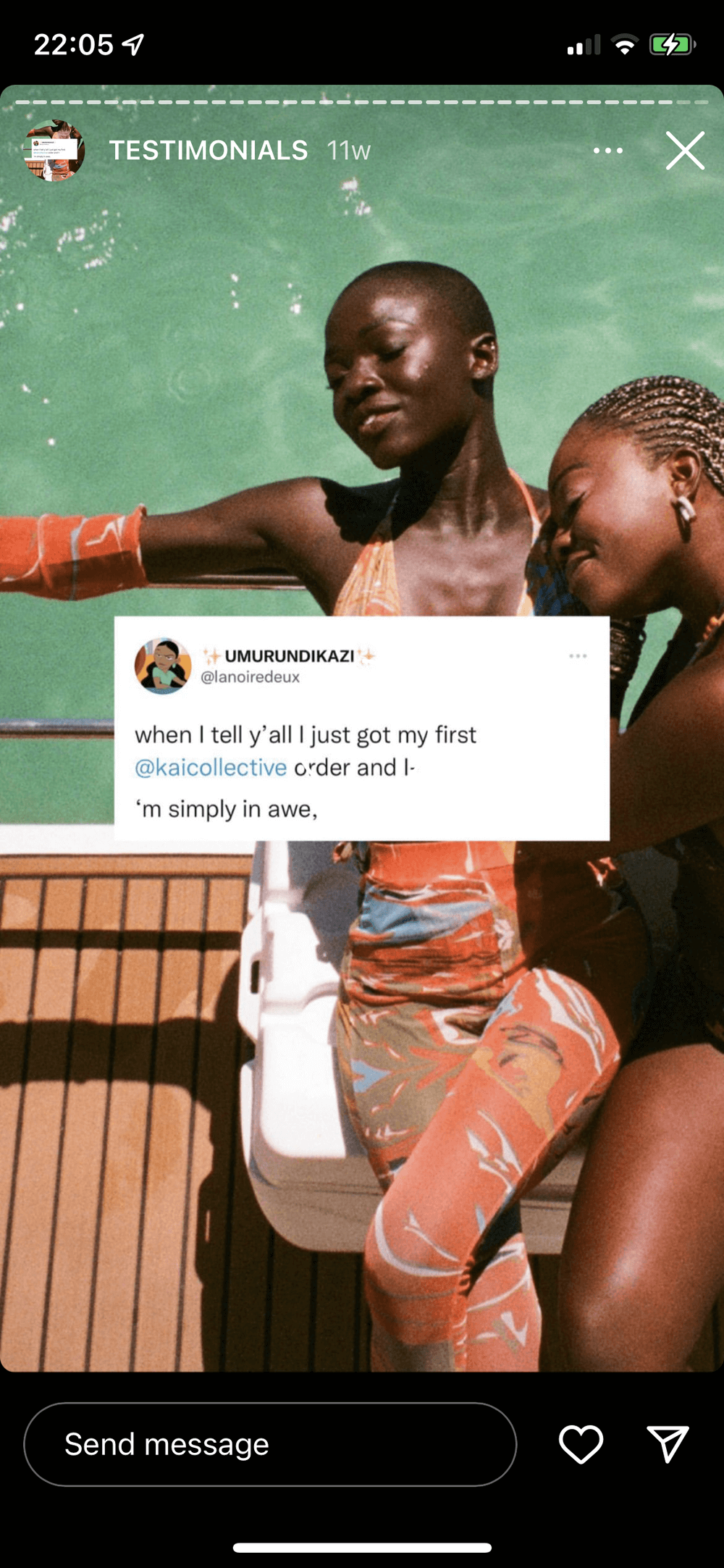 Highlight important dates and events
Creating Stories centered on events that your followers care about is a great way to strengthen your connection with them. You can use Instagram Stories to put a spotlight on people, businesses, and products themed around month-long observances like Black History Month, Mental Health Awareness Month, Pride Month, and so on.
Keep a calendar of relevant dates for your brand. Along with popular dates like Black History Month, go for something fun like National Pancake Day. And Drafts in Buffer can help you plan your content in advance.
Examples of brands doing this:
Apartment Therapy: For Arab American, Middle Eastern, and North African (AA+MENA) Heritage Month, Apartment Therapy used Instagram Stories to create a Small Business Spotlight series. In this series, small business owners like Dounia of @folks_and_tales who shares her story, telling people about her business and taking them through a day in her life as a small business owner.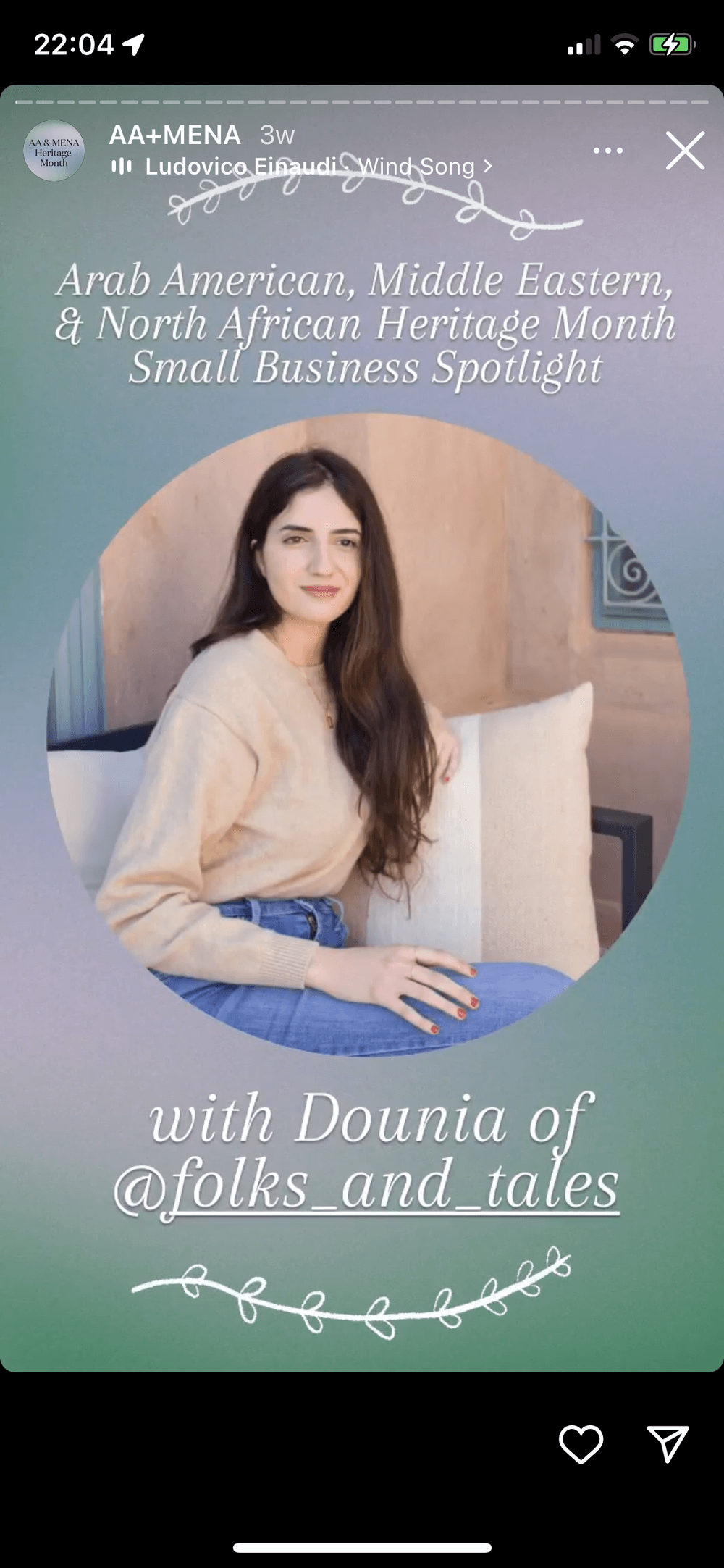 Try different things to find what sticks
It's highly likely that the brands and great Stories we've shared happened overnight. Experimentation is a big part of what makes social media management fun, so you should try different things to find what sticks. Not every idea will work for your brand or your audience, but you have lots of leeway with Stories to see the impact of different formats.
👀 Now we'd love for you to do our homework for us. Is there anything you'd like to see from us in Stories? Send us a DM to let us know!