Between Apple's recent updates to its privacy policies, which allow users to opt out of being tracked by apps, and customers' growing attention to privacy, effective paid advertising has become more challenging than ever.
On the flip side, organic marketing is becoming more impactful. While it doesn't necessarily defeat paid advertising, it can certainly help brands and businesses grow. According to this Search Engine Journal survey, 90 percent of companies with high organic maturity – organizations with a robust and effective organic marketing strategy – saw at least a 5 percent increase in website performance.
So there's a clear need for marketers to implement strategies that reach customers naturally, more so when you also know that organic marketing is more sustainable in the long term. That's why you need to implement a better organic marketing strategy for your business, along with other reasons that we'll be discussing in this article.
What is organic marketing?
Organic marketing is a more subtle approach to marketing that prioritizes natural outreach tactics over promotional content and paid advertising. If you have a TikTok account, send email newsletters, or run a blog – you're practicing organic marketing.
What is (and isn't) organic content?
Organic content is social media, SEO, blog content, videos shared to Youtube, Vimeo, etc.
Organic content isn't paid advertisements on any platform
By creating high-quality content that gives prospective consumers value for low to no cost, organic marketing aims to attract and convert people who find them naturally.
Investing in organic marketing means that you'll be playing the long game. From growing an audience on your social media to filling your blog with quality, relevant content, organic marketing takes time and consistent effort.
The main goal of organic marketing is to increase brand awareness and build a connection with your audience, whether through educational or entertaining content.
Why is it so important?
Organic marketing encourages an emotional connection between your customers and your brand, which is a major driver of a positive brand experience. Through content that is focused on helping, educating, or entertaining your customers, organic marketing allows you to connect to them without the barrier of needing to sell in your way.
Your research and analytics may have one idea of the audience you should be targeting, but there might be a surprising group of people looking to use your product or service in different ways. By using organic marketing, you can optimize for covering and reaching both.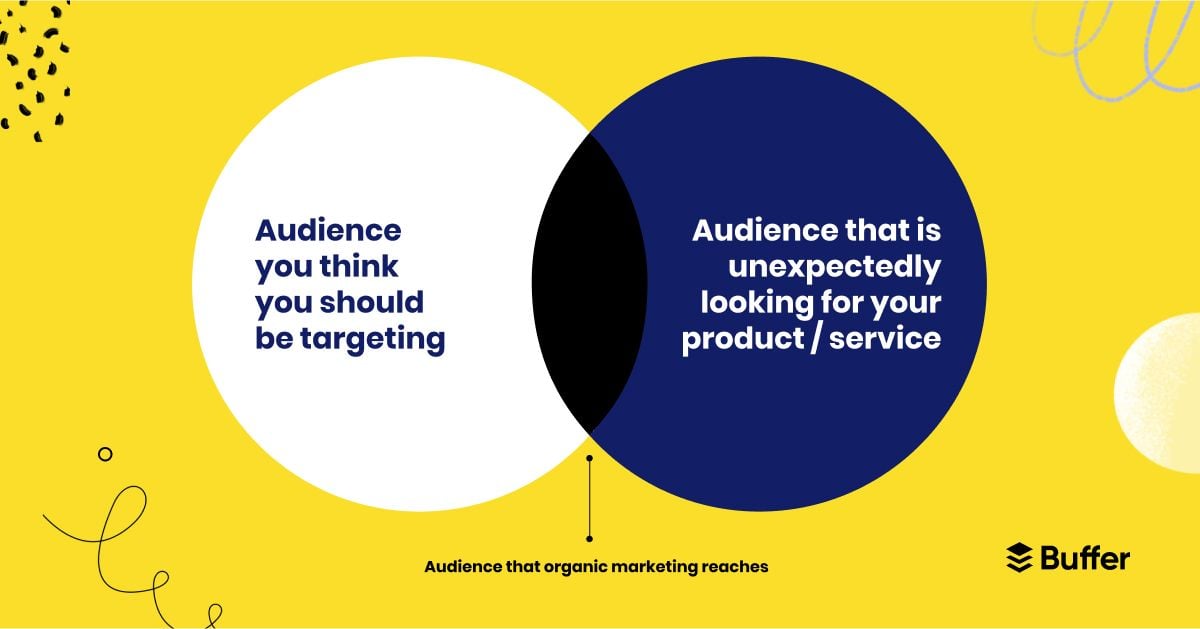 Effective organic marketing creates permanent traffic sources for your website. It brings customers to your business naturally over time. Organic marketing also convinces search engines that your website is relevant to what your audience is looking for.
Organic marketing also convinces search engines that your website is relevant to what your audience is looking for. Optimizing all your content assets for search engines will improve your discoverability and lead more qualified customers to you.
Once you've sorted your organic marketing strategy, you have a permanent way to build brand awareness that requires little extra effort. Effective organic marketing will bring customers to your business naturally over time.
How to get started with organic marketing
You might be doing organic marketing already – that Instagram post? It's organic marketing. Your new blog post? Organic marketing. The only thing to keep in mind is that it takes time and effort to see results. So if you're just starting with organic marketing, these are some tactics to try for your business.
Along with implementing different tactics, it's also essential to coordinate your efforts to see the best results. This means creating and implementing a proper marketing strategy. Here are some ways to improve yours.
Keep all teams informed of your efforts: Successful organic marketing requires all teams to be aligned around customer needs. So, it's essential to discover the bottlenecks with content creation, figure out how to get things done faster, and inform leadership where they can help.
Do your organic marketing in-house: Keep the bulk of your OM efforts in-house — no one understands your business like the people who work with it every day. This survey found that in-house organic efforts drove 12 percent more website traffic than fully-outsourced efforts. However, there may be times when you might need to outsource, and that's ok. Instead, try to work with professionals who take the time to understand your audience and provide them with all the context they need to create content that targets them.
Optimize your website and social media: It's one thing for people to click through to your blog post or social account, and another thing to keep them coming back. Elements like your brand design and style and website structure, or even loading speed are important to attract your audience and get them to reshare your content.
💡
Want to create better-looking content or improve your website? Check out
this guide
to developing a brand identity.
Make sure your content is easily accessible on mobile: From opening Twitter to listening to a podcast, your customers are most likely accessing content on their phones. To create an effective organic marketing strategy, you need to optimize all your content for mobile devices. This means making sure you get the image dimensions for each platform right and having an accessible website.
Frequently analyze the performance of your organic marketing efforts: Tracking results is essential to ensure your organic marketing strategy is producing results. It also allows you to see which of your efforts should be scaled and whether your time is wasted in any particular aspect of the strategy.
Keep in mind that even with all the tactics and strategies you try, customers respond best to authentic content that fulfills a need they have. So even if you don't have a large video team or marketing budget, you can still create valuable content that your audience is excited to engage with and share through organic marketing.
Four brands for organic marketing inspiration
If you're stumped on how to improve your organic marketing, we've got you covered. Here's how these brands have adopted organic marketing.
Mejuri uses Pinterest Boards to curate inspiration
Mejuri – a popular jewelry brand – has a great content strategy on Pinterest, contributing to its large following and monthly views. In addition, their extensive catalog on the platform shows their products – rings, earrings, and necklaces –  on models and customers alike, as well as in Pinterest's different formats, particularly the platform's version of Instagram Stories.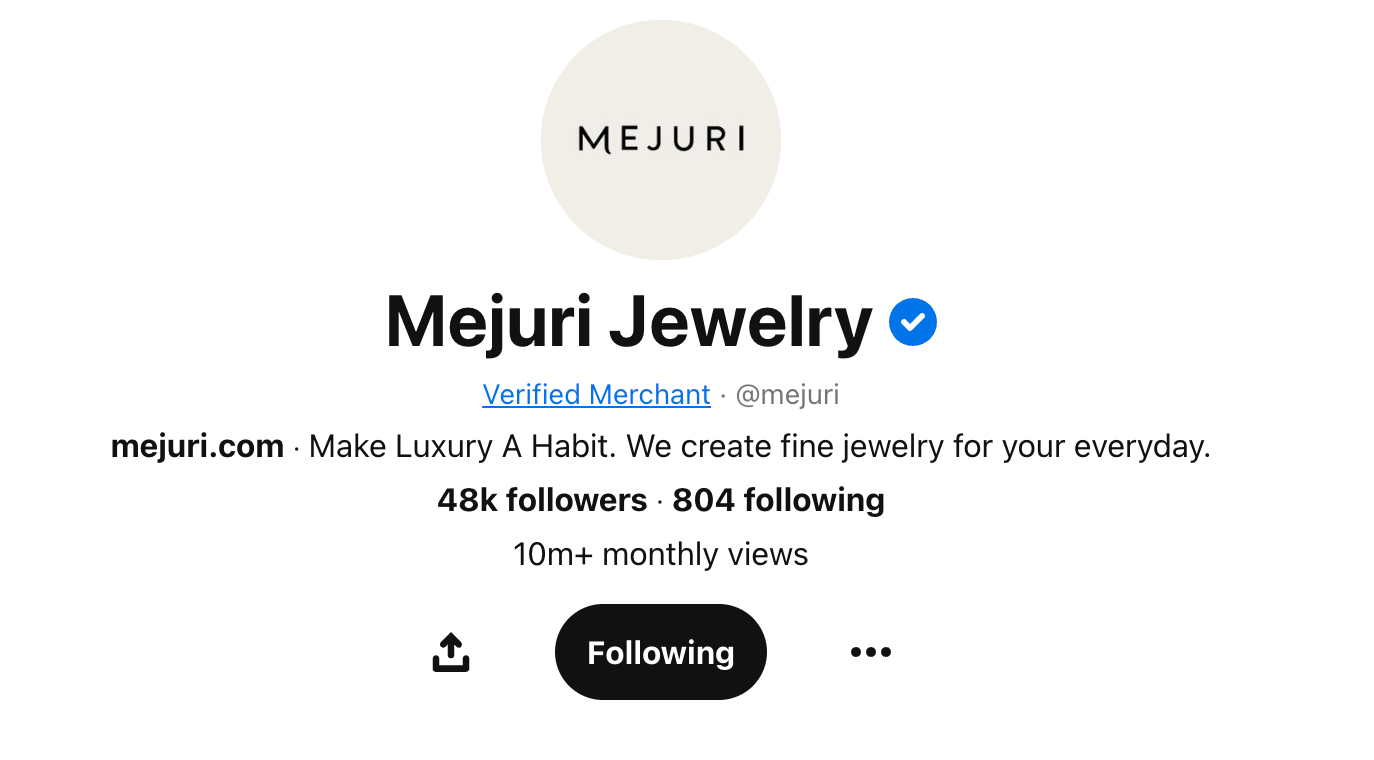 Along with its original content, which is shared and re-shared across the platform, Mejuri also uses Pinterest Boards to curate content and inspiration for its audience.
From a board dedicated to nails with over 45,000 followers (which matches up to Mejuri's ring selection) to a 'How to Style Jewelry' board, customers can assuredly visit Mejuri's Pinterest for styling inspiration.

💡
Takeaway: If you're looking for which platform to focus your efforts on, consider going outside of the conventional ones – your main platform might not be Instagram or TikTok. If your brand or product is highly visual, you might benefit from a visually-stimulating platform like Pinterest.
LettuceGrow brings its business down-to-earth through TikTok
LettuceGrow sells a hydroponic plant grower called Farmstand as well as pre-sprouted seeds, marketing itself as a sustainable and accessible alternative to traditional gardening. The idea for the product may seem inaccessible to potential customers, but their use of organic marketing brings the concept down to earth.
On TikTok, the brand shows its product in use, as well as the different ways customers can grow and cook their own food. They also highlight the benefits of using their product in several videos, particularly highlighting how it's more sustainable to use their method over traditional gardening.
💡
Takeaway: There's no product too complicated to market organically. In fact, the more complex your product is, the simpler your organic marketing should be. Focus on selling your product's benefits through relatable content, rather than diving into its features or components.
Shopify interviews entrepreneurs on its podcast to inspire audiences
Shopify is an ecommerce SaaS company with a podcast called Shopify Masters. The company interviews entrepreneurs and ecommerce experts on different topics related to owning and running a business.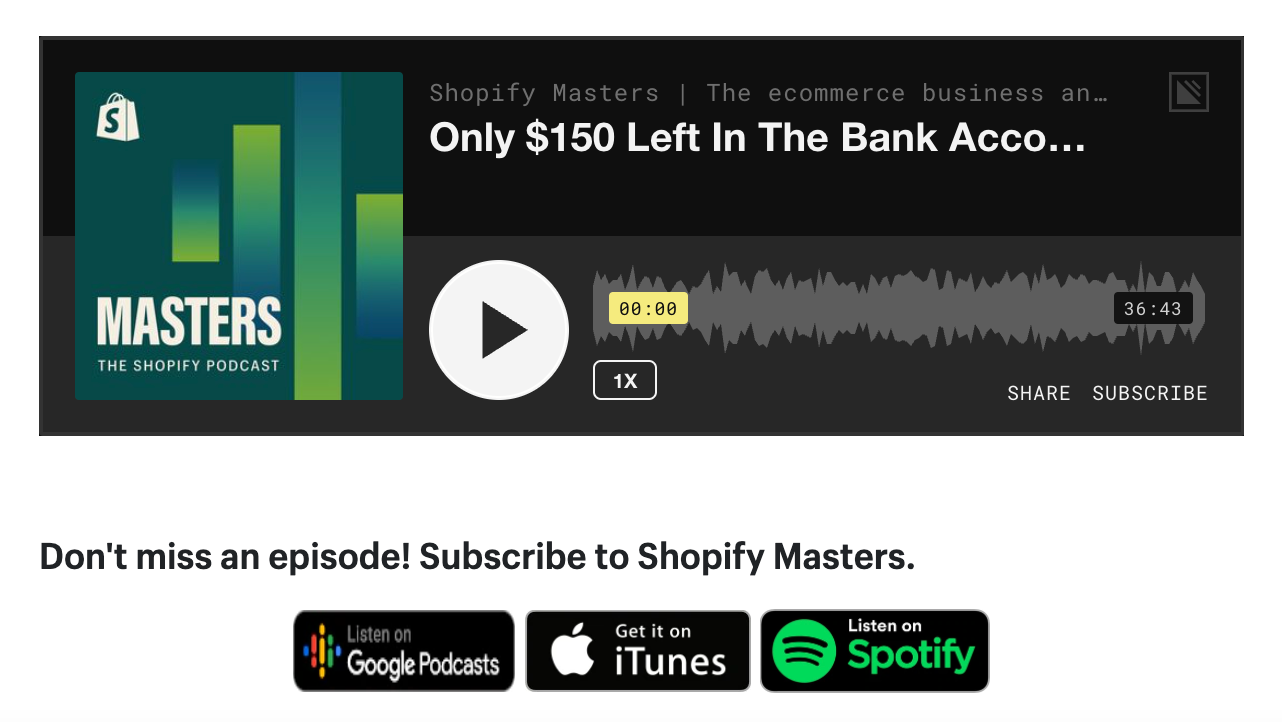 Creating owned media like podcasts or YouTube channels can be a long and time-consuming process but when done well, can prove immensely successful as an organic marketing strategy. Shopify Masters has a 4.5 out of 5 rating on Apple Podcasts and a 4.9/5 rating on Spotify, proving customers greatly benefited from the material shared.
💡
Takeaway
: Remember that just because the podcast is branded doesn't mean it should become one 30-minute long ad. Instead, it should provide value to the audience whether that's by being a fun escape or an educational source of information. Need some tips on starting a podcast for your brand? Check out
this guide
.
Away creates blog content that inspires and educates readers
Luggage company Away publishes a magazine-like blog called Here, which provides travel enthusiasts with content featuring frequent travelers and guides to cities worldwide.
The company's blog is a prime example of how to create content that is focused primarily on providing as much value as possible to the audience. Their content strategy works great as it's helpful to all their potential and existing customers and seamlessly ties into their luggage brand without them having to mention it all the time.
💡
Takeaway: Your organic marketing doesn't need to be limited to your specific category – you can go as broad as your whole industry when coming up with content ideas.
Take the time to create quality content and focus on pushing that to customers
More than anything, your organic marketing strategy should be about providing maximum value to your audience.
Instead of selling all the time (which is what paid ads are for), create content that your audience needs to operate in their industry first and make selling the secondary goal.
💡From scheduling social media posts to creating a Start Page to curating your most recent content in one landing page, Buffer's tools can help you up your organic marketing game. Get started here.
Brought to you by
Did you find this article helpful? You might also like our all-you-need social media toolkit.
Get started for free now