Summary:
We analyzed more than 1 million videos sent through Buffer to pinpoint the best time and day to post on TikTok for maximum reach.
You will learn:
The best posting times on TikTok for video views
The best (and worst) days of the week for posting on TikTok
How to pinpoint the best days and times to post for your audience
While it's always a good time to watch TikToks — the average viewer streams 24 hours of content a month on the app — figuring out the best time to post a TikTok is a bit more complicated.
And yet knowing when to post on TikTok can be a game-changer for content creators and small business owners alike. After all, you work hard on your content, so it makes sense to schedule your posts during peak times.
There are plenty of factors to consider when figuring out the optimal times to share. This guide will walk you through all the best practices for posting on TikTok for maximum engagement — and, with any luck, land your videos on For You Pages worldwide.
⚡
Schedule your TikTok videos and reach a new audience with Buffer
Plan, create, and schedule content to get more exposure and engagement with Buffer's
TikTok scheduling and analytics tools
.
Is there a best time to post on TikTok?
There have been many studies analyzing other social media apps, but because TikTok is a relatively new platform, the numbers are a little more limited.
This is why we tapped into Buffer's data — analyzing more than a million TikToks sent through our platform — to pinpoint the best time to post on TikTok for video views.
But before we dig into that, an important caveat: There is no universal best time to post on TikTok that will work for every video on the app. If only it were that easy!
The best time to post your TikTok posts depends on your audience and their behaviors — which is why we will walk you through analyzing your own TikTok data to figure out when to post on TikTok for your target audience later in this article.
That said, the days and times in the charts below offer a handy guide to help you maximize your content potential while growing your following.
Ready to get into the numbers?
The best times to post on TikTok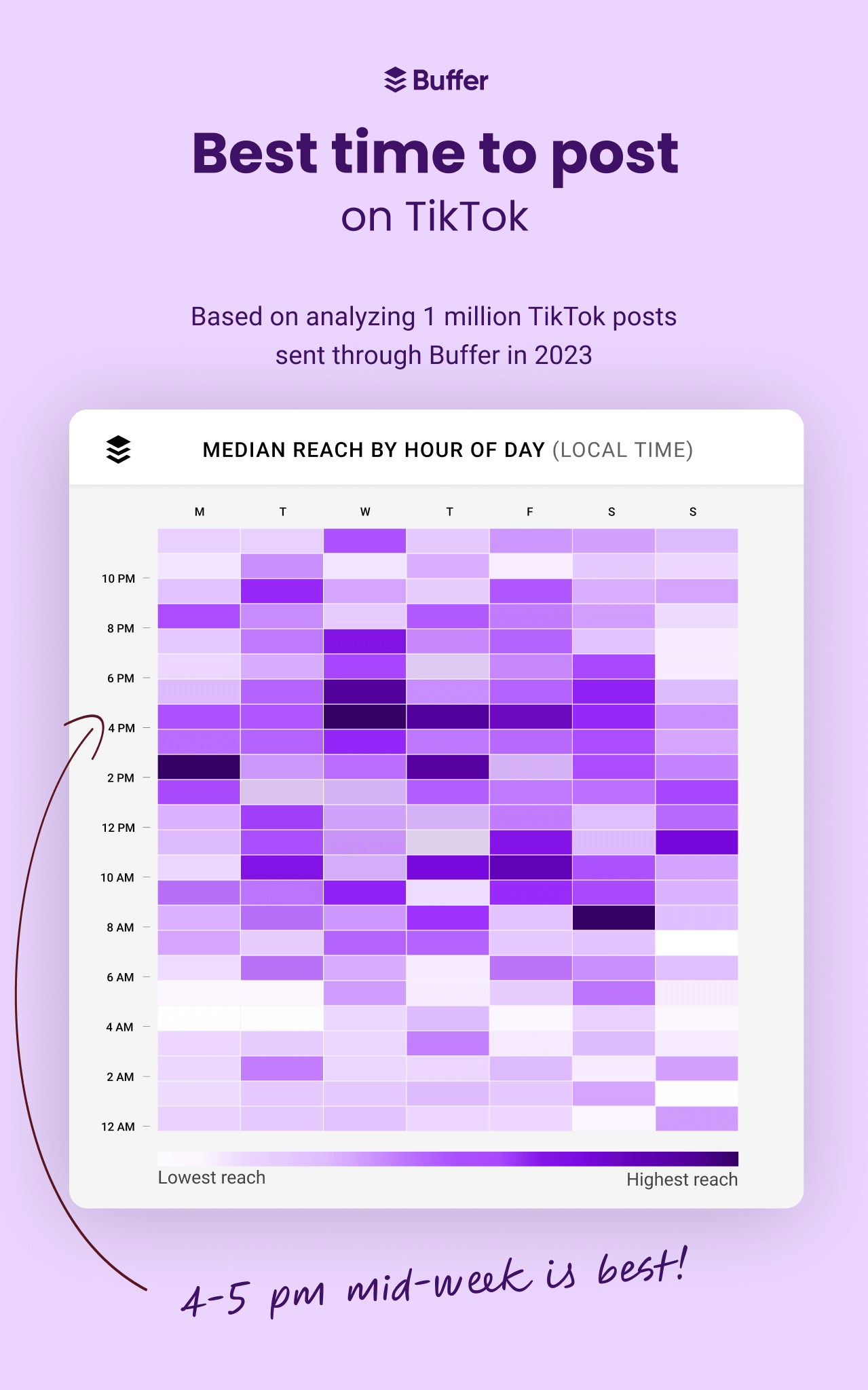 This graph above breaks down the week into hourly chunks. The darkest purple blocks are the time slots with the highest reach. The light purple to white blocks are the time slots with the lowest reach. (TikTok defines reach as the "total number of unique viewers who viewed the video." For ease of explanation, we'll use reach and views interchangeably here.)
The earliest hours of the day are at the bottom of the graph, starting from midnight at the very bottom.
In our best time to post on Instagram data analysis, the weekdays were similar and reasonably predictable, with engagement peaks outside working hours. But with TikTok, things are less cut and dried. This is likely because TikTok has a younger demographic — 53 percent of TikTok users in the U.S. are under 25, with 20 percent under 18 — with less rigid work schedules.
While things are a little more erratic on Tiktok, reach tends to pick up later on most days, with peaks usually happening in the late morning or afternoon. Unsurprisingly, there are time slots with solid reach in the early evenings until 11 p.m., too.
🌏
To make this data easier to understand, our data scientist Bufferoo has done some mathematical magic to make the recommended time zones universally applicable. In other words, no need to convert. Whether you're in EST (Eastern Standard Time), PST (Pacific Standard Time), or IST (Indian Standard Time), the times apply to you.
The best time to post on TikTok on Monday
According to Buffer data, the best time slots on Monday for TikTok video views are between 1 p.m. and 5 p.m., with a notable surge happening at 2 p.m.
⏰ When to post on TikTok on Monday: 2 p.m.
The best time to post on TikTok on Tuesday
On Tuesday, the data suggests that 8 a.m. to 12 p.m. is the best time to post on TikTok, with the time slot with the highest reach at 10 a.m.
⏰ When to post on TikTok on Tuesday: 10 a.m.
The best time to post on TikTok on Wednesday
While Wednesday may not be the best day to post on TikTok (more on this below), we see a peak in reach at 9 a.m. and then again between 3 p.m. and 7 p.m.
⏰ When to post on TikTok on Wednesday: 4 p.m.
The best time to post on TikTok on Thursday
The best posting times on Thursday are 10 a.m., 2 p.m., and 4 p.m., according to Buffer data.
⏰ When to post on TikTok on Thursday: 4 p.m.
The best time to post on TikTok on Friday
On Friday, the optimal posting times on TikTok are between 9 a.m. and 11 a.m., with another reach hotspot at 4 p.m.
⏰ When to post on TikTok on Friday: 10 a.m.
The best time to post on TikTok on Saturday
Saturday is a quieter time on TikTok, though there is a solid peak in reach between 8 a.m. and 10 a.m. and another (albeit lower) good time frame between 2 p.m. and 6 p.m.
⏰ When to post on TikTok on Saturday: 8 a.m.
The best time to post on TikTok on Sunday
Sunday is also a slower day, with only one peak in video reach on the app between 10 a.m. and 1 p.m.
⏰ When to post on TikTok on Sunday: 10 a.m.
This is where social media scheduling tools like Buffer shine. Experiment by systematically going through the times on the list above, scheduling a TikTok, and tracking its performance to see what works best for your specific audience.
What is the best day of the week to post on TikTok?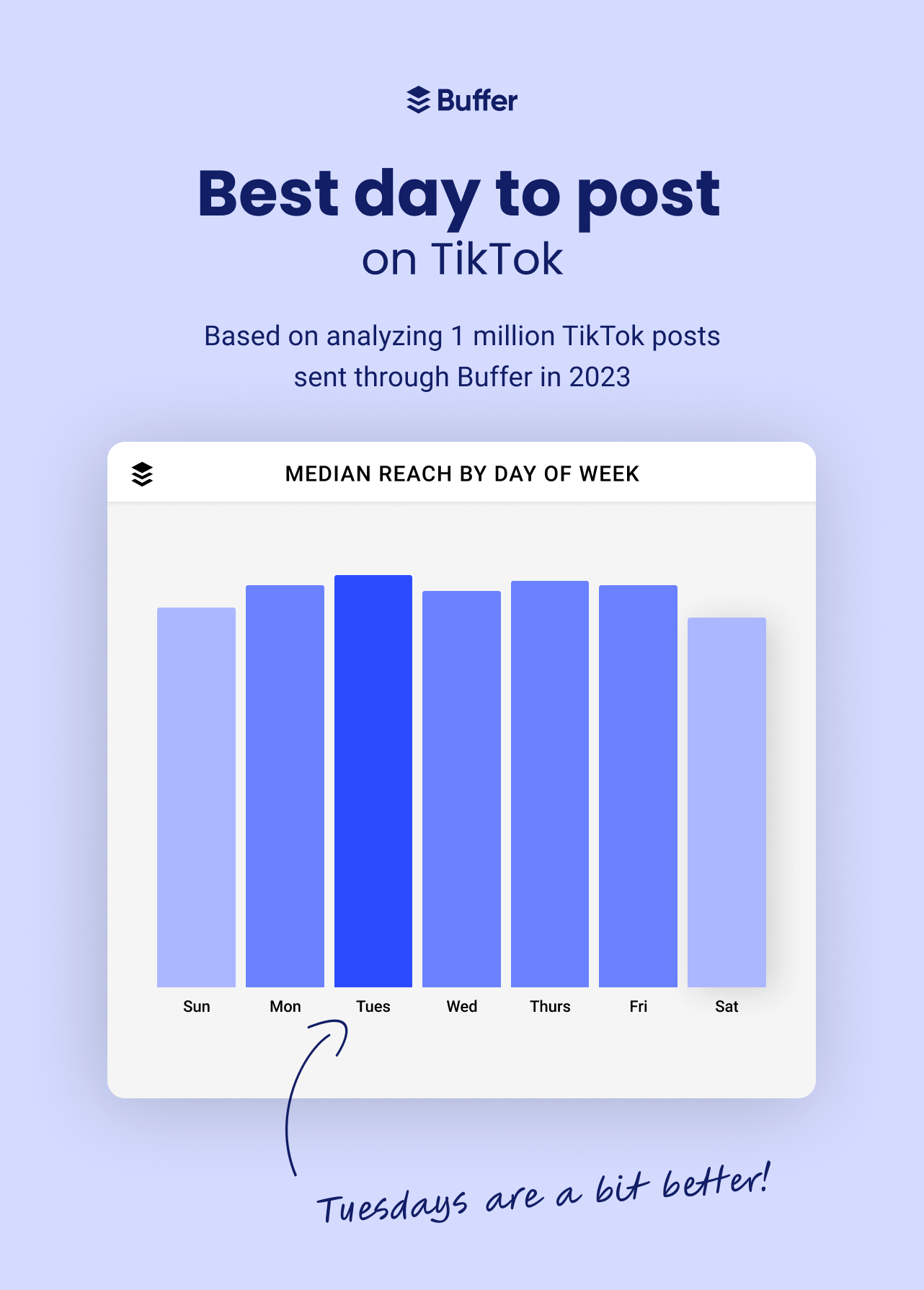 Tuesday is the best day of the week to post on TikTok in terms of reach, with Thursday, Monday, and Friday not too far off.
The worst day of the week to post on TikTok is Saturday when there's a notable dip in reach on the app. Sunday and Wednesday are also not the best days to post on TikTok.
Why it's important to find the best times to post on TikTok
You're on TikTok because you want others to engage with your content. Whether you post a behind-the-scenes video of your teammates, a TikTok explaining your latest product launch, or jump on a funny trend, TikToks are meant to be seen by your community.
If you're sharing videos that aren't getting any views, you're missing out on building stronger connections with your customers and increasing brand awareness.
TikTok videos have the highest engagement rate per post out of any other social platform, meaning you could use TikTok as a key driver of brand awareness and traffic for your brand. Of course, to take advantage of this, you need to post at the right times to give your followers a chance to like, share, and comment on your TikTok content.
Creator Meka Monroe @plannedcreative has a thriving TikTok where she discusses social strategy. In a video, she shares how she gained 40,000 followers through best practices, explicitly saying she only posted when her followers were most active.
Putting some thought into your posting schedule is rewarded by the TikTok algorithm and can yield great results.
How to find your best time to post on TikTok
The conversation surrounding when to post on social media can sometimes feel a bit reductive, especially considering there's a lot of conflicting data on the topic. And while we hope you find the data from Buffer helpful, the results should be taken as helpful suggestions rather than rigid rules to follow.
For one thing, trends on social media are constantly evolving. Another factor to consider is that no matter how thorough these reports are, they're based on aggregated data and may not apply to your audience.
So, understanding your best posting times boils down to understanding your followers' online habits — an essential part of your overall marketing strategy.
Sync up with your followers
Influencer Marketing Hub laid out two essential questions content creators should be asking themselves when it comes to when to post on TikTok, which we think are helpful:
Where is your audience?
When are they awake?
Your community is unique; the best times to post TikToks will depend on their schedule. Remember, TikTok is a global platform, and you'll likely have a global audience. Your followers may be scattered across the world, so considering all the different time zones and finding overlap with your community is crucial to planning content successfully.
Experiment with different times
After you've studied your target audience's schedule and nailed down a few options for posting, it's time to put your social media management research into action and see whether these times work. Play around with scheduling your TikToks at various periods during the day to see which video performs the best.
This is where TikTok analytics comes into play. Analyzing the data — total views, comments, likes, and shares — of each video is the best way to evaluate whether your audience is discovering your content and if it resonates with them. You'll find the analytics dashboard on your TikTok account under Creator tools. From there, you'll be able to deep dive into three sections: overview, content, and followers.
Overview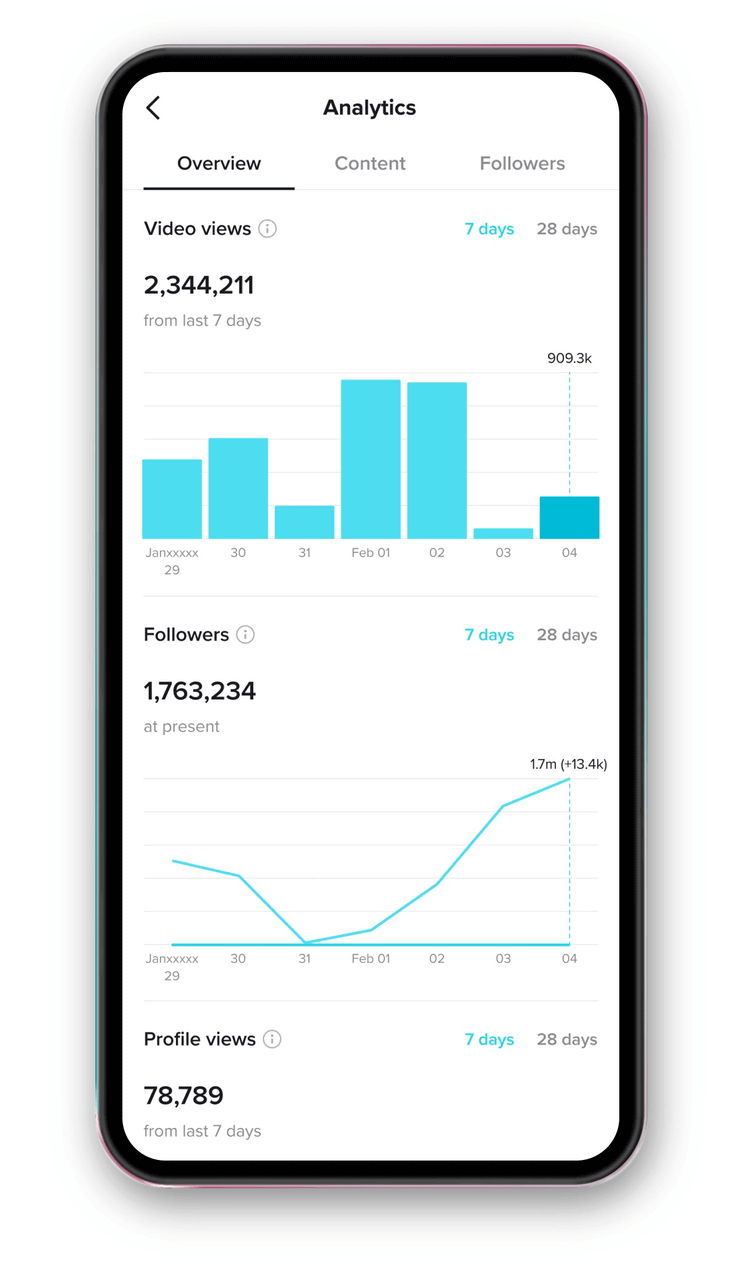 Overview provides a breakdown of some of your basic metrics. You can see your total video views, follower growth, and likes, comments, and shares over time. There is also an engagement tab within this section that goes into your video performance in more depth.
Content
The content tab provides a much more detailed analysis than overview does. Here, you can break down key metrics for each of your TikToks. Along with looking at the likes and comments, you'll also be able to see the average watch time of each video and the percentage of people who watched the entire TikTok. Remember that the content tab only accumulates data for the last seven days.
You'll also get insights into how your followers found your videos and your various audience territories — which, as discussed earlier, is essential to factor in.
Followers
The followers tab is key for figuring out the best posting times as it highlights your audience location, when they are most active, and tracks the fluctuations in your follower growth. Pay attention to when your follower activity is the highest, and try to post around the same time. Another helpful metric here is seeing the other content your followers engage with.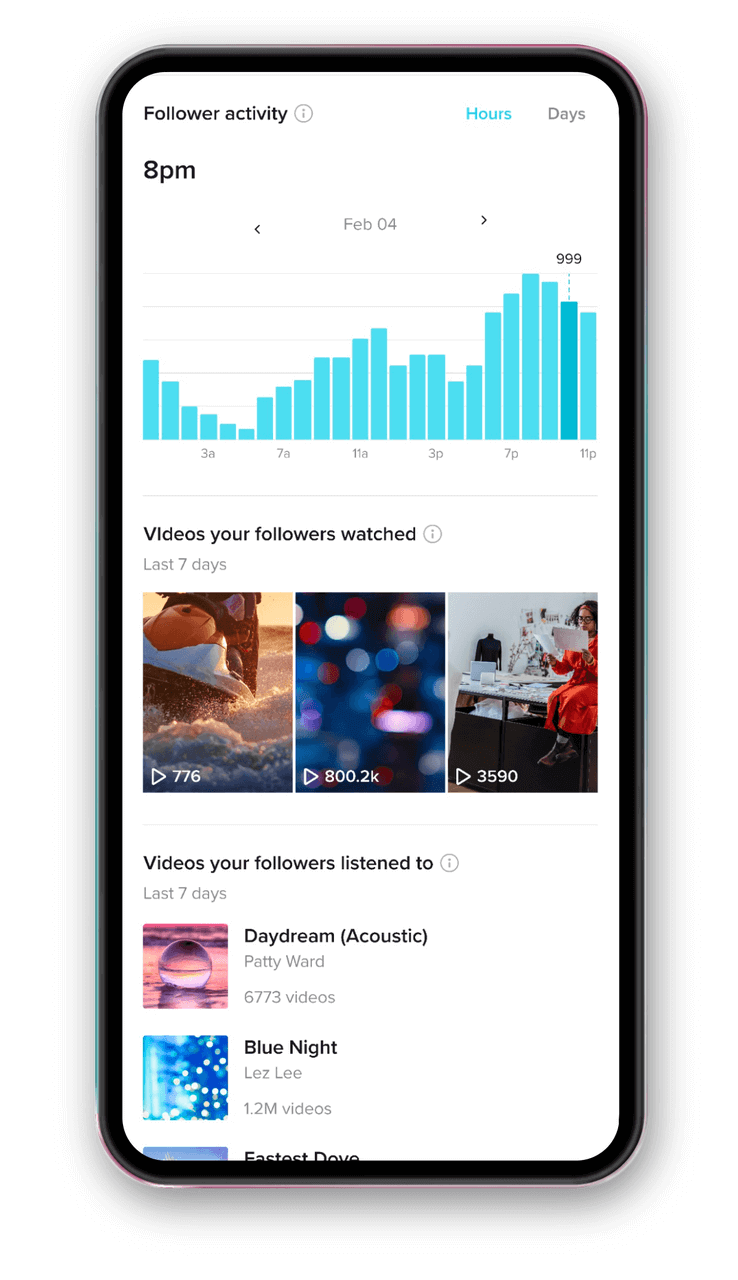 For more detailed metrics, you can also get a TikTok Pro account. While monitoring your analytics is vital to harnessing your TikTok's potential, try not to get too caught up in the numbers. Data always tends to fluctuate. Social media algorithms are constantly shifting.
After analyzing this data, you should feel more confident about which times and days work best for your target audience. Once you've established your TikTok calendar, you can use a social media management tool like Buffer to schedule your videos.
Think about your own schedule
As a content creator, burnout can be very real. While posting consistently is important, you don't want to do too much at once and exhaust yourself. When thinking about how often you should post and what the best times are, make sure you're also factoring in whether the workload feels reasonable for you.
To create good content that is engaging, informative, and thoughtful, you need to feel inspired, so take care of your physical and mental health and take breaks whenever needed.
Implementing a social media calendar into your routine can significantly reduce the stress of planning and posting content. A calendar will provide an organized way to lay out all of your videos and help you be more consistent.
Once you have a solid overview of your posts and when to schedule them, you can start planning and filming TikTok content in advance and even batch-create content.
Create great content to post on TikTok
This guide focuses primarily on scheduling, but creating high-quality content should always be your priority. Sure, finding the best times to post can get your work in front of more eyes, but you want to make sure you're always presenting your A-game to customers with engaging and informative material.
TikTok tips
TikTok is inherently a creative space, so there are many different ways to share content successfully with your community. While it's great to diversify your videos, it's also helpful to find your niche. Often, users will follow an account for a particular aesthetic or because they share a specific type of content, so figure out your strengths and stick to them.
Still, be open to experimenting with trending content — whether that means trying out a specific challenge or incorporating trending TikTok sounds into your videos.
Many accounts have gone viral from engaging with popular content, so be flexible. Whatever you post, use hashtags, engage with your audience, and be consistent.
Emulate your favorites
So many great influencers and small business owners create fun and exciting content on TikTok. Watching their videos is a great way to brainstorm ideas for your brand. You can use their work as a jumping-off point and tailor the content to fit your brand. If you need some inspiration — check out this list of innovative TikTokers.
Hopefully, this guide will help you nail down some of the best times to post on TikTok! Ensuring your videos get seen by as many people as possible is the next step in attracting more customers to your brand and building a stronger online community.
What are your favorite times to post on TikTok? Let us know in the comments below or on Twitter or Instagram!
Brought to you by
Did you find this article helpful? You might also like our all-you-need social media toolkit.
Get started for free now