There is no doubt that you have heard about the uproar on Twitter and the blogosphere: Google Reader is shutting down.
As of July 1, 2013 Google will discontinue Google Reader and shut down the site. A lot of people, who have been using Buffer with Google Reader got in touch with us yesterday asking if there is any way to keep reading their RSS feeds whilst sharing their articles with Buffer. And most importantly a Google Reader alternative to be safe after the site shuts down.
And fortunately, the answer is yes. There are a few amazing apps you can check out that come with full Buffer integration who are awesome Google Reader alternatives. Here is a list of the top 8:
1.) Feedly (Web, iPhone & iPad)
Without doubt Feedly tops the list. Feedly comes with full Buffer support for both the web and iOS. And the integration, so users tell us, is the most seamless way to share great articles, links and more with Buffer.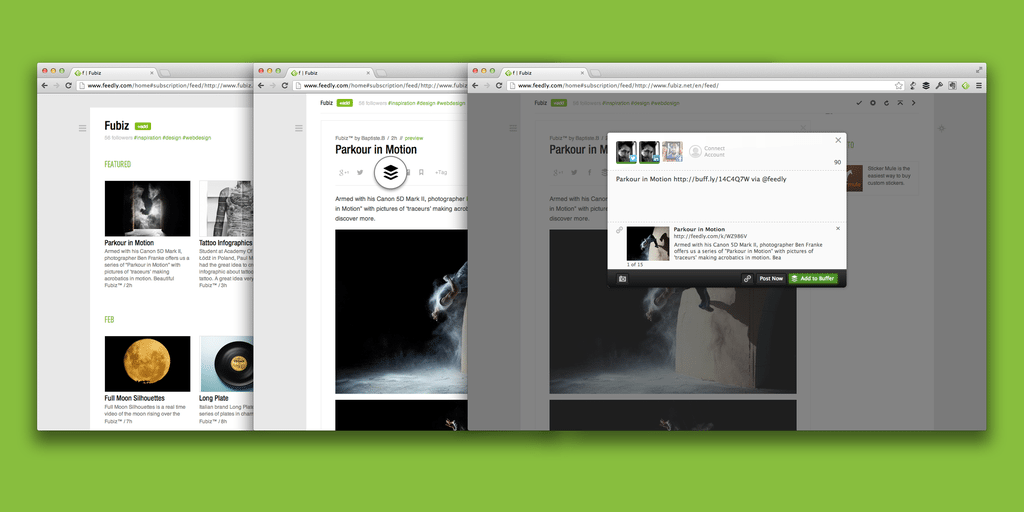 On top of that Feedly also announced that they will be a complete replacement for Google Reader. They have created a clone of the Google Reader API and so will create their own infrastructure to support your RSS feeds. Just sign up with Google Reader and you are safe.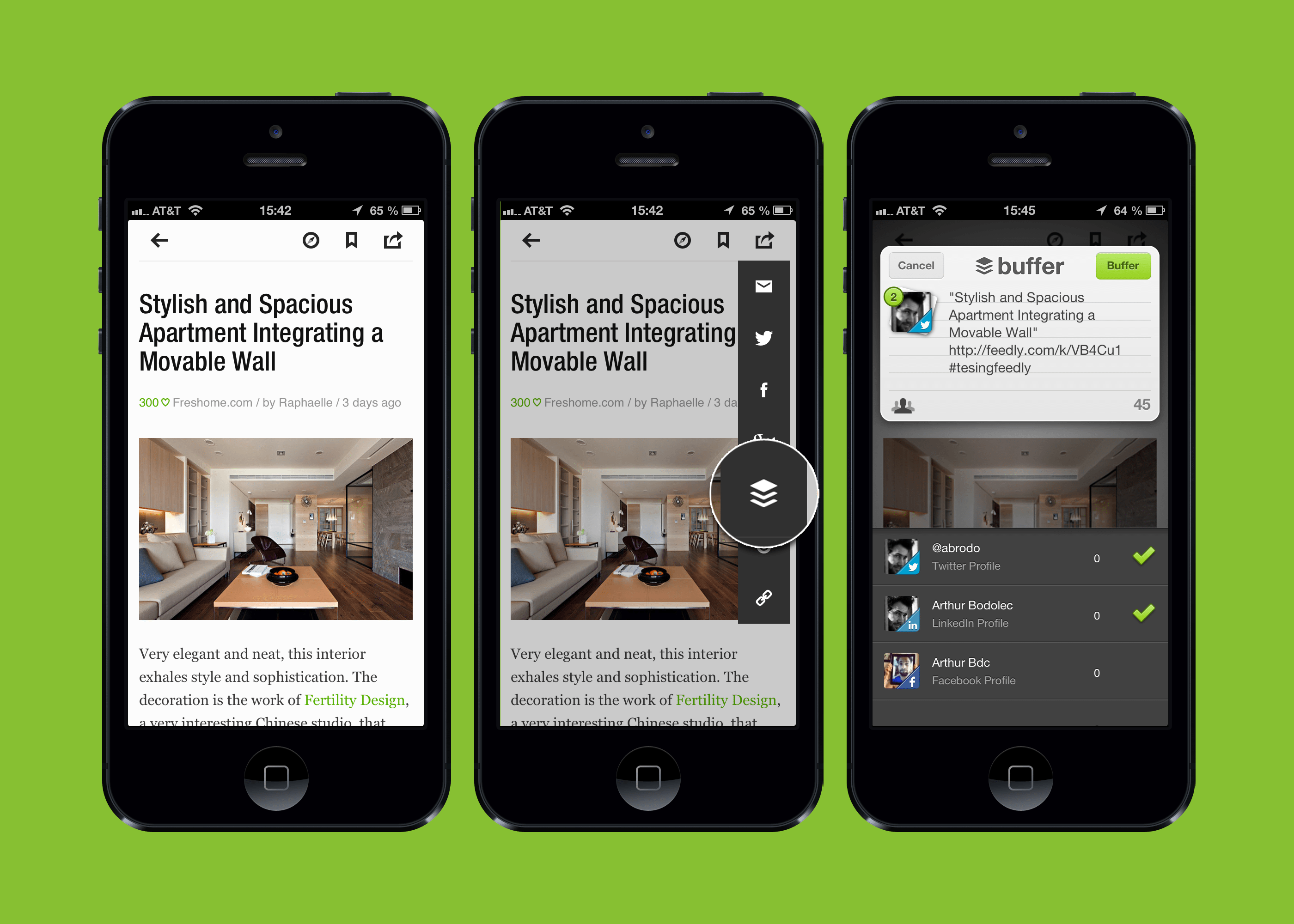 2.) Reeder (iPhone)
Another one of the favorite apps to used together with Buffer is Reeder. The app, shortly after the Google announcement, also promised all users that their support will continue.
As for Buffer integration, Reeder has one of the slickest way to Buffer your articles from iPhone with the click of a button:
Another beautiful way to keep reading your RSS feeds was announced by Caffeinated. It's a slick Mac app that lets you add to Buffer super easily whenever you are reading an article: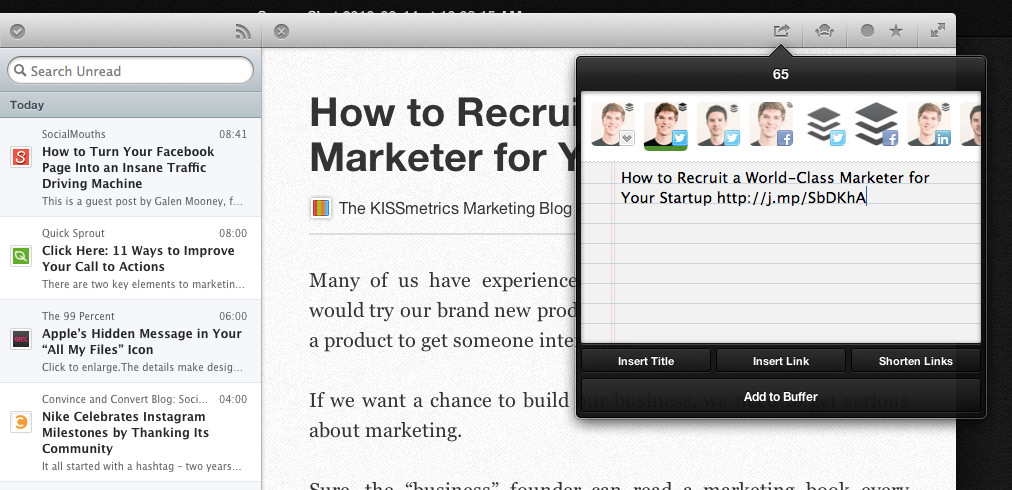 Another great RSS reader for the iPhone also came to rescue for die hard Google Reader fans. Anyone who is using Feeddler on the iPhone with their RSS feeds connected will be able to do so even after Google shuts down Google Reader.
And the Buffer integration works super slick on Feeddler: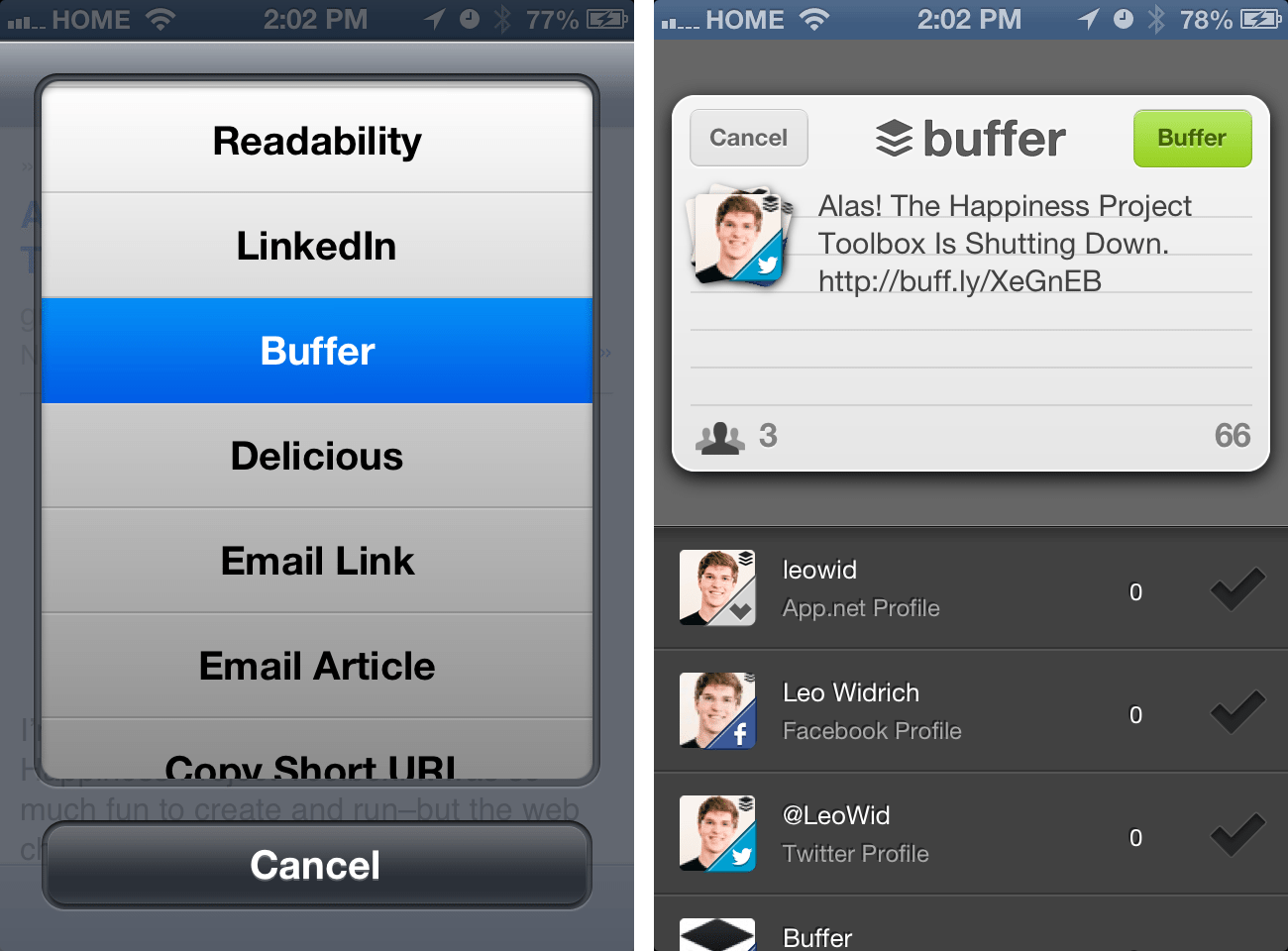 A fantastic way to keep using your RSS feeds from Google Reader for the iPad comes from Mr.Reader. It's a beautiful app that comes with one of the most advanced Buffer integrations:
Mr.Reader let's you create templates of how you want to share articles with Buffer. You can for example always use "quotes" a "via username" or a default link shortening option this way: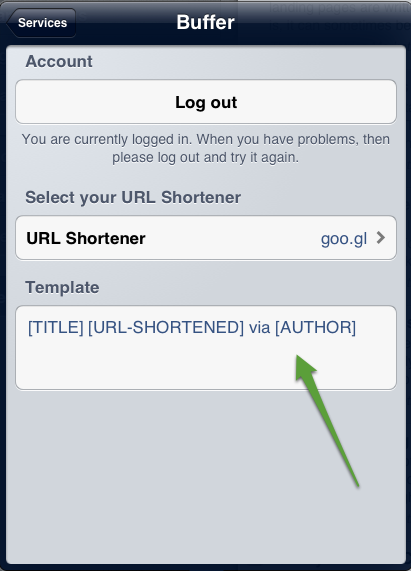 So Google Reader is dead – and that's a good thing!
Although at first I was at grief about the death of Google Reader I soon realized what lots of others have noted by now. The fact that Google Reader is dead is awesome. It will allow for lots of innovation in the space to happen that couldn't before as Google Reader wasn't changing.
Marco Arment put it very well:
"we're finally likely to see substantial innovation and competition in RSS desktop apps and sync platforms for the first time in almost a decade."
And the fact that this isn't just a prediction, but something that's actually happening was quickly proven by Feedly. The startup has built a Google Reader API clone called "Normandy" that will have the exact capabilities that Google Reader had.
And now imagine a few months down the road the amazing things Feedly will be able to build as they continue to innovate as a platform from now onwards. I expect some incredible new things to happen here in the near future. I predict that a few years from now we might joyfully pronounce today even "happy Google-Reader-is-dead day".
I hope the above apps will help you to seamlessly migrate from Google Reader to other awesome apps. What are your thoughts on these recent developments? Do you see it as much of an opportunity of new awesome things to happen as I do?