We've been super hard at work here at Buffer over the past few weeks to make one of the most awesome new integrations available today: Buffer and Feedly are teaming up to make discovering and sharing awesome content easier than ever before.

Feedly is one of the smartest and most beautifully designed newsreading apps for iOS, Android and web. Intuitively it syncs across all your devices and lets you find and read the best content from across the web. It came as no surprise that so many of you were using this as your default news app with the need to Buffer from it.
Download Feedly
Today, I couldn't be more excited to let you know that Buffer is available in Feedly across all platforms. It should make sharing the great content you find more spaced out and at a better time super easy and intuitive.
The update to Feedly with Buffer also brings along a whole lot of other changes. Let's take a look at the power of Feedly first:
Use Feedly to find and organize the best content from the web
Feedly works virtually anywhere you want to use it. This means, you can grab their web version, iOS app for iPhone, iPad and iPad mini and Android version. With the brand new version, discovering more great content is easier than ever before. You can easily browse the top hits from sites like YouTube, Google News or well established sites like The New York Times, Seth Godin's blog, The Wall Street Journal:
Any article you read is beautifully embedded with lots of great sharing options that are all natively integrated into Feedly's design: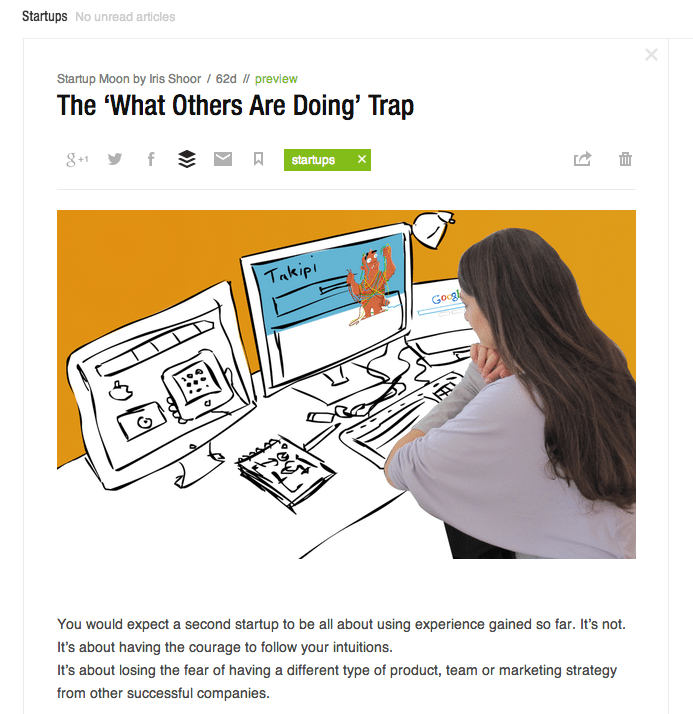 One thing is for sure. If you are a newshound like I am , there is absolutely no way you will ever run out of great content to browse through. On the other hand, if you prefer to keep your content very focused on what you've chosen, Feedly's RSS reader options will also be a great fit.
The fastest way to browse content on your iPhone or Android phone
Of course Feedly also comes with some super slick iPhone and Android apps to make browsing on your phone a breeze.
The magazine style layout lets you easily browse through previews and see pictures to decide quickly what's worthy of your attention today: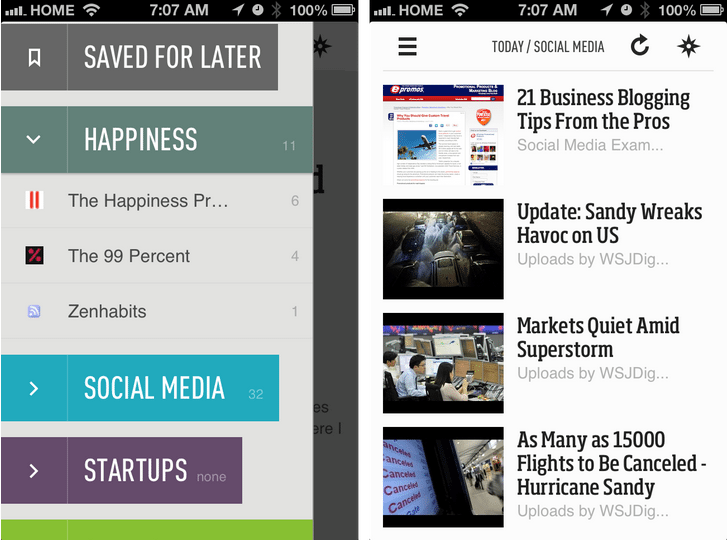 The smartest and most intuitive way to scroll on your iPhone and iPad yet
Now here comes the one thing that has absolutely blown my mind. When I first picked up the test version of the new Feedly, it wasn't immediately obvious what Feedly's CEO Edwin Khodabakchian meant when he told me "check out the new way you can scroll".
And when I did try it, I didn't realize that one could be so excited about the scrolling mechanism of an app. The new Feedly is designed in a way that you only have to use your thumb with vertical movements. That means, all you have to do is move your thumb up or down, to do nearly everything you want to do in the app. You have to try it yourself, it's truly awesome: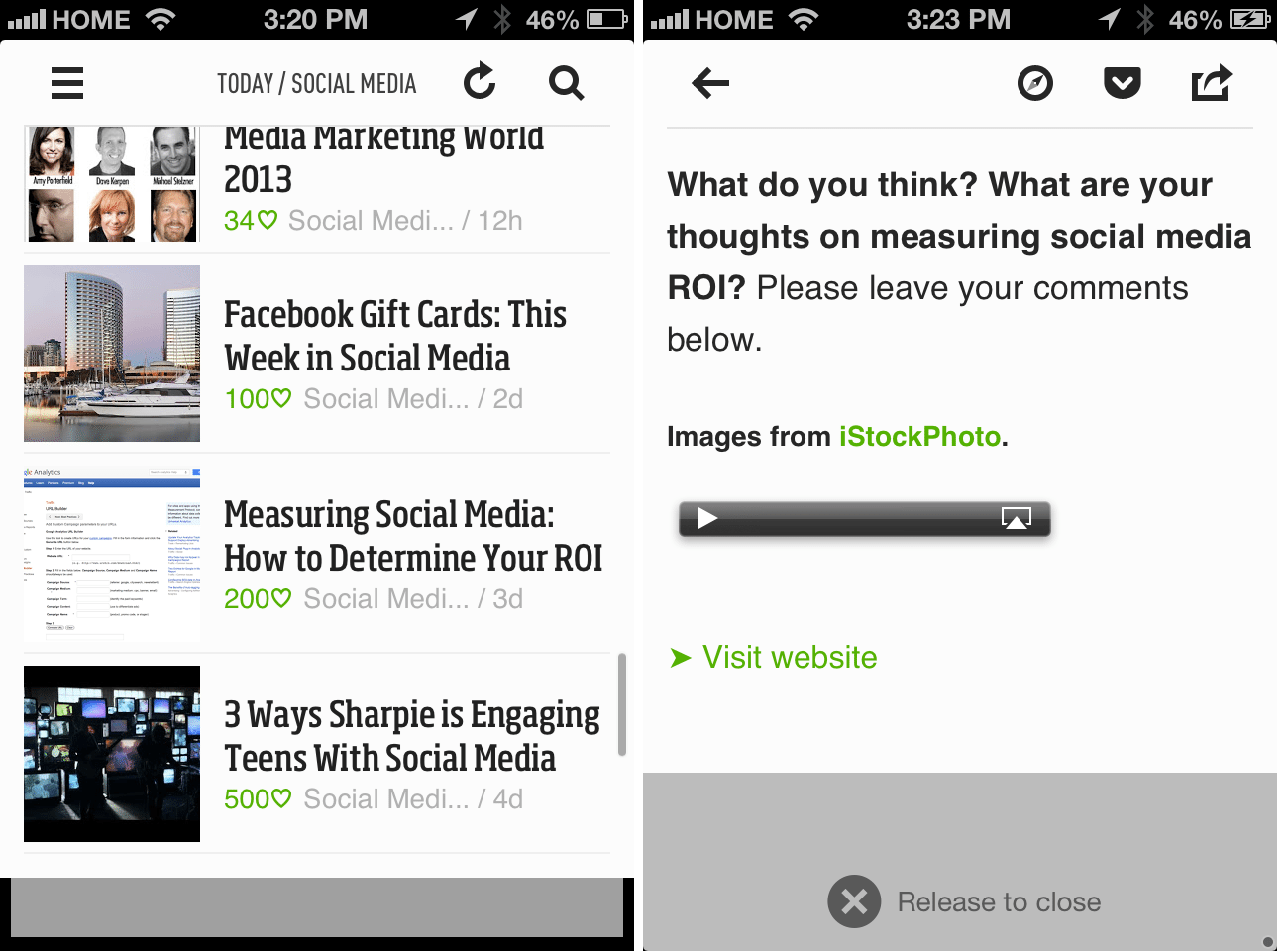 Of course, it's slightly difficult to show you the scrolling in a picture. That's why, if you give it a try yourself, you'll immediately see what I mean. The difference between this and other ways to use apps was so staggeringly different, it reminded me again how powerful design can be to drive our behaviour. Even if you don't read news at all on your phone, download the new Feedly, just so you can interact with this beautiful scrolling element.
Change your layout and theme to fit your reading needs
Another big problem that comes along when newsreading apps change to a more magazine like layout is that getting through your new articles quickly and efficiently becomes a pain. Feedly offers a great solution for this, giving a list view if you want to go through your articles really quick. You can easily change to the more appealing card view, mosaic view or magazine view, if you like to browse through your latest news more relaxed: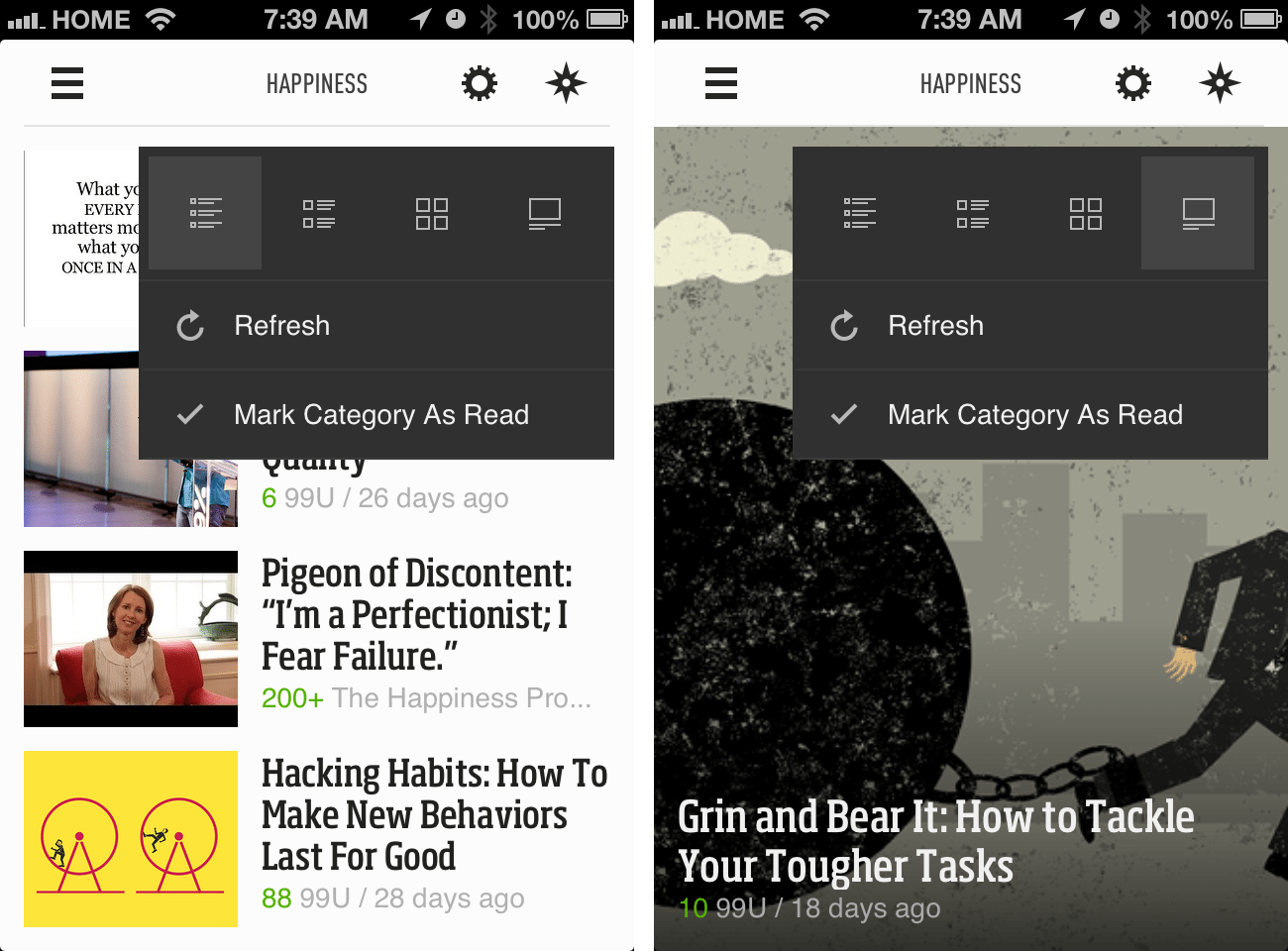 Another feature I also greatly enjoy is the option to easily change your theme from white to dark. Especially if you are used to looking at bright white screens all day, this can be a great change to calm down and browse the latest updates on an interface that's easy going on the eyes: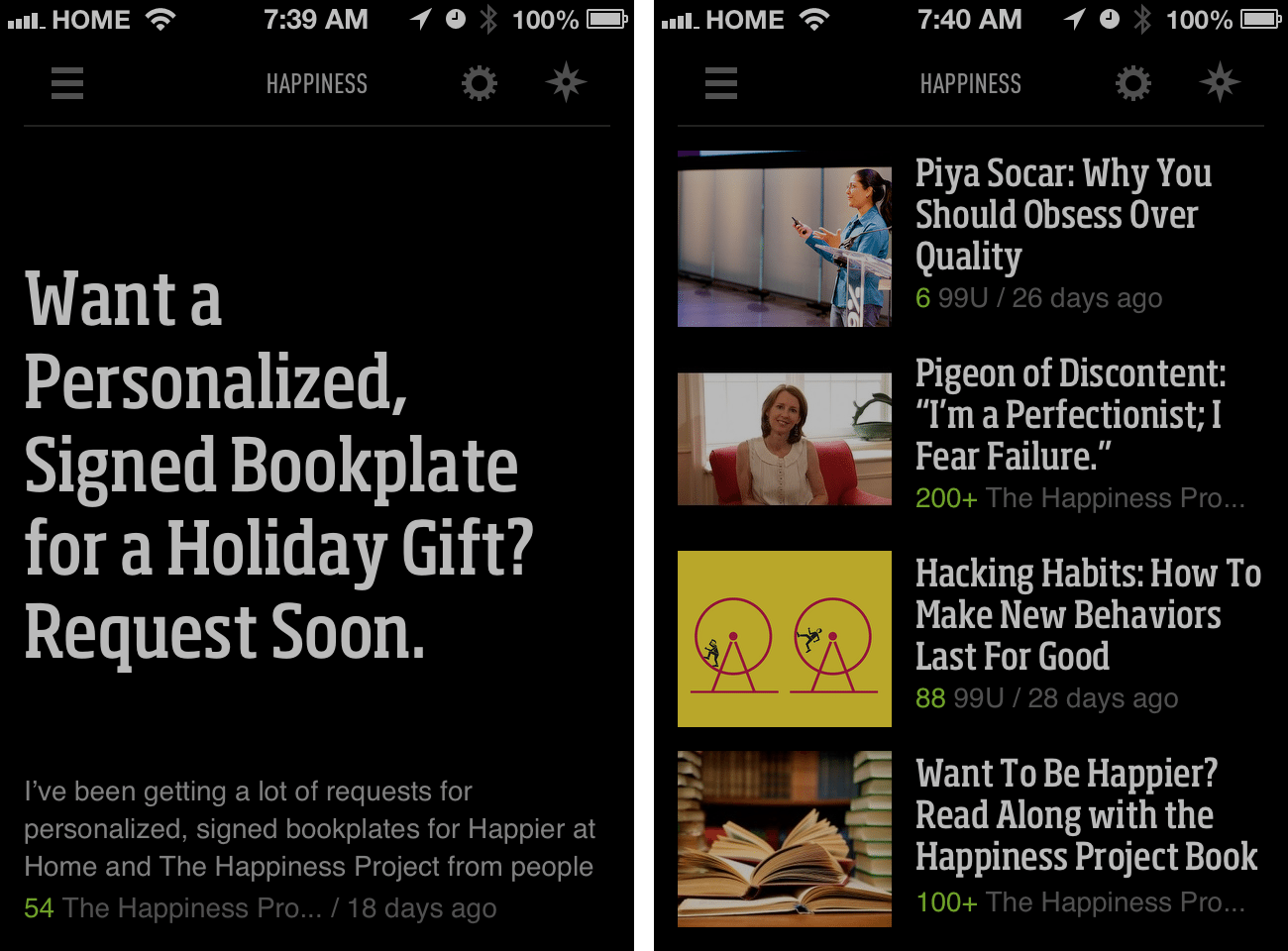 Using Buffer + Feedly together on web, iOS and Android
And lastly, the new Feedly also comes with a gorgeous new Buffer integration built right into it. Any article you are reading you can easily add to your Buffer queue. The Buffer integration is done via a brand new Buffer iOS sheet, which gives you an easy way to add new updates to all of your accounts. At the same time, it should be super easily accessible on the top right from any article.
For the web version, each article carries a Buffer button that works just like our browser extension. Every time you think something is worth sharing, hit the Buffer icon and you are good to go: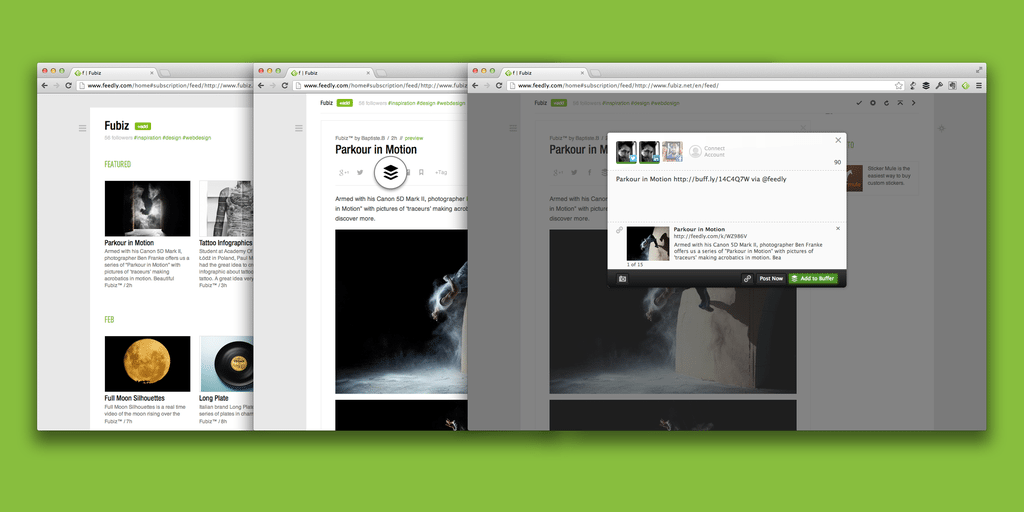 The Buffer iOS integration is done via a brand new Buffer iOS sheet for apps, which gives you an easy way to add new updates all of your accounts. At the same time, it should be super easily accessible on the top right from any article. Filling up your Buffer and keeping it full couldn't be any more convenient: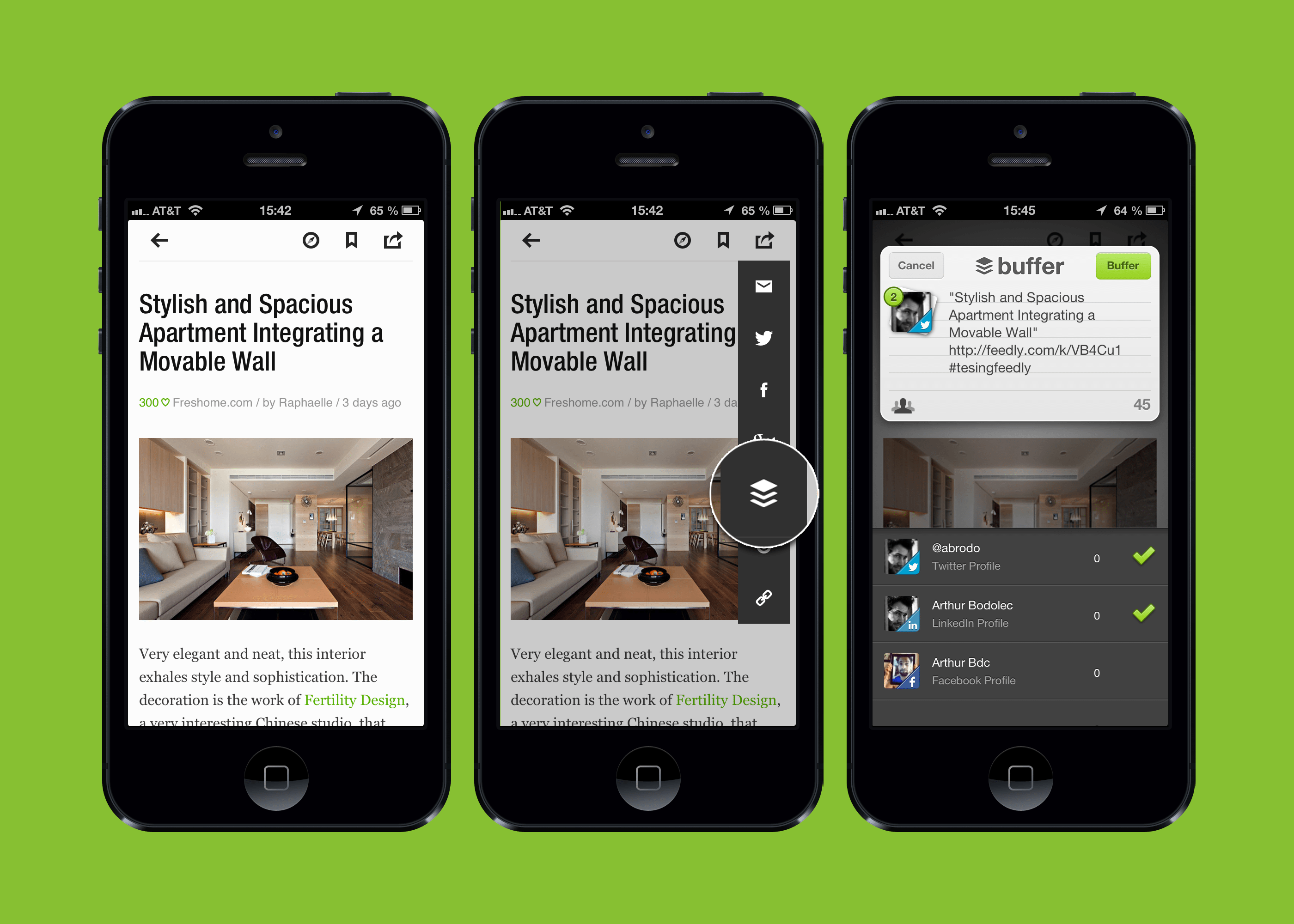 As you can already choose from 30+ Buffer integrations into different apps on the web, the addition of also being able to Buffer from Feedly should up your social sharing game considerably.
Especially with so many of you having asked us for Buffer integration into Feedly, I couldn't be any happier to finally offer such a nicely designed one to you.
Being able to Buffer from one of the biggest newsreading apps was a huge step for us here at Buffer. I sincerely hope you can give the new Feedly a go and see what you think, it definitely is something I've never seen before, both regarding design and intuitive use. What do you think of the new integration? Where else would you like to Buffer from?