This is a guestpost by Simon Blackley (@simonblackley) of communications agency ESN. More about Simon at the end of the post.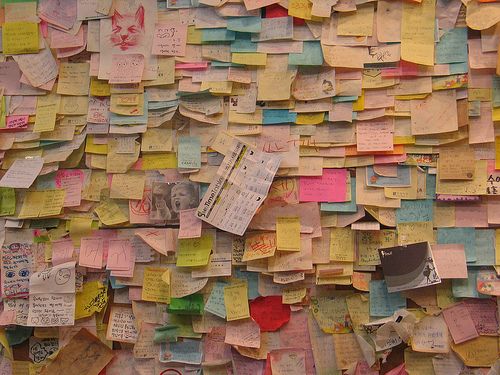 News, ideas and pictures of dogs wearing sunglasses spread around the planet with unprecedented speed. I found that we enrich our online networks by finding, selecting, combining and contextualising content that will be of value to them.
In doing so, we build our own social brands.
But we have lives, too! – jobs, families and strange hobbies. Without a streamlined curation workflow it'd be impossible to fit everything in.
Here, I'll describe the way I use free tools for personal content curation. The process has four stages – collection, storage, output, analysis.
A word of warning: I'm a PC and Android user. (As a matter of fact, I'm The Android User.) If you're an iPerson, the same principles apply, but the tools will be different.
Never run out of great articles: 24/7 content collection
I'm a big fan of RSS. RSS does a lot of curating while I sleep. A well-organised RSS reader is like a butler who irons the paper and brings it to you in the bath.
Of course you can grab RSS feeds for most blogs and websites. Some even allow you to build customised feeds which include only content related to the topics that interest you. But it's less well known that you can turn a Google search into an RSS feed using Google Alerts. Enter the search string (a preview of the results appears on the right), adjust Result type and How many, select Deliver to: Feed, and hit the Create Alert button.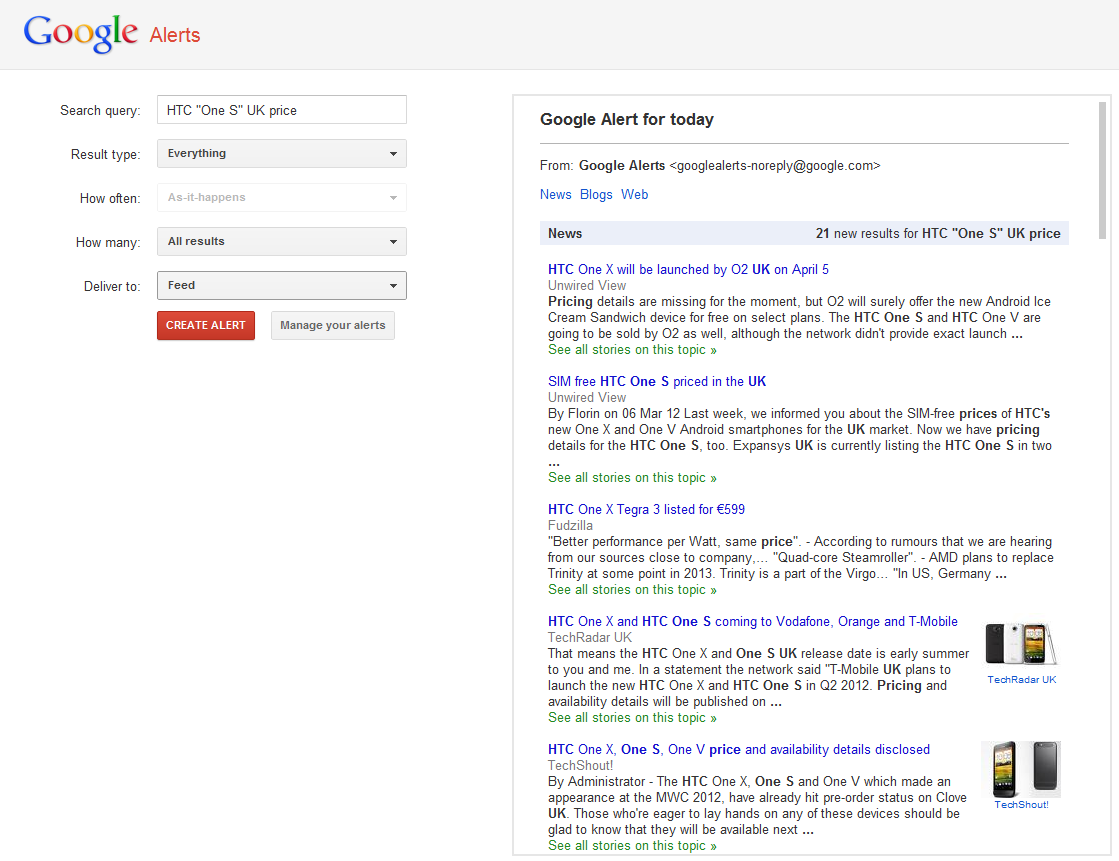 Twitter has unhelpfully removed all RSS buttons from its interface, though feeds created in the past using those buttons still work. However, you can still create RSS feeds for Twitter users, lists and searches using these handy tools from The Sociable. (An RSS feed of your own Twitter profile is a great way to archive all your own tweets.)
To read my RSS feeds, I use Google Reader on the desktop and NewsRob on my Android Phone. NewsRob syncs with Google Reader, and allows for off-line reading of feeds. Both tools allow me to skim through the titles and snippets of very large numbers of articles.
I certainly don't try to read everything, but I usually clear the backlog once or twice a day, treating immediately or clipping for later treatment everything that catches my eye, and marking the rest as read.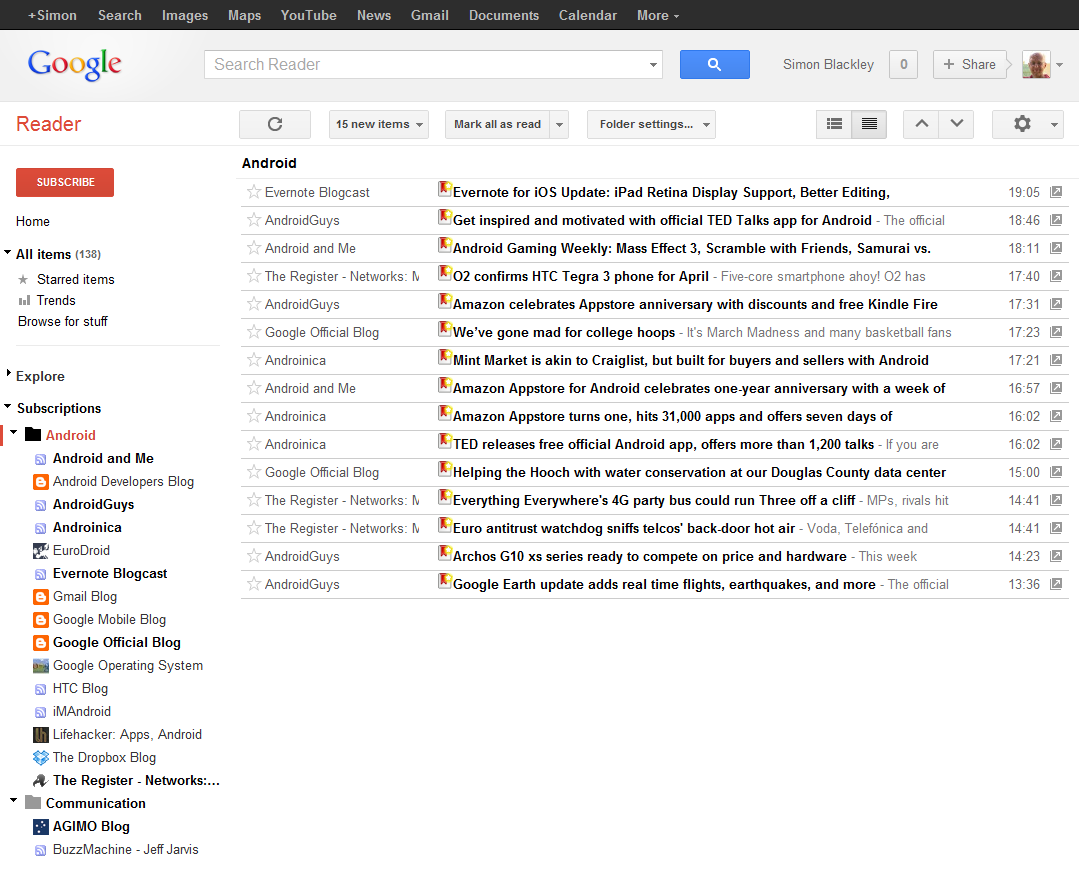 I also monitor my Twitter stream and lists several times a day and, less frequently, Google+ and Reddit. Most of the content that I curate comes from these sources, as well as from wider browsing prompted by the articles that I read, of course.
My desktop Twitter client is version 0.38.2 of Tweetdeck – the last one before the company was taken over by Twitter itself. I've tried the new version but it still seems to miss key curation features like column filtering.
On my phone, I recently abandoned Tweetdeck for Android in favour of twicca. This has a beautiful interface and a smaller internal memory footprint than Tweetdeck. It also makes excellent use of the Twitter API, allowing control all the essential parts of your Twitter account directly from your Android device.
How to store all your content treasures
Whatever I am browsing or reading – a whole article that I may want to share, or just one that contains facts or ideas that I might use for a tweet or a Google+ post – I clip the page to Read It Later. Read It Later is a simple but powerful cross-platform web clipping manager.
Whenever it has a WiFi connection, the Android app downloads all clipped pages for offline reading, whether they were clipped on the phone or the desktop.
On the desktop, I have installed two third-party Chrome extensions. Postponer Adder offers one-click clipping of the current page to Read it Later. It also integrates with Google Reader to allow easy clipping of any article using the coloured buttons to the left of each article's title, which you can see in the screenshot above. Postponer Manager places a button in the Chrome toolbar which opens your Read It Later list in a small popup window.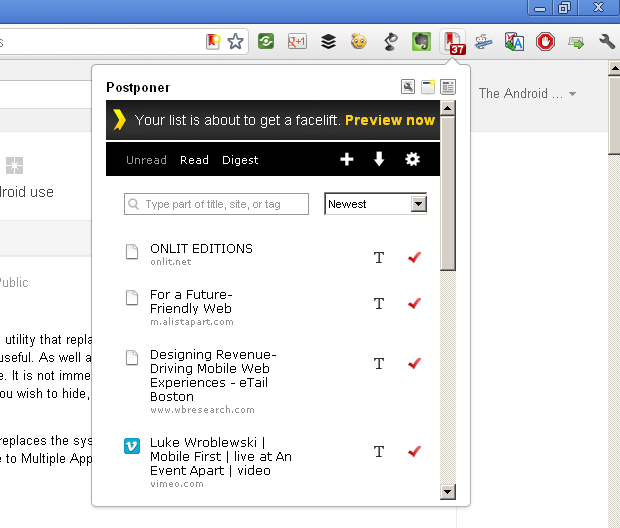 On my Android phone, almost anything can be clipped to Read It Later using the Share menu. I use Andmade Share, a tiny utility that runs in the background and replaces the standard share menu. It enables you to reorder the menu items to bring the most frequently used to the top, and allows you to send content to several apps at the same time by checking multiple options before tapping one of them to launch the share operation.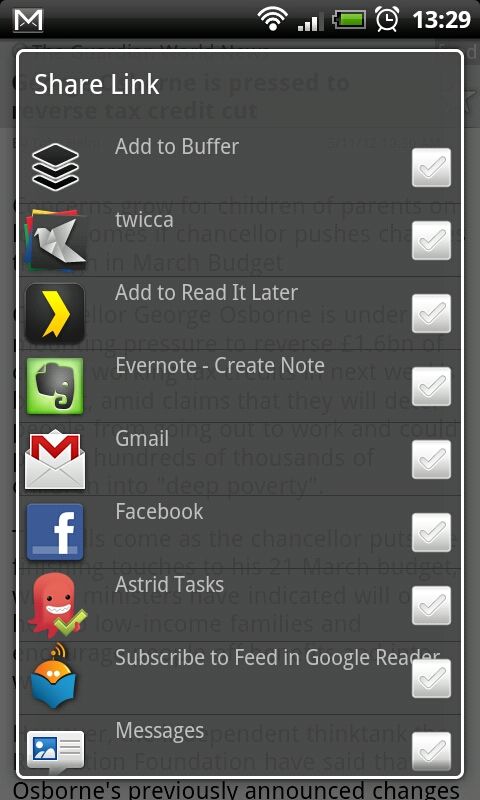 Sharing your great finds – tweet and be retweeted
The process I'll describe here relates to Twitter, which is my main publication channel. I tweet in two modes – immediate and scheduled.
In the context of breaking news or a Twitter conversation, I'll tweet immediately. Both Tweetdeck on the PC and twicca for Android offer automated insertion of @ contacts and recent hashtags, as well as automatic link-shortening. I have set up both apps to use my personal bitly account, in order to monitor click-throughs in a unified way (see below).
Direct tweeting from the phone can be awkward when you realise that you need to check something before sending. The twicca Draft plug-in lets me save my tweet temporarily, do my fact-checking, and then retrieve and correct the tweet before sending.
But most of my curated content goes out as scheduled tweets, using Buffer. Buffer stores all the tweets that I send to it and releases them to Twitter one at a time in the publication slots that I have defined. You can define any publication schedule you like, including separate schedules for each day of the week, in order to maximise exposure to your followers.
The Buffer service is fully cross-platform. On the desktop I use the Chrome extension which allows one-click Buffering of selected text and shortened page URL from an icon in the browser's toolbar.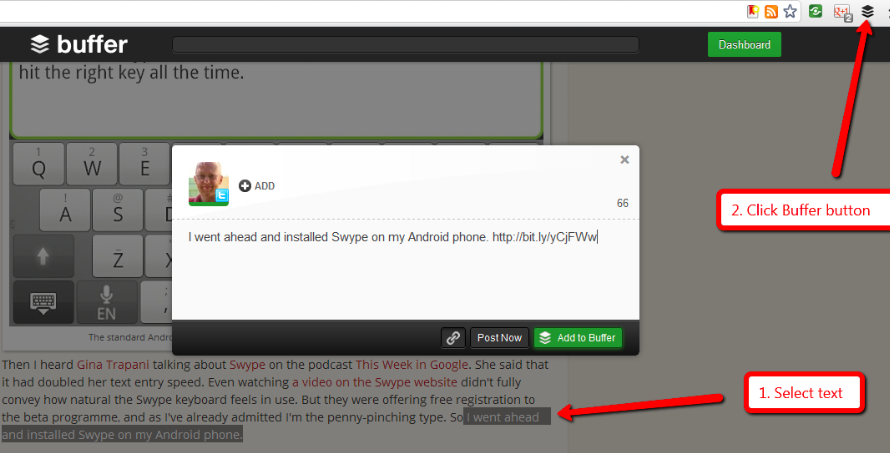 With the Android app installed on my phone, Buffer is added to the Share menu, giving me almost equivalent functionality on the move.
Whether on the desktop or the phone, you can go into your Buffer queue at any moment to revise or change the order of unsent tweets.
Analysis and optimisation – Improve your timing of Tweets
It's well worth monitoring the results of your curation efforts closely to see which subject matter, key words and times of day get you the most traction, in order to optimise your Twitter output accordingly.
Buffer and bitly can both help here. The two sites offer similar views of the response to your output, although bitly reports only the clicks on your shortened links, while Buffer reports clicks, retweets, mentions and favorites on the tweets that it has handled for you. Don't forget that these reports will almost certainly overlap. If you have used Buffer to publish a tweet that includes a URL shortened by bitly, this will appear in both reports.

From time to time, it is also worth using Tweriod to see the times of day when most of your followers are online. This information should be used as the basis for setting your Buffer schedule.
Develop your own strong voice
Finally, don't be afraid to let your personality come through in your choice of content and in the commentary you add to it. Follow sources whose style and integrity you respect, covering topics that fascinate you, and help your followers to share your vision and your enthusiasm.
Never forget that your job is to bring them ideas and information that they find useful or enjoyable. If you succeed, they will amplify your curation to their own networks, helping you to build your brand.
About the author:
Simon Blackley is Head of Consulting at the Brussels-based communication agency, ESN. He blogs at The Android User.