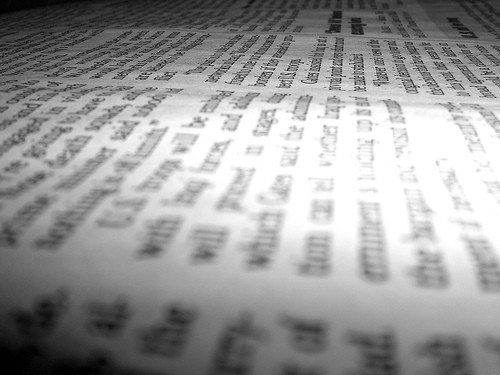 How much time do you spend consuming information that you have no intention of taking action on or that you don't care deeply about?
For example: the nightly news cycle of local crimes, the endless stream of Facebook and Twitter updates, celebrity gossip, reality TV shows, Buzzfeed articles. The list goes on.
In this age of information overload, your life can be filled with irrelevant or unnecessary information in an instant.
And here's the main problem:
After a while, these information sources start to become normal. Pretty soon, you're logging onto Facebook because of the fear of missing out on "something." You turn on the news or check CNN, not because you care about a particular topic, but merely out of habit. You watch tonight's reality TV show because that's what you always do on Thursdays at 8pm.
Now don't get me wrong, I'm all for learning and soaking up new information. After all, education is one of the master keys to the universe. And staying up-to-date on important stories can help shape your worldview and make you a good global citizen.
But it is becoming dangerously easy to consume low quality information and convince yourself that it's normal and good, when it isn't helping you live a better life at all.
Circles of Concern vs. Circles of Control
In Steven Covey's best-selling book The 7 Habits of Highly Effective People, he covers the difference between Circles of Concern and Circles of Control.
Circles of Concern are the things that you often waste time and energy worrying about, but that you have little to no control over. Meanwhile, Circles of Control are the things that you can influence in your daily life.
As an example, the vast majority of news stories — war and terrorism, the economy and stock prices, celebrity gossip and political scandal — fall squarely in the Circle of Concern. They can easily soak up your time and energy, but you have virtually no control over those events.
Other examples include getting angry about what someone posted on Facebook, worrying about what other people think about you, or wishing your kids would make better choices (a valid wish, but still outside of your control).
As you can see in the image below, worrying about Circles of Concern is a hallmark of reactive people, while focusing on Circles of Control is a trait of proactive people.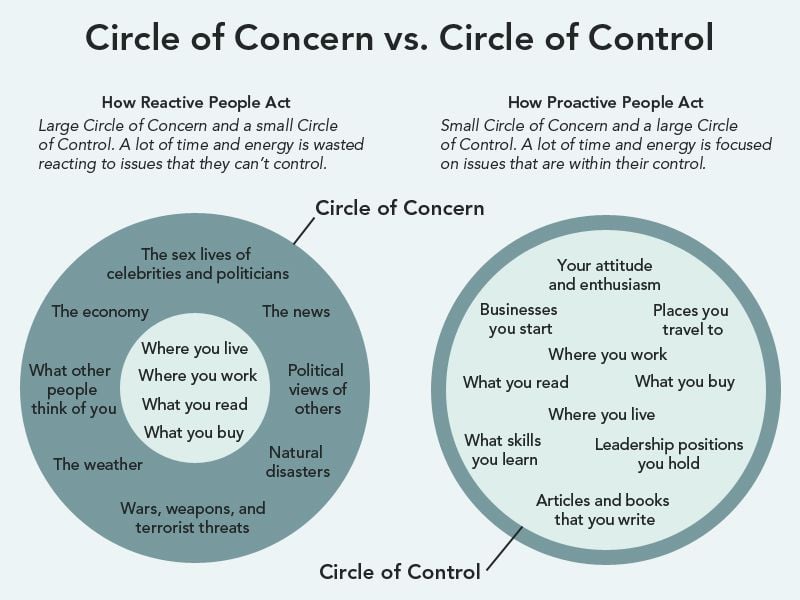 Graphic by James Clear. (Note: I modeled this image off of the graphics in this article written by Pete at Mr. Money Mustache.)
Notice that by eliminating or reducing your Circle of Concern, you have more time and energy to put towards your Circle of Control. That means you have more mental space to use for creating art, starting a business, having meaningful conversations, or otherwise contributing to the world around you.
On the flip side, the heavy barrage of information in our society can easily push most of your time and energy into Circles of Concern if you let it. What about the war? What about the economy? What about the choices of XYZ politician? If you're constantly surrounded by these topics it's easy to let them capture your time and energy — even if you realize that you can't do very much about them.
When you're overdosing on information that you can't act on it's easy to see why people say things like "it's a messed up world out there" or "somebody needs to fix it." Why make an effort when everything seems out of your control?
Create Space, So That You Can Create
Do external things distract you? Then make time for yourself to learn something worthwhile; stop letting yourself be pulled in all directions.
—Marcus Aurelius, from his book Meditations
Time and energy that is wasted consuming is time and energy that can't be spent creating.
I've written previously about the importance of making things and contributing to the world around you. You learn more, experience more, and contribute more to life by doing.
It's better to step into the arena and get your ass handed to you — whether that means starting a business and failing, creating art that is terrible, writing something nobody reads, or taking a risk that is important to you — than it is to passively sit and consume information.
It's great to learn new skills, follow story lines that are important to you, and become an engaged and thoughtful citizen, but sadly most consumption doesn't fall into those categories. Most of us (myself included) have a handful of information sources that we could eliminate from our lives with no significant impact whatsoever.
What Kind of Food is Your Brain Eating?
News is to the mind what sugar is to the body. News is easy to digest. The media feeds us small bites of trivial matter, tidbits that don't really concern our lives and don't require thinking. That's why we experience almost no saturation. Unlike reading books and long magazine articles (which require thinking), we can swallow limitless quantities of news flashes, which are bright-coloured candies for the mind.
—Rolf Dobelli
The problem with most news, gossip, and link-bait titled articles online is that they are filled with surface level information. Your life isn't better off for reading them and you're rarely better informed because of them.
Of course, there are plenty of wonderful sources of information out there. The New York Times has many fantastic writers on various topics. As a personal example, I love learning about medicine and I often read Atul Gawande's lengthy articles in The New Yorker. But I don't browse the internet passively and stumble upon his articles. I seek them out with intention and purpose.
And that is the main point…
The world doesn't need more people who mindlessly digest whatever information is around. What the world needs are people who learn with purpose, who take action on the things that are important to them, and who seek out high quality information as a way to spark creativity — not as an excuse to consume even more.
What type of food are you feeding your brain? You wouldn't want to stuff your body with low quality food. Why cram your mind with low quality thoughts?
Where to Go From Here: Try a month without news
Not all news is bad. For example, learning about the latest war can make me grateful to live in a stable society and keep my life in perspective. But if we're being honest, there is a lot of information that fills our daily lives, clogs our minds, and prevents us from creating, building, sharing, and experiencing more important things.
Most of the information you come across in your daily life — the news stories, the social media updates, the television shows — isn't going to change the choices you make. Instead of sitting around and consuming whatever is readily available, challenge yourself to make more conscious choices about what you consume and how you consume it.
Do you really need social media apps on your phone? Or will you be just fine checking Facebook and Twitter when you get home?
Is it necessary to turn on the same news program every night? Are you living a better life because of watching it?
If something isn't benefitting you, then eliminate it.
And if you do care about something like the latest political scandal, then be intentional about getting quality information on that topic. And more importantly, take some action on it. It's great to be smart, but it's better to be helpful.
Another idea from Joel is to try a month without news. It might just make you much happier, in the same way it did for Thomas Jefferson:
"I do not take a single newspaper, nor read one a month, and I feel myself infinitely the happier for it."
About the Author: James Clear is an entrepreneur, weightlifter, and travel photographer in 18 countries. He writes at JamesClear.com, where he uses proven research and real-world experiences to share practical ideas for living a healthy life. You can get new strategies for sticking to healthy habits, losing weight, gaining muscle, and more by joining his free newsletter.
This post originally appeared on JamesClear.com
If you liked this post, you might also like "What happens to our brains when we exercise and how it makes us happier" and "Happiness Is Not Enough: Why A Life Without Meaning Will Make You Sick"
Photocredit: Giants Fanatic