Instagram is rumored to be building a standalone shopping app, IG Shopping. But what would a separate shopping app mean for the future of ecommerce on the platform?
Social media marketer, Thea Neal, investigates.
With more than 25 million Instagram Business profiles, and more than 2 million advertisers, Instagram is constantly evolving, testing new features, and experimenting with new ways to increase the value businesses can get from its platform.
For example, in June 2018, Instagram unveiled its latest standalone app, IGTV. The vertical video app was poised to be a challenger to YouTube, and positioned as a long-form video hub that would focus on creators and not on content found via search. Then, two months later, The Verge published a report that Instagram is developing an additional standalone app dedicated to shopping.
In this post, I'll take a look at what a separate ecommerce app could mean for the future of Instagram marketing.
How IG Shopping could change ecommerce on Instagram: 3 Predictions
1. An opportunity for Instagram to increase conversions
The Verge noted Instagram's shopping app-in-development will likely be called IG Shopping. Within the app, users would be able to "browse collections of goods from merchants that they follow and purchase them directly within the app."
Instagram continues to grow by adopting features from other platforms, like its Snapchat-like Stories or the Pinterest-inspired "Collection" save button. Next, Instagram needs to find a way to harness the purchasing power of eCommerce giants like Shopify and Amazon.
As Instagram grows, so does its importance to Facebook's bottom line, and Andy Hargreaves, a research analyst with KeyBanc Capital Markets told Recode that he expects Instagram to grow to about 30 percent of Facebook's ad revenue in two years, as well as nearly 70 percent of the company's new revenue by 2020: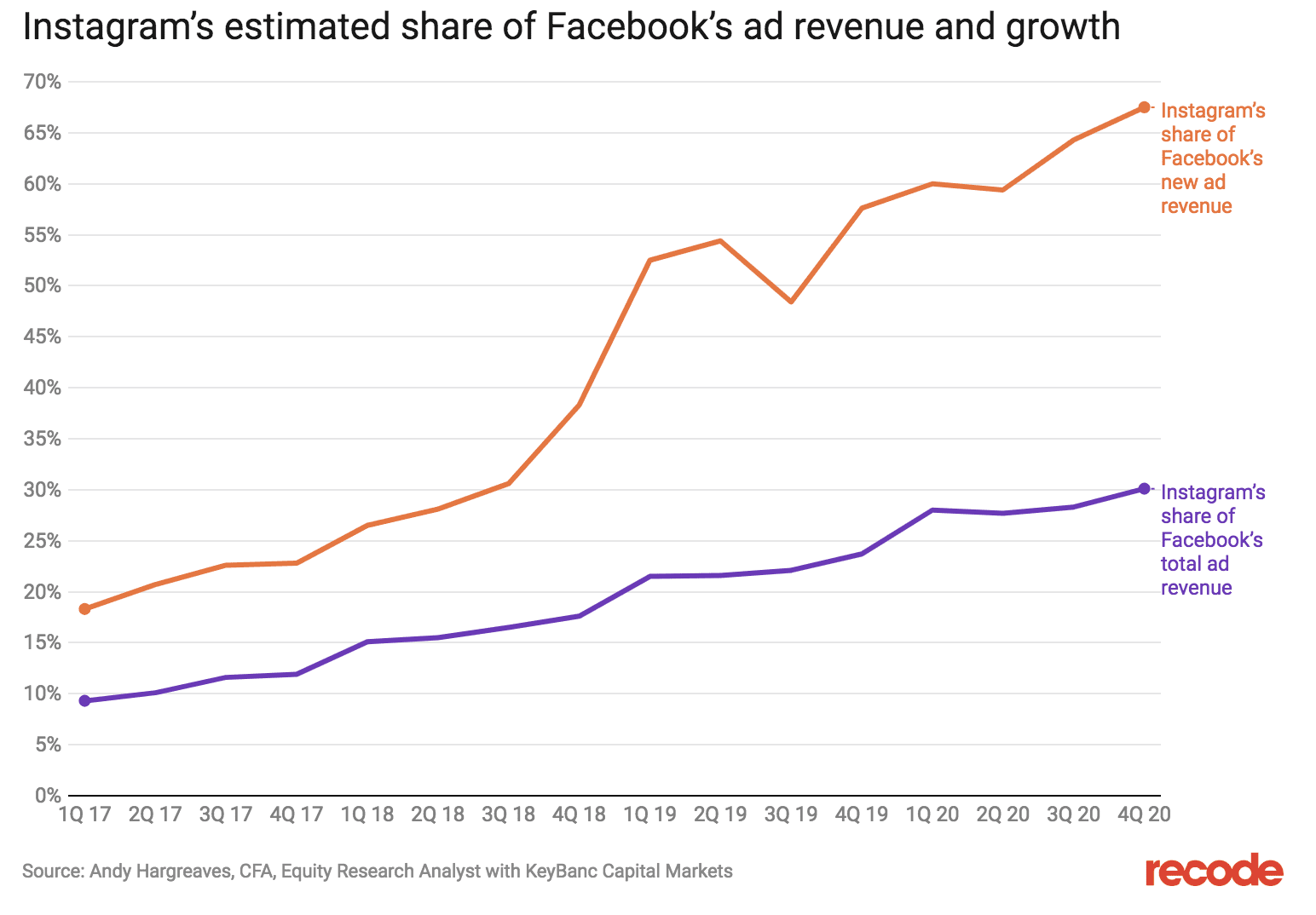 In order to achieve these targets, encouraging more and more advertisers to invest their ad spend on Instagram will be essential — and one way to do this could be the rumored IG Shopping app. With Instagram co-founders Kevin Systrom and Mike Krieger resigning from the company, we could also see Instagram adopt a more aggressive approach to monetization.
Shopping on Instagram features, that enable users to buy products featured in images and stories, have existed for less than a year, meaning consumers still need to learn they can shop on the platform securely and confidently on a regular basis.
Talking to Refinery29, Instagrammer and regular online shopper, Tamiracle Williams, says she would worry about the quality of products and trustworthiness of the merchants on an IG Shopping app:
"I believe the app would focus on quantity over quality. I used a third-party app awhile back to purchase my best friend a hoodie and it ended up being a Polaroid-sized print on a massive hoodie."
But despite these worries, brands are definitely seeing success with the current version of Shopping on Instagram. Since the features rolled out, accessories brand Natori has seen a 100 percent week-over-week increase in revenue from Instagram. This could easily be translated to IG Shopping, if users are willing to shift their shopping behavior to the new app.
2. Decreased in-feed Instagram organic reach, but increased intent-to-purchase
Organic page reach on Facebook has plummeted in recent years, forcing marketers to increase paid Facebook posts and move organic-only content to Instagram.
If IG Shopping does make it to our phones, it seems likely that Instagram could take a similar approach by throttling business reach on the feed to encourage brands to move to IG Shopping. The only clear reason a brand would opt to use IG Shopping over Instagram's feed (paired with shoppable posts) would be to grab eyes from shoppers who have a true intent to purchase, rather than intercepting them in their usual feed. On a platform where your brand isn't competing with baby and dog photos, content could drive more conversions on IG Shopping.
But could IG Shopping reveal itself as a branded echo chamber? And how would paid ads work on a platform that exists for brands only?
3. Increased sales opportunities for influencers and DIYers
It's our assumption that IG Shopping will require a business account to post on the platform. Since many influencers have business accounts already, ecommerce platform, Shopify, should be nervous about how this will make things much easier for influencers and small-scale DIYers who use their platform now.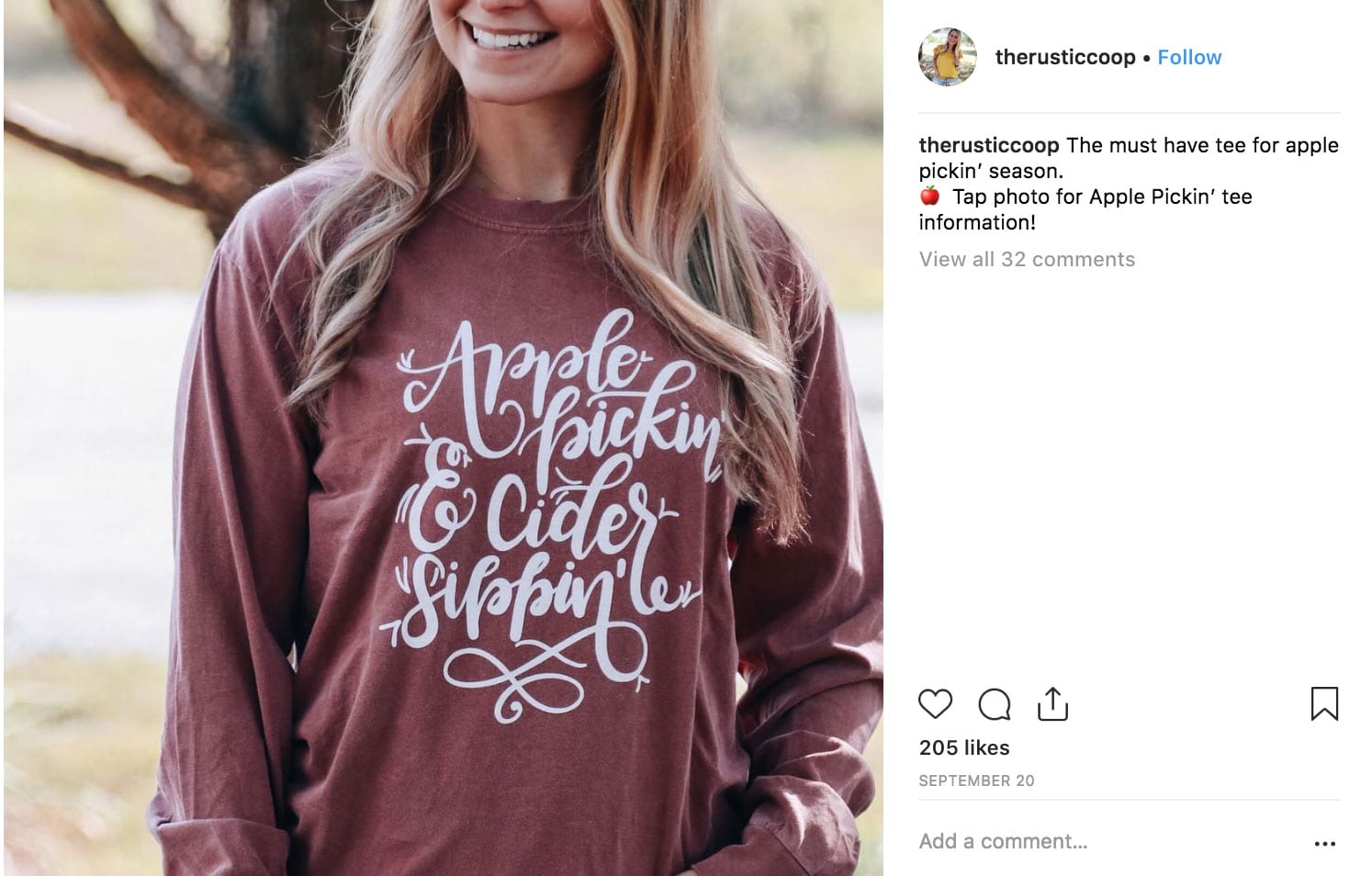 If IG Shopping unveils itself as a highly-integrated ecommerce platform without requiring an entirely separate site to operate on, it almost certainly will steal business from other ecommerce platforms.
Do consumers want another standalone app?
Instagram's vertical video app IGTV was released in June 2018, and as of August 2018, the feature's launch partner's recent videos received about 6.8 times as many views on their feed videos than they did on IGTV posts.
As Techcrunch noted, "if IGTV's launch partners that benefited from early access and guidance aren't doing so hot," the platform likely has bigger problems on its hands. The standalone IGTV app has only peaked at #25 overall in the US iPhone app downloads.
How long will it be before Instagram Stories is a standalone app? Instagram Messenger? The future of ecommerce on Instagram relies on how easy it is to shop on it, but the continued development of more apps will likely contribute to the adoption rate of the platform.
After all, why would you shop on IG Shopping when you could keep shopping on the Instagram app you already have?
But however it's executed — a standalone app or increased shopping features within Instagram's main app — it feels clear that Instagram sees eCommerce as hugely important, and lucrative, part of its business going forward.
What are your thoughts on IG Shopping and ecommerce on Instagram? Let me know in the comments.
Want more content like this?
More than 45,000 marketers and small business owners subscribe to our newsletter to receive our blog posts and exclusive email-only content.