I consider myself a pretty lucky guy.
I have the amazing privilege of speaking with social media managers from a variety of brands and industries around the world on a daily basis. Listening and learning about the projects they're working on, their biggest challenges, and what their aspirations are on social media now and in the future has helped me tremendously along the way.
But then it dawned on me — I've never taken the time to write any of this incredible information down to share with other marketers!
Well, I'm happy to change that. We thought it'd be great to share all the awesome insight we're lucky to glean from the world's best social media marketers, starting with this simple (and fascinating, revealing, inspiring) question:
What is the biggest project you're working on?
We surveyed and spoke with more than 150 of the world's best social media managers and put together a selection of 75 answers here.
Much love to the authors of this Medium post for inspiring us to write this article!

Today's biggest social media projects
Huge thank yous to all the social media managers who responded to our survey. If you happen to spend time sharing to social for your business or brand, it'd be great to hear your thoughts in the comments here, too!
It was inspiring and motivating to see all the answers, from 150 marketers! (Many of the people I spoke with told me that they too wondered what other social media managers were up to.)
Below you'll find all their answers. I hope it might give you a bit of inspiration from what everyone is working on, and further down we're excited to share how we plan to put these learnings into action at Buffer.
The breakdown of social media projects
From a high level, here are some graphs that explain the types of projects that social media managers are working on at the moment. Keep reading to see each individual response after this section of charts.
More than 25% of social media managers said their #1 project was content creation.
Other themes included:
Increasing engagement
Growing an audience
Scheduling content
Event planning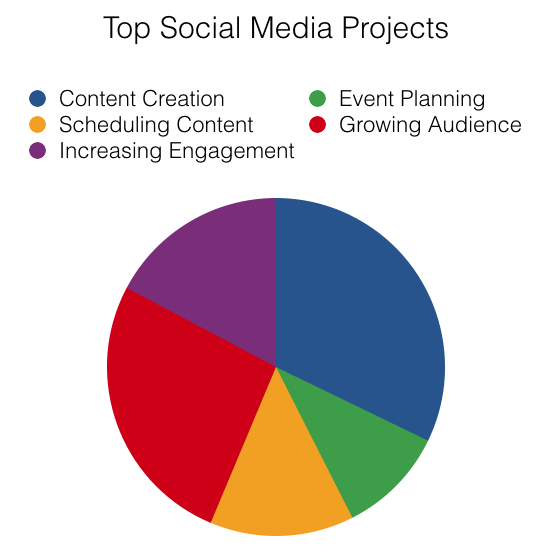 While there was a lot of focus on content, very little of it seemed to be video content.
Only 6 out of 150 social media managers mentioned video among their biggest projects.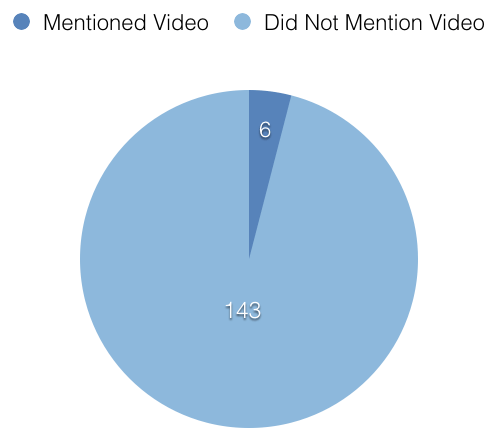 On the flip side, one big theme of the content, planning, and strategic projects was social media ads.
A whopping 33 out of 150 social media managers mentioned "paid advertising" in their biggest projects for the week.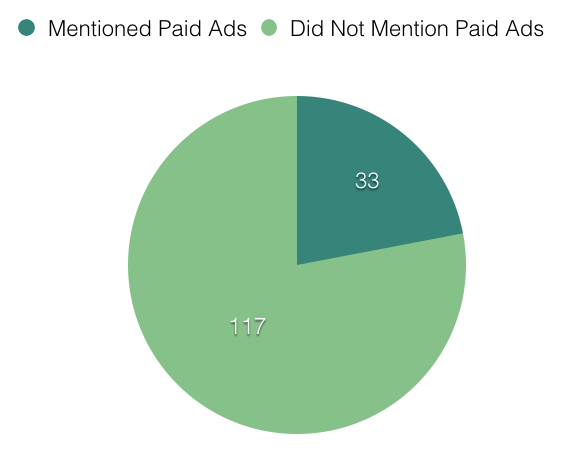 What social media managers are working on right now (the complete list)
Grant Gurewitz, Zillow – Developing a report of summer housing trends for real estate professionals.
Dinnie Lim, We Are Social – Sending out a summary of current trends and innovative uses of social media to my client.
Paul Lindemann, Montage Marketing – Promoting client's news and activities at a big industry trade show.
Lindsay Scarpello, Omaha Steaks – Creating social media strategy / editorial calendar for my new position.
Chelsea Hunersen, HubSpot – Creating a great content plan for the rest of June (a.k.a. the end of Q2).
We're excited to be working with Chelsea and the Hubspot team on a Social Media Master Class to explore we're they're thinking about social media marketing in 2016, 2017, and beyond.
Sam Rye, Social Labs – Testing interest in a new online course we may/may not launch soon!
Kaitlin Gallucci, Historic Huguenot Street – Launching our spring fundraising campaign.
Jane Stecyk, IFTTT – Posting content that contributes to our larger goals as an organization: acquisition and engagement.
Jane and the IFTTT team are working on a bunch of great things in social media including new brand partnerships as well as ways that social media managers can use automation to increase their productivity.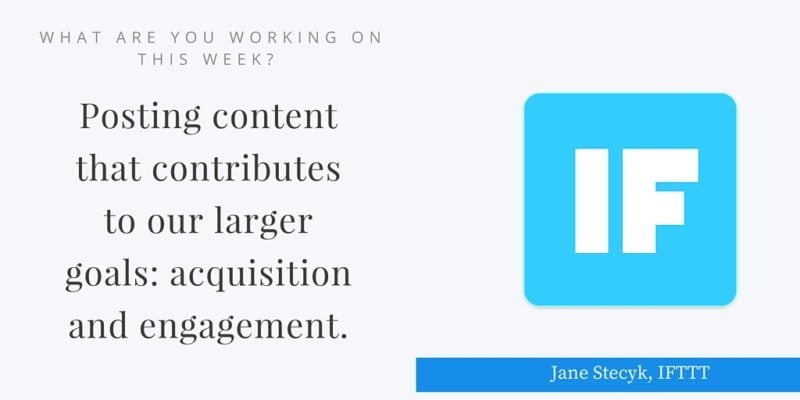 Stephen Banham, Richmond Events – Handing over documents and transitioning as I leave the company.
Samantha Allen, GoTriangle – Quality and informative interactions on Twitter.
Petra Diener, 3 Across The Sea – Getting a new account rolling and communicating.
Erik Fisher, Social Media Examiner – Keeping tabs on the breaking social news for our weekly Friday morning show.
Erik and the Social Media Examiner team run a really neat Friday roundup with all the latest social media news. The roundup includes social network updates, new tools and apps, and a look ahead into where social media might be going (and how we marketers can stay ahead of the curve).
Ondro Mikus, Slovak Telekom – Social media campaign for Euro 2016
Rachelle Raven, Keller Williams – Working with potential buyers and sellers to identify new opportunities.
Marinella Di Mario, MDM Social Media & Copywriting – Working on the art of storytelling on social media.
Sophie Fryer, Tribal Group – Promoting our company conferences (both in July) and getting as many attendees as possible.
Kelly Culver, Fruitworks Coworking – Marketing a successful event and learning from other companies on how they've promoted events in the past.
Khadya Hale, Khadya's VA Solutions – Working on graphics for my clients so they have consistent branding across the board.
Tim How, Bell State Bank & Trust – Testing video posted natively to each channel (Facebook, Twitter) against using the YouTube link.
Iona Fresnoza, Groundswell Grassroots Economic Alternatives – Communication plan + social media calendar for June-July!
Jasmine Garland, Page 1 Solutions – Developing a social strategy for an overseas company launching their first U.S. business.
Klair Rafter, RafterMedia – Growing our twitter following on a daily, weekly, and monthly basis.
Dani Beach, Springbot – A/B testing Twitter Ads and finding ways to increase the number of customers that follow us.
Marie Geffroy, Manyatta – Driving traffic to our website from social media and other marketing channels.
Tres Kennedy, Kill Cliff – Creating new and awesome content for all of our social media channels.
Ashley Williams, Etna Interactive – I am preparing a 'how to use Snapchat for business' presentation for our staff. Our clients are quickly moving to the platform, so I want to make sure we are trained and ready to offer support.
Emily Triplett, The Make It Snappy Productivity Show – Interacting with our audience, increasing engagement and building connections with followers to increase mentions.
Hamish Anderson, Mesh Consulting – Developing a framework which articulates how people can best respond to comments and posts on their social accounts to ensure the best result.
Brandon Bautista, Michigan Virtual University – Reporting for last month's social media activity.
Maria Gester, Viva Media – Planning future content and posts for customers before the summer holidays.
Jordan Nottrodt, Drink When – Increasing interactions with a podcast influencers.
Jaana Nystrom, Gplussa – Like every week, keeping my 23 Buffer accounts' queues well filled with good content.
Jessica Valero-Gil, Adur & Worthing Councils – EVERYTHING! I am working on a new strategy for all social media channels across all departments
Amanda Perino, Hotel V – Developing engaging content streams across all social media channels.
Tracey Richardson, SMC Pneumatics UK Ltd – Deciding on the exact focus for each of our social media channels and how that changes day to day and week to week.
Gen Fuller, Creative Approach – Editing videos, bulk tweet uploads, updating the website portfolio in preparation for a campaign launch and finally, audit.
Becca Fieler, Thomson Reuters Checkpoint – Developing a social campaign about a social media product line
Aimee Luongo, Rand Internet Marketing – Optimizing advertising campaigns on social media and lowering our CPC.
Nikki Sunstrum, University of Michigan – The evaluation of social in relation to academic scholarship and university reputation.
Kayley Robsham, Check I'm Here – Writing engageable blog content and adding promoted tweets!
Felipe Quinzio, Tramify – Building our initial social media campaign.
Ryan Stephens, Edmonton Heritage Council – Target marketing for an event catering to a specific demographic.
Kelly Schuknecht, Outskirts Press – Creating a roadmap for the team of our PPC advertising on social media.
Chloe Sayers, Buffini & Company – Creating and running engaging user generated content campaigns (UGC).
Sarah Armstrong, Manicured Coding – Creating content that will enable small businesses to manage their own social media accounts using tools such as Buffer.
Kimberly Davis, The University of Arizona – Working on a social media competitive audit.
Monina Wagner, Content Marketing Institute – Crisis management/monitoring of major public-facing organization news
Halie Powell, Community Bible Church – Social media scheduling, of course!
Andy Fidel, Commetta – Launching three new Commetta social networks.
Erin Morris, WDM Architects – Honestly, just trying to keep up with social media scheduling and postings.
Laura Bauman, Fence Talk Digital – Creating comprehensive monthly reports for my 15 different clients.
Matt LaCasse, Inter-State Studio and Publishing – Developing a content calendar for the rest of the year.
Scott Caldwell, Skills Development Scotland – Developing our B2B social media marketing strategy.
Chelsea Wallace, Gen Y Shine – Creating a content plan – themes for each week of the month so I don't have to wonder about what to post when, where & why.
Jiyu Ong, Abroad Source – My biggest project is increasing Likes, Follows and Retweets across social across social media channels.
Amitabh Songara, PaintAds – Promoting our product across social and while also educating people about what our product is.
Cassandra Polzin, Leeward Business Advisors – Event Promotion Plan for an event all the way in July.
Kyle Murray, Aware Senior Care – Creating effective paid advertising campaigns to generate leads on social media.
Anamika Vasudevan, Einfach Digital – Social Media Campaigns for a Singapore based FinTech company.
Jade Phillips, CharityJob – Running, testing, and measuring new Facebook advertising campaigns.
Hemali Kakoo, Jornal de Negócios – I want to double engagement and reach.
Kate Tilton, Kate Tilton's Author Services, LLC – Trying a new schedule according to Buffer's suggestions and keeping up while out of town.
Joanne Brady, Self employed/sole trader – Getting the most out of time budget for each of my clients.
Lisa Kelley, Southern California Media Group – Creating a weekend Roundup of events happening in San Diego.
Vanessa Siniscalchi, Latinas Think Big – Driving traffic to all my client's websites.
Deandra Wilson, Texas Air Doctors – Working on more click throughs to the website from social media.
Malulu Angula, Leap Holdings Pty Ltd – Creating and executing a social media strategy for our new clothing brand.
Wilson Moy, Piktochart – Preparing a social media campaign for an exciting announcement about our product.
Margaux Maillet, Havas – Delivering effective LinkedIn advertisements.
Lisa Matthews, Bicycl Asia – Working on content creation.
Andy Wopshott, Elim Pentecostal – Increasing engagement on each one of our social media posts.
Justin Owens, CubeMotion LLC – Setting up a Mobcrush channel for our community.
Stefanie Cash, City of Orlando's District 2 – Summer Safety Tips Campaign
Kory Bowlin, Bluewolf, an IBM Company – Creating great content people engage with.

Takeaways: Projects that inspired us (and lessons we learned)
I found it super interesting that social media managers from around the world have many of the same projects in common. Creating awesome content, driving traffic to company websites from social media, and scheduling out plenty of content in advance were a few recurring themes throughout.
There were so many great projects here. These were just a few that caught our eye (and might lead to us working on something similar):
Preparing campaigns for product announcements
Creating a content / social calendar
Educating others on Snapchat
Testing native video
Optimizing paid ads to get a better cost-per-click
One interesting learning from this survey is that there weren't too many social media managers working on video production as one of their top projects. In a recent research study, we found video to be one of the biggest trends in social for gaining more engagement, and it seems like the opportunity is still there for brands to make a splash before video reaches the saturation point.
The second major takeaway that came about from talking with these incredible talented social media managers is that time management and task prioritization are becoming increasingly important. Social media managers' day-to-day duties are continually increasing and so it's more important than ever to work smarter, not harder. A good lesson we'd love to take to heart at Buffer!

What are your biggest projects this week?
Thank you so much for reading! It was a huge privilege to be able to chat with and learn from all of these amazing social media managers. I hope their answers sparked a little creative inspiration and helped to guide where your social media strategy may go next.
We'd love to hear from you in the comments below! What are the biggest, most important projects you're working on this week?
Image sources: WOC in Tech