When I joined Hubstaff a few months ago to spearhead the growth of the company, I noticed we weren't utilizing the full potential of Buffer.
In order to increase our social media growth and take full advantage of this tool, we developed a few strategies that resulted in overwhelming success. The engagement teams at Hubstaff began to use Buffer to share engaging content at optimal times and frequencies based on real data.
Our results? After implementing these strategies, we gained 350% more blog traffic, earned more brand awareness, received better customer interaction and ultimately got a massive increase in conversions.
You can implement these same simple strategies in your business to boost your social media growth and gain more customers. Here are the 5 strategies that helped us with massive social media growth: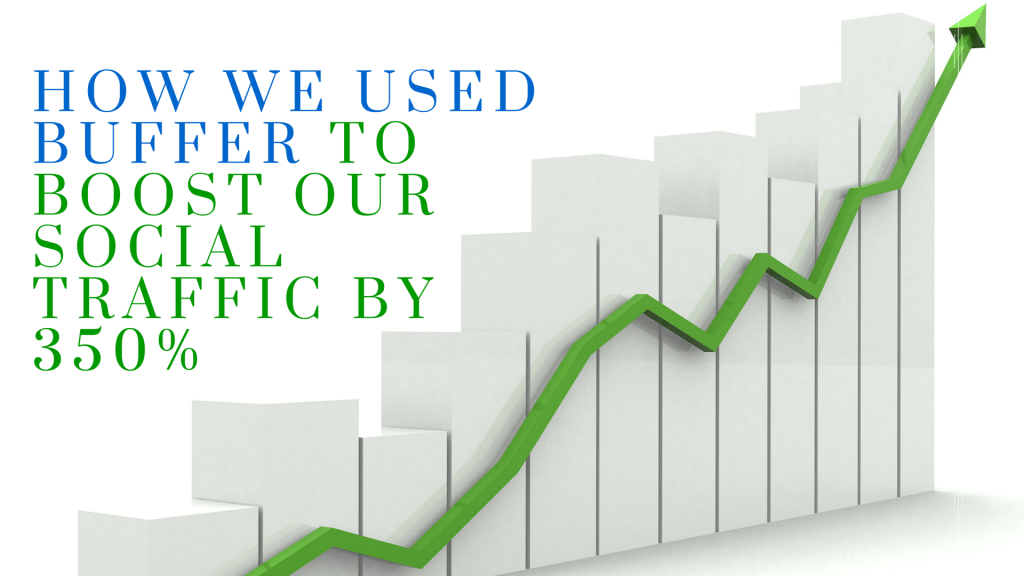 Strategy 1: Create a long-tail strategy for your social posts
This is one of the first and most important strategies I began with. If you only share your blog posts on social media once, you're missing out on a lot of opportunities.
For example, if we shared our January blog posts when they were published and then forgot about them, we wouldn't reach audience members who just started following our social media profiles in March. You're also missing out on reaching the bulk of your existing followers.
A long-tail strategy for social media is when you distribute your evergreen posts across a few months, sharing with different frequencies on different social networks.
Pay special attention to the frequency of shares, since it will determine the impact of your blog post and there are different rules for different social media channels.
For example, you could Tweet about the same blog article two to three times in the same week, then keep the same frequency for the next two months using different post titles. The same is not possible with LinkedIn or Facebook. With Facebook's changing algorithm, we post a maximum of thrice a day—the same goes for LinkedIn.
The Coschedule team has done a great job of creating a WordPress plug-in that helps you in creating a schedule for your social media posts. It also integrates with Buffer so you can schedule posts directly from there.
To get an idea of what a good social sharing schedule is, take a look at this chart. It makes a great starting point if you're just beginning to determine your optimal post frequency.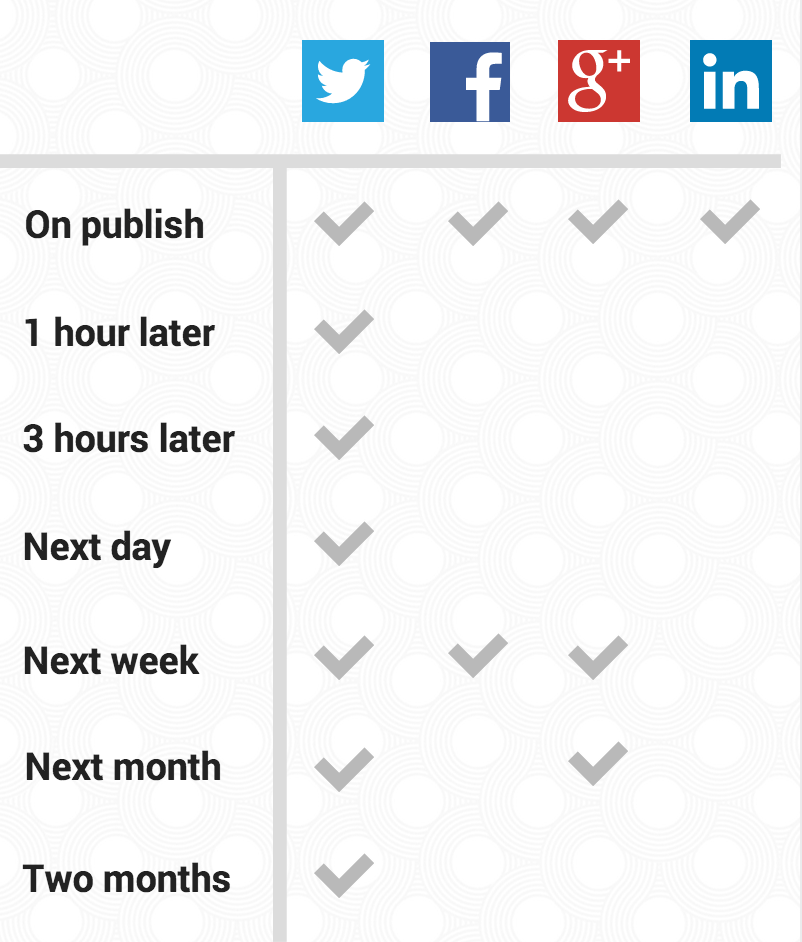 Strategy 2: Determine best times to post
I cannot emphasize this step enough. After putting a long tail strategy into place, I analyzed which times of the day were best to share and optimized our posting schedule to correspond with the most engaging hours.
I came across a Buffer feature called Optimal Timing Tool that helps you identify the best times to share your content on social media. Optimal Scheduling is easy and accurate. Just select your social media account and input the number of times you'd like to post.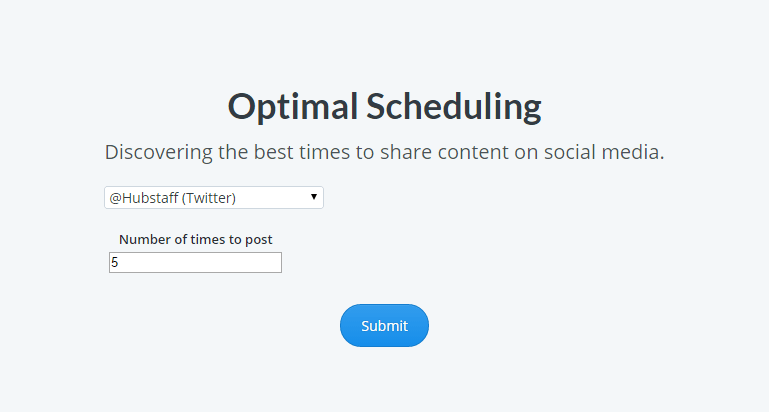 Once you've done that, the tool will instantly create a chart that shows your optimal posting times.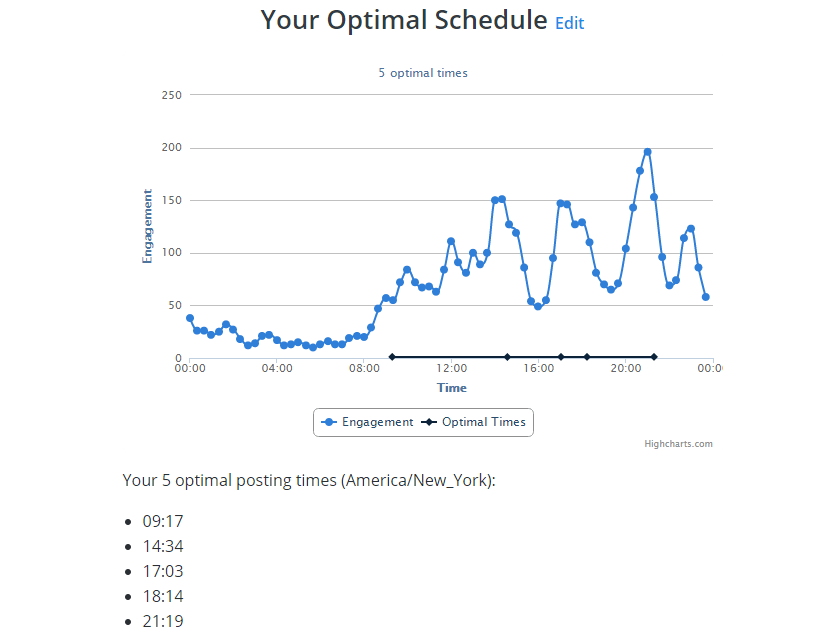 As you can see in the chart above, the tool automatically calculated five optimal posting times based on the history of our tweets. At a glance, I can tell that our best tweets should be shared approximately at 9 p.m. daily, since that is when we have the most engagement. This is how we created our Twitter posting schedule with Buffer.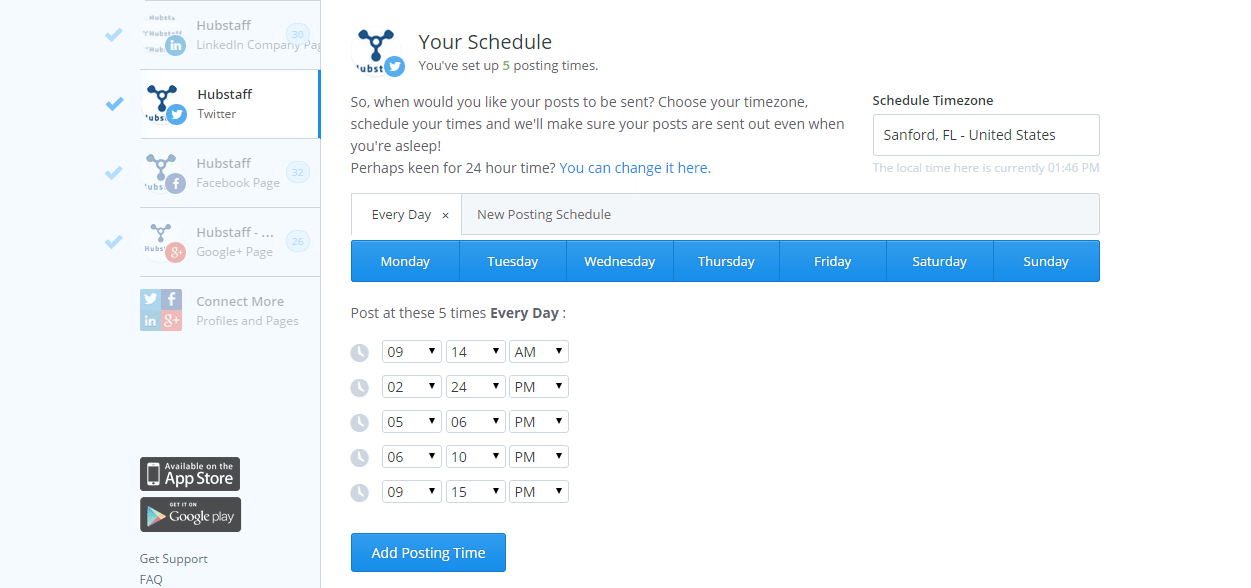 The great thing about Buffer is you don't have to stay connected all day to share posts at different times. It only takes 15 minutes to set up your entire social sharing schedule for a month. Hubstaff was so satisfied with Buffer that we upgraded our account to their Awesome plan. It only costs $10 a month and gives you more space to store posts.
(Also cool: Buffer has an open revenue dashboard, which inspired us to release Hubstaff's public revenue dashboard as well.)
Strategy 3: Write titles and content your followers are interested in
A free and effective tool that you can use to analyze tweets is Twitonomy. This tool identifies the tweets that got the most favorites and retweets. It also finds what time they were posted and what content was in them so you can get a general idea of when and what to post.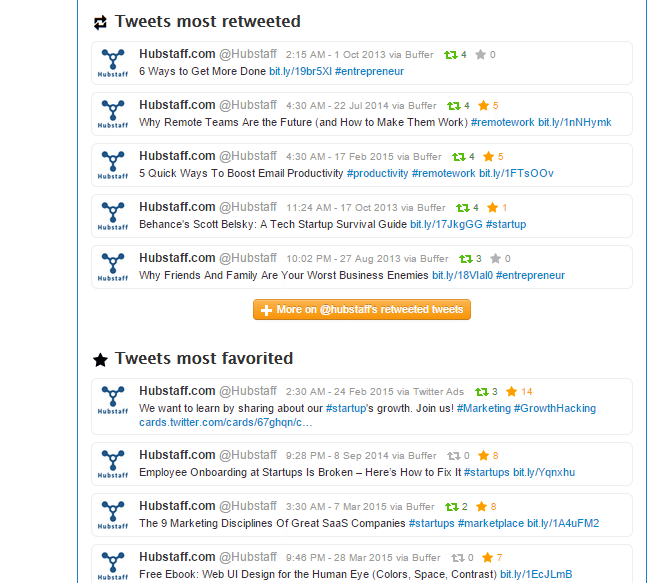 There are three key takeaways for the information we received from Twitonomy:
As indicated by Buffer's Optimal Scheduling Tool, Hubstaff's followers are the most active and engaging from 7 to 10 p.m. EST. (The timestamps of the tweets above are in Indian Time—our whole team works remotely from across the world!)
Our posts on startups and remote teams are getting more social following than other topics (maybe we should adjust our focus).
Lists and guides are popular titles among our followers.
These key points helped me modify our social sharing strategy and influenced a shift in content focus on our blog homepage.

Strategy 4: Re-style your blog title content on social
Once we began posting our blog posts multiple times, as part of our long-tail strategy, it was important to make each post uniquely engaging and exciting.
Here are a few ideas on how you can restyle a social media post featuring the same blog article;
"Did you read our recent post on <blog title>?"
Quote an interesting or controversial line from the blog.
"Our hottest read from last month; <blog title>"
Show numbers and figures. Ex. "This strategy helped us gain X% growth" or "How we gained X customers."
State the facts. Ex. "Did you know that X% of teams across the United States don't have…"
The main focus is to put effort into each of your statuses, instead of just posting the blog title and a link. Spending just a little more time on your posts can go a long way for social media growth. The more people who like and share your posts, the larger your audience and the further your reach gets.
CoSchedule has written a brilliant post on promoting your blog posts via social media and I've personally taken a few ideas from there to make our social sharing strategy work.
Strategy 5: Reach out to the people mentioned in your articles
An outreach strategy is extremely important and effective. It helps boost your posts' reach and expand your audience. We experienced this recently when I shared one of our articles on our must-read time management blogs on Twitter.
This was our reach when I didn't tag any of the people featured in the article.

I tweeted the same article later that day. This time I tagged one of the bloggers mentioned in the article. Her retweet helped us achieve a total reach of…

A simple change made a huge difference, and helped multiply our reach by more than 10x.
The results: More traffic, more shares, more conversions
After implementing these strategies, we earned more traffic and brand awareness, received better customer interaction and ultimately got a massive increase in conversions.
We did an analysis of the data a month after we started implementing the strategies. This is our blog traffic solely from our social media strategy:
Google Analytics: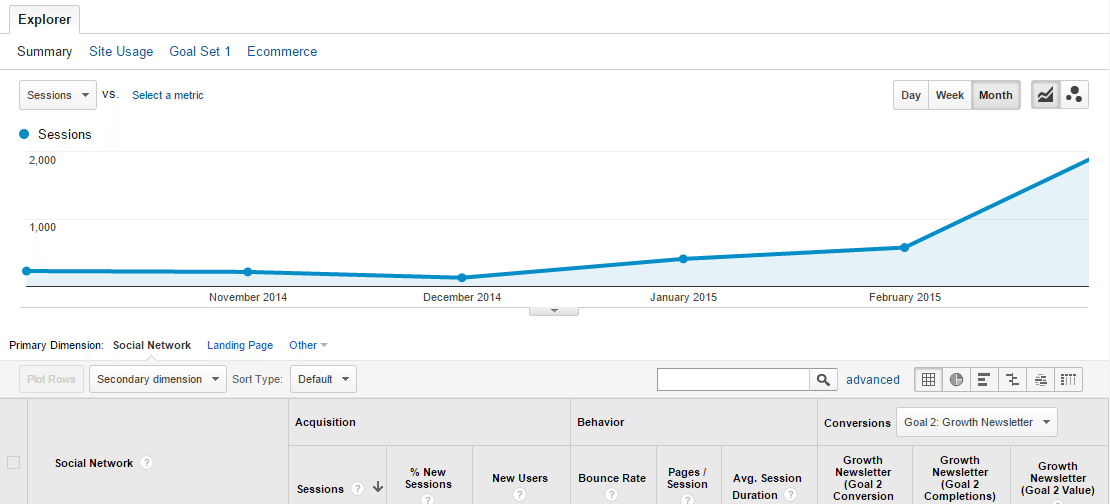 You'll notice that we had a 350% increase in our social media traffic from February 2015!
Additionally, our articles are also being shared more and we are seeing much higher conversions. Here is a comparison of our results before and after implementing our strategies.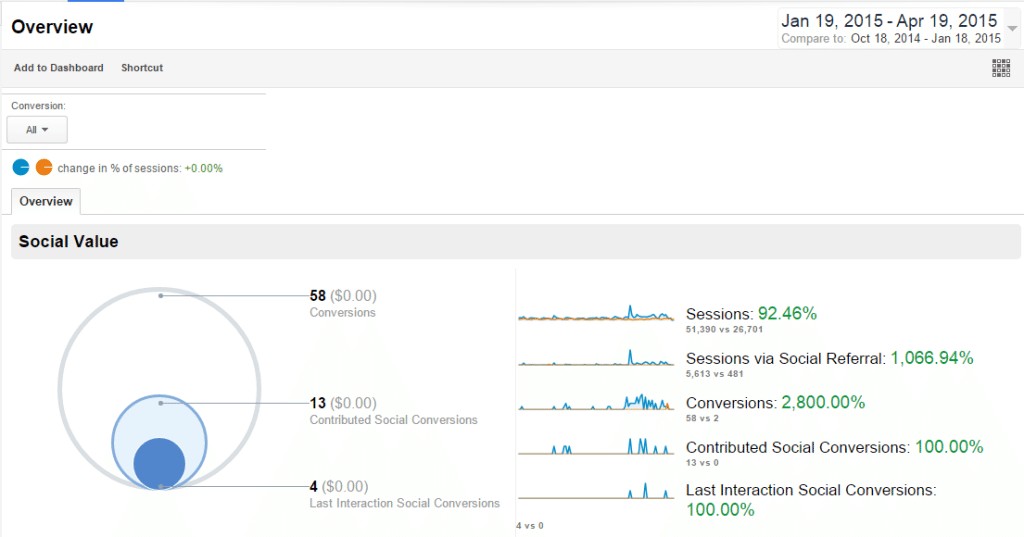 It has only been a few weeks since we started, yet we saw immediate results in our social media growth. I will be sharing more updates over the next few months on the Hubstaff blog.
I hope these tips help make your business' social media sharing strategy more effective—they worked for Hubstaff! Have you used any new strategies to increase your social reach? Let's hear them in the comments!
This article originally appeared on the Hubstaff blog. It is reprinted here with permission from Hubstaff because of the great value we think it brings to the Buffer community!