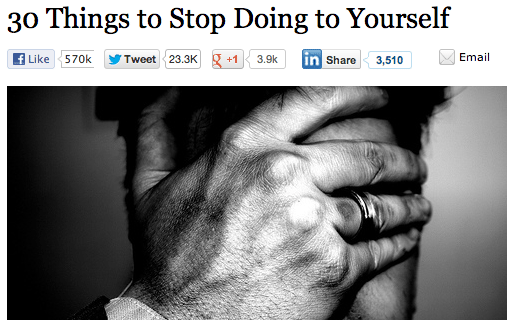 This month, I was kindly invited to speak at a conference in Las Vegas. In the audience of my panel session were two people, Marc and Angel Chernoff, whom I've admired for a long time.
When I was lucky enough to be able to get dinner with them afterwards, I told them that I'd have loved to switch roles and be in the audience listening to their advice.
Why? Marc and Angel run one of the most incredible blogs at marcandangel.com. They publish inspiring content that regularly spreads across social media, garnering thousands if not hundreds of thousands of social shares.
Over dinner, we talked a lot about blogging and blogging strategies. One of the most fascinating pieces Marc and Angel have written is a post that got more than 500,000 likes, 20,000 Tweets and several more thousand shares on other social networks. Here is the title and link to the post for you to look up yourself:
"30 Things to Stop Doing to Yourself"
Why did this post go so viral? We discussed a lot of different things they learned from writing it and hundreds of other articles over the past seven years. Marc and Angel (on the right), had been writing content for a long time already, so lots of different factors have brought them the success they see today. I thought I'd discuss the most important elements we talked about for more of us to learn from.
Here are the 6 most important ingredients, according to these bloggers, to achieve viral impact wit your content:
1.) The science of persuasion: Nailing the fear of "missing out"
One key thing Marc and Angel mentioned to me is that they actually wrote two similar posts: One was titled "30 Things to Start Doing for Yourself" and the other, "30 Things to Stop Doing to Yourself." The second, more negative one performed better. They said using negative words like "stop," "avoid," "don't" and similar in other posts always led to better performance.
Marc and Angel's reasoning was that everyone wants to find out if there's something they're doing that they should stop.
"If there are 30 things you need to stop doing to yourself, I better check if there are any I'm still doing today," said Marc to describe the thinking and motivation behind why a reader might want to read and then share the article.
It goes hand-in-hand with what Robert Cialdini calls one of the laws of persuasion: scarcity and missing out.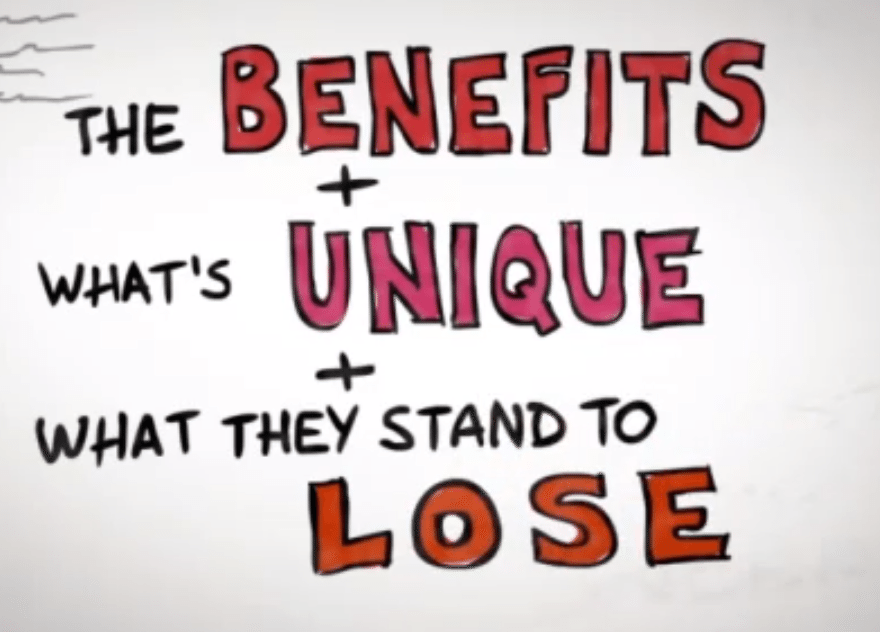 If you are writing something that's unique that people might have a feeling of otherwise missing out on, then this is a fantastic trigger to get people interested in your content.
2.) We only read 20% of web pages – make your content easy to skim read
"On the average Web page, users have time to read at most 28% of the words during an average visit; 20% is more likely." ~ Nielson
Another point that I discussed with Marc and Angel was that list posts have a unique appeal for readers online. The reason is simple: we all love bite-sized information on the web. A list article is the perfect format for this. A post that gives you "30 Things" is very powerful. On the one hand, you know that you can just pick out a few of the 30 things, so it is easy to skim. On the other, if all of those individual 30 points are very interesting and useful, just reading one of the 30, can be all it takes to share it with a friend.
3.) We all want to learn something and get smarter – it's science!
A third point is that Marc and Angel's article is filled with very hands-on, practical tips that you can put into practice today. Each of the 30 points is very well thought-out with practical advice, and there are even followups suggestions for books on the same topic.
After we discussed that people feel that a "30 Things To" article creates a strong feeling of getting smarter and learning something, I also found a great piece of new science to back it all up.
One of the most important elements for a piece of content to spread is its level of "Practical Utility," as detailed by a recent study looking at sharing of articles from the New York Times. Moz also put together a fantastic graphic showing that "utility" can be the biggest driver of content spreading virally: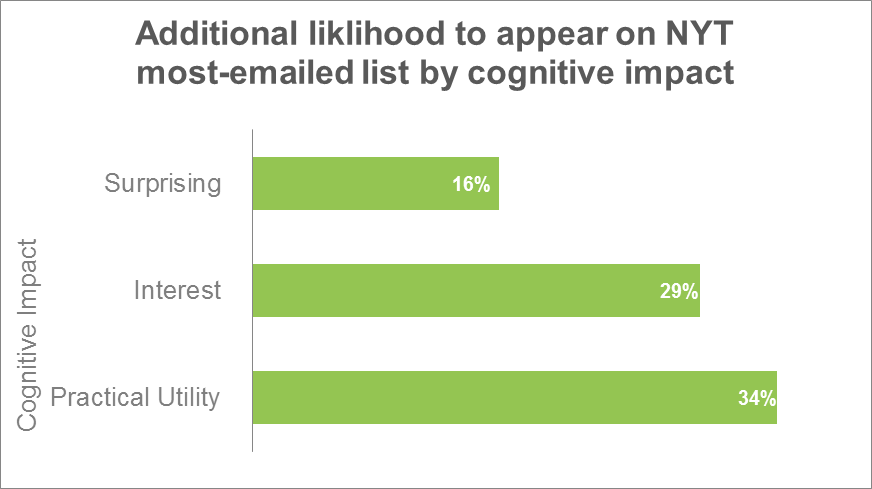 4.) Sharing buttons make content 7 times more likely to spread
Another crucial point that I observe again and again is the power of sharing buttons. This seems so obvious that it's almost not worth mentioning. Yet, over and over, I see where sharing buttons are greatly undervalued and hurt the virality of the post. In case of Marc and Angel's blog, they prominently feature sharing buttons both before and after each post: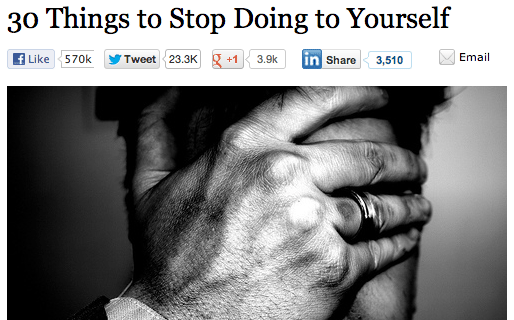 A recent study from BrightEdge showed that content with sharing buttons is 7 more times more likely to spread than content without: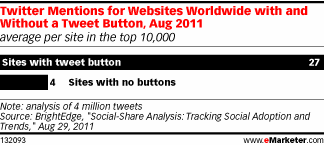 Adding great sharing buttons couldn't be any easier. Try Digg Digg or any other great WordPress plugin out there.
Marc and Angel's hit post mostly spread through Twitter and Facebook. Only afterwards did it get picked up by Reddit, Lifehacker and others. Even more reason to focus on sharing buttons.
5.) Length of content and virality go hand in hand
If you even take a few minutes to browse Marc and Angel's blog, you will see that each piece of content has great depth and detail. There is not a single short-form post in there. And for good reason. Coming back to our New York Times study on what makes content go viral, length is one of the most important elements.
The hardest part with writing long form content is to keep up the quality throughout the whole article. And I think that is something Marc and Angel have absolutely nailed. Make sure that if you write a "30 things" list post, that your 1st point provides as much value to the reader as your 30th.
6.) Consistency and authority – Marc and Angel have been blogging since 2006
Through trial and error, Marc and Angel have tested dozens of different types and forms of content. They actually started out as a very tech-related blog and gradually stumbled upon the power of publishing more inspirational and spiritual content on their site. This strict consistency of writing more than 1,000 articles is also deeply rooted in our human understanding of how we build trust. The fact that their readers can expect a high quality article every few days, makes all the difference.
"People prefer to say yes to those things that show strong consistency in their actions."
So says Robert Cialdini in his famous studies about what persuades us to do things. Bringing consistency to the table and combining it with the "authority" principle of displaying that consistency is immensely powerful: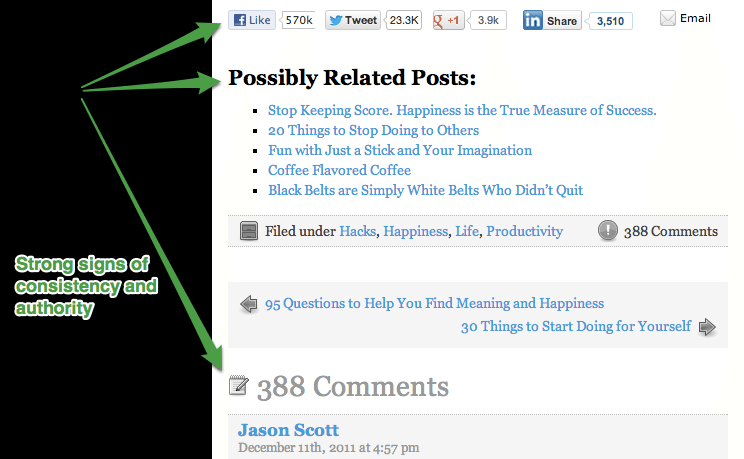 Personally, I am always extremely fascinated by what motivates people to share certain content online. And I have secretly found myself going back to Marc and Angel's post to read it over and over again. Especially the comment section – it's extremely insightful to see what people have taken away from the article.
What have you observed about how content gets spread across the web? I'd love to hear any insights you have I might have missed.
Photocredit: SEOmoz
Notes: A huge thank you to Marc and Angel, who shared their insights from their incredible blogging success. You can follow them on Twitter here: @marcandangel