Snapchat is growing up pretty quickly. What started out as a way to share photos that self-destruct in 10 seconds, has evolved into one of the most complete and engaging communication platforms on the market today.
On March 29, Snapchat unveiled a major overhaul of its chat platform, enabling a whole bunch of new multimedia options for users. For the first time, users can now make audio and video calls through the app, as well as choose from over 200 stickers to send in messages and simultaneously switch between calls and messaging.
Snapchat's new-found versatility will help it compete with other popular private messaging apps like We Chat, Kik, Telegram and Facebook-owned properties, WhatsApp, and Messenger.
In this post, I'd love to dig into the Chat 2.0 update: how to use the new features and what this may mean for the future of Snapchat.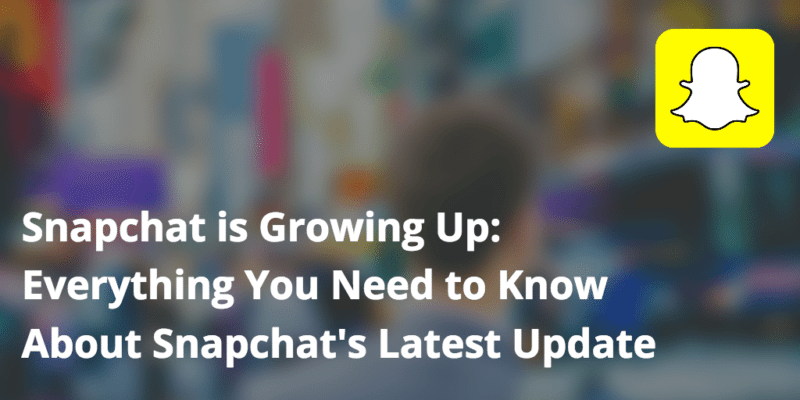 Everything you need to know about the Snapchat Chat 2.0 update
The Chat 2.0 update brought with it a plethora of new features and enhancements. In this section, I'd love to give you the lowdown on each of the key new additions.
Auto-Advance Stories
You can now swipe left during a Story to jump right into your next friend's Story, or once a Story has finished playing the next one in your list will automatically start.
This makes consuming Story content much easier for users and could lead to an increase in the 7 billion video views Snapchat is generating daily.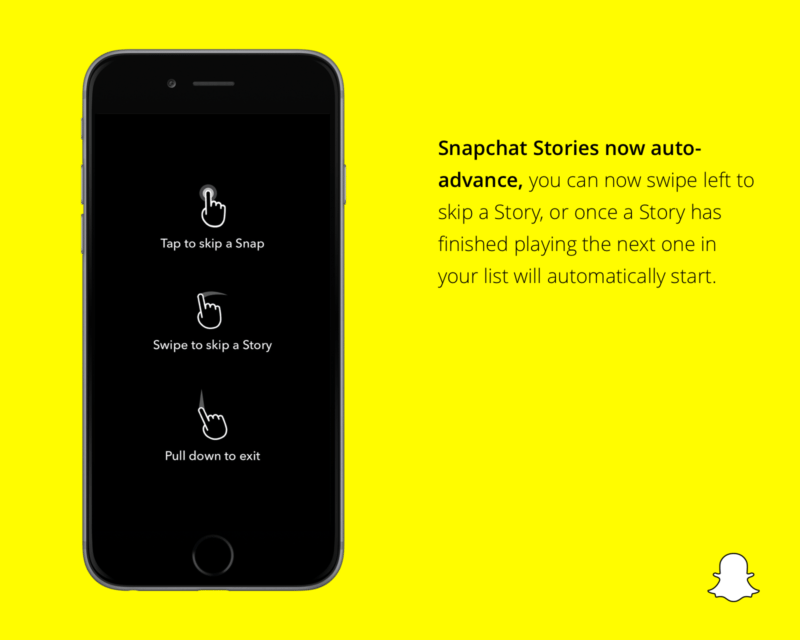 Stickers
Stickers have become an integral part of many messaging platforms over recent years and Snapchat has created a pool of over 200 stickers to include in your conversations.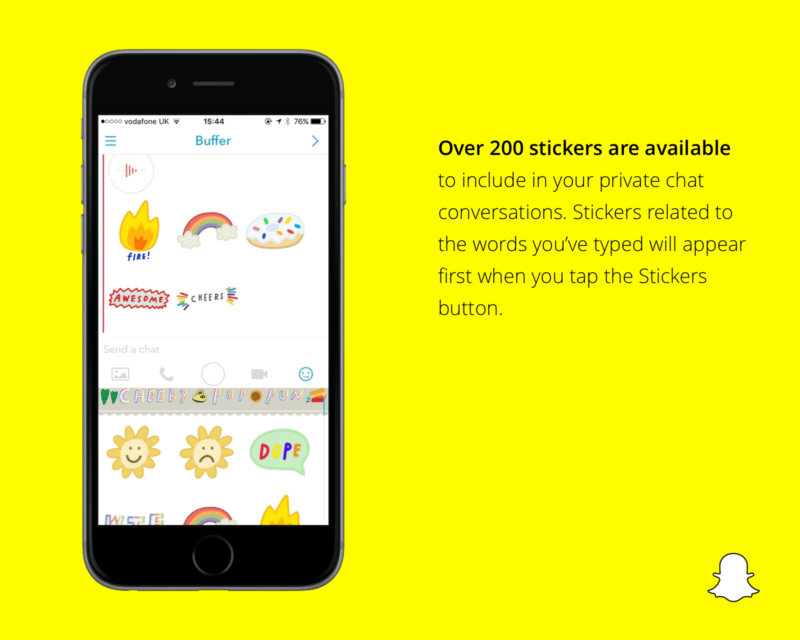 Video or audio calls
You can now make audio and video calls through the Chat interface. To make a call simply tap on the phone icon for an audio call or the video camera icon for a video call.
What makes calls on Snapchat unique is the ability to be on a call and simultaneously send photos that appear as an overlay in the chat window.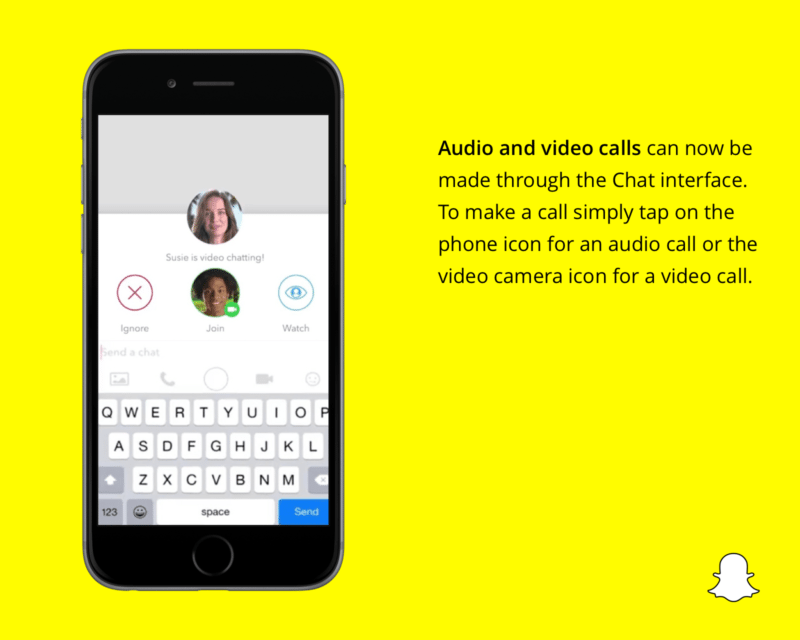 Video or audio notes
Within the Chat interface, you can send quick, sub-10-second thumbnail videos and audio clips.
Video clips loop, much like GIFs and when tapped by the receiver will also play audio alongside the video. Audio notes, play through as the receive taps on them.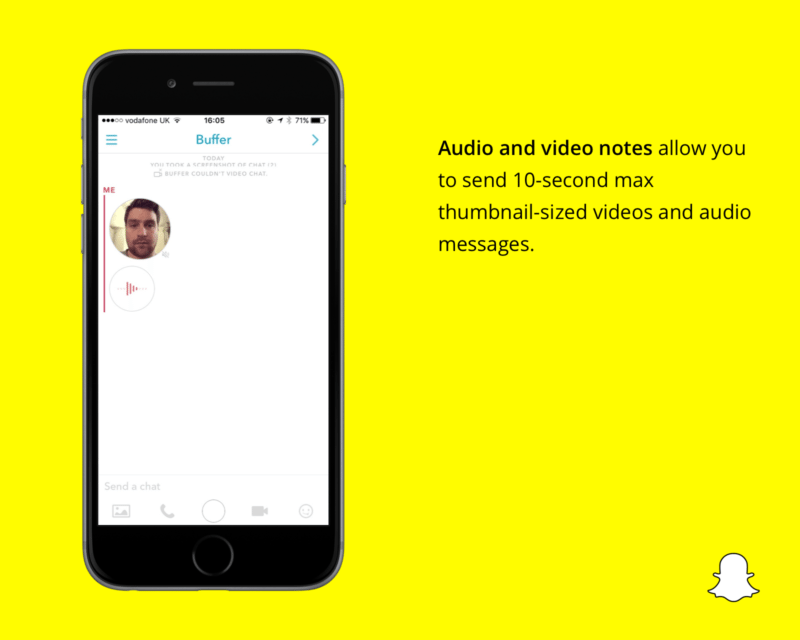 From ephemeral photos to a vibrant communication tool
In 2014, Snapchat released Chat 1.0, and for the first time allowed users to communicate via text and video chat.
"When we first launched Chat, our goal was to emulate the best parts of face-to-face conversation," the company explained in a recent blog post. "Chat 1.0 was all about the joys of being here — when most apps told you when your friend was typing, Chat let you know that your friend was listening." And it's the listening and engagement aspects of social media where Snapchat has really been able to differentiate itself.
Whereas sharing on most social platforms now feels like shouting into an empty street, Snapchat holds user attention. If you have 100 friends, half of them are likely to watch your Story, and for direct Snaps and chat conversations the engagement is even higher.
Snapchat's goal is "to be the best way to communicate — second only to hanging out face-to-face," and of all the social media platforms and social networks out there, Snapchat is the closest relation to the way we interact in our day-to-day lives.
We love to share, chat, debate, and discuss with those closest to us and when we see our friends in real life, these moments disappear. Snapchat mimics that behavior far more than any other network.
With Facebook and Twitter, we give friends a glimpse into our lives. Snapchat allows you to share the whole picture in a more authentic way. It's full-screen, immersive nature brings our friends much closer to use than any other network. Watching someone's story means giving it your full attention, for a few seconds at least. Whereas scrolling through Facebook's news feed or Twitter's timeline, you will barely notice most updates.
With Chat 1.0 Snapchat made some large strides to further the authenticity of the platform and took a different approach to generating conversation, making exchanges between friends feel more serendipitous.
Instead of letting you know when a friend has sent you a message, Snapchat started to send a push notification to say that a friend has begun typing a message to you. Their hope was that by the time they hit send, you're already in the chat, ready to respond.
Here's how Snapchat has evolved since its launch in 2011: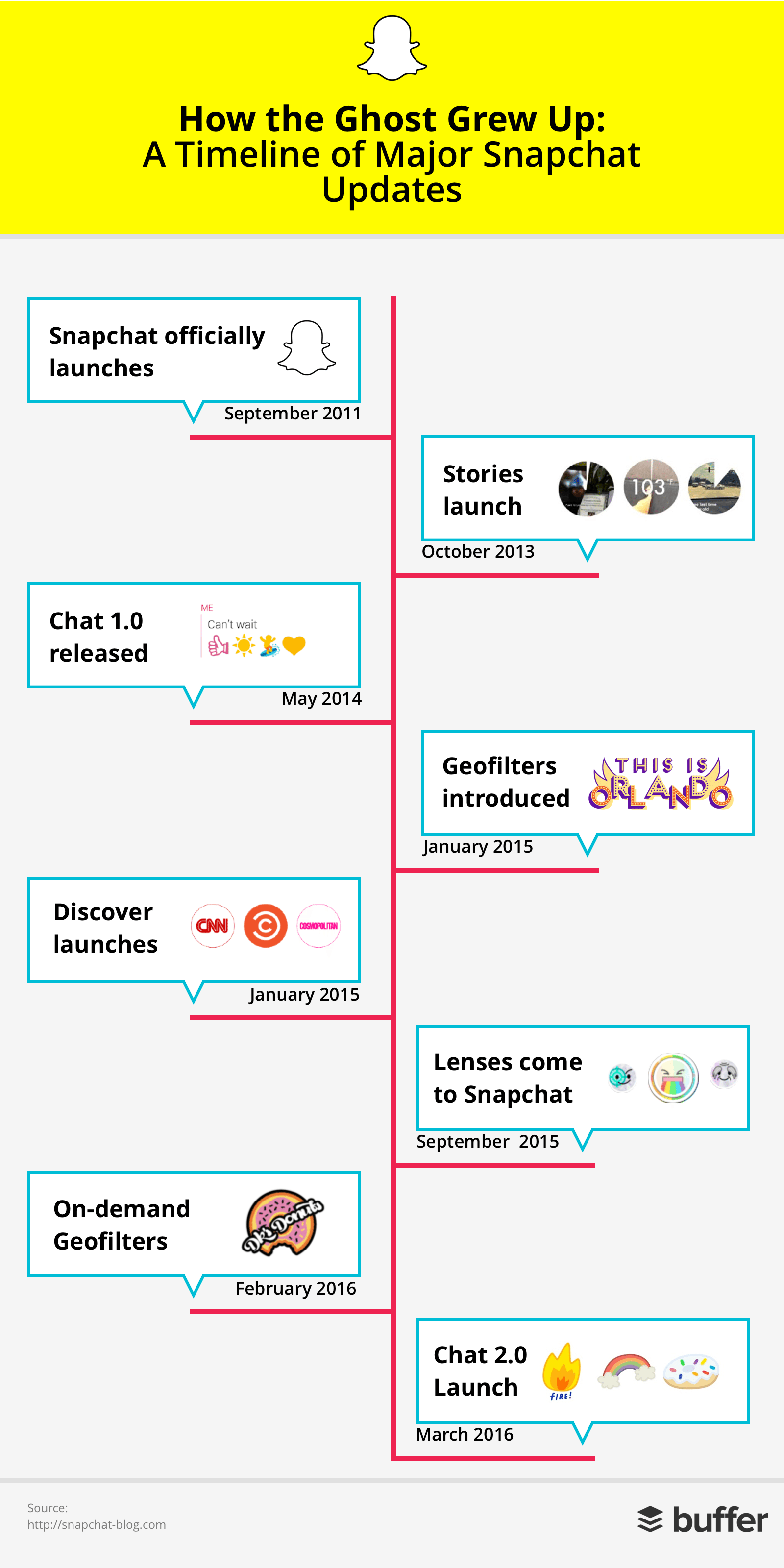 Chat 1.0 was a pivotal part of Snapchat's evolution from an ephemeral photo-sharing app into the private messaging space. Chat 2.0 will help move Snapchat away from being seen as a way for teenagers to send self-destructing photos into a major player in the messaging space alongside the likes of Whatsapp and Messenger.
A more familiar way to chat
Snapchat has always had a unique approach to messaging and communication, but this latest update brings with it a more familiar feeling. Chat 2.0 introduces features that have become common in other messaging apps, like Stickers and audio and video calling, but they've been included with Snapchat's own unique flavor (simultaneously being able to video chat and send images, for example).
This move appears to further signal Snapchat's intentions of moving more into the mainstream conversation when it comes to messaging.
When Snapchat first gained notoriety, like many almost every social platform, it was the teenage market that really started adopting it in droves. And today 41% of American teens are active on Snapchat.
To continue its growth, though, Snapchat needs to evolve and continue pushing for mainstream attention beyond the 18-25-year-olds who currently use the product.
Chat helps Snapchat to enter the conversation alongside apps like Messenger and Whatsapp and makes the value proposition much easier to grasp for many potential users. It's no longer about sending disappearing content, it's much more than that. It's about connecting in genuine ways with those closest to use over whatever medium feels best.
What this means for marketers
Social media seems to be trending towards more private conversations. How this will affect marketers long-term remains to be seen. But what's clear is that Snapchat is here to stay and marketers should be paying attention.
Chat aside, over recent months, Snapchat has continued to release important features to help aid its growth towards the mainstream.
In February, they released On-demand Geofilters. Geofilters are just like regular filters – a design you can overlay onto a photo or video you take in Snapchat – except they're only available in certain locations.
This update created a new revenue stream for the company, but also made Snapchat a powerful marketing tool for brands and businesses of all sizes. Now anyone can create their own Geofilter in a selected area for a chosen time (starting at $5 per 20,000 square feet per hour).
Brands and businesses should definitely be looking to take advantage of the opportunities provided by Snapchat as it continues to move towards the mainstream. Those who jump on early may see a first mover advantage and receive the best returns for their organic efforts and on-demand filters alike.
Talking point: Have you tried using Snapchat from a business perspective or created an On-demand Geofilter? Any tips or tricks you'd like to share? Let us know in the comments below the post.
Over to you
I'd love to hear your thoughts on Snapchat's Chat 2.0 update. Have you downloaded it yet? What are your first impressions?
Feel free to share your thoughts in the comments ?