The Seattle Times—and many publishers like them—is in an interesting place.
There's zero difficulty in coming up with outstanding, high-quality content to share.
The opposite problem is the case: Of the 160+ stories the Times publishes every day, which ones warrant a share on social media, where there are only two dozen or so slots to go around?
Beyond the publisher-specific quirks of content, The Seattle Times is also solving puzzles that face any number of social media marketers, no matter the industry.
How can I tell which social traffic is from my efforts vs. what's happening organically?
How can I get a team of folks to help contribute content and ideas?
How can I onboard this team in a fast way?
How can I manage multiple social networks and multiple social profiles in as effortless a way as possible?
These are some of the big challenges that The Seattle Times, one of the largest daily newspapers in the Western U.S., has looked to solve. And solve they have! With huge increases in social traffic and a smart and simple content workflow, The Times has made grown by leaps and bounds with its new social media strategies. Here's a bit more about the tools and workflows that are helping them reach the next level on social media.
A more focused social strategy = A 150% increase in traffic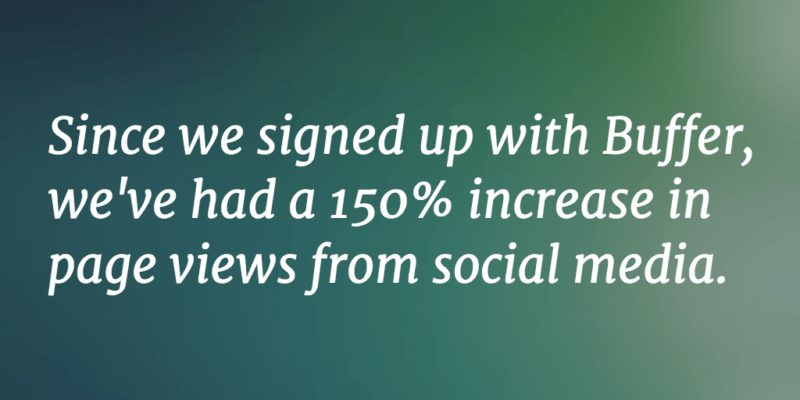 Get the full transcript of our interview with The Seattle Times.
An organized social media strategy has had a huge effect for the team at The Seattle Times.
Andrew Macrae, Product Manager for Audience Development, has the chance to lead the social media efforts at The Seattle Times, and he traces the big bump in social referral traffic to the point where The Times got serious about social, got Buffer involved, and got started with a consistent schedule and strategy for sharing.
When we signed up with Buffer, we really hadn't had a strategy at that point. We're looking at basically a 150 percent increase in page views from social media since.
As part of this new strategy, the Times took a brave and admirable route: Pruning its list of social accounts.
"Part of the struggle for us had been trying to maintain energy and focus in those accounts, and what that has done is that has let us basically kill or retire a lot of our social media accounts and focus on the really important stuff. So we have our main Facebook account, and that's sort of our bread and butter. And then really only a couple different departments have a Twitter account.

"The analogy being: you can send out one tweet and reach our main Twitter audience of 170,000 people, and that's worth a lot more than sending out a single tweet to 1,000 or so."
With this strategy, the Times has focused in on some of its main pages (and others have dropped off substantially in posting frequency, if not closed altogether).
They've grown by 30,000 Facebook followers in the past 90 days since doubling down on social with Buffer.
Seeing big results from social media? How to tell what comes from where
For anyone who creates content and gets traffic from social media back to their website, a couple things might be happening:
People love your content and share it organically! (Think: Share buttons on your blog posts, retweeting people who tweeted your story)
People love engaging on the updates you share! (Think: Clicking on links you tweet or post)
Google Analytics tends to lump this social traffic together in its referral reports. Traffic from social media is a glob and includes everything.
What The Seattle Times has done is split this traffic into its proper paths. The Times can tell which traffic comes from owned media, from earned media, and from paid.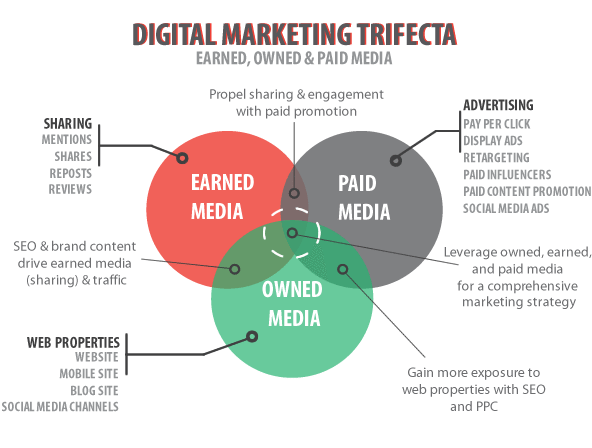 And they do this all with UTM codes.
Here's how.
"UTM codes are the backbone of how we're understanding how people are interacting with our information."
"We do everything from owned, earned, and paid perspectives, so what I do is I've got a little "earned_Buffer" UTM code, and there's an "owned_Buffer." On our social sharing buttons on the side, we've got UTMs like "earned_Facebook-left-hand-side", for instance."
"And then from a Buffer standpoint, it's really about knowing when is it that we're generating traffic from social, and when is it that people are generating traffic via our articles in social."

Our basic mission is "there's a story and we want people to get the story." So Buffer helps us tell the difference between what we're doing versus what our customers and what our readers are doing.
Andrew and his team can manage these codes directly from within the Buffer dashboard so that the specific UTMs he wants are always included in the links he shares.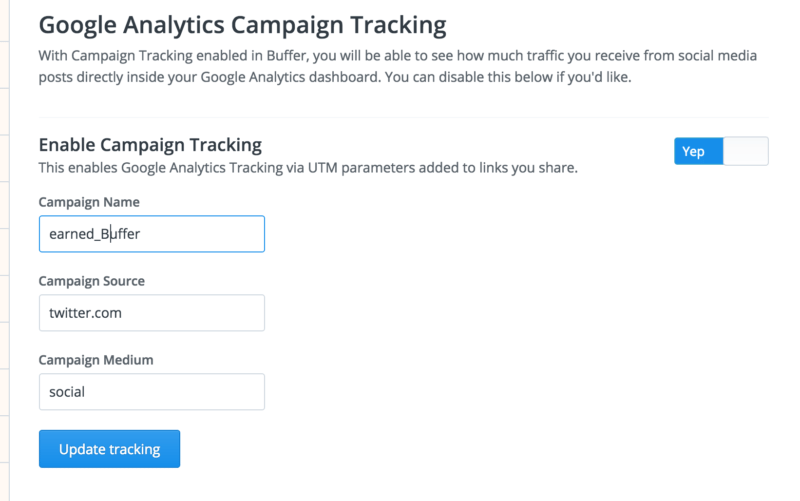 Then these UTMs end up defining the traffic that comes in from social media so he can quickly tell in his traffic reports what visits came from the efforts of his team and what visits came organically.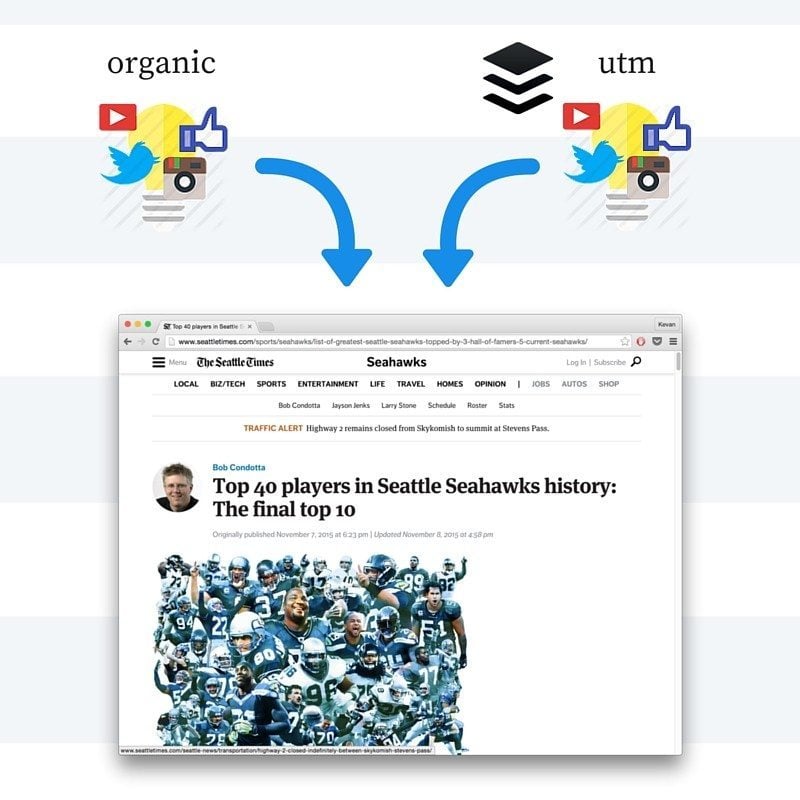 All the tools you need to run social media for the largest paper in the Northwest
The Seattle Times doesn't have a full-time social media manager. Instead, the role is covered by a handful of digital editors for each section of the newspaper.
Our entire social approach is essential by-committee. It's actually committee-approached, mostly consensus-driven. So we're only able to do that because we sort of cemented the strategy, and the real basic tactics. And we did massive amounts of training, and then we used our tools to just coordinate that part on day-in day-out basis.
The day-in, day-out part is a really fascinating process for The Times. It's smooth and simple, which allows the team to stay as nimble and action-focused as can be.
The team hangs out in an Earned Media Slack channel.
Big stories and stories that are taking off get mentioned there and discussed.
When consensus is reached, editors can hop into Buffer and add the content to the appropriate queue, scheduled into one of the next available slots. (There's typically a small handful of updates in the queue at a time, and urgent news can be Shared Now or Shared Next.)
Things are very much meeting driven more than tool driven. So what we'll do is we all sort of hang out in a Slack chat room. Essentially, we just chat during the day and when stories start to take off and do really well, we'll  end up, promoting more.  For the most part, we just have that conversation of what's doing well, and what's not doing well in a Slack chat room.
The Seattle Times social media marketing stack
Buffer –
Great for publishing to social media on a consistent schedule, onboarding a team to help keep the queues full, and segmenting social traffic with UTM codes
Great for understanding where traffic is coming from and seeing the impact of social media
Rival IQ –
Great for tracking competitor information (number of tweets, number of posts, engagement rate), particularly when broken out versus local competition
Slack –
Great for chatting together about what to share next on social media and surfacing content ideas for what to add to the Buffer queue
Want more traffic and better results from social media?
The Seattle Times uses Buffer for Business to manage its social media profiles, track its social traffic, and work together as a team to identify and share the content that will get the best results.
Join The Seattle Times and 5,000+ other brands and business by starting a free trial with Buffer's most powerful social media features!
Image sources: Seattle Times, Pablo