Imagine getting off a plane in a new state or country, heading to a place you've never seen, to spend a week with 70-plus coworkers you've never met (plus some of their partners and kids).
That's what happened to more than half of the Buffer team over the weekend.
This week, our fully distributed team is all in one place—Honolulu, Hawaii—for our 7th all-team retreat.
We'll spend a full week of work together (and a weekend of fun activities) before going back to our homes or travels.
Between costs, time zones, visas, Buffer babies and kids, our actual work, and many other factors, it's quite a challenge to pull off an event like this twice a year.
And yet, a growing number of remote teams do. (Otherwise, we'd never see each other in person!) Even non-distributed, non-startup teams are getting in on the action.
As this trend grows, many remote teams like Zapier, Automattic, and Baremetrics have been kind enough to share some of the secrets of how they bring their whole staff together for working and fun, and we'd love to do the same!
What follows is definitely not the "right way to do it"—we've certainly yet to figure out lots of the answers. But in case it's helpful to other teams, here are all the ins and outs of planning a workcation, Buffer-style.
Scheduling: Every 6-7 months, lots of advance notice
Planning for this week in Hawaii began in August of 2015, just after we finished up our sixth retreat in Iceland.
We try for a retreat approximate every 6-7 months, and the first order of business is determining which dates the most number of full-time teammates are available (Buffer bootcampers are invited to retreats after they join the team fully—even if that means hopping on a plane last-minute).
We do this by choosing a range of weeks and asking folks to select which ones might be available.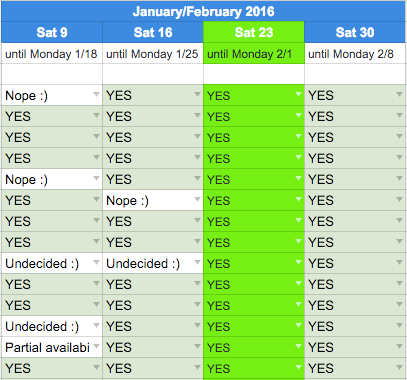 No matter how much time and consideration we put into choosing the date, at a certain team size some conflicts are inevitable.
While we're in Hawaii, we'll have two teammates enjoying family leave and unable to make it. A third teammate will join us part of the time. Here's a sweet note from our awesome teammate Roy about his tough decision to skip the retreat:

Weddings, babies and all the wonderful stuff of life is always happening. :) All of this is understandable and great and encouraged!
We've begun having smaller, more frequent regional meetups to make sure no one goes too long without seeing at least a few teammates in person.
Location factors: Safety, size, internet reliability
Once a winning week is chosen, we share it with the team and begin the exciting process of figuring out where to go. We've written about this part of the process before, but it seems to keep evolving as we grow.
In the past, we've simply taken a vote and chosen the top destination. But with a bigger team than ever, the challenge to find a good location for our retreat increases.
For this week, our amazing "retreats team" of Åsa and Rodolphe wrote a great note to the team explaining why we might lean towards slightly more established and potentially less "exotic" areas as we continue to grow.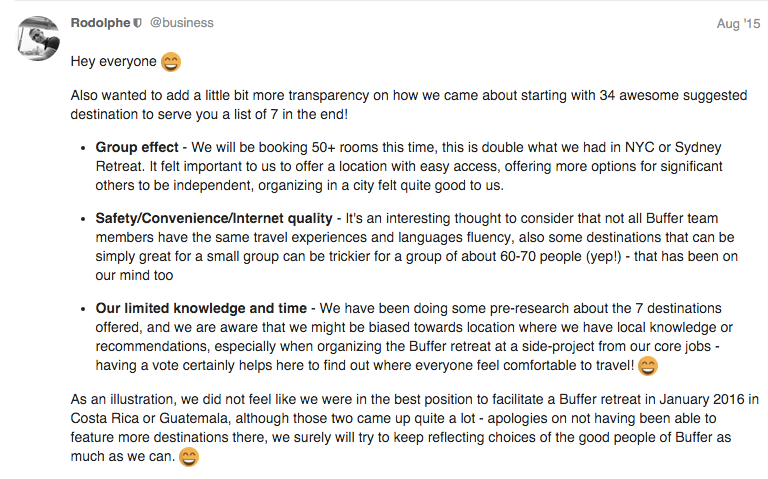 They did a bit of pre-scouting and presented us with a short list of places where they felt we had the best chance of having a great get-together at our size. Here's the list from which Hawaii was chosen: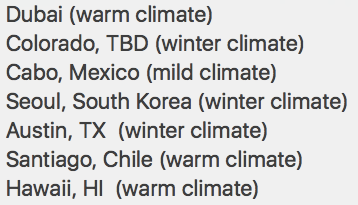 Including everyone: Partners and families are invited
We're always looking for ways to make families feel even more part of the team. On our most recent retreat in Iceland, we officially invited partners (and one brother) along for the first time. In Hawaii, we're excited to add Buffer kids into the mix too.
Buffer offers a financial boost to help those who want to invite partners and dependents to the retreat, paying 50% of flights for dependents, full accommodation costs and for some meals.
How things work with partners and kids is still a bit unformulated since it's so new. In Iceland, all the significant others hung out a lot together and planned their own sightseeing trips and agenda, as well as participated in lots of fun times with the whole team.
We've been hard at work gathering advice from people who have different requirements, such as disabilities or families that may come with or without their kids—it's certainly been a great learning experience!
Getting there: Visas, hotel booking and lots of flights
With a location chosen, the retreats team gets to work finding an accommodation that can suit the whole team. Over time we've moved from one house to multiple houses to boutique hotels to bigger hotels.
Åsa says this work entails a lot of scouting and researching hotels and restaurants—she and Rodolphe have the plentiful spreadsheets to prove it.
Meanwhile, anyone who might need to get a visa or have other special travel considerations is given lots of help and support (some countries are tricker than others!).
About 6-8 weeks out, all teammates are cleared to shop for their own plane ticket and expense it at their leisure. (Expensify makes this super easy and quick!)
We do this to give everyone the freedom to plan their own way, but we can understand how the upfront costs could cause a potential financial burden for some. (Would love any ideas on improving this process!)
Teammates generally arrive the Saturday or Sunday before the week of the retreat and are encourage to stay until the Monday following retreat week. (If you're coming from further away, it's great to arrive on Saturday to get into sync with the new time zone).
The retreats team strives to get a schedule of the week to all of us in advance so everyone knows what's in store.
The workweek: Space for conversations and learning
So what's the week actually like? Monday-Friday, teammates tend to work together on a 9-to-5(ish) schedule. We have worked from both houses and co-working spaces in the past. In Hawaii, we'll be working in a hotel conference area.
The actual "work time" is often more centered on conversations, sessions, and ad-hoc syncs than a normal week might be—we like to take advantage of the time in person to have lots of chats. (I always come with my notebook filled with specific conversations I want to have with specific teammates.)
While a lot of progress is made and new ideas are often birthed on retreats (Buffer for Business is a product of a retreat week!), there's often less tangible work that gets done during this time.
This is great for the future of Buffer, but often a bit challenging for the present—for example, for customers who rightfully deserve to have their questions answered and problems solved promptly during this week.
We've yet to figure out a great solution to this challenge—our response time to our wonderful customers often slows down during this time, which doesn't feel ideal. We'd be keen to hear your ideas on this!
Not-work time: Organized and free-form activities and outings
An incredibly important element of retreats is the time we spend not working but instead getting to know one another.
Rodolphe shared that this is a big factor in the retreat planning process:
"Balancing work and social interactions is fascinating, since getting together is just as much about cultivating company culture and Buffer values as it is for planning and executing on what is to come for the next 6 months."
We haven't planned a lot of formalized ice-breakers or exercises to make this happen thus far. At least a few days a week there are optional group activities in the afternoon and/or evening. These are generally things that are special to the place we're visiting—like surfing lessons in Sydney or a volcano tour in Iceland.
There's also a team dinner on every retreat (the occasion of many millions of silly photos and selfies) and our (more-or-less) official team photo. Here's our last one in Iceland: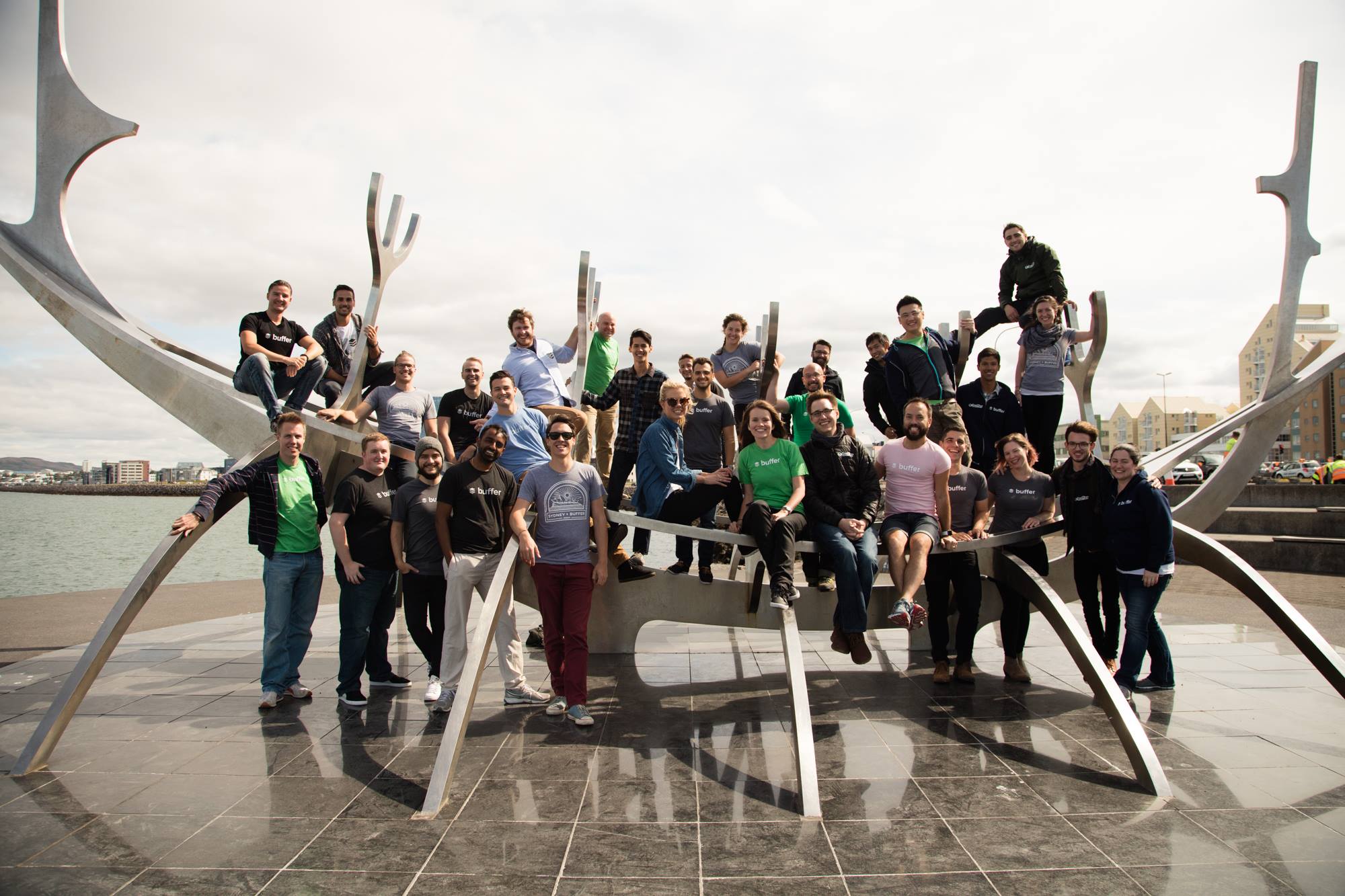 On this retreat, we'll also have an "Orientation Day" for the first time, to make sure that our many new team members are well taken care of. Some of them might be meeting up to 90 people for the first time!
In addition to pre-planned activities, there are plenty of self-organized activities—book clubs, board game nights, morning yoga, evening whiskey tasting—that anyone can spearhead or be part of, depending on their interest. Time to chat during meals and coffee breaks is plentiful, as these are usually self-organized in small groups as well.
One thing we've discovered is that retreat weeks can sometimes be a bit of a challenge for the more introverted members of our team (I count myself as one!). As a result, we've tried to build in more options and flexibility for those who need a bit of alone time to restore their energy.
Cost: Here are the totals for our last 4 retreats
There's no way around it—retreats cost a lot. When we tallied up all our expenses to break down what each cent of a Buffer Awesome subscription goes toward, retreats were toward the top of the list: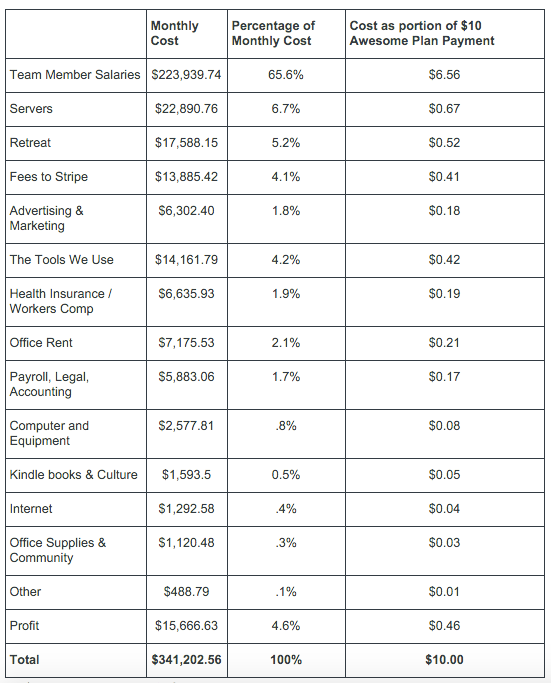 And as we grow, so does the cost. Our previous retreat in July 2015 was around $150,000 altogether, and t
he estimated budget for Hawaii is about $400,000.
Click the image below to see the tally for each of our last 4 retreats:

Retreats typically also have quite a lot of various expenses that teammates pay for personally and get reimbursed for, like meals, transportation, and activity costs.
A handful of folks have Buffer credit cards, and they try to pay for everyone with them as often as possible to cut down on teammates' upfront costs.
Scaling retreat growth
It's fascinating to see how Buffer retreats have grown and evolved over time:
8 teammates in Lake Tahoe
11 teammates in Thailand
17 teammates in Cape Town
25 teammates in New York
26 teammates in Sydney
31 teammates and partners in Reykyavik
91 teammates, partners and kids  in Hawaii
Our team more than doubled in 2015, which means even more changes to the experience. Rodolphe explains:
"We've been trying to to re-think the retreat experience, and be mindful of placing ourselves in the shoes of a person that just joined Buffer—how would attending a retreat for the first time feel for them? If you joined Buffer over the last 6 months (half of the company has), you haven't quite met the entire team just yet. So we're trying to make the retreat as smooth and social as possible."
On to the next one!
It's astounding to me that all the work to bring us together is done by only two Buffer teammates who have other full-time roles in addition to retreat planning!
Our amazing "retreats team" of Åsa and Rodolphe work tirelessly to make each event better than the last. (It probably doesn't hurt that they're two of our most well-traveled teammates.)
"We just learn from each one and take everything onto the next retreat," says Åsa. "Both us of really love to organize these types of things, so, to me, it's one of the most exciting things to be involved in."
In the future, Åsa shared that this could potentially become someone's full-time role at the company, particularly if we begin to do more, smaller retreats and meetups in different spots around the globe.
And almost as soon as one retreat is completed, it's on to the next one.
On the last day of the Hawaii retreat, Rodolphe said he'd like to poll for availability for the next retreat.
"It's a balance between planning ahead and trying to include as many people as possible (including bootcampers) to make sure we have an almost accurate picture of team member availability."
So: Is it all worth it?
There are definitely a lot of logistical challenges involved in getting all of us to one place in the world for a week.
But there are so many more moments of joy, serendipity and learning together that make it all worthwhile (at least in the eyes of someone like me, who gets to enjoy the week).
After planning this latest retreat, Rodolphe told me his favorite part of the experience:
"Getting to spend face time with our Buffer teammates is the best part—we get to discover fascinating new people and catch up with friends; it really feels like a family get-together! I especially enjoy team dinners and randomly bumping into people. In Sydney, some team members had decided to spend a bit more time in the city post-retreat. A few days after most people had gone home, I randomly walked into Joel and Leo strolling down the streets of Sydney—even large cities feel just like home when you get to catch up with friends!"
Over to you!
Have you ever been part of or planned a work retreat for your team? Do you have any recommendations for us? We'd love to hear them in the comments!