To paraphrase Ferris Bueller, social media moves pretty fast. If you don't stop and look around once in a while, you could miss it.
That's why from time to time we like to offer an overview of all the recent changes to some of the major networks in social media. There's always something new to learn, study or experiment with in social media, and even the biggest social media networks aren't exempt from this rule.
Here are 14 of some of the most recent changes to Facebook, Twitter,  Pinterest, LinkedIn, Google+ and Instagram that social media marketers can benefit from.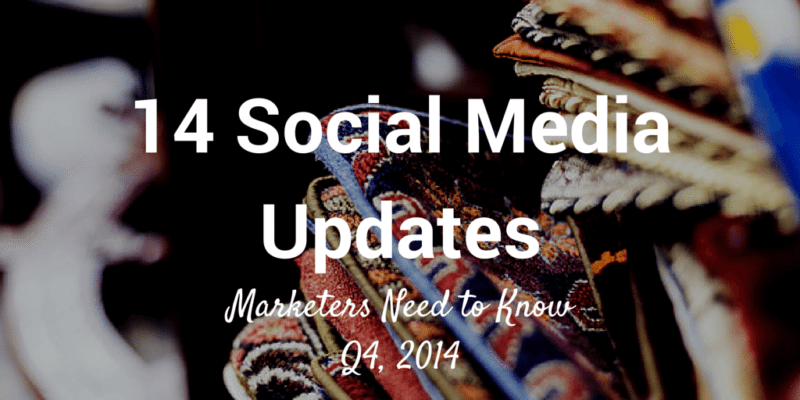 Facebook updates
1. Search for past posts
Facebook's most recent update (as of only yesterday!) is making it easier to find posts you want to get back to. According to the social media network, a way to search past posts through Facebook Graph Search has been a much requested feature.
"You've given us a lot of feedback on the Graph Search beta. You've told us the most important thing is being able to find posts you've seen before, and now you can. With a quick search, you can get back to a fun video from your graduation, a news article you've been meaning to read, or photos from your friend's wedding last summer."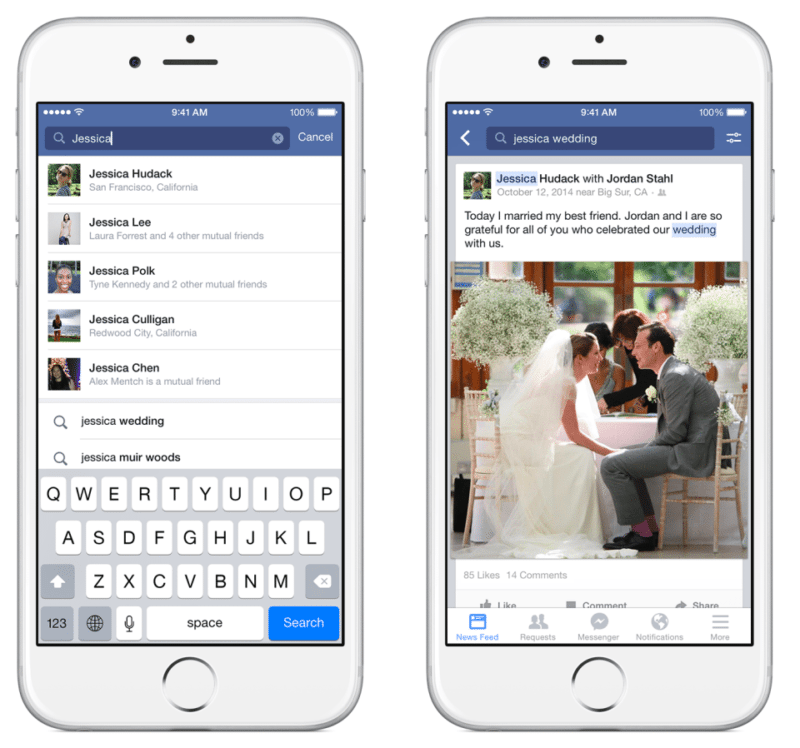 This update is rolling out this week in US English on iPhone and desktop. I haven't been able to see it in action just yet; let me know if you have!
2. Saved posts
Ever come across something great you want to read on Facebook when you don't quite have the time to devote to it right then? Facebook must have noticed lots of us with this challenge, so they created a great solution: Saved posts!
When you spot an intriguing post or event, you can click the drop-down menu to quickly save it for later like so: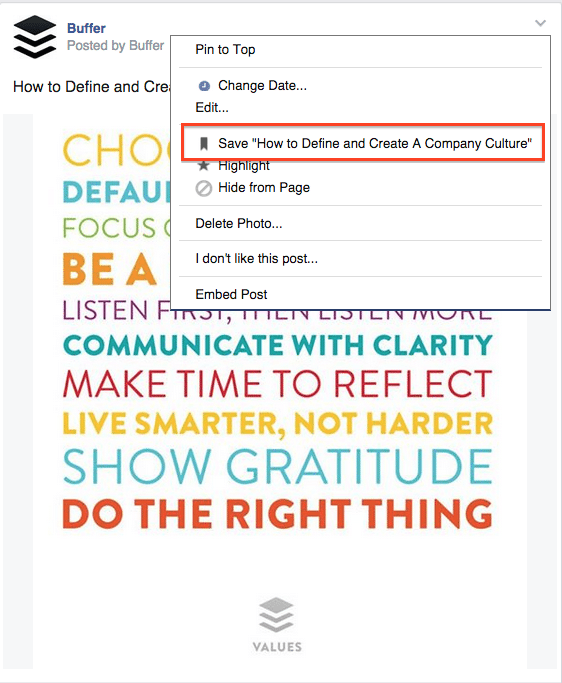 When you're ready to browse your saved posts, you can find them in the menu on the left side under your profile.

This will take you to all your saved stories, where you can read and archive them at your leisure. Quick privacy note: Only you can see the things you save on Facebook to view later.
3. Rooms for every interest
One of Facebook's most fascinating recent additions is Rooms—an anonymous chatroom type app that hearkens back to the early days on the web.
Here's how Facebook describes Rooms in the debut announcement:
Rooms lets you create places for the things you're into, and invite others who are into them too.  A room is a feed of photos, videos, and text – not too different from the one you have on Instagram or Facebook – with a topic determined by whoever created the room.
When you join, some Rooms will be recommended to you, but there is no way to search for Rooms. That's on purpose, Facebook Product Manager Josh Miller told Mashable.
"Though counterintuitive, our logic was that retro web browsers didn't offer 'discovery' for early Internet communities — you had to tell Netscape exactly where you wanted to go –- so why should we?" he said. "Our hypothesis was that places on the web being hard to find was a feature, not a bug."
You get into a Room by snapping a photo of the Room's QR code: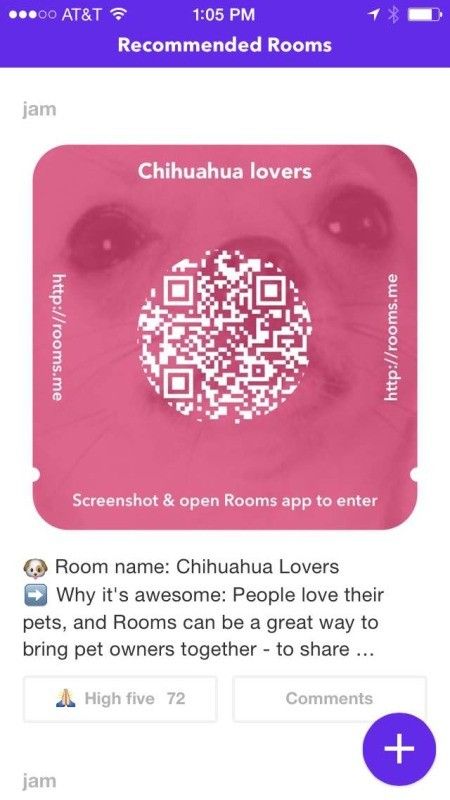 Then you can browse photos and contribute on your topics of interest.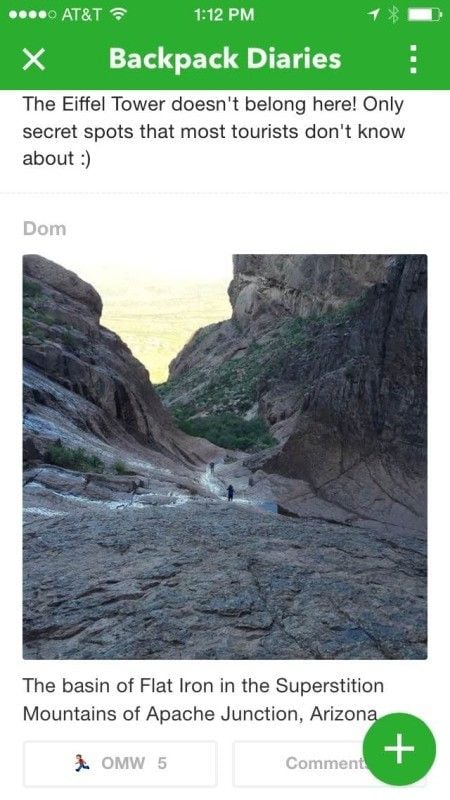 I have to admit that Facebook Rooms are still a bit mysterious to me. I'd love to hear about your experiences with them!
4. Facebook Groups app
Facebook Groups are a great way to stay in touch with specific groups of people with shared interests, and now you can have that experience on mobile as well as the Facebook desktop with the new Facebook Groups app.
You can post updates, links and photos to your groups, start new discussions and find new groups to join, or even start a new group right through the app.
When you open the app, you'll see all your Facebook Groups in one place. Groups you use most frequently are at the top, and you can quickly move between each group.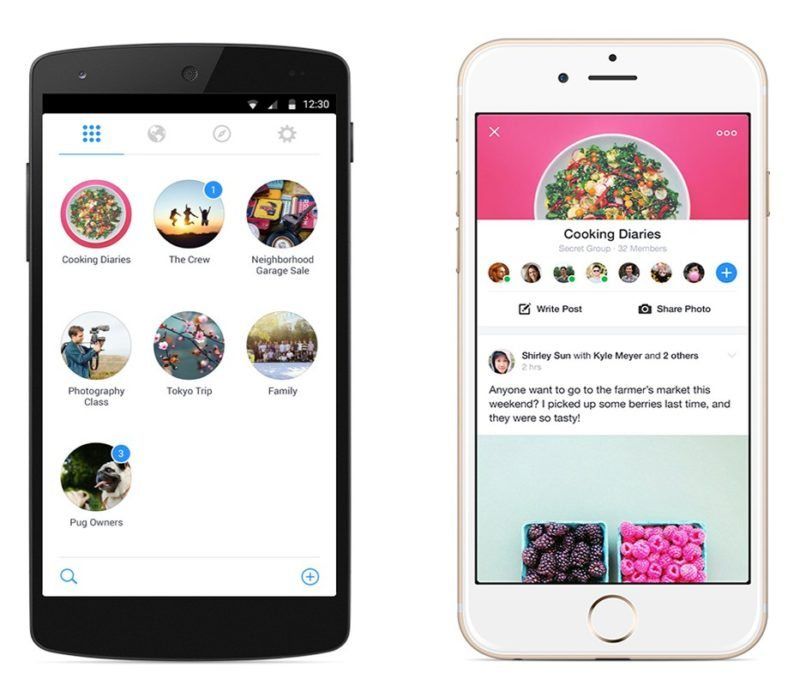 5. "Buy" button
Have you spotted this one in the wild yet? I haven't seen it myself, but Facebook has started testing a new feature that allows users on desktop or mobile to  click a "Buy" button on ads and Page posts and purchase a product without leaving Facebook.
This change, if rolled out widely, could be a major boon to help businesses drive sales through Facebook in News Feed and on Pages.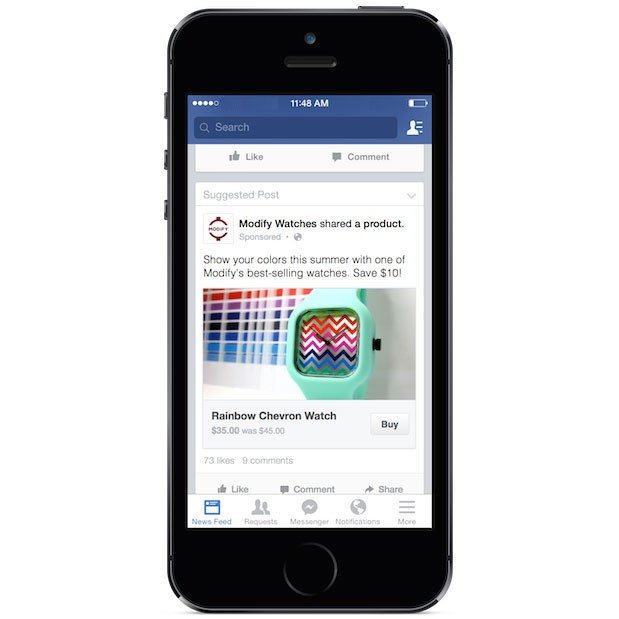 Twitter updates
6. Archive search
This is a big one: With Twitter's new full tweet index, you can now search through every public tweet since the social network's launch in 2006. For instance, here's Buffer's very first tweet!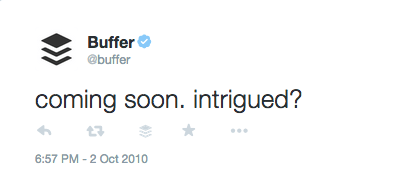 To help you navigate this new bounty, Twitter has added some enhanced options into its Advanced Search, including handy date range functionality to help you pinpoint what you're looking for.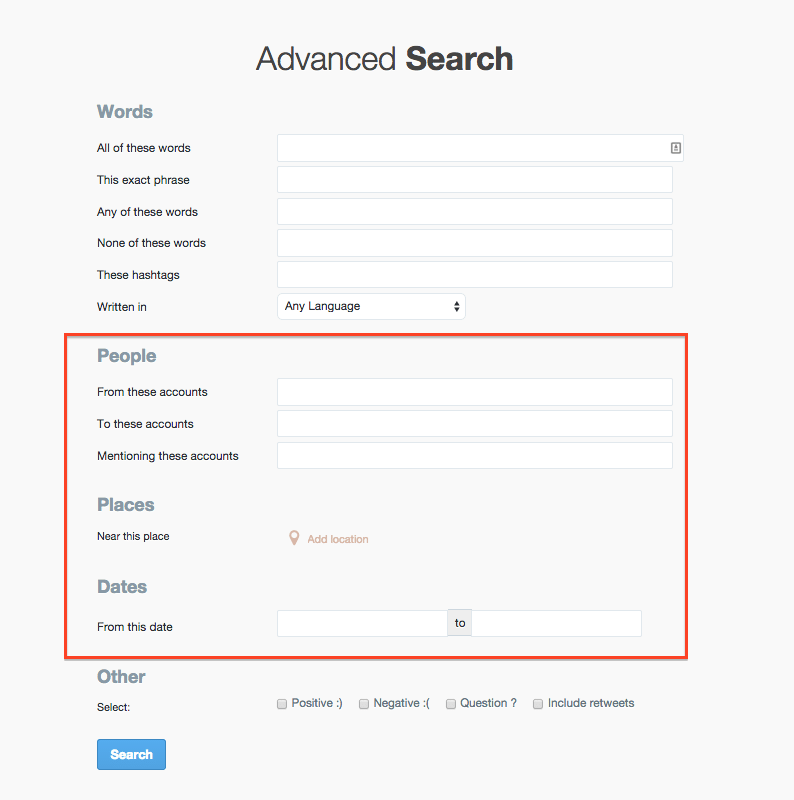 Originally, Twitter was designed to focus on just the present moment, so the service removed every tweet from its search index after a week or so.
"Our search engine excelled at surfacing breaking news and events in real time, and our search index infrastructure reflected this strong emphasis on recency."
But as the service has evolved, Twitter has been working on improving its search function with a goal to "to let people search through every Tweet ever published."
Now that that moment has arrived, it's fun to look back and see how we've all evolved our Twitter style. It could also be worth a quick spin through your old tweets just to be sure there aren't any surprises lurking there!
7. Share tweets through Direct Messages
In a change that could be handy for social media managers and community managers on the go, Twitter has also recently added the ability to share tweets through direct messaging.
Here's how the process works, in a GIF from Twitter: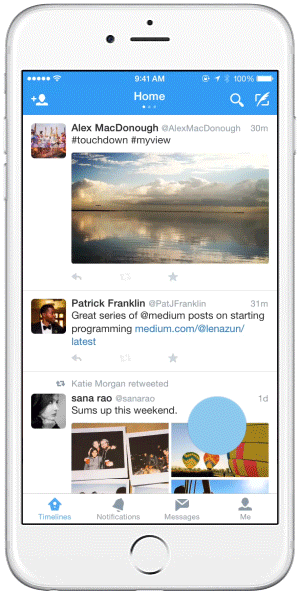 The person you share with will get a push notification, and the tweet will display directly in the conversation.
This offers up a quick and efficient new channel for remote teams to share information about what's being said in their Twitter community.
8. New tweets in your timeline
You may have heard some of the murmurings that Twitter is likely working on an algorithm to help sort through the massive amount of content that gets posted there every day.
We can see what might be the beginnings of such a change in a move that Twitter made recently to show some tweets from accounts you don't follow in your timeline.
Here's how Twitter describes how you'll observe this change your Twitter timeline today:
Additionally, when we identify a Tweet, an account to follow, or other content that's popular or relevant, we may add it to your timeline. This means you will sometimes see Tweets from accounts you don't follow. We select each Tweet using a variety of signals, including how popular it is and how people in your network are interacting with it. Our goal is to make your home timeline even more relevant and interesting.
It's too soon to say much about how this change might affect marketers, but as Marketing Land noted, "it could give the most clever and engaging brand accounts another way to reach people. Twitter already rewards the savvy, the funny and the timely; now with more serendipity in the mix, that bias should be amplified."
LinkedIn updates
9. New stats on who's viewed your profile
Ever wonder how people find you when they view your profile on LinkedIn? Now LinkedIn will tell you. With recent upgrades to the "Who's Viewed Your Profile" page (find it under Profile in LinkedIn's navigation menu), you can see some cool charts that overlay what you do online there with what effect it had on your visibility. Here's a peek at mine:

LinkedIn will chart actions you take like "making various updates to your profile, endorsing a connection, joining a group or expanding your network" that could lead to a specific increase in engagement.
10. New blogging interface
If you blog or republish your posts on LinkedIn, you might have taken note of LinkedIn's recently redesigned blogging interface.
"Our new experience – clean, elegant and intuitive – was created with you in mind. Whatever your style, your subject, your background, we've made it easier than ever to share insights and ideas with the world in a blog post."
Here's a look at the new, minimalist framework: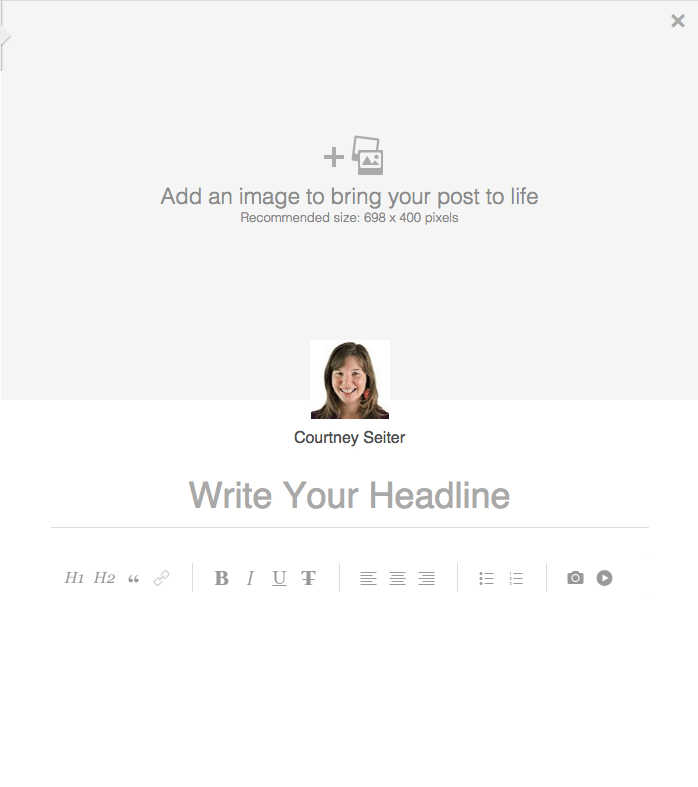 In the past I have experimented with syndicating some of our existing blog posts to LinkedIn and found that the time it took to get them all formatted didn't quite pay off for me in terms of results. Giving this new experience a try, I found it to be very quick and intuitive.
To get started blogging on LinkedIn, go to your profile as if you were about to post a status update and look for the pencil icon that will take you to the blogging framework.

Pinterest updates
11. Pin from your iPhone
Pinning to Pinterest from your iPhone got lots easier recently when Pinterest upgraded its iOS app and allowed users to add the Pin It button to your phone and Pin right from your mobile browser.
Once you've updated your phone to iOS 8, get going with this one by tapping the Share button from Safari or Chrome, then tapping to turn on Pinterest. Then Pin away from your phone like so: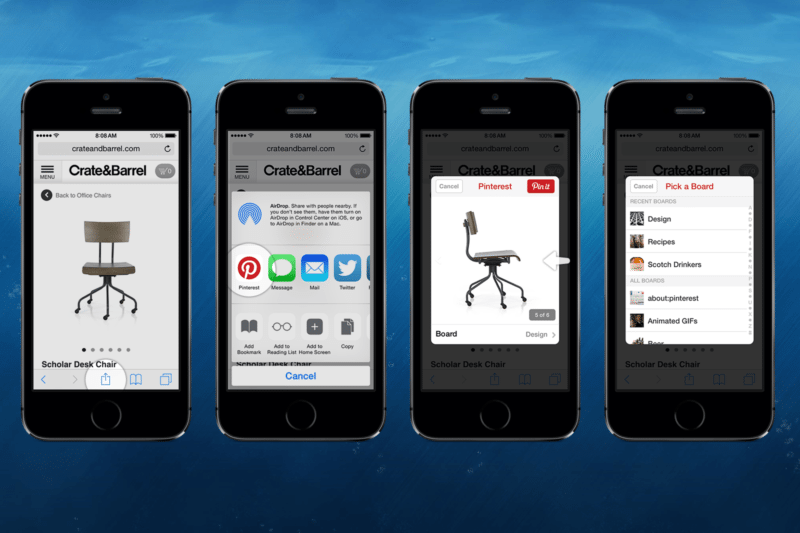 Google+ updates
12. Plus Post Ads
If you're active on Google+ and also run display ads through Google Ads, a recent change to Google+ could help you do double duty with one post.
Google's new Plus Post ads allow you to turn your Google+ posts into display ads that run across the web. People can leave a comment, follow your brand, give a +1, or join a Hangout right from an ad.
https://www.youtube.com/watch?v=4yCUgx7H2zo
You can give them a try if:
Get started on your first one here.
13. Pin posts on Google+
Pinning posts to make sure they get maximum exposure to your community is already a staple of Facebook and Twitter, and now you can pin a post to the top of your Google+ profile or page as well.
When someone visits your page, they'll see the pinned content up top above the rest of your posts, noted by the little green thumbtack icon.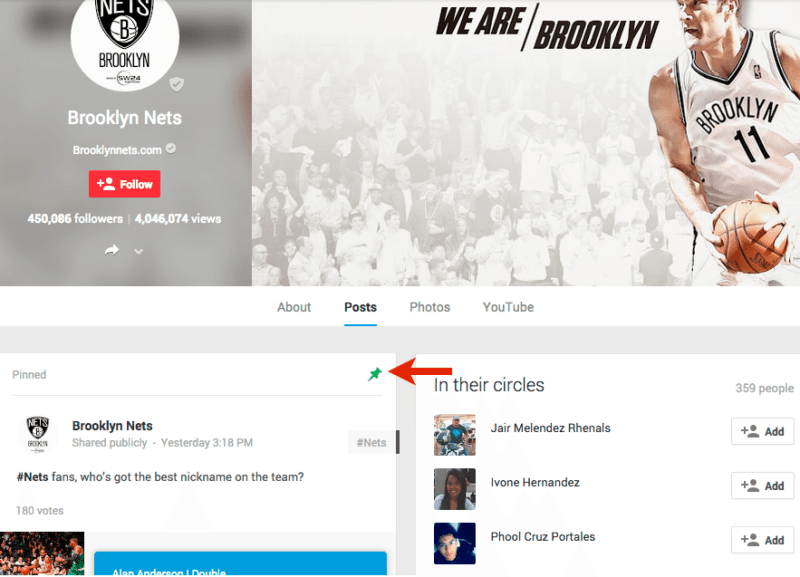 To pin a post, simply open the drop-down menu on any public post and click the pin button.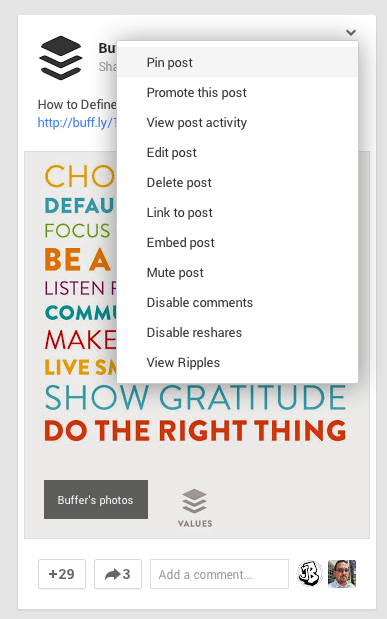 Right now, you can pin only from a desktop browser, and desktop and Android users will see your pinned posts (Google says iOS support coming soon). Only one post at any given time can be pinned.
Instagram updates
14. Caption editing
In the realm of small-but-mighty changes, Instagram recently added a much-requested change that allows you to edit captions on your posted photos. Goodbye, typos!
On any photo you'd like to edit, click on the small dots menu at bottom right and then choose "Edit" from the options that will appear.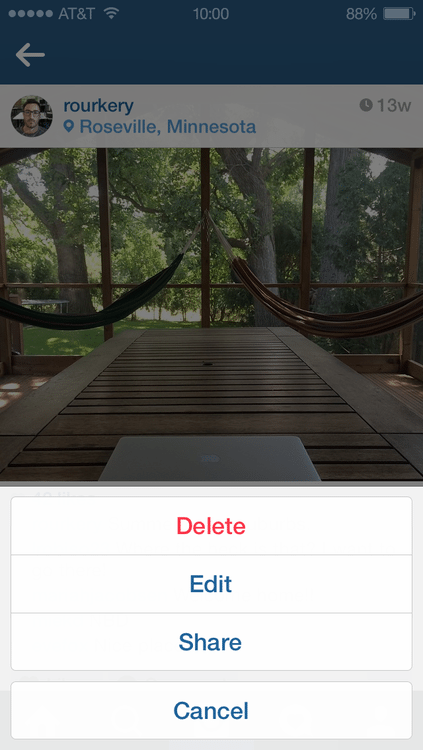 Those are the biggest changes we at Buffer have noticed recently in the major social media networks. What changes are rocking your social media world? I'd love to hear all about them in the comments!