Pinterest has released a new set of advertising tools for small and medium sized businesses.
These tools give businesses new ways to promote their content and advertise on Pinterest. Around three-fourths of the content on Pinterest comes from businesses already and opening up their ads product to all SMBs feels like a great way to enable businesses to get the right content in front of the right people.
Pinterest users regularly save their favorite Pins (including adverts!) to their own boards, and as such, Promoted Pins generate lots of impressions and engagements as they get resurfaced time and time again. The data shows advertisers who use the Pinterest Ads Manager received an average of 20% more (free) clicks in the month after the start of a Promoted Pins campaign.
So, how does it all work? In this post, we'll take a look at what's new with Pinterest Ads Manager and give you a quick guide on how to get started with your first Promoted Pin.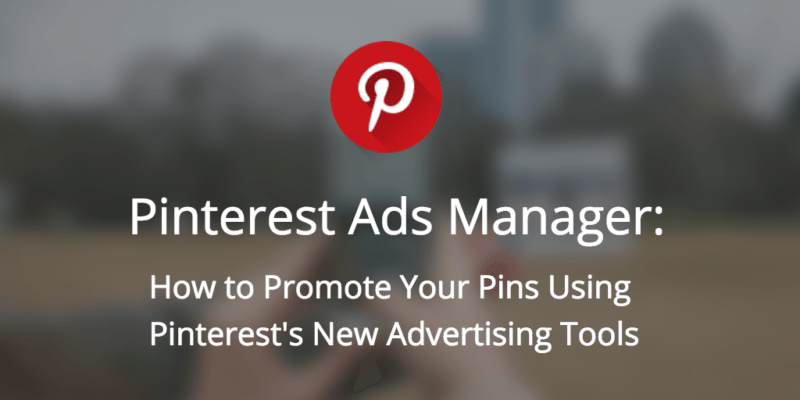 What's new with Pinterest Ads Manager
Pinterest Ads Manager is a simple, do-it-yourself ads tool designed for small and mid-sized businesses. It also includes a bulk editor, so businesses can manage multiple campaigns at once, and advanced measurement, so you can accurately track the impact of your Promoted Pins.
Alongside Ads Manager, Pinterest has also opened up some new tools for advertising targeting to help ensure you're reaching the right audience at the right time:
Interest targeting: Ads Manager offers targeting against more than 420 interests, including healthy recipes, street style, baby gear and even sustainable architecture. The company says that these interests reflect what people want to explore now and engage with in the future—as opposed to something they happened to browse last month or a pastime they were interested in years ago.
Keyword targeting: Advertisers can also target selected keywords to reach Pinterest users when they are in a different mindset and possibly looking to with purchase intent.
Customer database targeting: This enables advertisers to reach your existing customers on Pinterest while they're looking for new ideas.

Pinterest has also enhanced conversion tracking. Now, you can return order value and quantity in your conversion tag to help you track and optimize performance against revenue goals.
How to get started with Pinterest Ads Manager
Pinterest says that people use their product to find ideas on what to do or buy. This makes it an almost-perfect platform to reach individuals who are looking to discover new ideas and products, and importantly, have some intent to purchase.
By promoting Pins, advertisers can get their content to the right audience in the most relevant way. The new Pinterest Ads Manager allows you to create, edit and manage Promoted Pins. Here's how to get up and running:
3 super-quick steps to set up Ads Manager
1. Convert to a business account
To use Ads Manager, you'll need to have a Pinterest business account. To set up a new business account or convert your current account to a business account visit: https://pinterest.com/business/convert/
2. Add some Pins
Currently, you can only promote Pins from your profile, so make sure to add Pins before you start setting up a campaign.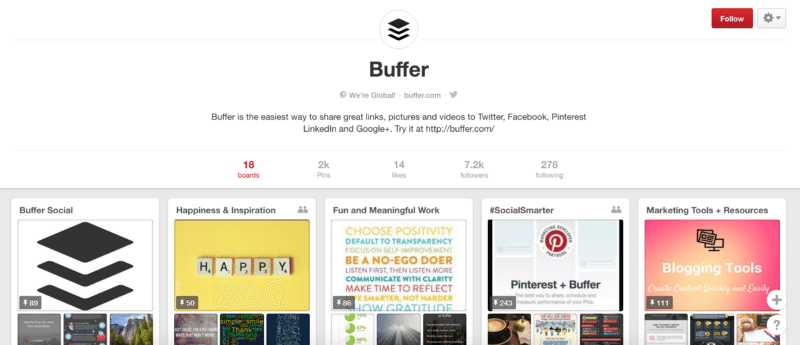 3. Access Ads Manager
Once you're set up on a Pinterest business account, to access the Pinterest Ads Manager, visit: https://ads.pinterest.com/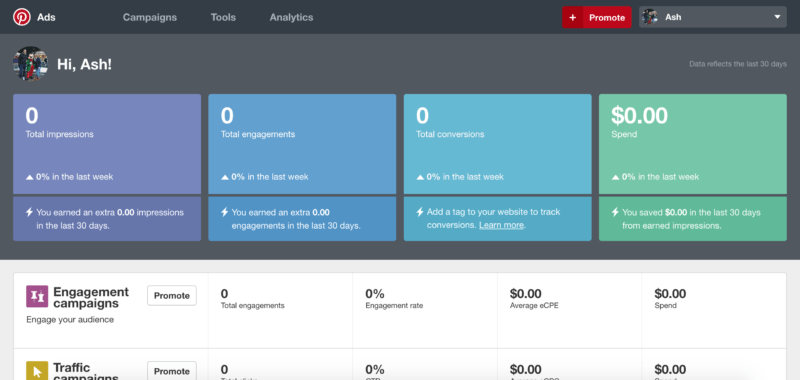 Creating your first promoted Pin
To promote a Pin, you first need to create a campaign. Campaigns help you organize your Promoted Pins, almost like boards on Pinterest.
Campaigns can be used for a variety of reasons. You could use a separate campaign for each seasonal promotion you're running or even use a campaign to test a variety of targeting options on the same Pin in order to measure what performs best for your business.
Ready to get your first campaign rolling? Let's go!
Setting up a campaign
To set up a campaign, navigate to the Ads Manager page and click on the Promote option on the top right of the page:

Next, you need to select your campaign goal. This step is super important, and you need to choose the goal which best reflects what your business is looking to get out of the campaign.
The goal you pick for your campaign will determine how your Pins get delivered to your audience. The two options available are:
Boost engagement with your Pins: Track your audience's signals of intent. You get charged for each engagement (closeup, repin, click) on your Pin.
Get traffic to your website: Send a motivated audience to your content. You get charged for clicks to your website.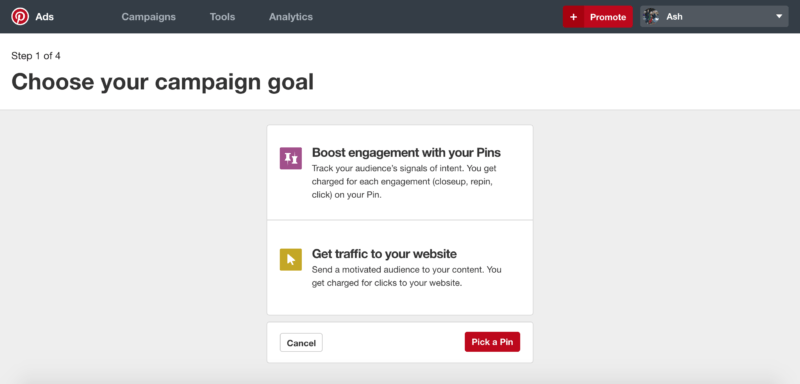 After selecting a goal, you'll need to enter a few campaign details:
The name of your campaign
Campaign dates (the end date is optional)
Your daily budget (this is the most you want to spend on your campaign in a single day)
Pro tip: If you have a specific timeframe and budget in mind for your campaign, you could take your total budget, divided by the number of days your campaign will be live to work out your exact daily budget. For example, A $200 campaign spread over 10 days would work out at $20 per day.
Choosing a Pin to promote
The next step is to pick which Pin you'd like to promote. You'll be able to select any Pins that are already on your boards, and to make it easier to find the exact Pin you'd like to promote you can filter for your most clicked or repinned Pins in the last 30 days or search via URL or keyword.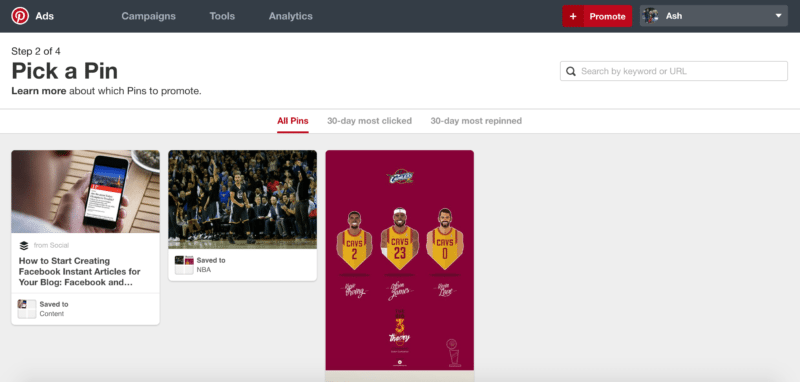 Pro tip: Pins that are performing well organically can be great ones to promote. TO discover which of your Pins are performing the best you can check your Pinterest analytics to see top Pins, most-clicked on and most-repinned.
Complete campaign details
After picking the Pin you'd like to promote, you'll need to complete a few more details:
You have the option to name your promoted Pin
You can update your destination URL (the web page people will go to after clicking on your promoted Pin). It's not essential to update this URL, but ut can be incredibly useful if you're using UTM links to track any marketing efforts.

Interests and keywords
Once you've completed the above details, you have the option to select some relevant interests and keywords to use for targeting.
People will see Promoted Pins as they browse their home and category feeds, and with interest targeting, you can reach people based on their love for particular topics, such as yoga, or architecture.
When it comes to interest targeting, try to consider related interests to reach an audience who could also be interested in your business. For example, someone with an interest in healthy recipes may also be interested in fitness.

If you'd like your Promoted Pin to display in search results too, you need to include some keyword targeting information.
Keyword targeting enables you to reach your audience when they are looking for specific things to make, buy or do within the search results and related Pins.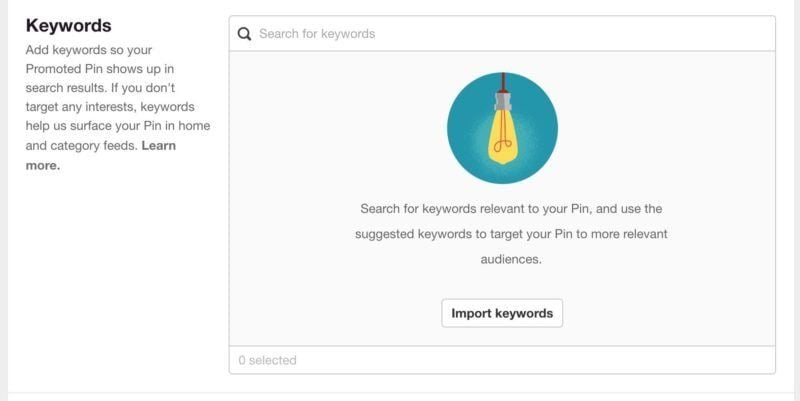 When thinking about keywords, it can be extremely useful to think from audience's perspective, and think about what you would search for if you were interested in topics related to your Pin.
For example, if you're Pin is focused on running, people may also search for related keywords like 'running motivation', 'running quotes' and 'running shoes'.
Locations, Languages, Devices, and Genders
The final details you need to complete to get your Promoted Pin targeting all set up are:
Locations: Currently you can target locations in the US and Canada (support for more locations is likely to come later in the year)
Languages: This option defaults to all languages. You can select specific languages.
Devices: Allows you to choose whether you'd like to target all devices or specifically mobile web, iPhone, iPad, Android mobile, Android tablet or web.
Genders: You can choose to target Pins towards both or either females or males (unspecified means people didn't specify a gender when they signed up to Pinterest)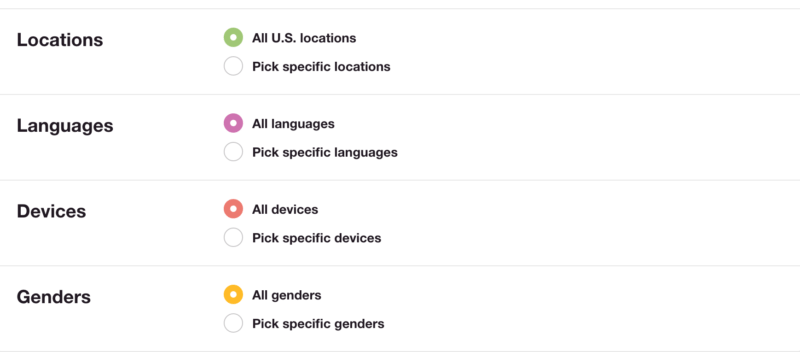 Once these details are complete, the final step is to set up your billing. Then your Promoted Pin is good to go! ?
To add more Pins to your campaign, you can simply start the process again and once you've selected your campaign goal. Then, choose an existing campaign: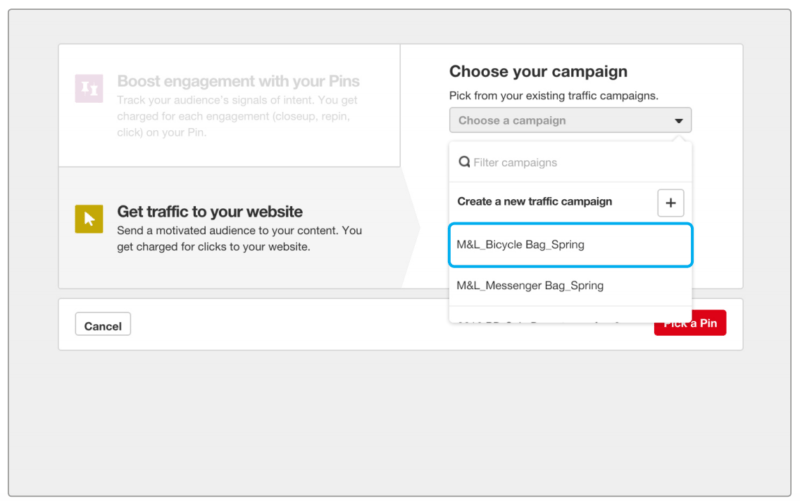 Over to you
I hope you found this post useful. Pinterest is such an amazing platform to drive traffic and connect with an audience – I'm excited to see how Pinterest Ads Manager and Promoted Pins develop in the near future.
Do you use Pinterest for your business? Do you plan on experimenting with Promoted Pins? I'd love to hear your thoughts in the comments below.
P.S. Did you know Buffer Awesome and Buffer for Business customers can post and schedule to Pinterest through Buffer? Find out more and get started here.
➤ Sources: Pinterest [1, 2, 3], Techcrunch