With the rise of messaging apps and bots, the way many of us use social media to share and interact is fundamentally changing.
As we progress through 2016, and beyond we'll start to notice most social activity is no longer going to happen in public, instead transitioning to private groups and messaging apps. This represents a significant change in what "social media" is.
This is a change that will challenge everything we've learned about social media over the past decade-or-so. Until now, standing out in the timelines and News Feeds typified by Facebook and Twitter have been the primary goal of most social media strategies. But what about when these feeds are no longer the first place people turn for discovery and interaction?
As one-to-one messaging begins to dominate the social media world, it creates a whole host of new questions, challenges, and opportunities for marketers. In this post, we'll explore these challenges and opportunities to find out how bots and private messaging may affect the way we all use social media.
Let's go!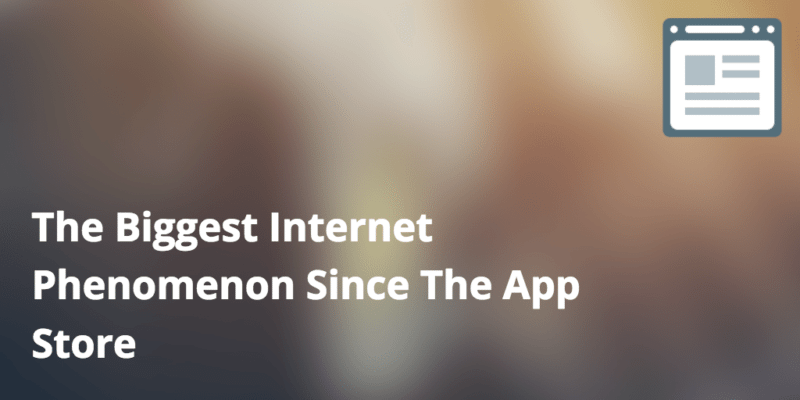 Behind closed doors: the new social media
In a public Q&A session November 2014, Mark Zuckerberg explained: "Messaging is one of the few things that people do more than social networking."
And since 2014, Facebook have made huge strides in the messaging space, acquiring Whatsapp for $19bn and building Messenger up to 900 million users worldwide.
When you take a look at the data, you can see why Facebook are putting such an emphasis on messaging apps and dark social, as reported by The Economist:
A quarter of all downloaded apps are abandoned after a single use. Only instant messaging bucks the trend. Over 2.5 billion people have at least one messaging app installed. Within a couple of years, that will reach 3.6 billion, about half of humanity. The market's leading duo, Facebook Messenger and WhatsApp, which is also owned by Facebook, are nearing one billion monthly users each. Many teenagers now spend more time on smartphones sending instant messages than perusing social networks. WhatsApp users average nearly 200 minutes each week using the service.
When it comes to sharing, private messaging already dominates, with almost 70% of all online referrals come from dark social: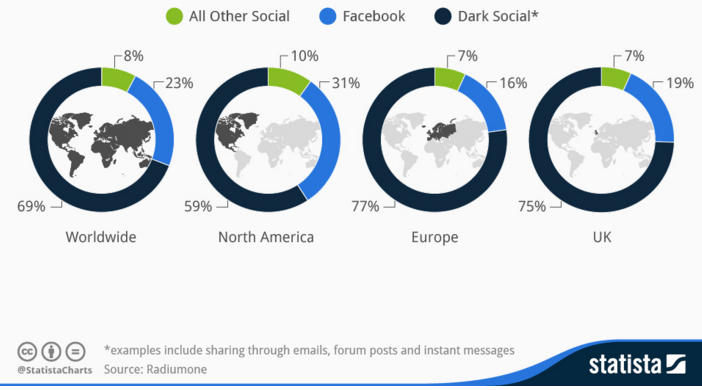 Dark social channels include:
Messaging apps: Messenger, Kik, Whatsapp
Email
Private browsing
Alongside dominating social sharing, messaging apps have now surpassed social networks in terms of monthly actives user numbers too, as illustrated in the below graph from a Business Insider report: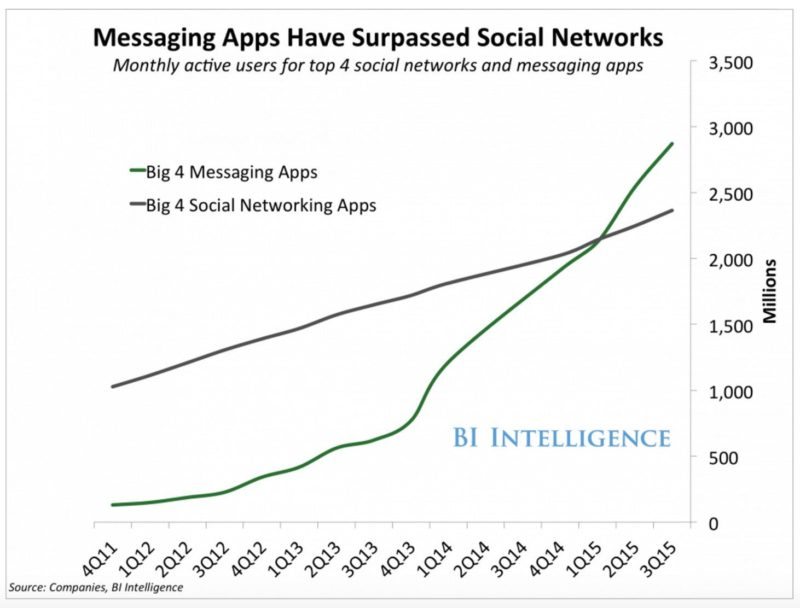 Marketing through messaging apps
The transition from public social media to chat apps could be the biggest change in internet culture and marketing since social media itself. However, it's still not clear exactly how brands will be able to maximize the opportunities presented by messaging apps.
Consumers consider messaging apps as more private than social media and may not react too well to the traditional interruption advertising model where brands pop up in their inbox without permission; though it's rumoured that ads could be coming to Messenger: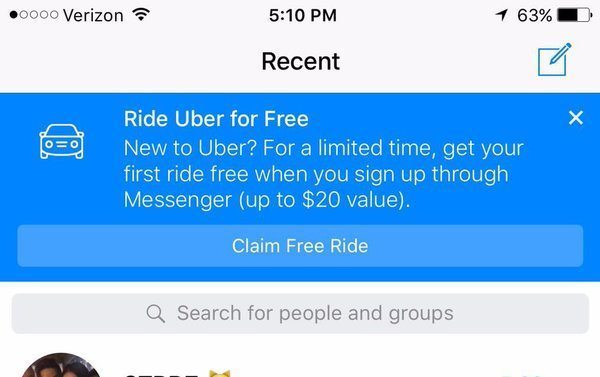 (h/t Ryan Hoover and Jonathan Tzou for this spot)
One brand who have started to experiment with dark social, and marketing through messaging apps is Adidas, who are using WhatsApp to build hyper-local communities in cities across the world and have previously used Twitter's DM feature to invite a group of advocates to a private conversation with one of its sponsored players.
On the brands dive into dark social, Florian Alt, senior director of global brand communications for Adidas Football explained to The Drum:
"There is excitement about the opportunity dark social presents and how it can help Adidas become the most personal brand, so we expect it to play an increasingly important role in our strategy. As long as the dark social platforms continue to innovate, we'll find new ways to use the technology.

"In the past you could only send text, but now you can send video and image, which has opened doors. Using a mix of content we can reward advocacy with personalised approaches like inviting consumers into a dialogue with Adidas stars, offering live coverage from events or simply handle customers service queries."
Comedy website Funny or Die have also been utilising Kik to distribute content since early 2015 and have seen some great results:
"It's amazing how quickly we built up a following on Kik," Patrick Starzan, Funny or Die's vice president of marketing and distribution explained in a blog post. "It took about three months to get to 1.5 million chatters, compared to the two or three years it took to get the same number of people on social networks."

"When we send out broadcast messages to our Kik chatters – usually with links to new videos – we see conversion rates as high as 10%. That's pretty substantial since we only send out the broadcast messages once a week, whereas we'll send posts to social networks like Facebook and Twitter five or six times a day and see lower conversion rates."
When it comes to brands using messaging apps for marketing it feels like we're just testing the water, a lot like social media marketing felt back in 2007-08 when people were just getting to grips with Facebook and Twitter.
Right now, it's a time for testing and learning to figure out what works and how open customers are to interacting with brands one-to-one setting.
Messaging as an operating system: The bot ecosystem
"Chat apps will come to be thought of as the new browsers; bots will be the new websites. This is the beginning of a new Internet."

– Ted Livingston, founder of Kik.
While there are millions of smartphone apps available, the average smartphone owner downloads almost zero new apps per month and a study by comScore shows that users actually spend the majority of their time in just three apps with the average American devoting about half their app time to a single app.
This presents a huge problem for businesses and marketers as consumers are not spending as much time in apps as expected. Bots can go a long way to solving this problem, with the biggest apps, where users are spending the majority of their time, becoming platforms to which other apps integrate to.
Essentially bots are a way to simulate conversations human users. You can interact with bots for entertainment or to get things done. For example, instead of phoning for a taxi, you can now order an Uber using a Messenger bot.

Unlike apps, bots don't need to be downloaded, they live on servers, not a user's device. This means using bots should provide a smoother experience for the user as switching between bots doesn't involve tapping on another app.
The trend of apps and bots living within larger platforms has already taken off in China, where a large number of brands run bots through WeChat. And today at F8, Facebook are expected to announce their Messenger bot store, following hot on the heels of Kik, who announced a bot store of their own last week.
According to Wired, bots within WeChat enable its 600m monthly users to book taxis, check in for flights, play games, buy cinema tickets, manage banking, reserve doctors' appointments, and even apply for mortgages, without leaving the app.
How brands are using bots
Social media and mobile apps have already made huge strides in streamlining communication between businesses and customers. However, some processes are still far from perfect as David Marcus, from Facebook's messaging division explained to Wired:
"Look at the traditional e-commerce journey: you go to a website. You have to create an account – that's one email. You add something to your shopping cart and check out – that's another email. The package ships – that's another email. When it arrives, that's another. That's four emails that are distinct threads that are not canonical. And the only thing you can do for interactions inside an email is click on a link and go to a website, where you have to re-authenticate."
Facebook believe that bots can make life easier for their 1.5 billion users and some brands have jumped on board early to test out Messenger bots as a way of interacting with customers. For example, KLM is now giving passengers the option to receive flight updates, and boarding passes through Messenger.
Once a user has booked a flight with the Dutch airline, KLM will open up a message thread and send booking confirmations, flight updates, and their boarding pass. Passengers will also be able to chat with KLM customer support directly inside of Messenger.
Receive your booking details via MessengerUse Messenger to get on board. All your travel info in one place.

Posted by KLM on Wednesday, 30 March 2016
Bots reduce friction in a customer's journey and make customer service interactions easier for customers, and for brands. This could mean instead of customers turning to public-facing channels like Facebook, or even email, the vast majority of customer support and interaction could come through messaging platforms where users will expect to have everything they need (account information, receipts, order history,) all in one place.
Bots will save users from installing multiple apps that they'll infrequently use, like airline apps. Instead, bots will enable users to utilize the same features and functionality on the platforms they use daily – like Slack and Messenger.
What this all means for marketers
Organic engagement on many social channels is in decline, but at its heart, social media has always been about connecting with people one-to-one. That'll never change. What will change is the strategies and platforms we use to connect.
As customers transition to private messaging, it's essential for marketers to remember that above all else, messaging interactions are opt-in experiences, much like email lists. And with permission also comes a higher set of expectations.
Content delivered through messaging apps and bots will need to be relevant and more personalized than a Facebook post to your whole audience, and oftentimes users will need a reason to open up a conversation or opt in.
Personalized content and ease of interaction and are great ways to encourage opt-in. Another great way is to own or create utilities that encourage engagement with your brand, for example, "a grocer or a food brand, for instance, could develop a recipe generator bot, so all one has to do is type the name of an ingredient, and get a bunch of recipe recommendations," explained Christian Brucculeri, CEO and director at Snaps to Digiday.
The possibilities for messaging apps and bots are endless, and Messenger opening up a bot store could be the most significant launch in the tech and marketing industries since Apple first launched the App Store.
Over to you
I'd love to hear your thoughts on social media's shift towards more one-to-one that one-to-many communication. What do you think the future holds for marketing through messaging apps and bots?
Excited to hear your thoughts in the comments below.