What sets winning businesses apart from the competition?
Automation is one edge. The Lenskold Group found that 63% of companies that are outgrowing their competitors use marketing automation.
What is an underrated way to drive more conversions?
Again, automation. Companies that use marketing automation also see 53% higher conversion rates than non-users, according to the Aberdeen Group.
All of which raises the question: What kind of marketing automation are these winning businesses doing? And how might we be able to implement this for our business, too?
I've had a really fun time digging into this topic and researching how automation can help you with personalization, lead generation, relationship building, consistency and delighting your customers. I'd love to share what I found!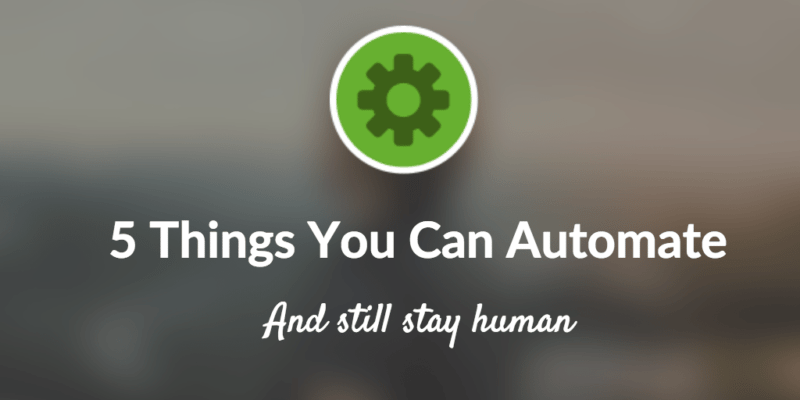 How to scale the things that don't scale
At its best, marketing automation is software and tactics that allow companies to buy and sell like Amazon — that is, to nurture prospects with highly personalized, useful content that helps convert prospects to customers and turn customers into delighted customers. This type of marketing automation typically generates significant new revenue for companies, and provides an excellent return on the investment required. – Hubspot
The above quote from Hubspot sums up marketing automation perfectly.
The goal of automation is not to remove work entirely but to help you work more efficiently. With automation you can save time but still drive results for your business.
As amazing as automation is, it's important to remember that people buy from and engage with other people. When used correctly, marketing automation frees up time from manual tasks (like moving data from one tool to another) and empowers us to be more connected to our audience and customers.
Many businesses (Buffer included) are built off the back of doing things that don't scale. And automation can feel counter-intuitive to that notion.
However, with the rising popularity, and in many cases necessity, of automation, we like to look at it as a way to 'scale the things that don't scale.'
How winning businesses use automation (and how you can, too)
1. Automation as personalization
You can't beat a nice, warm, personalized welcome from a company founder when you sign up to a new product and it's something that Joel initially done at Buffer when we first launched:
In the early days, I was in touch on my personal email address with almost everyone who signed up for Buffer. With low volume, I could always respond immediately and people loved it.
If your company continues to grow though, you'll reach a point where it becomes hard near-impossible to manually reach out to every single customer 1:1 upon sign up.
Thankfully, automated messages enable us to keep a nice, personal feel at scale. Here's a copy of our current (automated) welcome email: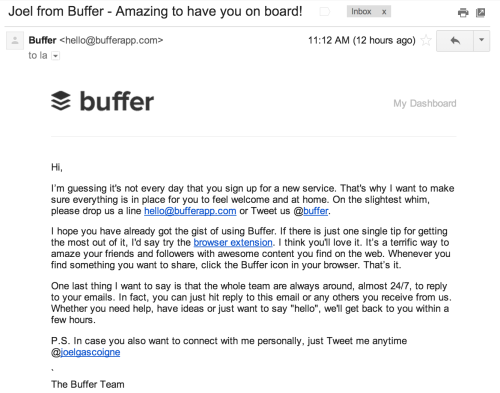 Personal conversations are extremely important in business and as Intercom explain over at their blog customer communications will increasingly need to have a personal feel to them:
We believe in the value of personal conversations between businesses and customers. We believe the future of customer communications will be much more like the chats you have with friends, and much less like tickets, applications and transactions that you formally submit to siloed departments.
Event triggered messages in action
Integrating super personalized messages into your acquisition and lifecycle marketing strategies is a great way for your business to automate this process and you can still keep the messages personal.
Automated messages can now be triggered based on a myriad of user actions and reach people at the precise moment they're needed, making the messages feel a lot less robotic and much more intimate.
Think of this as a way for your business to say, "We're listening and here's what we can do to help right now."
Here's an example of an event trigged message in action: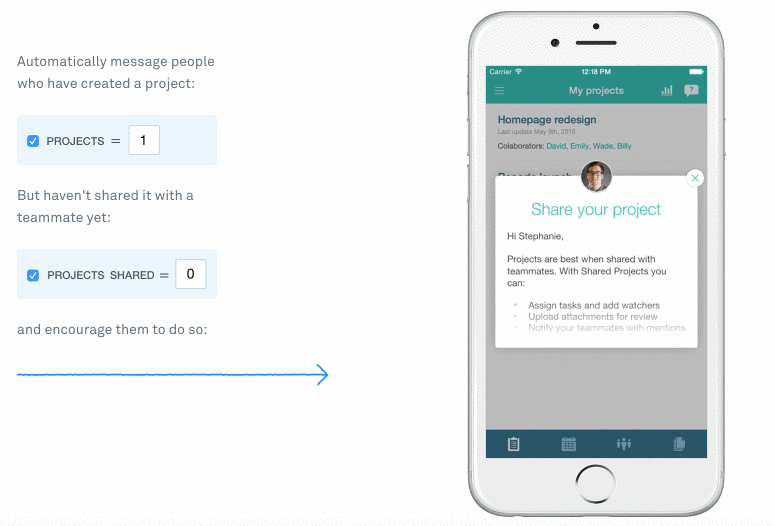 In this case, someone has signed up to a new tool, but not yet shared it with a teammate. This message helps guide the users into sharing. It's concise, timely and helps to new user to get the most out of the product.
The more you show a customer that you're listening and care, the more likely they will be to become loyal and eventually a promoter of your business.
More so than ever, it's important to think about how you can give your event triggered messages a personal feeling. When you automate your messaging like this, try to humanize your content and make your customer feel like it's a 1:1 message.
Don't automate everything
A key thing to remember is that you shouldn't automate every single message you send. It can also be a great strategy to check in with your customers via a non-automated message from time to time.
At Buffer we still send out 1:1 messages to individual customers every day to see how they're getting on and how we can improve the Buffer experience for them.
Top tips for automated messages
Use their name and/or business name in the message: "Hey Ash, how are things at Buffer?" sounds much more personal than: "Hi there, how are things with your company?"
Use friendly language: When you're creating automated messages it can be easy to fall into using rigid 'business-y' speak, which can oftentimes sound robotic. When I create any automated messages, I like to use the kind of language I would use with colleagues. This approach feels more open and friendly.
Introduce yourself: "Hey there Steve, I'm Ash, content crafter at Buffer…" Introducing yourself in your first message with a customer or potential customer makes the message feel like the start of a conversation, rather than a one way broadcast.
Tools & Resources
Intercom:
Intercom helps your business to communicate with customers, personally, at scale — on your website, inside web and mobile apps, and by email.
With Intercom you can set up personalized, triggered messages based on actions without your product or website.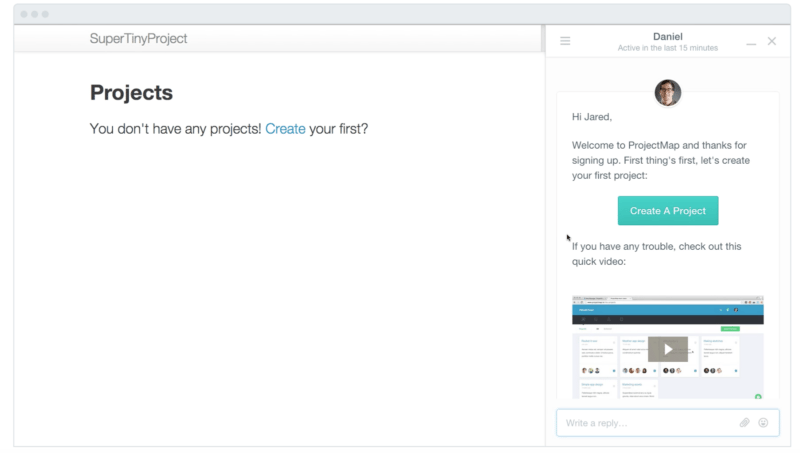 Baremetrics blog:
On their fantastic blog, Baremetrics shared a breakdown of all the ways they stay in touch with users, including the exact emails they send in the days, weeks and months after sign up: The 17 emails we send to engage customers, reduce churn & increase revenue.


2. Automation as consistency
Consistency is a key to social media success. If you want to break through the noise you'll need to maintain a consistant posting schedule across all of your social media channels.
Managing  social media channels can be time consuming though. Especially if you're active across a number of social media platforms like Facebook, Twitter and Linkedin.
Rather than popping in and out of each network every few hours when you'd like to post, automation makes means we can do this process all at once.
Simply gather all your content for the day (or week!) and load it into a social media automation tool — like Buffer — and your posts will be shared on your chosen date and time.
Social media automation in action
Social media automation tools like Buffer let you connect your different social network accounts so that you can create queues of content that get sent at the times you choose.
Tools like this are incredibly helpful for automating social sharing as you can schedule all your content and posts at once and let the tool handle the rest. This saves a ton of time.
Here's a quick look at how Buffer works:
Top tips for automated social media updates
Make updates timely: When you're scheduling social media content, try to think about the best time to post. For example, content like "7 things to do in London over the weekend" will make more sense on a Thursday or Friday afternoon than a Sunday.
Customize the message for each network: It's a good idea to customize your updates for each network you're posting on.
Add a personal touch: Adding in a personal touch to your social updates by sharing a personal note or anecdote can be key in humanizing your messages. Here's an example below from our Twitter feed: "Goodbye, bunk beds!"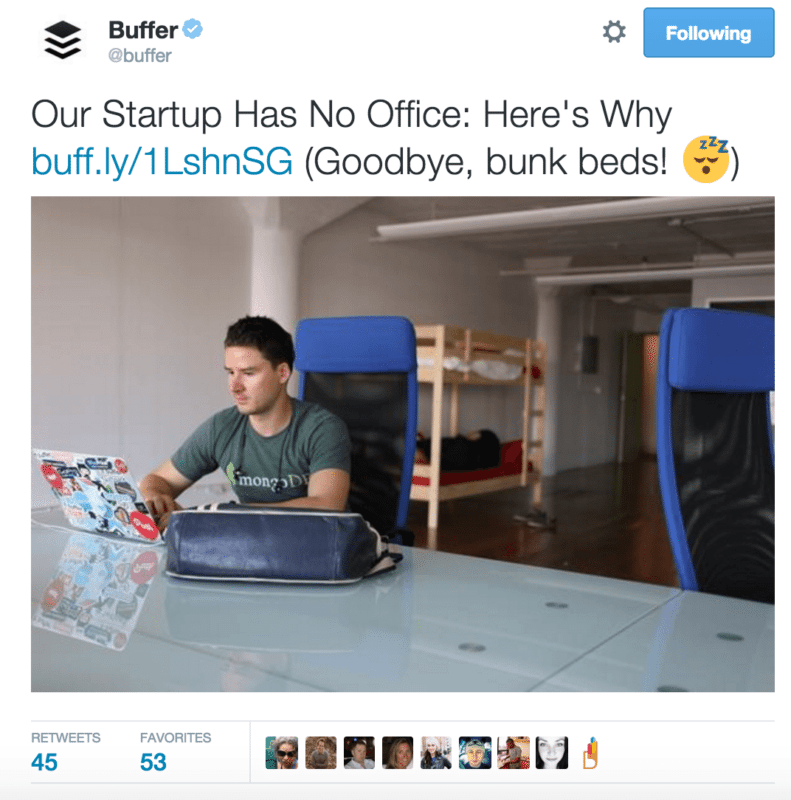 Tools & Resources
Buffer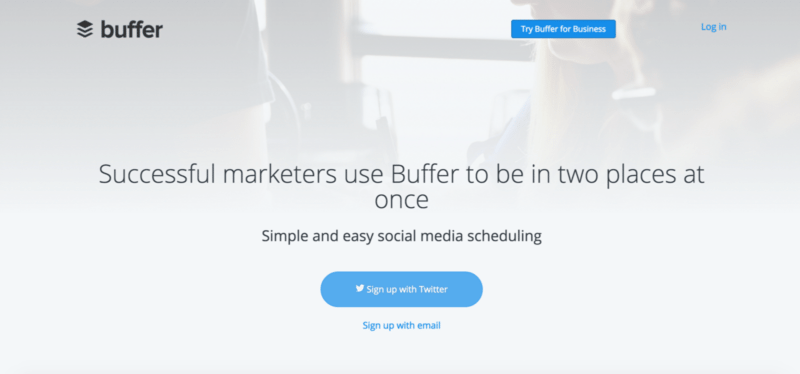 Join more than 2 million people who save time on social media with Buffer. Schedule your first post now.
Optimal Posting Tool
If you want to really dive into automation, it can be great to figure out what times are best for you to post content.
The Buffer Optimal Posting Tool will help you to find out which times are best for you to share updates on Twitter. Here's how it works:
3. Automation as welcoming
Lead generation is almost always on the top of our minds as marketers. The more leads we generate, the more potential customers we have and the more revenue we'll have to show for our marketing efforts.
Managing your funnels can take a lot of work through and be time consuming, especially as there are often so many components to consider: CRM tools, email marketing lists, social media and much, much more.
Automation can be a huge help here to speed up the process of responding to any leads and also passing information between the various tools your team uses.
Automated lead generation in action
The below infographic from Integrate highlights the efficiencies of automated lead generation.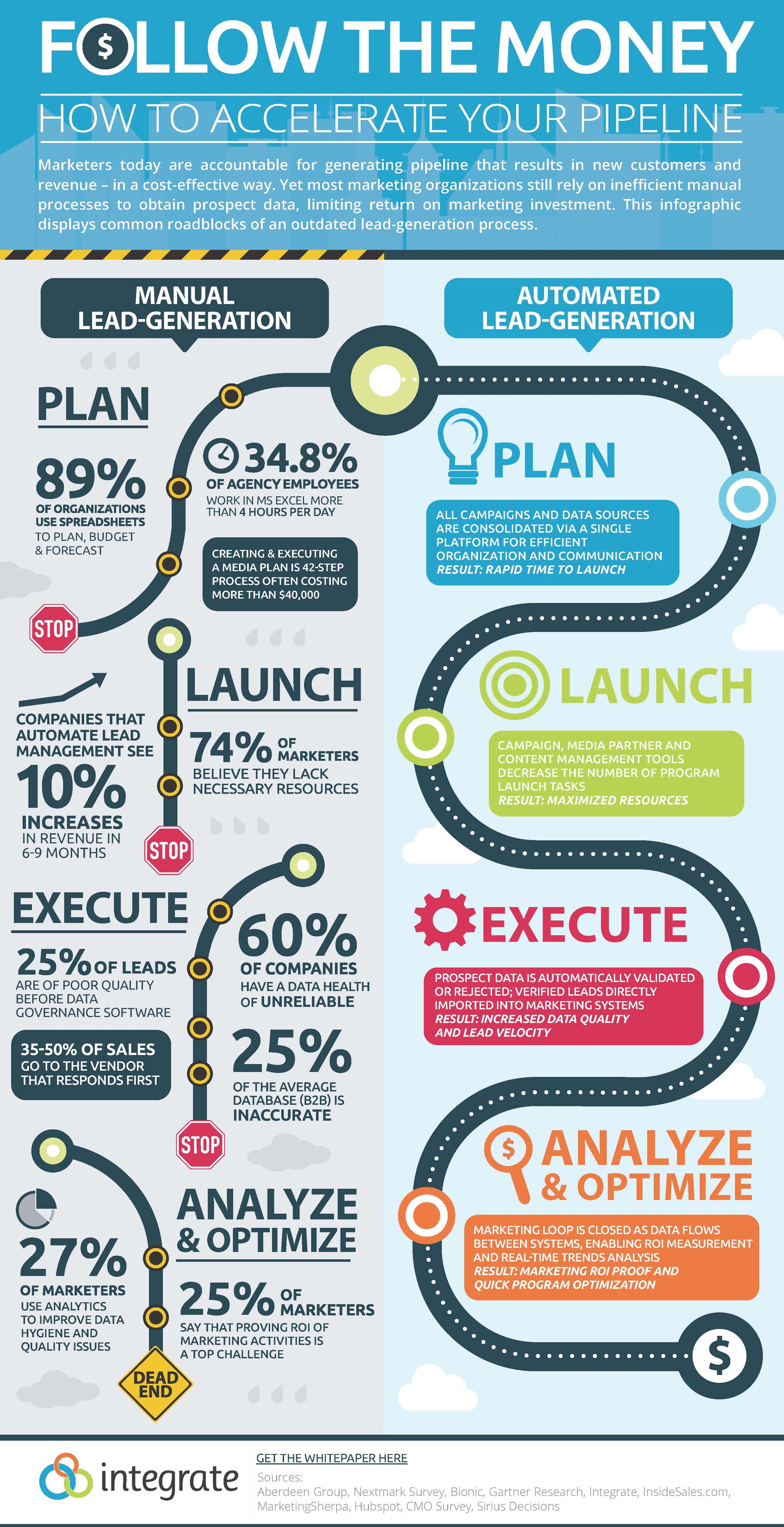 Top tips for automated lead generation
Find your tone: For your lead generation to be successful you'll need to build a connection with your prospect. One of the best ways to do this is through the copy you use in your ads and landing pages. Start with ensuring your tone of voice strikes the right note. Be more conversational and friendly in your communications and less robotic. Think about how to connect with each prospect on a emotional level.
Use auto-responders: For years marketers have been sending auto responder email messages to people who sign up to our mailing lists. This is a similar tactic. Using a tool like Zapier you can send a thank you Tweet to anyone who signs up to your list via a Twitter card.

Tools & Resources
Facebook Lead Ads
Facebook Lead ads make the process seamless for marketers to ask for info like emails, names, job titles, and more. With lead ads, potential customers can sign up for what you're offering, and you'll get accurate contact info to follow up with them.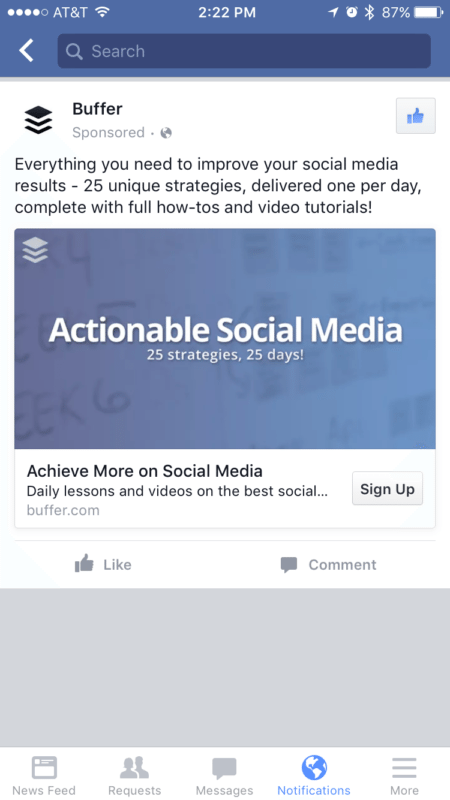 Find out more about how you can leverage Facebook Lead ads for your business here.
Zapier blog:



On their blog Zapier have shared stories from a few of their customers have successfully used automations to take all of the tedious work out of lead generation. Check out the full post here.
Twitter lead generation card
Twitter's lead generation card is a great way to build your email list and collect new leads.
This card allows you to sign up to an email list or register for a special offer directly from Twitter. When you use a Twitter card, all the user has to do is say 'yes' to opt in and Twitter automatically fills in their email address.
4. Automation as conversation
Relationships form over time and it can be hard to find enough hours in the day to build 1:1 relationships with each and every one of your customers. Though it's certainly a noble goal to have in mind.
Automation, through email drip campaigns, is a great way to create multiple touch points and continue to build relationships with both customers and prospects.
Email drip campaigns are essentially a series of emails scheduled to be sent out automatically once someone subscribes.
As Zapier explain:
Put simply, drip marketing is all about giving people the right information at the right time. If someone just subscribed to your blog newsletter, for example, a drip campaign could send a welcome email right away, and two days later, an email that shows off some of your most-read content.
Email drip campaigns have proven to be extremely successful for many companies and email-marketing company, Emma, found that relevant emails drive 18x more revenue than broadcast emails.
Emma also discovered that automated emails generate 119% higher click rates than broadcast messages!
Drip campaign automation in action
Here's a quick overview of a drip campaign from marketing automation company Pardot: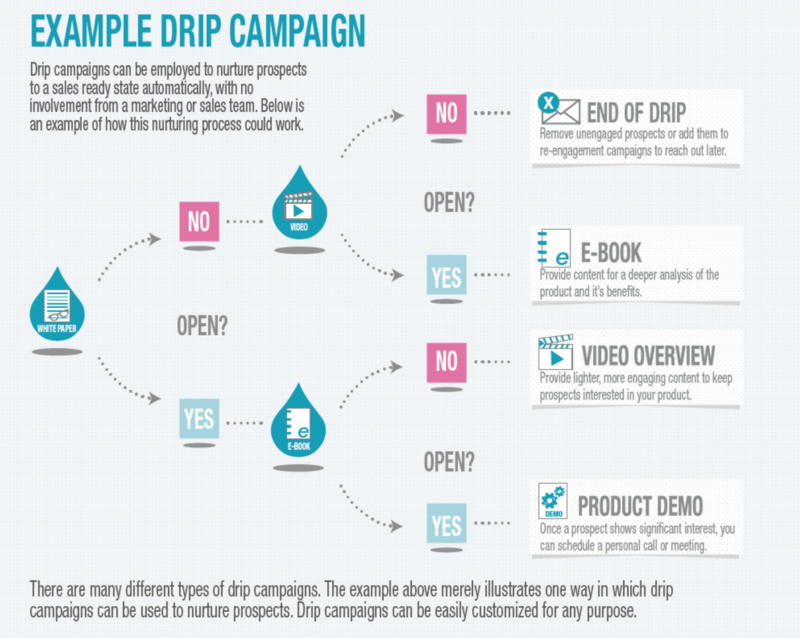 Pardot also shared a number of different drip campaign types: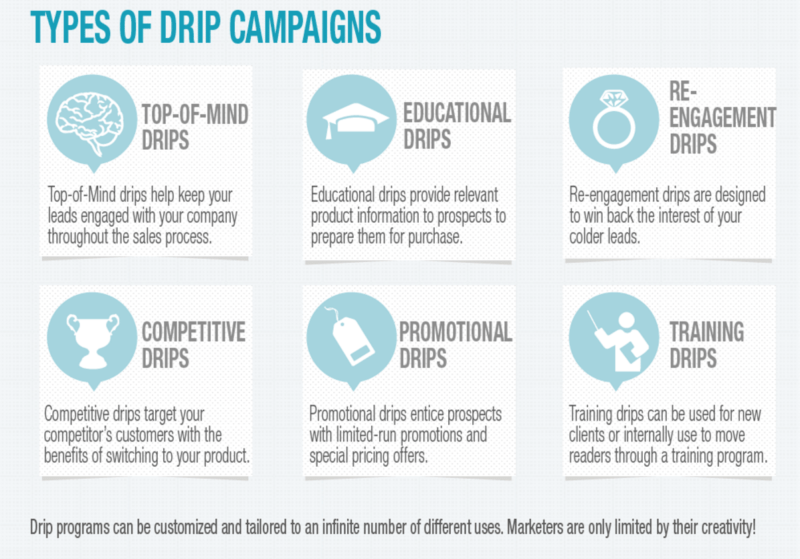 At Buffer we're building a collection of learning courses (Educational Drips from the above graphic), based on the activities and improvements we're passionate about. You can check out the courses here.
Here's how to keep your drip campaigns feeling human.
Top tips for drip campaigns
Use a conversational tone: If you want your campaign to have a human feel about it, the tone your create email drip campaigns in is so important. In 1967, Albert Mehrabian came up with the '7%-38%-55%' rule highlighting that conversation is made up of three parts: The actual words you use (7%); the tone of delivery (38%), and the body language accompanying your words (55%). Therefore, if you're trying to connect with you need to pay close attention to the tone of your delivery (and body language if you're including video).
Send messages from a real person: We love to connect with other people and even-though your drip campaigns may be automated, sending them from a real person is a great way to give a more human feeling to anyone reading the messages. Here's an example of how Unbounce Oli Gardner leads one of their drip courses: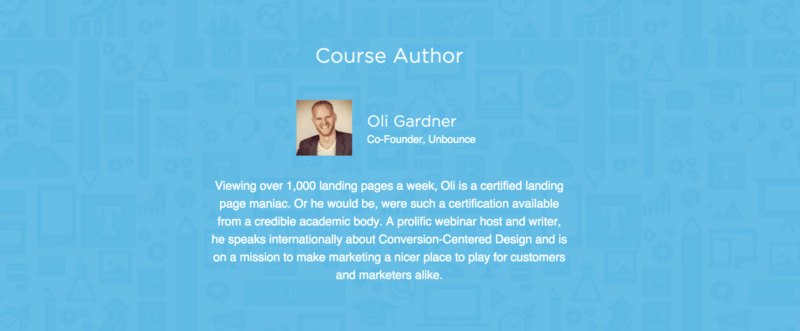 Tools & Resources
Convertkit
ConvertKit helps you manage emails lists and drip campaigns.
Zapier blog
Our friends over at Zapier have created an awesome list ofthe 25 best email marketing apps to send drip Campaigns.
5. Automation as delight
You should take extraordinary measures not just to acquire users, but also to make them happy. – Paul Graham
At Buffer, we're really big on customer delight as Nicole explains:
Our customers are the true heart of all we do here at Buffer — and we want to make sure the community knows it. We work on this in lots of ways—from striving for excellent customer support to hosting meetups to sending hand-written notes, swag and special gifts.
Delight will always need some form of manual work: a nice handwritten note or a special gift can't always be automated and that's the way it should be.
However, one way we automate delight at Buffer is through our email receipts.
Email receipts are an amazing opportunity to connect with your customers in a human way. Everyone who pays for your product or service will receive a receipt and often receipts are missed opportunities to build your brand and nurture customer relationships.
Twitter and Square CEO Jack Dorsey, called receipts an 'untapped canvas' and publishing recently. As Buzzfeed reports:
"What if we see the receipt more as a publishing medium — a product unto itself that people actually want to take home, that they want to engage with, be fully interactive with?"
Automation as delight in action
At Buffer, we like to show our customers just how grateful we are to have their support in our automated email receipts. Here's an example: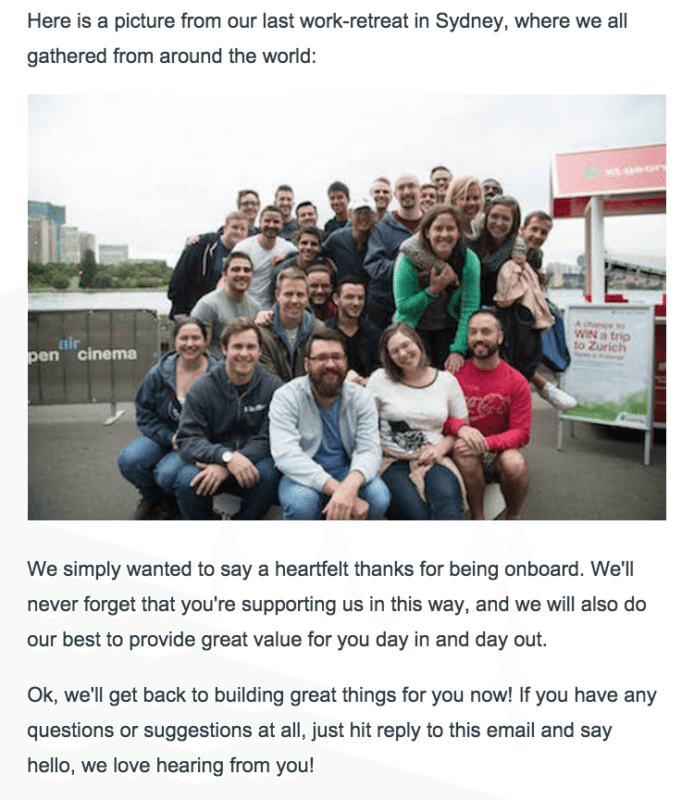 Top tips for delivering automated delight
Use photos: Humanize your receipts by showing photos of team members, office and / or sharing interesting, biographical data to make your customer feel closer to the company.
Invite questions / responses: A receipt is a great way to connect with a customer and ensure you're doing all you can to keep them happy. It could be a good idea to invite replies and ask questions within your receipts to show you've got the customers back.
Tools & Resources
Receiptful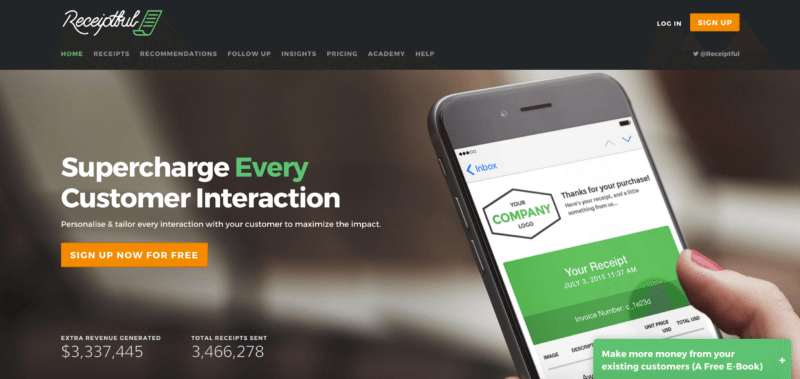 Receiptful helps you send beautiful and engaging e-mail receipts that includes upsells and marketing messages which make you more money.
Receiptful Academy
Receiptful also have an awesome resource center full of tips & tricks about how you can maximize the value of your receipts. Check it out here.
Over to you
Marketing automation can be hugely powerful for any business and it's key to remember that no matter how many tasks you automate, you're still dealing with people and the human-to-human connection cannot be faked.
I hope you've enjoyed this post and picked up a few useful takeaways to help your business. Have you experimented with automation at all? I'm super excited to hear about your experience and any tips below in the comments.