Did you know that there are more than 1.97 million blog posts published online every single day? And that's on WordPress alone!
Not to mention the millions upon millions of social media updates that are sent out to accompany those blog posts. GIFs, photos, videos, and Stories fill our feeds with enough content (surely) to last a lifetime. But even so, if you can find a way to create truly unique content, there's still plenty of opportunity for you to build a loyal audience.
Jay Baer has been building audiences, online and off, for more than 20 years. His approach to content marketing is simple yet incredibly effective. It all starts with an understanding of what your customers are looking for online and overdelivering on value through content and customer service.
In episode #38 of The Science of Social Media, Jay shares the steep challenges that marketers are facing today and the 4 ways they can fix their broken content marketing and social media programs.
A huge thank you to Jay for jam-packing this episode with actionable wisdom and takeaways for social media managers and marketers looking to create top-notch marketing and social media content in a noisy online world.
This episode is available on:
In this episode, here's what you'll learn:
Jay Baer shares tons of expert insights including the 4 (specific) ways that marketers can fix their broken content marketing and social media programs. You'll also learn other great things like:
Why content isn't quite performing like it used to (and what to do about it)
How social media is shifting and successful sharing strategies
Social media tactics for amplifying your content in new ways
How to create different engaging formats for all of the content you create
What to do as a small team (or team of one) to create great content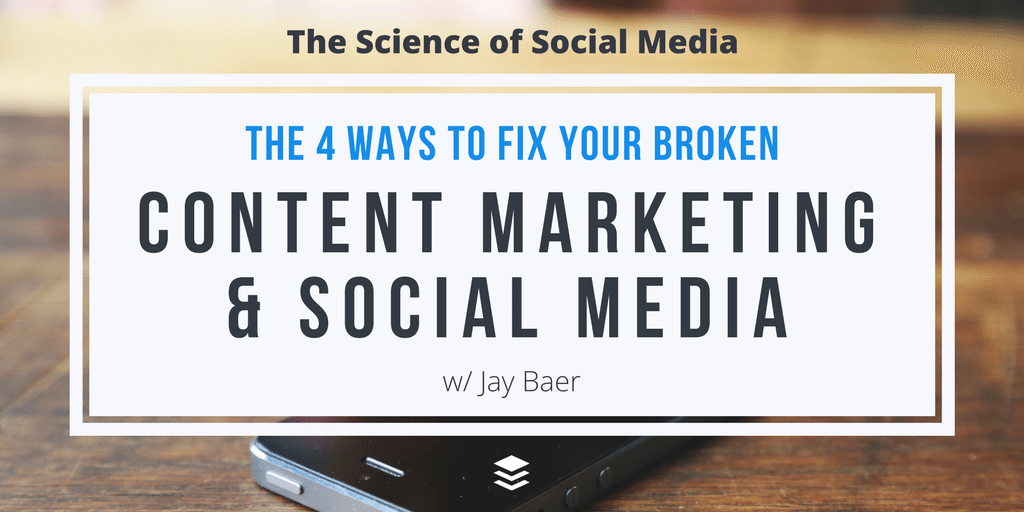 3 Key Takeaways for Marketers Looking to Improve Content Marketing and Social Media
In Jay's Words
1. Don't be afraid to change
Don't be afraid to change because the world is changing around you.
2. Don't be afraid to do less
Don't be afraid to do less because doing less can actually increase your results and opposed to decreasing your results.
3. Don't fall into a trap
Don't fall into the trap that says "the only way we can succeed today with social media and content is by paying for reach." That's not necessarily true. You can still succeed organically if you focus on crafting those breakout hits.
A Great Moment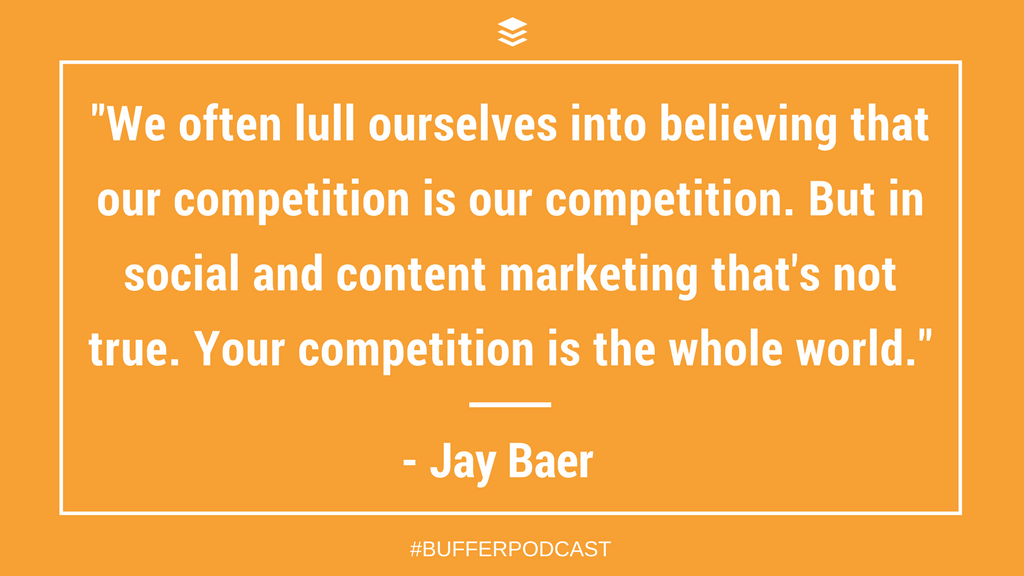 "We often lull ourselves into believing that our competition is our competition. But in social and content marketing that's not true. Your competition is the whole world."

– Jay Baer
Awesome People and Stuff Mentioned in the Show
Favorite Quotes
This idea of writing something and being done with it doesn't work as well as it used to. As an author I'm thinking, "Uh oh, we've got real problems."
We've got a limited resource which is attention and an increasing number of people fighting for that resource.
If you say, "Hey, we need to totally change what we're doing" then you are, by definition, admitting that what you are currently doing is less than optimal. And that's a challenge.
We're at a point now where you can't just create content… You have to be disproportionately good at it.
We take an inside-out approach to content amplification where you first promote your content to employees (employee advocacy). Then you can promote the content to current customers, prospects, and everyone else.
We all know that because of social media algorithms, organic reach has declined over the last several years. But instead of publishing less and only putting things out that are really good, we'll just pay to promote it.
What we have found is that as content becomes more and more important to companies – more and more people become content creators inside that company. But you have to ask: are you putting the best human capital behind every single piece of content?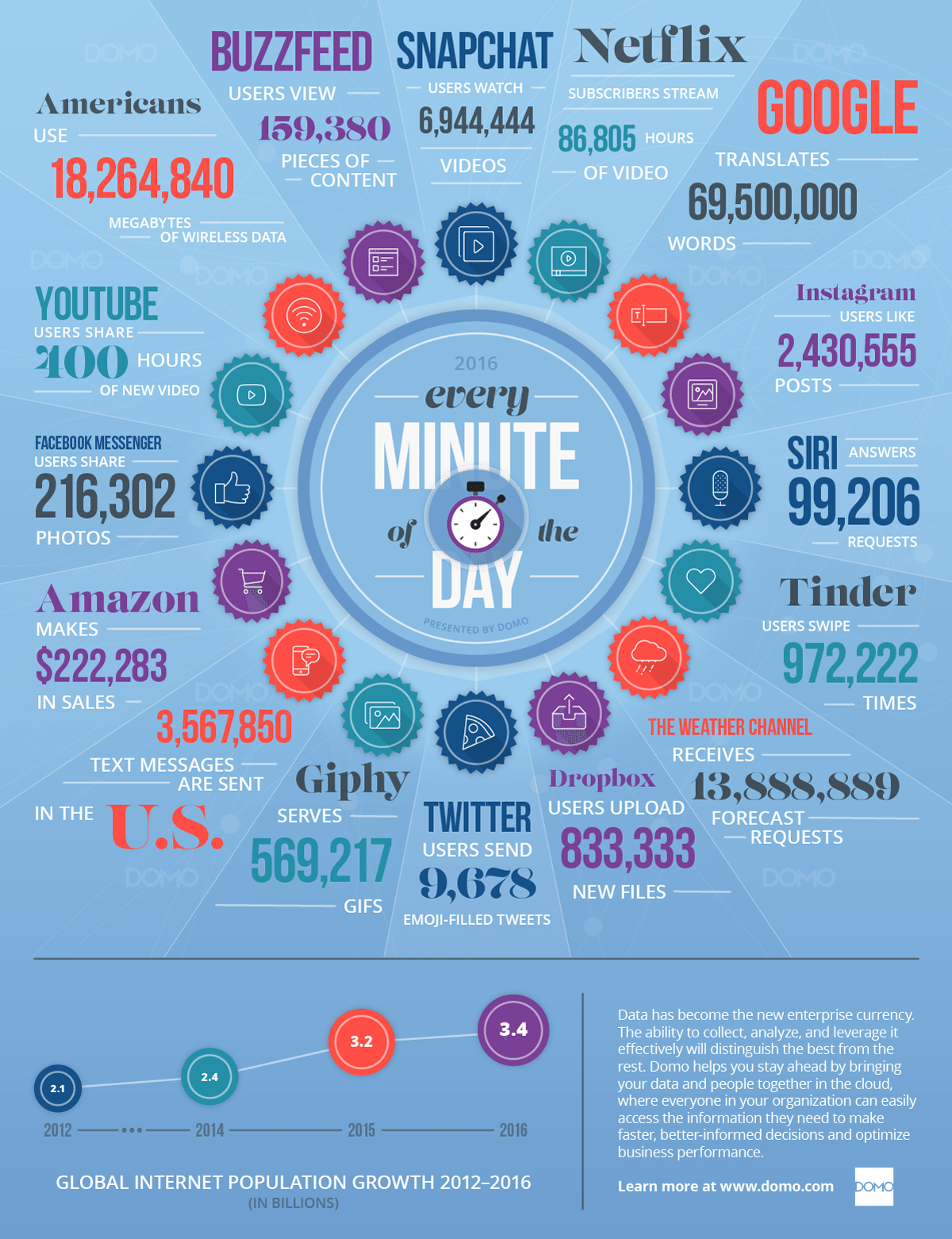 Data Never Sleep 4.0 – An incredible study via DOMO
How to Say Hello to Jay (and us)
Jay Baer is super fun to follow along with on social media – he's always sharing great articles! You can find Jay on Twitter here and check out his full portfolio at jaybaer.com.
Thanks for listening! We'd love to connect with you at @buffer on Twitter or with the hashtag #bufferpodcast.
Enjoy the show? It'd mean the world to us if you'd be up for giving us a rating and review on iTunes!
—
About the Show
The Science of Social Media is a podcast for marketers and social media managers looking for inspiration, ideas, and results for their social media strategies. Each week, we interview one of the very best in social media marketing from brands in every industry. You will learn the latest tactics on social media, the best tools to use, the smartest workflows, and the best goal-setting advice. It is our hope that each episode you'll find one or two gems to use with your social media marketing!
The Science of Social Media is proudly made by the Buffer team. Feel free to get in touch with us for any thoughts, ideas, or feedback.