Over the past six months, Instagram has released some exciting updates, from a new logo to longer videos and even a new way to share everyday moments with Instagram Stories.
Recently, Instagram announced another interesting (and long-awaited) feature: the ability to zoom in on photos and videos.
Instagram users can now pinch photos and videos to zoom in and take a closer look. This update has been released for iPhone users and Instagram says this update will be rolling out to Android over the coming weeks, too.
As with any new feature, this opens up a ton of opportunity and some more flexibility with the types of content we can create on Instagram.
We decided to dive in at the deep end and take a look at how this feature works, what brands are already doing with zoom, and how you can use it as well.
Let's get started.
How to Zoom on Instagram
To zoom on Instagram you simply need to pinch the screen.
The pinch to zoom expression has been a feature on Facebook, Twitter, and many other apps for a while now, and it's also a common practice within the iPhone camera roll, so it feels like a natural expression for Instagram's users to adopt.
Here's a quick example of Instagram zoom in action from PetaPixel:
When you pinch to zoom, the photo or video expands in a lightbox and moves out of the original frame to take over the rest of your screen.
Instagram images are still uploaded at around 1080px in width, so if you zoom in too far the content may look a little grainy. Here's a quick breakdown of the sizes Instagram uploads photos at:
Square Image: 1080px in width by 1080px in height
Vertical Image: 1080px in width by 1350px in height
Horizontal Image: 1080px in width by 566px in height
(Here's more info on ideal image sizes for Instagram and all other social networks.)
Why zoom opens up new content opportunities
As marketers, we're always on the lookout for new ways to create and share engaging content with our audience, and Instagram's zoom feature provides a great opportunity to do just that.
Zoom allows us to get a little creative with our content and also makes Instagram posts a little more interactive. Instead of simply viewing an image or watching a video, users can now zoom around and choose to focus in on certain aspects of our posts.
Some content will naturally entice users to zoom; a beautiful beach scene or a shot of a well-known landmark may pique curiosity, for example. But in most cases, we'll need to give users a reason to take a closer look at our content. Zooming can be a way to enhance your Instagram content, create fun competitions and games and also encourage Instagrammers to pause and take a moment to engage with your posts.
Here's a quick look at how 10 brands have already started to use Instagram's zoom feature within their content.
10 Examples of brands using Zoom
Note: We've tried to illustrate how the zoom feature looks with each example. If you'd like to check them out on Instagram, we've linked to each post in the accompanying descriptions. Click on each link from a mobile device, open it in the Instagram app and then pinch and zoom across the screen.
1. British Airways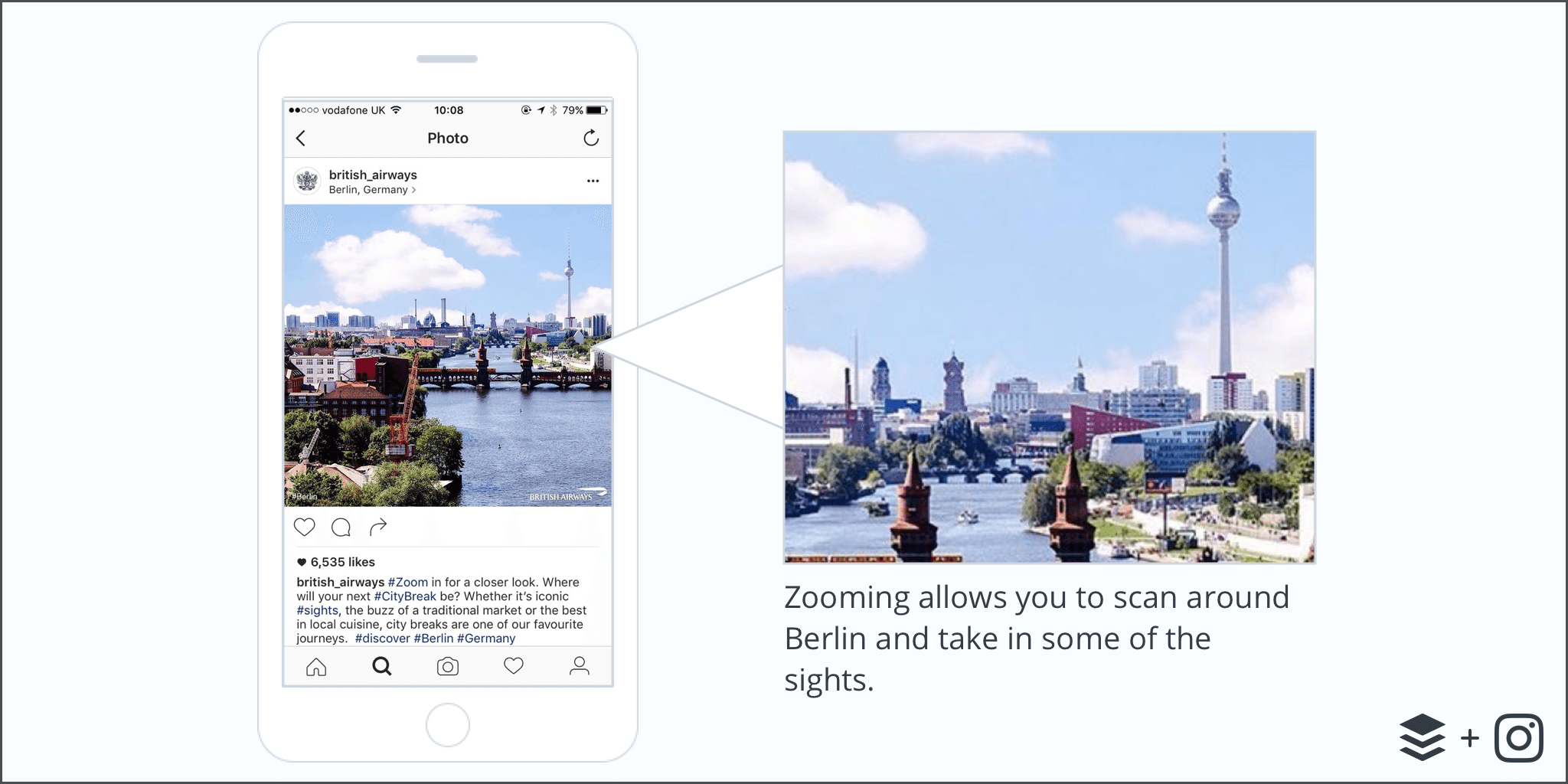 British Airways shared this lovely photo of Berlin as a way to start a discussion around city breaks in the German city. By zooming in, users can check out some of Berlin's most popular sights and landmarks.
The airline also made good use of the caption to encourage zooming:
#Zoom in for a closer look. Where will your next #CityBreak be? Whether it's iconic #sights, the buzz of a traditional market or the best in local cuisine, city breaks are one of our favourite journeys.
2. Bud Light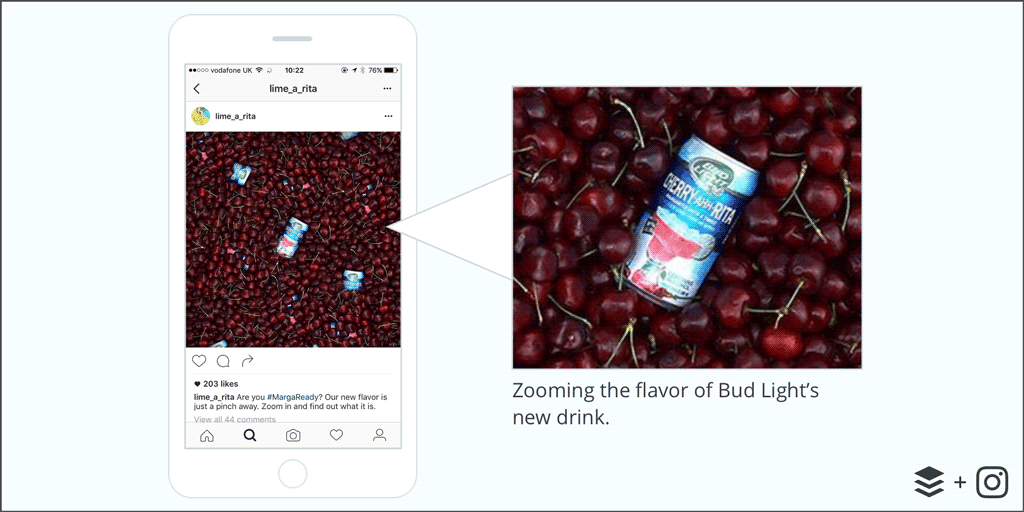 Bud Light turned to Instagram to reveal the flavor of one of their new beverages. Using clever copywriting in the caption "Our new flavor is just a pinch away," the brand encouraged users to zoom in and discover their new flavor.
3. Primark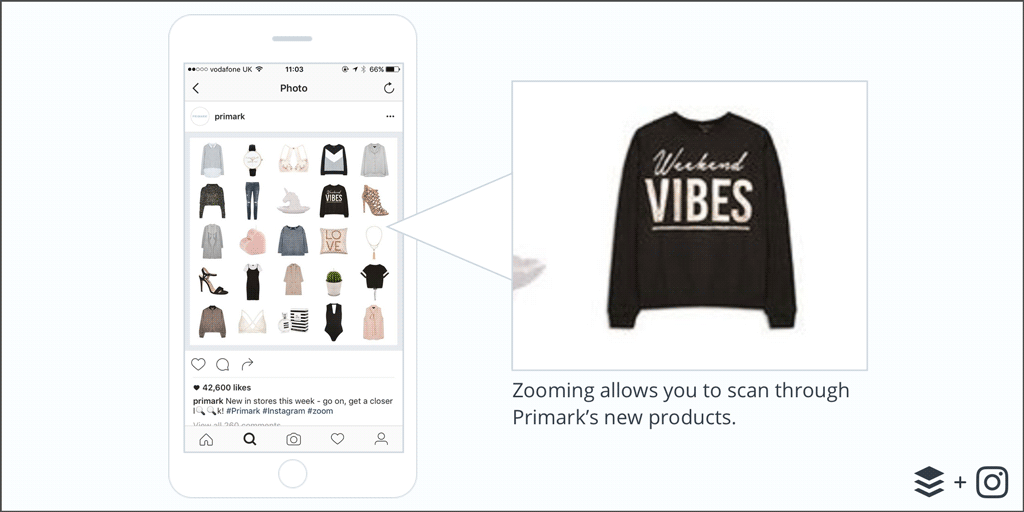 Primark used Instagram's zoom feature to showcase its latest product releases. By zooming in, Instagram users can scan through the products and take a closer look. This was a fun and unique way to let followers check out their latest stock and made great use of Instagram's newest feature.
4. BMW España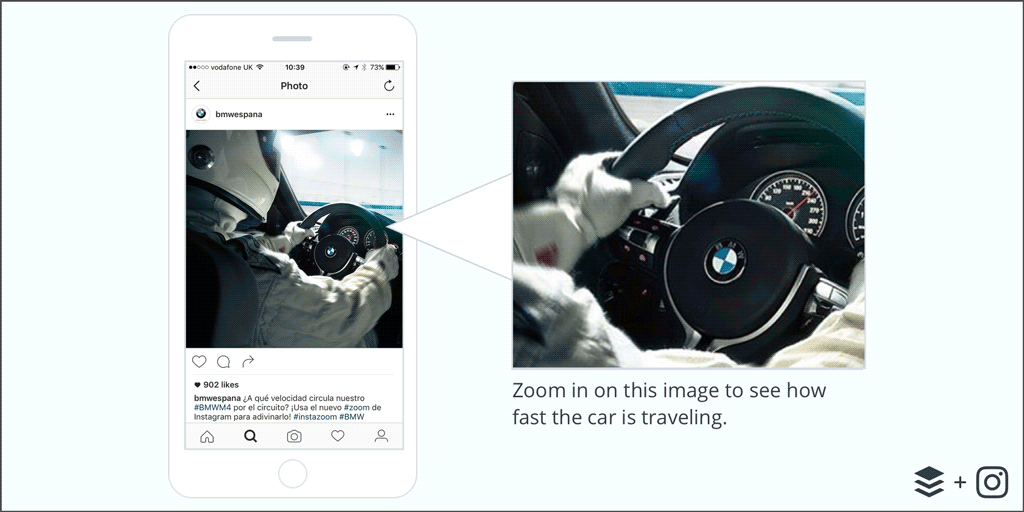 In this Instagram post, BMW shared a photo of a driver at the wheel of their new M4 model. The caption asks, "How fast is our #BMWM4 going through the circuit? #Zoom to guess."
5. FedEx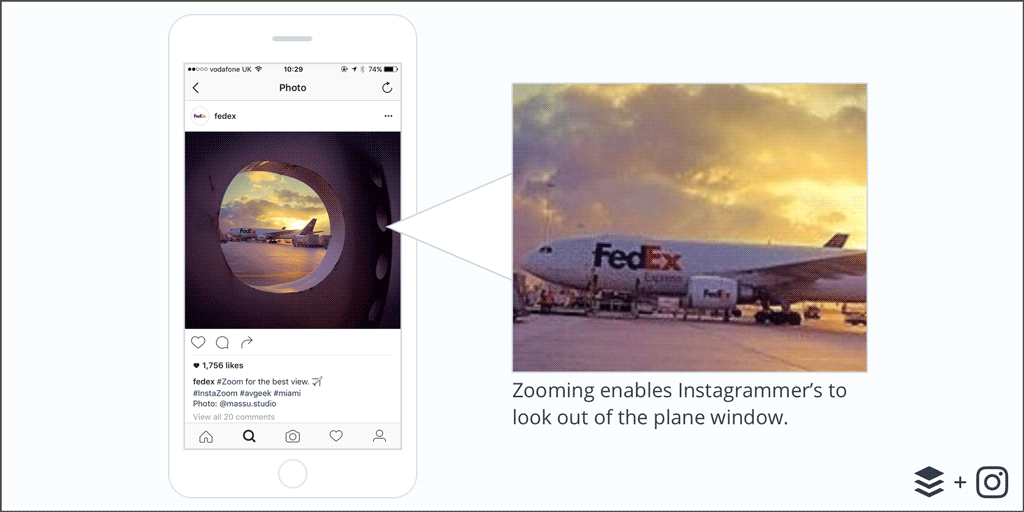 I'm a huge fan of FedEx's Instagram feed. They use the platform to show FedEx's delivery drivers, vans, and planes out delivering parcels and giving followers a behind the scenes glimpse of how their parcels arrive. In this example, FedEx gave followers a view out of a plane window and allowed them to zoom in on the sunset and a view of another FedEx plane.
6. General Electric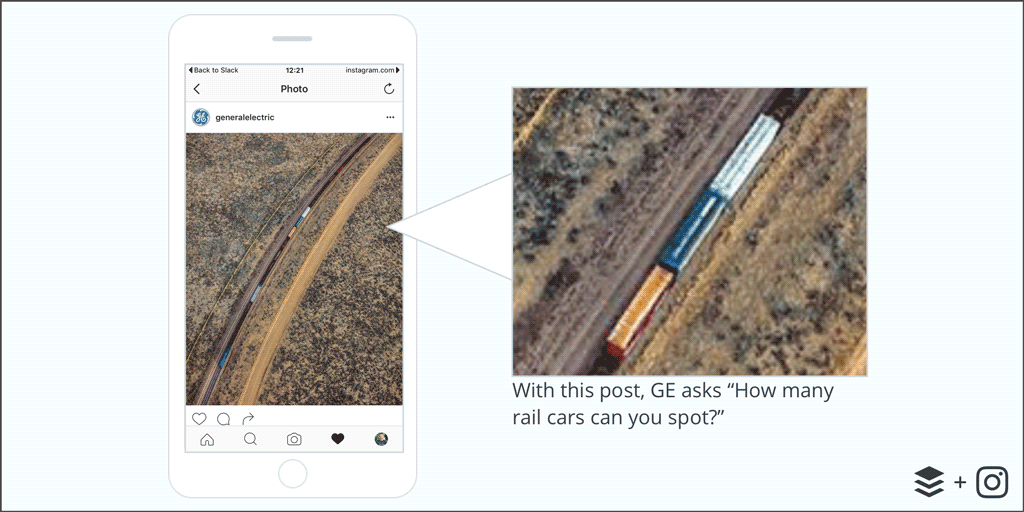 General Electric shared this photo from Pulitzer prize-winning photographer, Vincent Laforet. It features a bird's-eye view of GE's Tier 4 locomotive as it snakes along the Transit Test Track at the Transportation Technology Center.
In the caption, GE asks Instagrammer's to take a closer look and asks: "How many rail cars can you spot?"
7. Reyka Vodka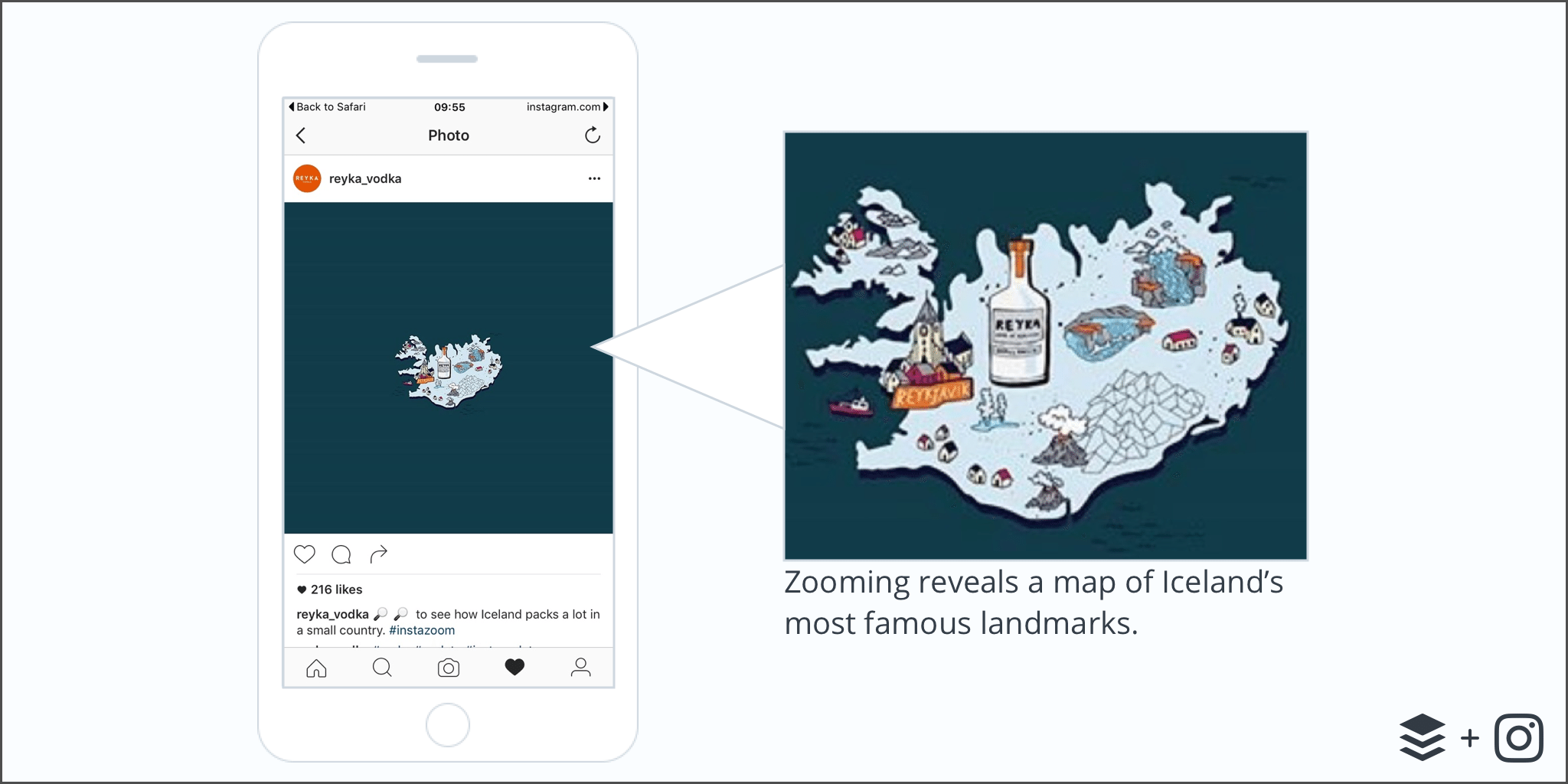 Icelandic brand, Reyka Vodka, used zoom to celebrate some of its country's most famous landmarks. The beautifully put-together illustration features a small map of Iceland, which when zoomed, reveals the landmarks and one of Reyka's branded bottles.
To encourage users to zoom, Reyka turned to the ? emoji and also used the hashtag #instazoom.
8. The Cheesecake Factory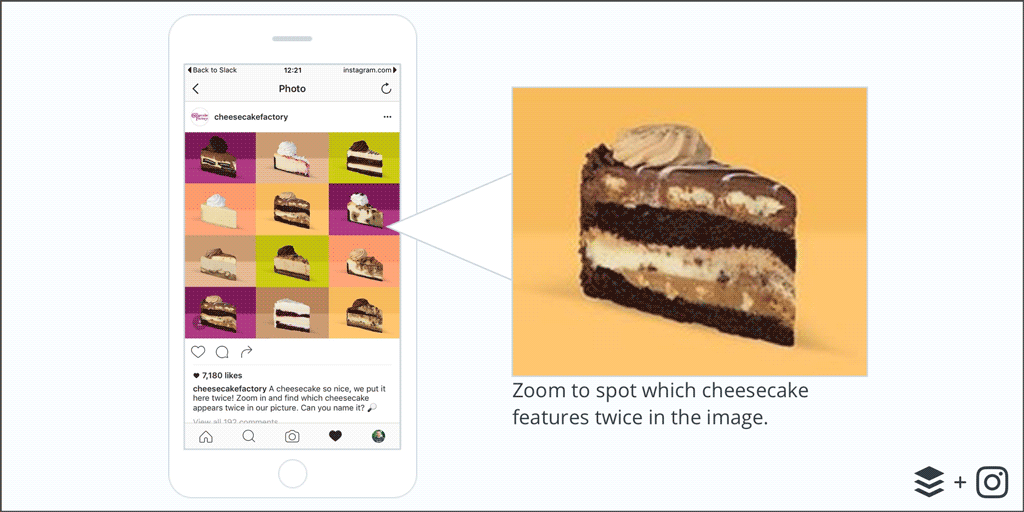 The Cheesecake Factory used zoom as a way to turn an Instagram post into an interactive game. The post features 12 images of various desserts available at the Cheesecake Factory and asks viewers which cheesecake is featured twice. By zooming, users can take an up-close look at each cake and see which one features more than once.
9. Noosa yogurt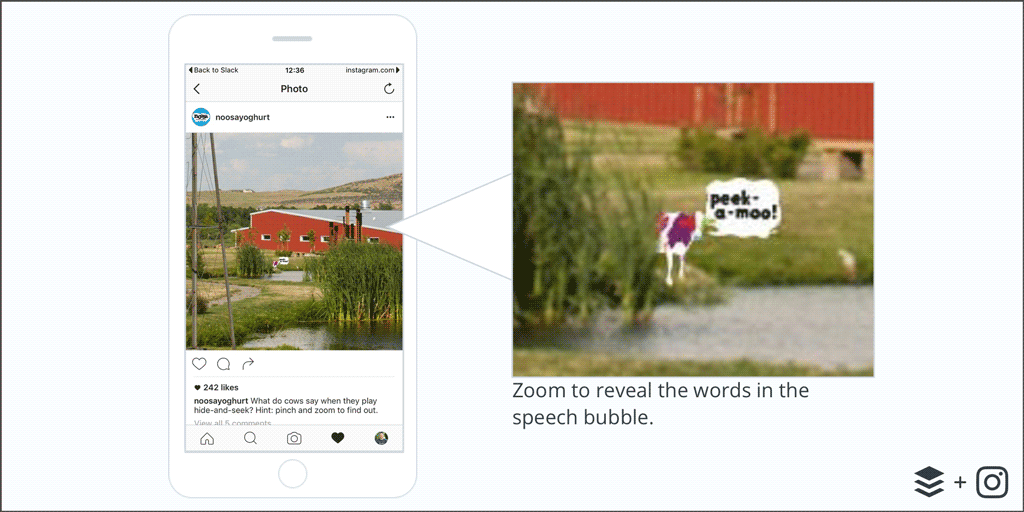 Noosa Yogurt used zoom to reveal the words hidden within a speech bubble. This post is captioned, "What do cows say when they play hide-and-seek? Hint: pinch and zoom to find out."
10. MorningStar Farms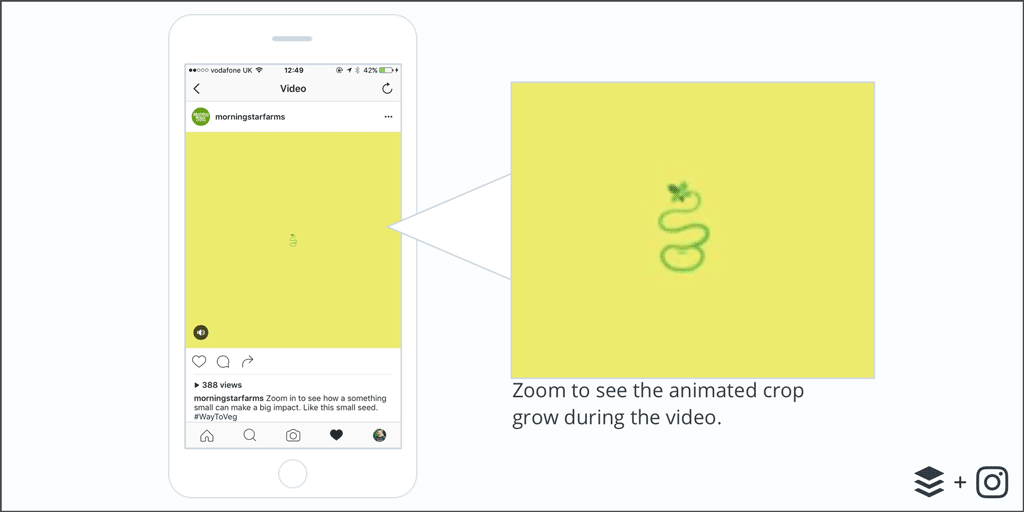 Instagram also allows you to zoom in on video content and this example from MorningStar Farms is one of the first I've seen where the brand encourages the user to zoom on a video. The video itself is a short animation of the crop growing up from a seed, and it's captioned: "Zoom in to see how a something small can make a big impact. Like this small seed."
How to use zoom in your content: 3 best practices
As the above examples illustrate, zooming can be a really fun, creative way to make your Instagram content stand out. But how can you use it in your day-to-day social media schedule? Here are some early thoughts:
1. Use it sparingly
New features tend to be overused at the beginning, and if every post you share asks users to zoom in, the novelty may wear off. However, when used sparingly, it feels like zoom will be a great tool to have in your arsenal.
Be sure to experiment with various types of posts, like some of the examples above, and use your creativity. But be careful not to overuse this feature and instead only use it in special instances.
2. Give your followers a reason to zoom
"With the zoom feature, there needs to be some inherent reason to look at an image closer to discover something, but that action of discovery still needs to connect to the brands messaging in some way or it'll just feel like a gimmick," Steve O'Connell, ecd and partner at Red Tettemer O'Connell + Partners, explained to AdWeek.
When it comes to planning the types of content you'd like to encourage users to zoom on, give clear thought to the "why" behind it. Why will a user want to zoom? How can we entice them to stop scrolling their feed and spend some time with our content?
3. Stay on brand
Jumping on the latest trends and updates can occasionally lead to content that goes off brand and moves away from a business' overall social media strategy. The FedEx post included in the list above is a great example of staying true to your brand. FedEx's Instagram is built around taking followers on a journey and sharing how their parcels go from A to B. If FedEx were to jump into a scavenger hunt with a parcel hidden somewhere in the post, this probably wouldn't feel true to their brand.
Over to you
Thanks for reading! I'd love to hear your thoughts on this much anticipated Instagram feature. Have you used zoom much to get a closer look at any photos or videos on Instagram?
I'd also love to discuss the opportunities their feature presents to brands as well. Have you created any content specifically with zoom in mind? Are there any more great examples of brands using zoom that we have missed?
Feel free to jump in the comments and I'd be excited to chat with you there.
You might also enjoy these
Instagram marketing
resources:
A Complete Guide to Instagram Marketing: Get the Playbook That Drives Results
How to Add and Manage Multiple Accounts on Instagram
How to Use Instagram Search & Explore to Boost Your Instagram Marketing