"My hand is shaking. How can I draw?"  
This simple DM I received from a student late one night resulted in a single Instagram post that earned nine million views and doubled my following in just three months.
This type of virality wasn't always the norm for me. When I started working as a professional illustrator and artist more than 15 years ago, I ignored social media for a long time. But when I started teaching art on Skillshare, I knew I needed to grow a following of students to help make my classes successful. So, I started casually posting the sketches I was working on and teasers of my classes, and I was surprised to grow to 7,000 followers in about six months.
Seeing that traction, I started getting more intentional with my Instagram posts, experimenting with visuals, captions, and more to help me find the right followers and keep them engaged. Ultimately, it led me to the winning post above—plus a strategy I use to this day.
Instagram has been an indispensable tool to keep my art practice thriving both creatively and business-wise. I've gotten opportunities I'd never imagined possible thanks to people who came across my social media posts, from dream collaborations with brands like Netflix and Tombow to my first book deal. It literally changed my art career.
But it's not without its challenges. The need to constantly post can be a creative drain on top of my actual work. Plus, Instagram is so oversaturated it can feel hard to stand out. And then it's not enough just to grow an audience—you have to keep them engaged.
But I've found ways to make it work, both for me and for my audience. Now with more than 70,000 followers on Instagram, I keep using this strategy to spend minimal time on social media while getting maximum value from it. Read on to learn my best practices for effortlessly engaging followers on Instagram so I can spend more time on my artistic work—and my whole business can succeed.
I integrate content collection into my regular creative process
So many business owners see posting on social media as a burden, and for a while I did too. After all, my most important job is making art, right? I resisted having to spend time promoting it, too.
Everything changed when I started to see social media as a tool to help me support this dream of being a successful artist, not prevent me from doing what I love.
So, I started thinking about how everything I post online can support what I want to spend my time doing: making art, sharing my passion, and encouraging others to create. Moreover, I started thinking about how my everyday creative practice could translate into engaging posts, making the process of sharing more seamless and fun.
This philosophy led to one of my favorite rules for gathering content posts: don't create, document! Whenever I'm working on a professional project or playing around in my studio, I always try to take a few shots or short videos. I keep equipment on hand to make this easy (DSLR camera for work-in-progress photos, iPhone Pro on an articulated arm tripod for videos, professional light so I can get similar shots anytime of the day or night), and try to plan before I start working what I want to take footage of. This way, I always have a library of content I can pull from, and it doesn't take much of my precious time or creative energy.
I use a similar structure for every post to make publishing easy
To keep social media from feeling like a burden, it's tempting to post spontaneously. Sometimes I do that when an idea strikes, but more often I find having a well-defined structure leads to better audience engagement and helps me keep a cohesive brand identity.
After several months of making small tweaks to posts and paying attention to the data and feedback in the comments, I landed on the below post, which doubled my following and keeps bringing new art enthusiasts today. It has since become a template for my posts moving forward. Here is the typical structure I use to create an Instagram post that gets engagement and stays relevant over time.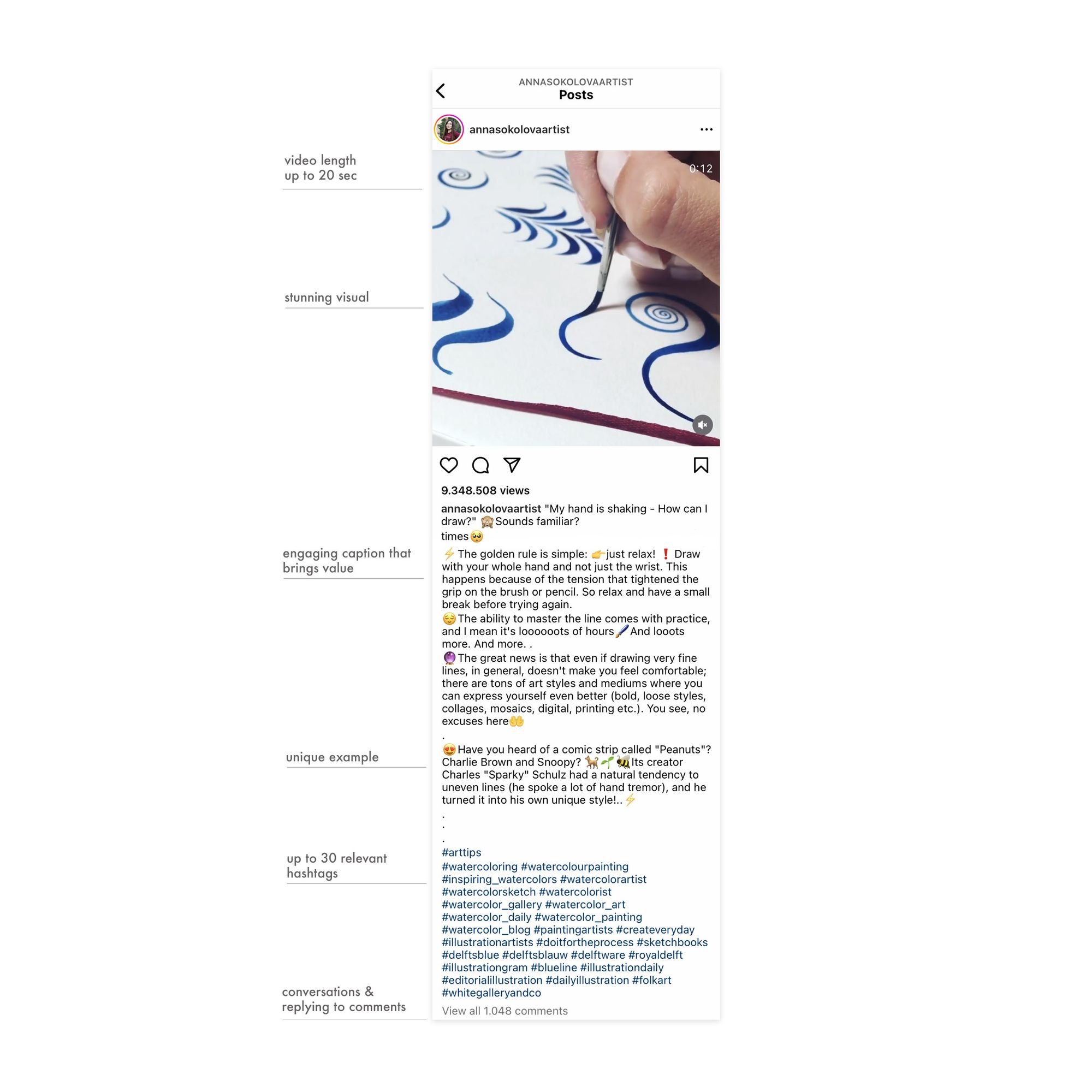 1. A stunning visual
I've found that short videos/Reels or carousel posts that show off various angles of a work or walk through a short tutorial perform best. I filmed this brushwork warm-up while doing a workshop for ImagineFX magazine. After posting it in my Stories and getting an overwhelming response, I decided to post it in the feed too. (This can be a great way to test content engagement before you commit to a feed post.)
2. A relatable caption
Whether it's answering a question or providing inspiration, I always ensure my captions are providing value, and I try to include unique examples to help my posts stand out from the rest. Here, I mention how Charles Schulz, the creator of the Charlie Brown comics, also struggled with shaky hands and actually integrated that into his style—information that is both inspiring and educational!
I also like to infuse captions with my genuine voice and enthusiasm so students can connect with me as a person and not just my work. Even if it's an announcement about a class or event, I try to include some humor or another human touch. It helps me to imagine that I'm talking to just a few fellow creatives, which keeps my voice feeling authentic.
3. Strategic use of hashtags
Even though I've heard people say to use no more than a few hashtags, I've found my posts that get closer to the max of 30 end up performing better. I use the search function in Instagram to get a sense of hashtag popularity and aim to mix broad hashtags (like #illustration with 200 million posts) with niche ones that describe elements of my style (like #delftblue with 85K posts).
4. Engaging with my audience
I try to reply to as many comments as possible. It can be such a meaningful experience to have conversations with your fellow creatives. I carve out time for this casually, like when I'm taking a midday break at a coffee shop.
5. Boosting posts that are already performing well
I don't often use ads but have found that, when I have a post that's already performing well organically, boosting it for a few days gets me an even broader reach. (Note that if a post doesn't get genuine organic interest, not just reach, but meaningful engagement and comments, boosting it won't help.) Instead, I learn what I can to improve future posts, and then take that money to the art supply store instead of wasting it on something my target audience clearly isn't excited about.
I use content series to reduce my planning workload
Even with a deep library of content to pull from and a template to follow, I still have to decide what to post about. Instead of always trying to reinvent the wheel, I've found that developing repeatable content types makes it easier for me to plan posts that I know my audience will engage with.
For instance, I created two art challenges and now host them twice a year: #BringSpring_challenge in May and #INKredible_Inktober in October. This gives me two months of relatively easy content to publish and has also become something my followers look forward to. Thanks to a combination of audience anticipation and strategic use of hashtags, these challenges always get incredible reach and engagement. Plus, it's amazing to see the artwork that my followers create—I always end up inspired by this opportunity to connect with other artists. I set aside extra time during my challenges (about 15 minutes a day) to check on everyone's entries and respond, which absolutely helps engagement, too.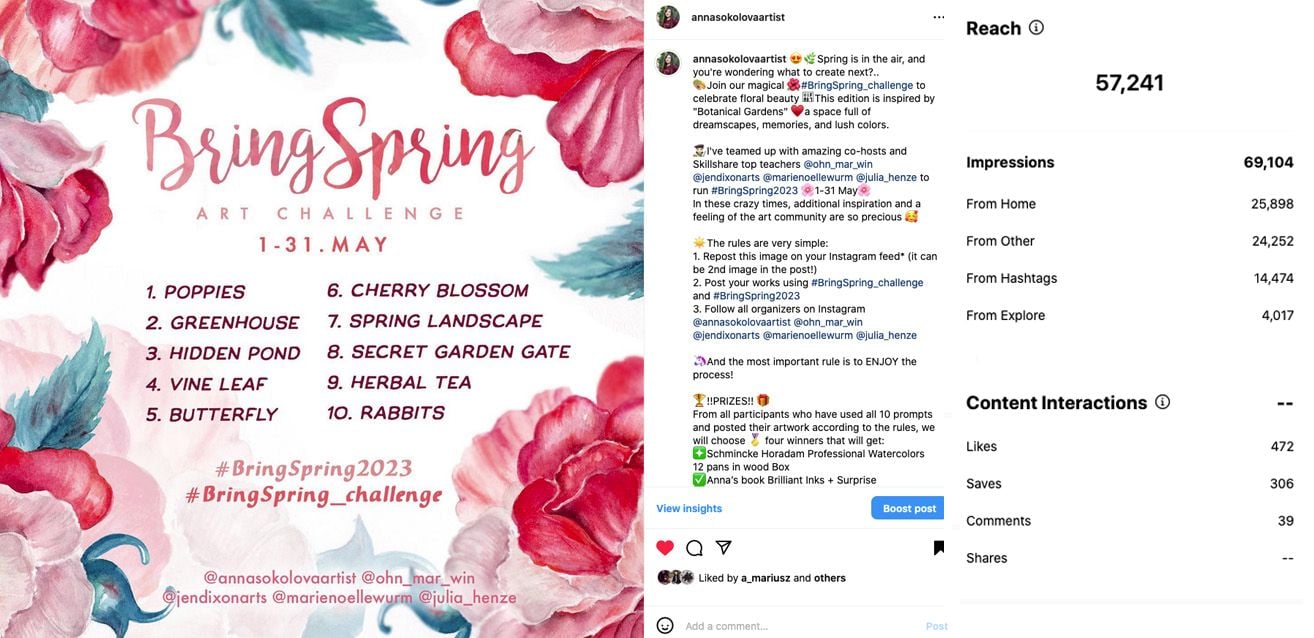 Some other types of posts I'm always returning to include:
Whenever I have an idea for a new content type, I try to ensure it's offering value to my target audience (for me, these are publishers, art directors, students, and art enthusiasts) and that it's also something that feels like they'd be excited to share. For instance, teaching my best art tricks felt like a great way to contribute to the artistic growth of my followers and make them want to share these ideas with other creatives in their lives.
Instagram is changing faster than ever, but I've found that following these basic principles still brings impressive results. Every person and business is unique, and what worked for me may not engage your audience. For example, I don't post often, sometimes even taking a break for months between posts. But, because my content is very consistent in quality and value, I get strong engagement when I do show up. Start with some of my tips and then experiment and find your own best practices.
And when I'm tired of coming up with ideas for social media or a post that I spent time on doesn't perform as well as I wanted, I try to remind myself that, with recognizable style, mindful strategy, and consistency, it's possible to build a thriving community to support your creativity and your business. And then I return to what matters most: spending time on my passion and using this platform to share it with others.