What if you had a magic wand and could make any change you wanted on social media?
Quite a question, right?
Well, we dove into the many different what if scenarios — both real and imagined — that may shape social media in the months and years to come. We pulled up all the latest news and changes so that you'll know what to expect next on social. And we also polled the Science of Social Media listeners to see what they'd change on social media if they had a magic wand.
Listen to the podcast audio above or keep reading as we cover the big ideas that could shape the way that you do social media marketing for your brand or business.
We hope you enjoy!
---
Setting the stage …
Whenever we hop on customer research calls with our community, we often end the call by asking this one open-ended question. It goes like this.
"Forget about what's possible. If you could wave a magic wand and solve anything with our product, what would you do?"
Wow, what power!
This question comes from Cindy Alvarez and her book Lean Customer Development. We owe a huge debt of gratitude to Cindy because her question has led to some really amazing insights for the Buffer product!
And it's so interesting to consider that question in light of the social media space.
It seems as if the makers behind our favorite social platforms are already thinking outside the box to solve problems for their audiences. It's as if they already have a magic wand!
You can see evidence of this in the headlines.
A few weeks back at Facebook's F8 conference, there were multiple announcements about changes coming to Instagram and Facebook. We learned that Instagram might be getting rid of likes and that Facebook might be rethinking the News Feed.
We can also see major innovations like Instagram Checkout on the horizon.
All these changes really got our minds turning. How will marketers be affected by these moves?
And if all this is possible, what else could be coming?
What else should we wish for?
Let's dive into the details of a number of these wishlist items, starting with Instagram Likes.
---
1. What if Instagram got rid of likes?

Instagram is testing a way to hide the number of likes on each post.
The news became official during Facebook's F8 conference a couple of weeks back. The Head of Instagram, Adam Mosseri, confirmed that the test is happening now and that the goal is to make Instagram feel less competitive.
The way it works is that the total number of likes on an image or video is hidden when you're looking at the post. And instead of the like count, there's a short blurb that says .. "Liked by [Name] and others."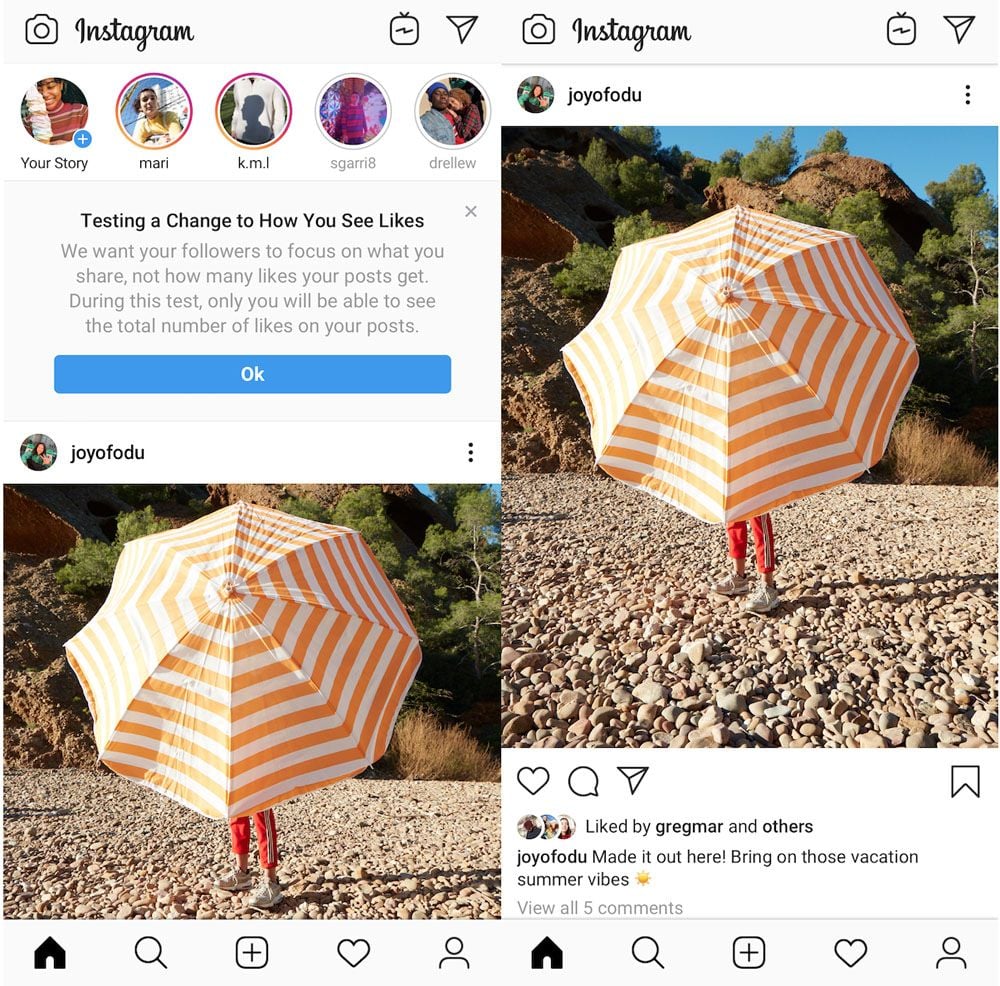 Anyone can then tap that text to see the full list of people who have liked the post.
The good news for marketers, is that Instagram will still total up your likes for you. This like count won't be visible to anyone but you, and you can access this like count by tapping the word "others" from the post, then you'll see the list of everyone who liked the post, plus Instagram will total this number for you.
Likes will still be available as usual in your full Instagram analytics both natively and in social analytics products like Buffer Analyze.
For the public, this is a huge change and could have significant benefits for mental well-being, too. "Like" counts can be a source of constant competition and can sometimes affect ones self-esteem and self-worth.
For marketers, the change could have a couple of effects:
According to an article in the Huffington Post, many people who have been testing the new Instagram change claim that they are posting more to Instagram than before. This would be good news for brands on Instagram who are there to engage with their audience.
There have been thoughts that this change might impact influencer marketing because influencers will lose out on a key element of social proof. It remains to be seen exactly how this will shake out.
Overall, we anticipate that a change to Likes on Instagram will have a small effect on marketers, if any. With Likes being less visible, you may see behaviors change on Instagram, resulting in lower Like counts over time. But these stats will still be available and accessible, just like before.
---
What if you could shop directly on Instagram?
At the moment, there are 20 brands that have access to Instagram Checkout. This group includes fashion and beauty brands like Nike, Adidas, Dior, and ColourPop.
With Instagram Checkout, the full shopping experience happens on Instagram: you can tap from a post or Story to a product page and complete the ordering experience directly in the app.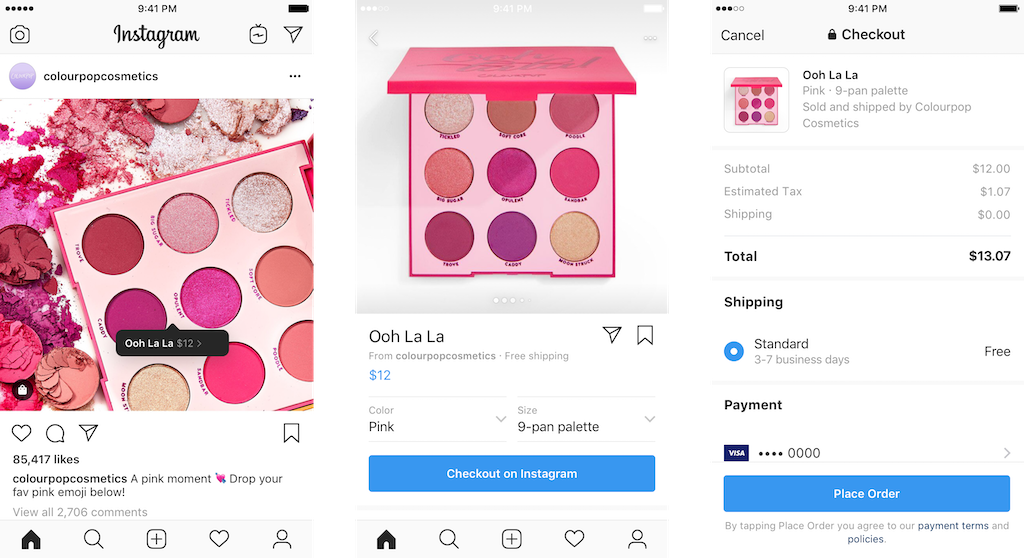 Adidas gave a rosy review of their experience with Instagram Checkout, counting it as a key reason why online sales for the shoe retailer have grown 40% year over year.
And this isn't the first time Instagram has explored e-commerce. As I'm sure you've seen on the platform, you can find shoppable posts in your feed, in Stories, and in videos. Back in March, Instagram reported that 130 million users are taking advantage of shoppable posts.
So what might this mean for marketers?
Instagram Checkout represents a potentially seismic shift in social media. We already have features like Pinterests Product Pins, so the combining of e-commerce and social media kind of seems inevitable. A push from Instagram Checkout might be just what is needed to get over the hump.
And this could have big effects on the role of a social media manager. Already we're seeing that this role is shifting from a content producer to a multitalented brand builder.
Our best advice for the moment: Get into the data of your social media performance. If you're using shoppable posts or social advertising, understand the best ways that you're capturing engagement on social media. This will help you be ready for if — or when — e-commerce fully arrives to social.
---
What if the News Feed went away entirely?
It seems ridiculous to think of.
The News Feed is synonymous with social media these days. Every network has a feed, and every network has an algorithm that surfaces custom content to its users.
Well, it's no longer impossible to fathom a Facebook without a News Feed.
There have been signs of Facebook moving in that direction, especially after F8 when they revealed new designs that showed an emphasis on Groups and Events.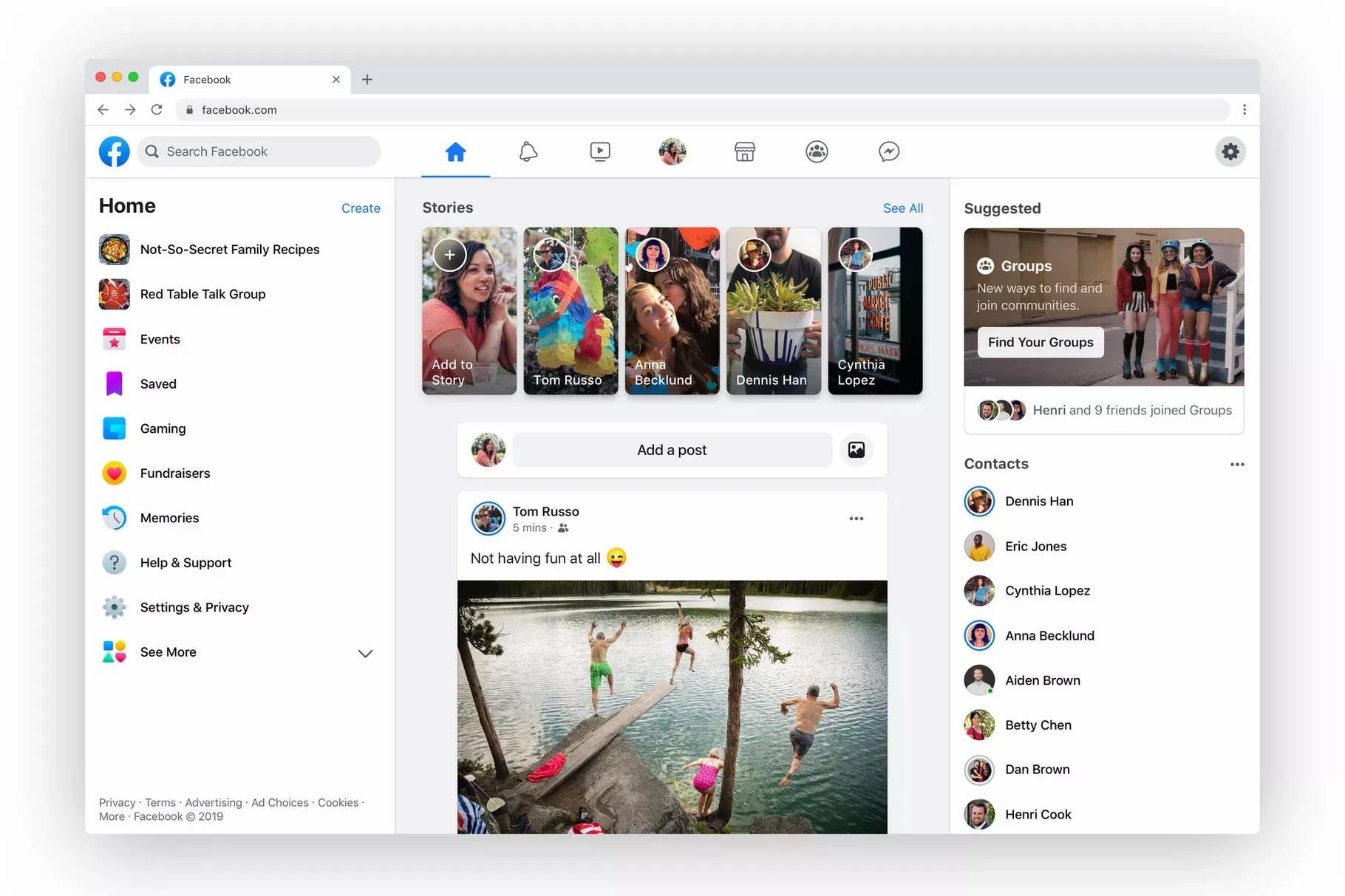 So what would a News Feed-less Facebook be like for marketers?
It would certainly throw advertising for a loop. The News Feed is the primary real estate for Facebook advertising. You can't advertise on Groups at all. So we'd probably see some pretty major evolutions in terms of ad spend on Facebook.
And the shift toward privacy makes me wonder how brands and businesses fit into that vision at all. Of course, Facebook will find a way to make things work — it's the brands and businesses who help Facebook pay the bills. But what will a shift to privacy and away from a News Feed mean in practice? More one-to-one conversations with customers? An emphasis on real-time messaging with WhatsApp or Messenger?
Of course, these changes will take time … we're talking years, not months. Mark Zuckerberg said so himself from the stage at F8. So while there are lots of unknowns about what the future of the News Feed will mean, it's still a long ways off from becoming reality.
---
What if you could wave a magic wand on social media?
The following are a handful of wishes for social media, submitted to us by listeners to The Science of social Media.
The first:
What if you could edit your tweets after you've published them?
This comes up quite often, especially when you see a small typo after just hitting send. I think we've all been there! Maybe there could be a one minute timer on editing a tweet so you can catch typos but not drastically change a tweet after it's become popular?
What if social media had an "Effort Meter"?
What if you could see how much time and energy someone put into making an image or a video? Wow, wouldn't that be insightful!
I know we've often wondered how these amazing brands and influencers do it. It'd be really interesting to see inside an Instagram studio or to go behind-the-scenes with a brand's social media team.
And to tie this into our first "what if" scenario about Instagram likes, I think it could be quite powerful also to simply know that the amazing social media post you saw wasn't done in an afternoon! It's rare that people can roll out of bed and whip something up that looks this good.
What if we rethought the way that social media feeds worked?
There'd be a ton of different ways to do it. One suggestion from the community was to simply put things back the way they were … a list of all the posts from the people you follow, with the most recent ones at the top.
---
How to say hello to us
We would all love to say hello to you on social media – especially Twitter!
Thanks for listening! Feel free to connect with our team at Buffer on Twitter, Buffer on Facebook, our Podcast homepage, or with the hashtag #bufferpodcast.
—
About The Science of Social Media podcast
The Science of Social Media is your weekly sandbox for social media stories, insights, experimentation, and inspiration. Every Monday (and sometimes more) we share the most cutting-edge social media marketing tactics from brands and influencers in every industry. If you're a social media team of one, business owner, marketer, or someone simply interested in social media marketing, you're sure to find something useful in each and every episode.  It's our hope that you'll join our 27,000+ weekly iTunes listeners and rock your social media channels as a result!
The Science of Social Media is proudly made by the Buffer team. Feel free to get in touch with us for any thoughts, ideas, or feedback.