We Included Every Member of This Team in their New Teammate's Onboarding, Here's Why
We tried including every member of our Advocacy team in onboarding for new Advocates. Not only did this new approach facilitate the new team member's integration into our close-knit team, but it brought some surprise benefits, as well.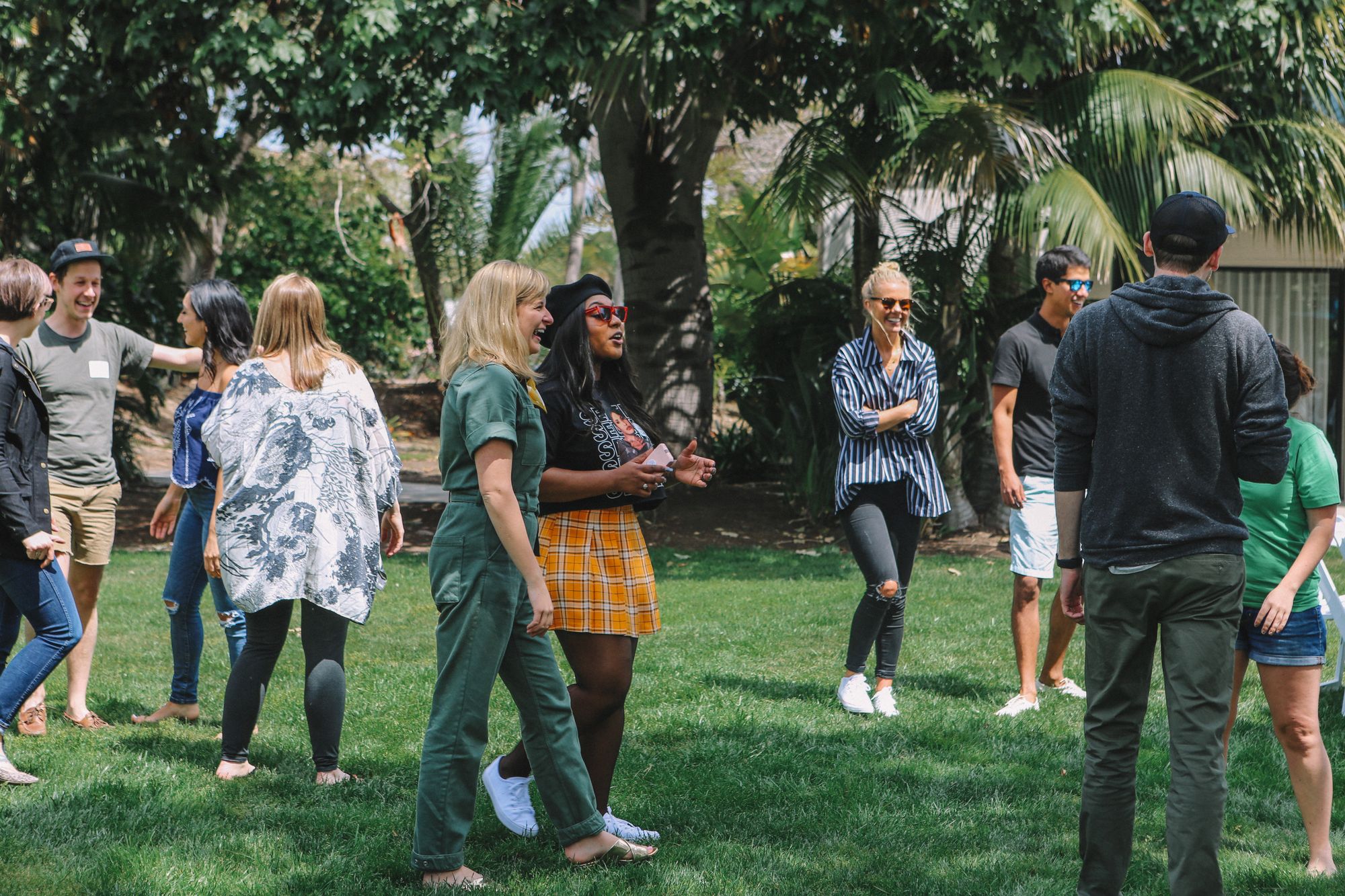 We Included Every Member of This Team in their New Teammate's Onboarding, Here's Why
In 2021, we geared up for our first hiring push in the Customer Advocacy team  (our customer support team) for quite a while. Due to strategy and personnel changes, we would need to hire five new Advocates throughout the year, which is more than we'd hired in any year since 2016. Between hiring and other personnel changes, we started 2021 with 15 Customer Advocates and ended the year with 19.
In preparation, we took a look at our onboarding documentation and process to find holes or improvement areas.
When a new team member walks into Buffer, they're normally greeted by their manager, a role buddy, and a culture buddy (you can learn more about those roles in this post). These three people are pivotal to the experience the team member has across their first 90 days. If there ever was a phone-a-friend during onboarding, these three people would be it!
We took a pause before starting these hiring rounds, though.
We knew that the first person who came on board would be in a unique position. They'd be the first new team member we've onboarded in over a year. In fact, most of our team had worked as a Customer Advocate for four-plus years. While we had oodles and oodles of documentation to explain all the things, nothing can account for the experience and context that each of these 16 team members had stacked up in their brains.
Our empathy was speaking, and it said that walking into this well-oiled machine (ahem… as we'd like to think) had the potential to make the already tricky task of switching jobs even more daunting, and perhaps even a bit isolating.
Our ideal outcome when staring this challenge in the face was to foster an environment where the new team member could integrate quickly and seamlessly into our close-knit team. What could we do to facilitate that?
That's when we had an idea — what if every team member in Customer Advocacy had a hand in the new team member's introduction to the company and to their work as a Customer Advocate? What could that do for the new team member, the tenured team members, and the team as a whole?
While the team member would still have their manager, role buddy, and culture buddy by their sides, they'd also now have 16 others performing as rocket boosters to their growth along the way.
For the first time, we tried this integrative method of onboarding in the Customer Advocacy team here at Buffer in early 2021 with our first new hire of the year, we then used it throughout the year with our four other hires and through this cumulative experience we learned a lot. Not only did this new approach facilitate the new team member's integration into our close-knit team, but it brought some surprise benefits, as well.
Let's dive into each of the benefits we've seen:
Benefit #1: Our newest team member had a quicker integration into the team
Let's imagine two scenarios:
In scenario number one, you attend a party where the host says hello and then leaves to attend to other guests.
In scenario number two, the host kindly introduces you to a second person, who introduces you to a third, and so on.
Our goal was to create an experience like that of the second scenario.
Budding co-worker relationships as soon as someone walks in the door allows them to quickly feel like part of the team. Positive Psychology shares, "Dunbar and Dunbar (1998) suggested that when individuals experience social pain in the workplace from feeling isolated, for instance, the region of the brain that is activated is the same as if physical pain had been experienced."  Ouch!
While the manager, role buddy, and culture buddy have always been supportive, those three people are only a fraction of the guests at the party. If I chat through some tricky billing scenarios with Nate and then dig into onboarding tickets with Essence, I now have two more phone-a-friend contacts; my list is growing.
This relational comfort trickles into other areas of work and collaboration, too. Creating purpose-driven relationships with more people throughout their first 90 days tends to facilitate a higher likelihood that someone will feel welcome to participate thoughts in syncs (a.k.a. meetings), more forthrightness to ask questions in public forums, and altogether, just more confidence in knowing that their opinion matters.
I feel so invested in! The time and energy the team has put into this onboarding is so welcoming, buoying, and confidence-building. And makes me feel so invested! -Lexi, Customer Advocate, five months into her journey at Buffer.
Benefit #2: It created a system of reinforced learning
With new teammates feeling more comfortable they have one less psychological burden (that of worrying about how they'll fit into an existing team), which means that their mental defenses have the potential to drop, allowing them to be more receptive to all of the new information coming their way.
In addition to that, providing information in more than one way allows it to be accessible to more learning styles, reinforcing retention.
Let's say that you share a written resource with the team member about a component of their job in their onboarding checklist. Just below the resource, they have a task to schedule a call with Julia to further the conversation. The team member has been able to read the information, and soon they will also hear Julia's experience with it. Perhaps Julia will also have something to share with the team member visually to reinforce the concept. If it's something that requires doing, they can walk through a scenario together, as well.
We just hit the big four learning styles:
Visual
Auditory
Reading and writing
Kinesthetic (doing it yourself, learning with movement)
Having meaningful conversations with every one of their peers helps new teammates fill their context and relationship-building buckets quicker than they would without the meetings. Also, the wide range of perspectives they will come across is invaluable to their ability to learn in the way they receive information best.
I believe we've gone beyond just self-learning or learning-by-doing by incorporating these calls into our process. The blended approach to onboarding (being fully async while having the opportunity to experience a variety of approaches from other Advocates) has been a great experience for me. -Ben, Customer Advocate, 90 days into his journey at Buffer
As an example, Ben shared:
I've used Stripe before and thought I had a pretty good understanding of their platform but on my call with Nate, he showed me how to use the Fingerprint feature to track down payments. This is something small, but I was blown away. I really wish I learned this years ago at my previous jobs. -Ben, Customer Advocate, 90 days into his journey at Buffer
Benefit #3: It furthered the sense of significance for our existing team members
While onboarding has never been a one-person job at Buffer, the concept of intentionally including every team member who will work closely with a new teammate into their onboarding really takes the idea of multi-support onboarding to a new level.
It's impactful on morale to know that you're a part of someone's onboarding process and making a difference for new team members, our team, and our customers.
Being a part of the onboarding experience for new teammates was a great opportunity to share the knowledge I'd gained from my work so far. The best part of it for me was listening to their questions/thoughts that came from a different perspective. It ended up being not just a time to teach but a time to learn as well. -Cheryl Appiah, Customer Advocate
In fact, no matter how long or short a person has been at Buffer, their hand in onboarding a new Advocate is valued. To showcase that every perspective is significant, two team members we onboarded in September last year were asked to be part of the onboarding for two new team members who started onboarding the following December and January.
What a lovely way to pay it forward.
Lastly, asking team members to help welcome, onboard, and ultimately train new hires is a passive, but clear way to show how much they are trusted and valued by their leadership. Every team member is significant, and every individual's unique experience contributes to the richness of our team.
We're not done here
Our process is always evolving, and with each and every new team member we onboard, we learn more and more about how our processes can be stronger or more individualized.
What won't change is the message our onboarding process sends to both our newest team members and or more seasoned ones.
For new team members, we will think outside of the box to facilitate the most inclusive onboarding process possible for them. And for existing team members, their experience and creativity are treasured! They are all significant, and the time and effort they spend in contributing to the onboarding process for our newest team members is invaluable.
We'd love to hear from you — what do you think about this approach to onboarding? Send us a tweet!