Since adding short-form video through Shorts in 2021, YouTube has opened up to more creators. And by going a step further to add Shorts creators to the YouTube Partner program, the possibilities for monetization on the platform have increased tenfold.
YouTubers can monetize their content in several ways, from brand sponsorships to selling merchandise. But revenue from Google ads is a big chunk of many YouTubers' incomes, thanks to the YouTube Partner Program.
What is the YouTube Partner Program?
Creators in the YouTube Partner Program can earn money from their videos, both long and short-form, through ads and YouTube Premium.
The YouTube Partner Program (YPP) is the first way many creators make money on the platform – and it's easier than ever to get in.
Requirements for the YouTube Partner Program
The program is available to creators who follow YouTube's guidelines and policies and live in a country where it's available. On top of that, you need:
500 subscribers with three public uploads in the last 90 days, and
either 3,000 valid public watch hours in the last 12 months OR 3 million public views on YouTube Shorts in the last 90 days.
Once accepted, you can earn money from features like channel memberships, Super Chat, Super Stickers, Super Thanks, and the ability to promote your products through YouTube Shopping.
You'll also receive further benefits like revenue sharing from ads and YouTube Premium when you hit:
1,000 subscribers and
either 4,000 valid public watch hours in the last 12 months OR 10 million valid public Shorts views in the last 90 days
Once you're in the program, your income will grow as your channel does. Your earnings will fluctuate depending on different factors like the number of views, audience location, and your niche (for example, personal finance creators command higher rates). However, you'll definitely make money from the YouTube Partner Program if you stay consistent.
The Program isn't for everyone, though, thanks to YouTube's strict guidelines, which give strikes to videos that violate them. This can be a struggle, especially for creators who want to pursue content full-time but don't want to give up their style.
Greg Alba of the Reel Rejects, a reaction channel, has frequently spoken about dealing with content demonetization. YouTubers often need to turn to other monetization options if they decide to react to content or use copyrighted music in their videos. So creators often have to figure out alternative ways to generate income.
5 alternative ways to make money on YouTube
Here are some ways creators make money on YouTube outside the Partner Program.
Collaborating with brands
Brand deals are omnipresent in YouTube videos ("This video is sponsored by…"), which can be attributed to the symbiotic relationship between brands and creators. Audiences follow people, not brands, but the companies have the money – so collaboration is vital for the success of all participants in the creator economy.
Audience size doesn't matter as much as your engagement rate and audience category. This puts the power in creators' hands – if your audience is very niche and highly engaged, you can command high rates even if you only have 1,000 subscribers.
Your bargaining power starts from your media kit, which is a document featuring case studies of your past work and audience metrics, along with your rates. Your chances of collaborating with a brand improve with more detail you add.
Here's a straightforward guide to making a media kit of your own. And if you want to see how much you could be charging for brand deals based on your audience size, check out this calculator.
Gather fan-funded support
One of the benefits of offering engaging content is audience loyalty, and many creators have found ways to monetize that relationship through fan funding. This is a popular format among YouTubers who react to or comment on content in their videos. They can get copyright strikes for having snippets in their songs, so they often spend hours editing a video with no monetary results.
With platforms like Patreon and Fanhouse, creators can offer bonuses and exclusive content to their subscribers for a recurring monthly fee. If you're offering good content, your audience might be inclined to support you monetarily, even without the extras. While you don't have to offer additional content, here are some ideas for what to offer:
Behind-the-scenes content
Extended clips of your videos
Digital downloads
Priority access to new content
Exclusive access to live streams or limited-edition merch
For example, Nemo's Dreamscapes is a YouTube channel that livestreams curated playlists but won't be able to monetize because of copyright restrictions. Fans can support them on Patreon, and over 300 do, paying between as little as $3 to as much as $100 monthly.
Adopt affiliate marketing
Affiliate marketing is one of the standard ways YouTubers make money – and you can start without even being in the YouTube Partner Program. This is a popular option among YouTubers, who'll often inevitably show products or mention services in their videos.
With affiliate links, you can monetize by mentioning or recommending a product to your audience (which you would have done anyway).
The amount YouTubers can make from affiliate links varies wildly and depends on several factors, like content category and payouts from the affiliate. For example, personal finance creator Erika Kullberg earns between 25 and 50 percent of her YouTube channel's income.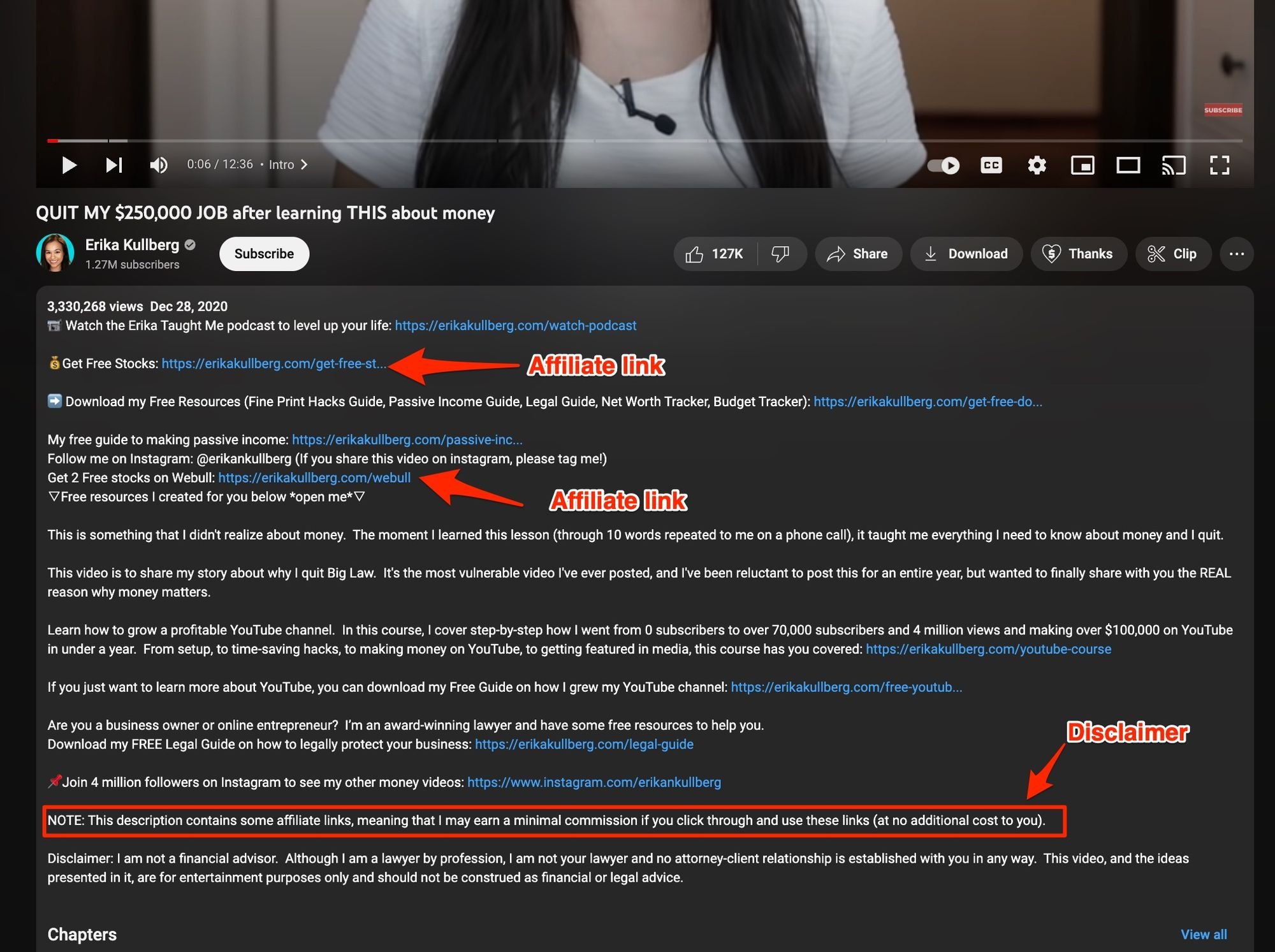 And while personal finance is a particularly lucrative niche, creators in other categories can benefit from a focus on affiliate marketing. Jake Tilk is a creator focused on digital marketing and reported making an average of $1,700 monthly from affiliates in 2022.
However, it's important to disclose whether you'll make money from recommending something to your audience to maintain their trust and stay legal and above board.
Sell physical or digital products
Physical and digital products have become a major path to monetization for many creators. YouTubers have sold products through every avenue, from companies (Feastables by Mr. Beast and Chamberlain Coffee by Emma Chamberlain) to templates on Etsy.
Selling merchandise can be vital for creators who want to grow their brand and audience relationship because it takes a part of them offline and into the real world. You have a wealth of options when it comes to what to sell. Here are some ideas and how YouTubers are using them:
Merchandise
The idea of merchandise has evolved for creators as the available resources have increased. Beyond selling simple t-shirts (which still work great), creators take different approaches to offering merchandise.
Elliotisacoolguy is a self-taught designer with a subscriber base of 128,000 on YouTub, and he has two options for purchasing merchandise – buying poster prints from his online store or his design collaboration with Casetify.
Templates
Some creators choose to sell templates for complex tools like Excel or Notion. They might even create content about how they make those templates but sell them anyway because most people want the ready-made version. That's what Thomas Frank, a creator focused on teaching Notion, did with his video about creating your own Second Brain template.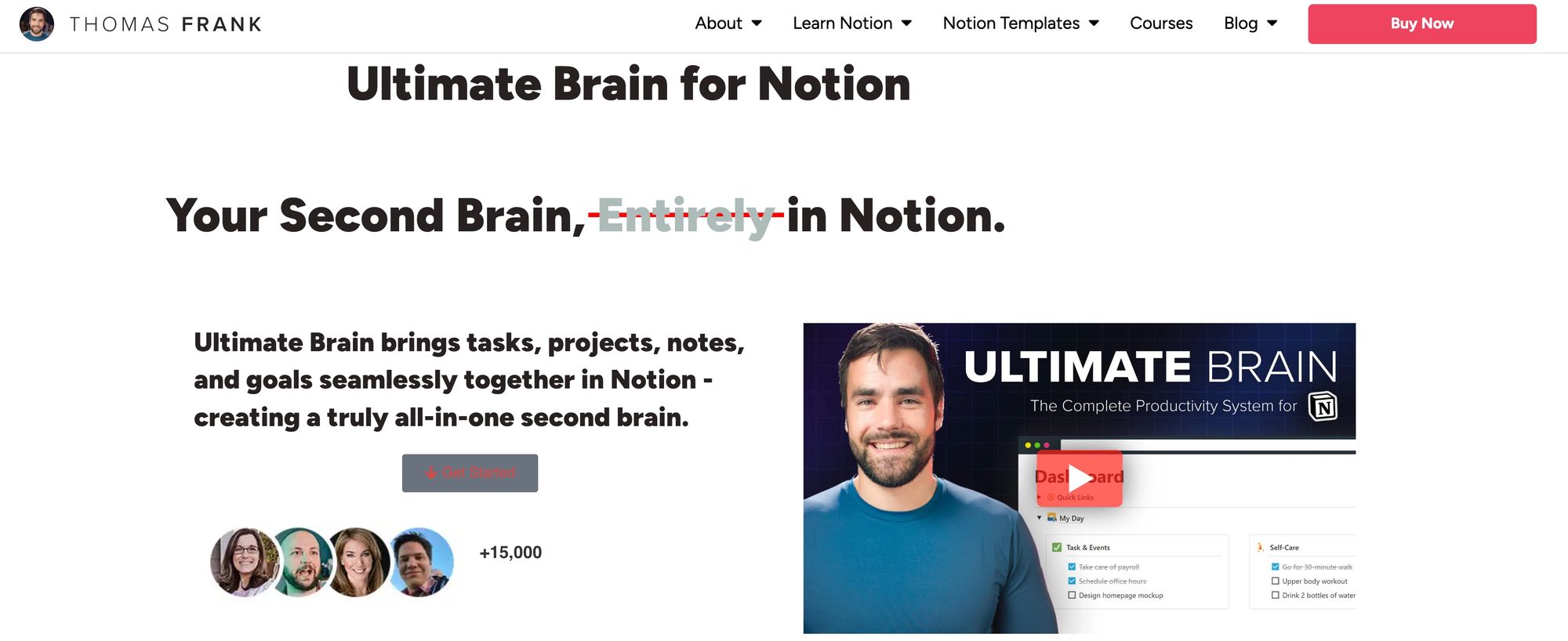 In it, he outlines the steps but also adds a link to his video description with a ready-made version for sale. He sold over $1 million worth of digital products in 2022.
Courses
For many YouTubers, there's nothing more lucrative than teaching people what you know, whether for free or through a course. Courses have increasingly become a popular way to make money on YouTube as creators hone in on their expertise and platforms like Kajabi and Teachable spring up.
A great example of the power of courses for monetization is Ali Abdaal. In a video breaking down his 2022 income streams, he revealed that he made nearly $3 million just from selling courses.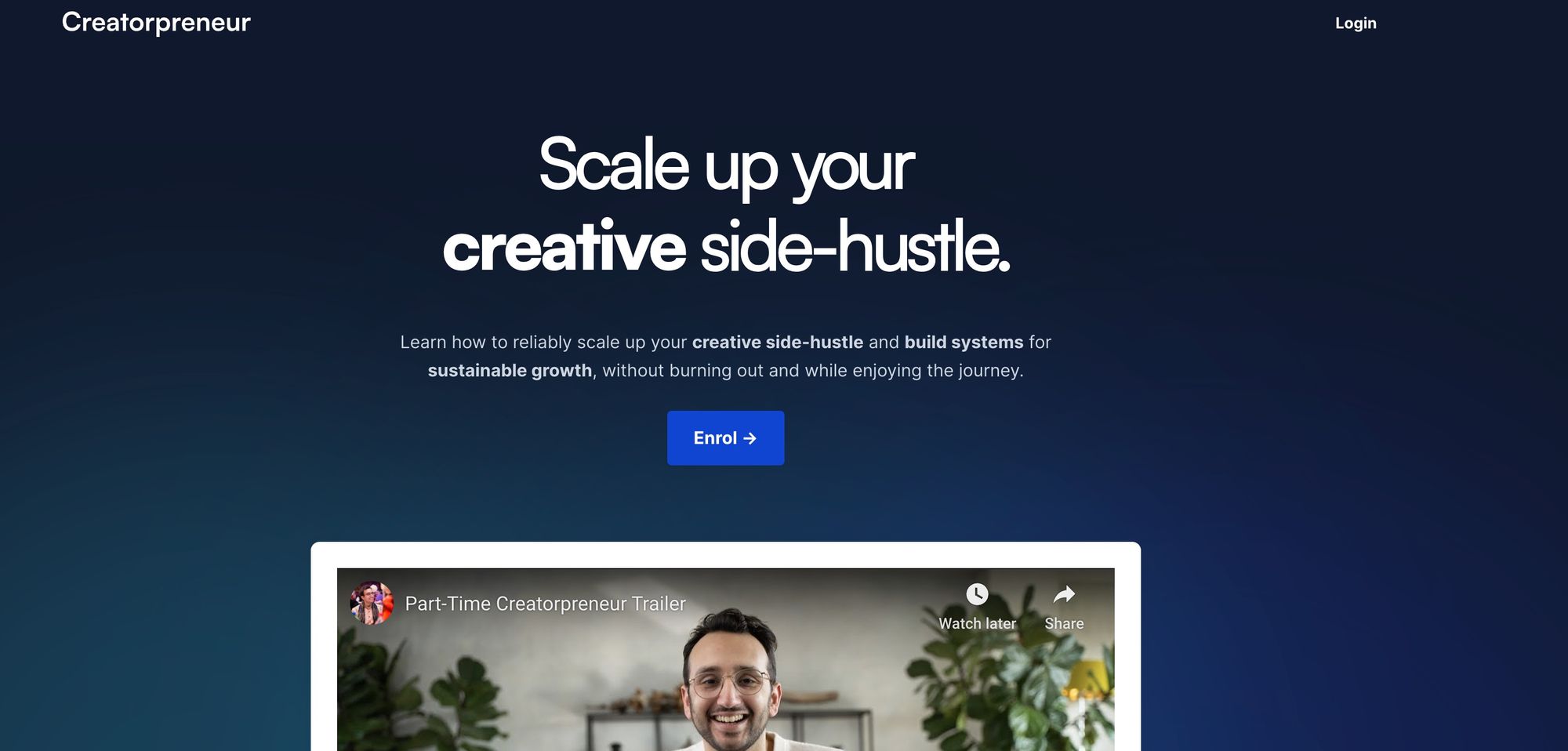 While this is a massive number, and Ali has the team and audience to explain these numbers and support the creation of these courses, smaller creators have a lot of opportunities in course creation.
Crowdfund your creative projects
This is similar to fan funding but is usually a one-time fee that anyone who wants to support your content. Sites like GoFundMe or Kickstarter are best for one-off campaigns, especially when they're in pursuit of a large project like funding a music video or self-publishing a book.
Indie game developers Genokids started sharing YouTube videos about the process of building their game of the same name six years ago, racking up over 6,000 subscribers and hundreds of thousands of video views.
Then, in 2023, they launched a Kickstarter campaign to crowdfund the game's development and raised €30,000 in 24 hours (and counting).
Mix up your monetization approach on YouTube
The great thing about creating content on YouTube is that you have an engaged audience following you on your journey. So it matters less how you choose to monetize and more how much value you can add in the process.
Combine the different options to see which is most lucrative for you and right for your audience.