Mercy for Animals is a global non-profit organization that uses social media to spread awareness of its cause.
Since signing up to Buffer for Business Mercy for Animals' Twitter impressions have risen by more than 300 percent.
The organization's primary Instagram account has grown by more than 70,000 followers in 2018.

Animals are the true champions of social media.
Facebook and Instagram are awash with pet photos and stories. Twitter has its memes and curated feeds of cute animal pics.
But what if we thought about farmed animals the same way we did of our domestic companions?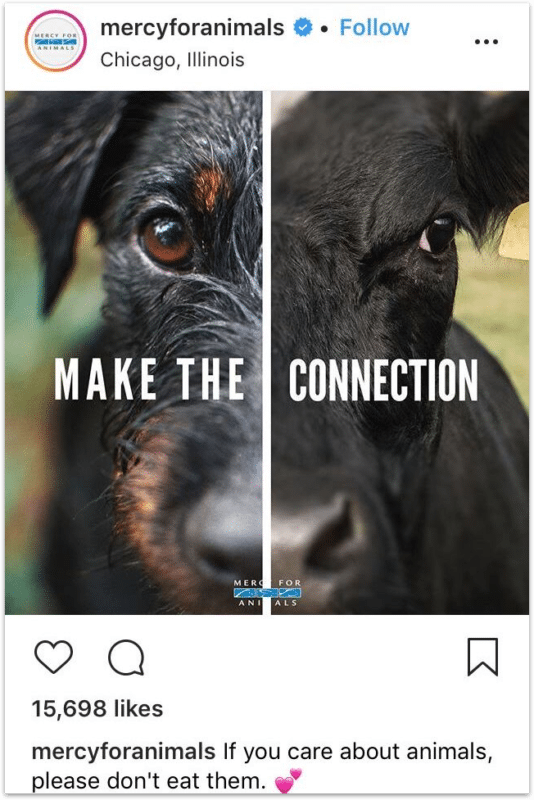 Mercy For Animals is an international nonprofit dedicated to eliminating cruelty to farmed animals, and regularly garners thousands of likes on their social posts. They've developed a level of engagement with their social audience that many organizations might only dream about, based on a strategy focused on triggering compassionate emotional responses, identifying top performing posts, and iterating on their best content.
On their global Twitter account, you'll find content that is particularly confronting. Their most retweeted posts are often videos with footage of mistreated animals, asking us to question our own habits and conceptions around farmed animals and food. Warning: if you do find yourself visiting their Twitter account, prepare to be challenged.
Posting emotive content that drives organic reach
A year or so ago, Mercy For Animals' Facebook performance was hit pretty hard by Facebook's algorithm shift. Without turning to advertising dollars to boost their social media posts, they still managed to grow their organic impressions to millions.
How?
Focusing on consistently producing and recycling high-quality content that engages their followers and spreads their compassionate message.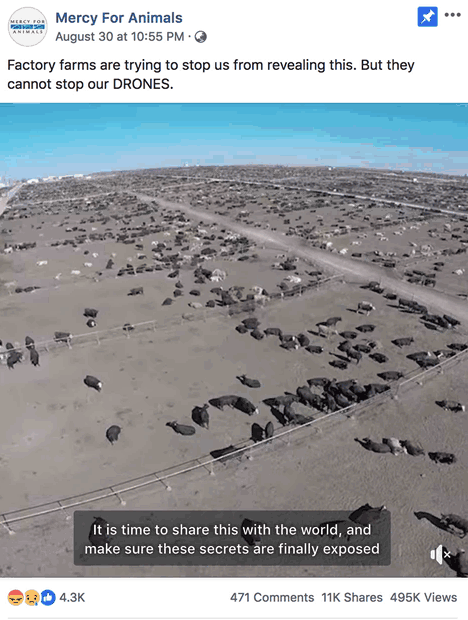 According to their Global Content Manager, Julie Cappiello, Mercy For Animals focuses on being the most effective for their mission with the resources they have. As a nonprofit, they didn't want to spend their donor's money to place their social media posts in front of people.
(Mercy For Animals do run ads on social media platforms, mostly to promote their donor drives or their Veg Starter Guide on Facebook but not to boost their organic posts.)
Furthermore, posting organically also helps Julie and her team understand what their audience really reacts to.
"Our content varies, but we keep our focus on farmed animal and vegan advocacy. With the ebbs and flows of algorithms, we've found recipe videos work wonders on Instagram (and not so much on Facebook), but our news videos outperform on Twitter and Facebook. We try to maximize our content as much as possible, including reworking videos to be in "frames" to become more shareable. It's all about keeping up with the trends."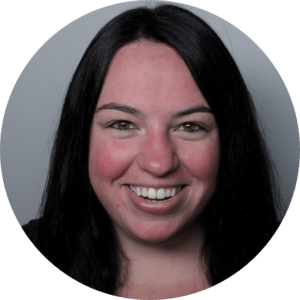 Julie Cappiello
Global Content Manager
Behind-the-scenes of a global organization's social media team
Mercy For Animals' social media team has a total of nine people — eight working directly on social media and one supervisor. With the help of their video and graphic design teams, they manage 19 social media accounts worldwide. Their social media goals are total impressions, organic impressions, engagement, and followers.
Developing and distributing content and campaigns in a global organization is no easy feat. Mercy for Animals has a presence in different regions, from North America to Latin America to Asia. And each region has its own culture and sensitivity to the topics that Mercy For Animals advocates for.
Cappiello works very closely with the staffers in each region to develop culturally appropriate content. In some regions, she also works with VPs and managing directors to make sure their content is local and their messaging is what they need it to be to maximize the impact of every post. This also includes which platforms they choose to work on since some regions are more frequently on certain platforms more than others.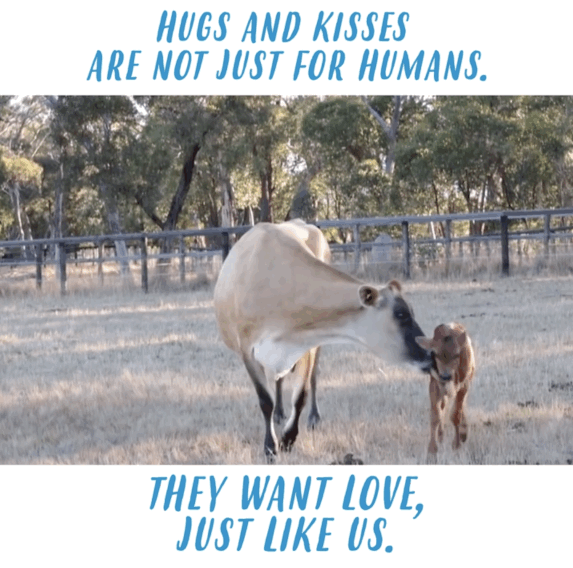 When it comes to the content creation process, Cappiello said that they have very collaborative teams, and that the process is different for images and videos.
For images, their graphics department works hard on their Instagram stories and some social images with direction and requests from the social team. The social team also creates images themselves from time to time as well.
On the other hand, for videos, their video team and social team meet once a month to discuss ideas and upcoming projects to work on. The social team also requests two to three "news" videos (similar to NowThis) a week to keep our followers updated on vegan and animal rights news.
Bringing their social media to the next level with Buffer
When Julie was hired at Mercy For Animals, she was in desperate need to cut down the time she was volunteering on social media and wanted to republish old posts. She spoke to all of their social media staff about Buffer to see if it was something they wanted to implement. The staffer who oversees their US Twitter account, Joe Loria, was tweeting approximately 50 times a day and using another tool, which was proving to be cumbersome. To extend the shelf-life of their best content, they would have to copy the posts into their schedule multiple times.
Since adopting Buffer, Julie, Joe and the team have streamlined their publishing process, scheduling all their content a day or two in advance to ensure their social accounts never "go dark".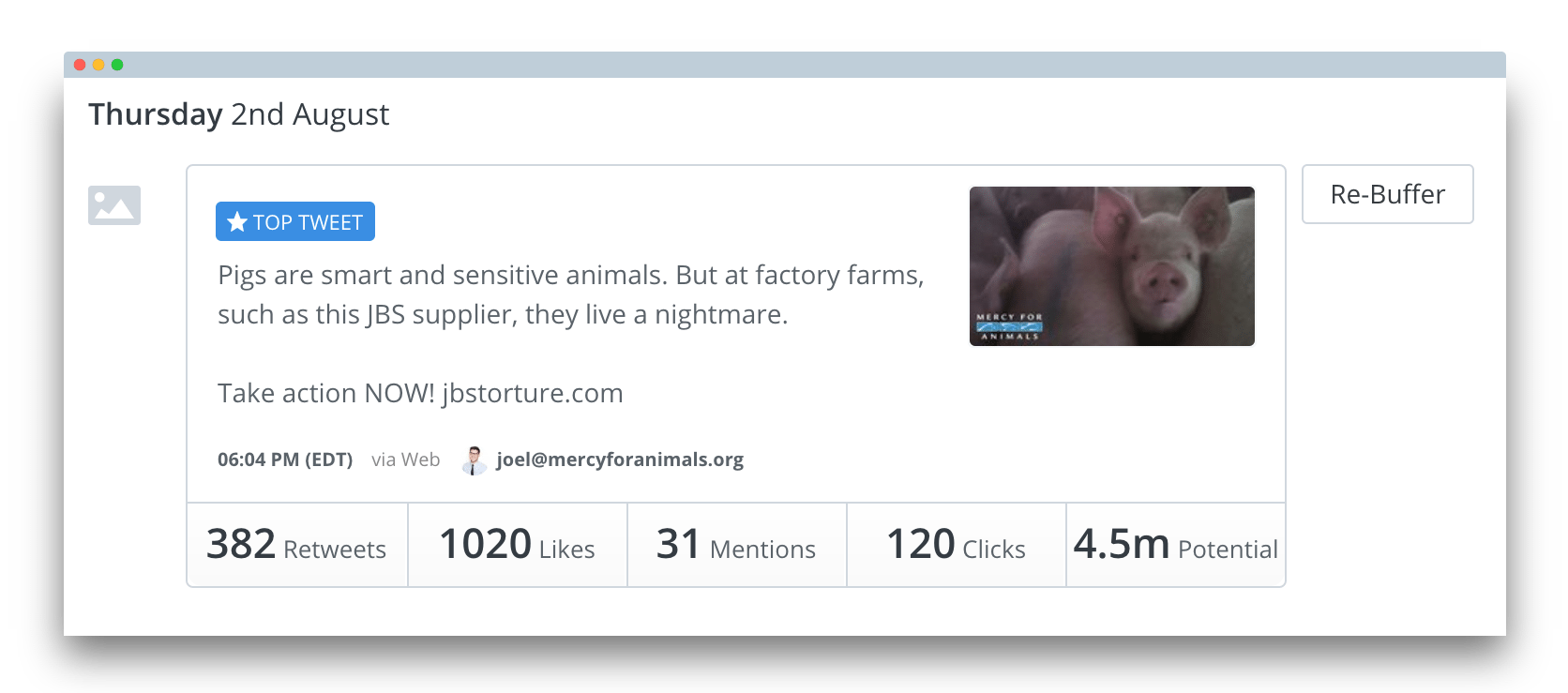 During the scheduling process they use Buffer's native analytics tools to identify which social media posts have performed particularly well, so that those posts can be recycled or repurposed.
"By being able to quickly and easily sort through past posts based on set KPIs, we know what type of content is performing best. Using this data we try and replicate the success by either rebuffering the content or creating a new, but similar, piece of content. Rebuffering content helps us reach more people with the same messaging. It saves us, literally, hours and in turn, helps us spread our message even further."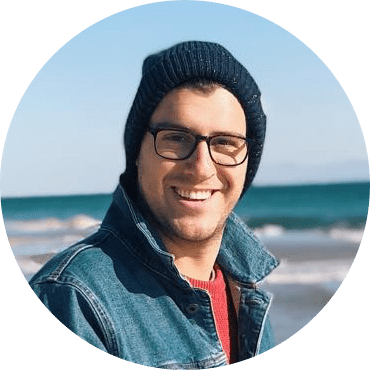 Joe Loria
Content Manager, U.S.
As their Instagram and Pinterest content is created by their design and video teams, they also use Buffer as a place to store images and video. This stops content from becoming lost in their inboxes, and provides flexibility in timing; their social posts can be easily rearranged by dragging and dropping content within the Buffer interface.
According to their Pinterest and Instagram content manager, Sarah Von Alt, Buffer has also made their Pinterest account more consistent, helping their team spread out the content they've created and post on a more regular basis, rather than pinning a ton of things at once. Sarah has found that "Pinterest users seem to value regular content without being overwhelmed by dozens of pins at once".
There are also a couple of side benefits that are unique to being global. 1) Covering staff who aren't fluent in a region's local language are able to easily reschedule pre-vetted content. 2) Buffer's automatic Instagram scheduling means that staff no longer have to be online at odd hours of the day or work on weekends to post to Instagram.
The results are impressive.
In the face of declining organic reach across the industry, Mercy For Animals has garnered a 300 percent increase in Twitter impressions since they started with Buffer, and have been steadily and efficiently extending their reach across Facebook, Instagram and Pinterest.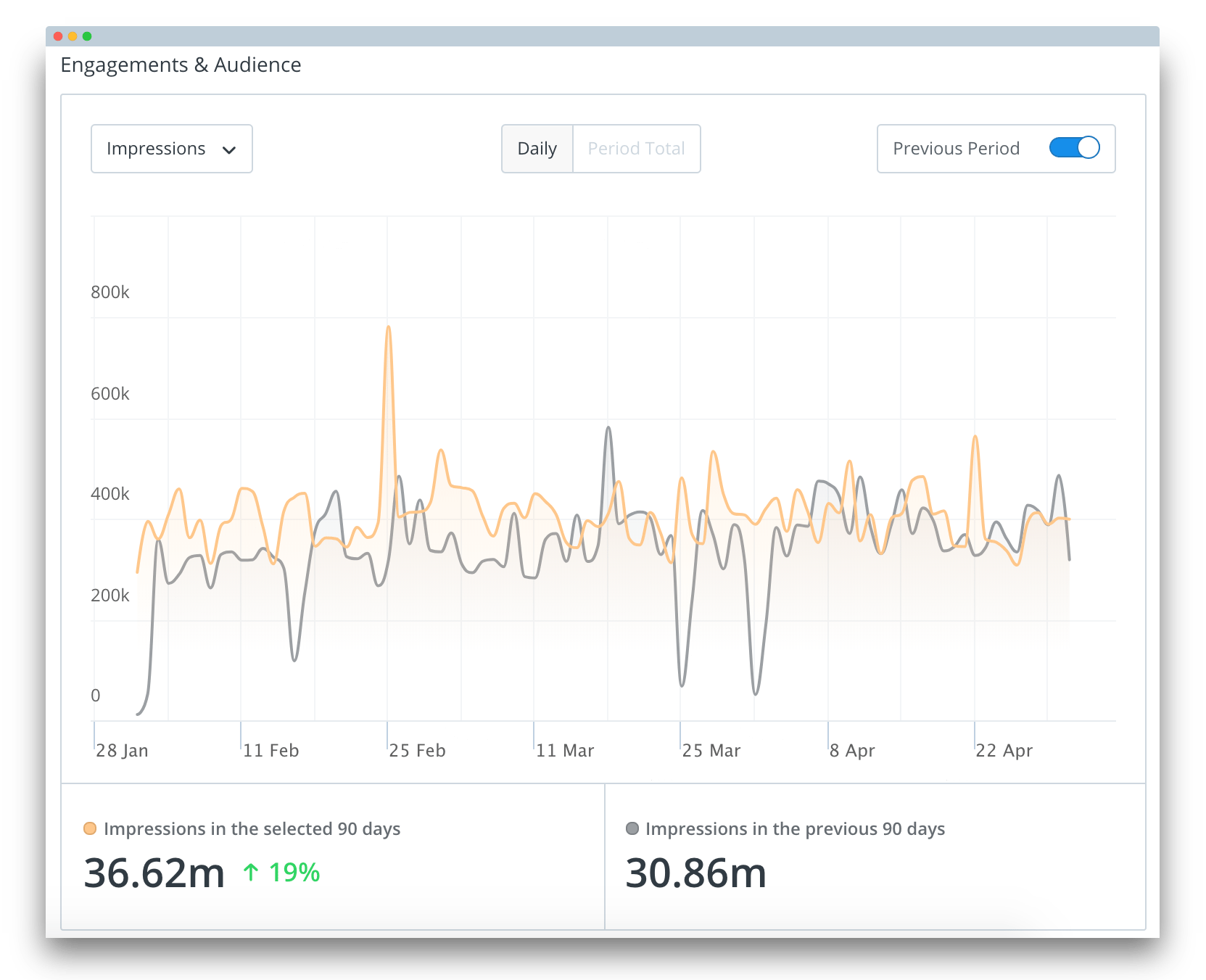 Perhaps most impressively, they've achieved these results without the assistance of advertising dollars, extra staff or extra hours on social media. Time and money are scarce resources in the nonprofit sector, and with a smart strategy and the right tools, Mercy For Animals are maximizing their returns for both.
Mercy For Animals: Key Stats
19: The number of social accounts managed by Mercy for Animals across the globe.
300 percent: The increase in Twitter impressions since signing up to Buffer.
70,000+: The growth in followers on their primary Instagram account in 2018.
8: The number of staff working on directly on social media.
Instagram | Facebook | Twitter
Mercy For Animals subscribes to Buffer for Business.