🖊️
We created this new dashboard during Build Week, where the entirety of Buffer came together in small teams to spend a week focusing on building and shipping new features. Read more about Build Week
here
.
This specific project was meant to help our team members prioritize their mental health by providing a deep dive into how we utilize our vacation time as a company.
Amy Lee Bennett, Carlos Muñoz, and Juliana Gomez also contributed to this blog post.
Transparency is one of our core values at Buffer. We've found that it builds trust, holds us accountable, and can push our industry forward, and one of the ways we embrace this value is by publishing public dashboards to share things like our salaries and revenue.
We're excited to add a new transparent dashboard to share our time off stats here. We hope this will contribute to conversations around healthy workplaces and how employers can better support their employees' mental health and well-being through four-day work weeks and various types of personal leave.
Our teammates need planned time away from work to stay healthy. Many studies have shown that time away from work improves mental and physical health, prevents burnout, and promotes a better work-life balance. But according to Expedia's 2022 Vacation Deprivation report, 61 percent of American workers feel that their vacations don't feel like "true vacations" and unplugging from work is steadily becoming more challenging. A whopping 71 percent of workers are feeling more burned out than ever.
Why an unlimited vacation policy, isn't always the best policy
Initially, we believed an unlimited vacation policy would be the solution and we felt it aligned with our intention to offer generous compensation and benefits. And who wouldn't love unlimited time off from work, right? Ironically, fewer team members took time off, and it wasn't just the case at Buffer: studies have shown that unlimited vacation policies can actually hinder employees from taking time off work. So we went back to the drawing board and decided to go in an entirely different direction: encouraging all teammates to take a minimum of three weeks off per year (15 days), in addition to national holidays.
So far, this feels like a good balance for our team. We can still provide parameters around minimum vacation time (which mitigates any awkwardness or qualms about taking time off under unlimited vacation policies) whilst facilitating other flexible paid time off options. Some of these include:
Asking all new parents to take 16 weeks off for family leave and any additional time needed for birthing parents.
A six-week paid sabbatical for every team member after five years, which teammates can use however they'd like. We've seen team members travel the world, focus on side projects, and spend quality time with family.
Volunteer leave to empower team members to take time off work to make an impact on initiatives they feel called to support.
A Local Election Day, so teammates can take time off to vote and participate in any election activities, such as working at polls.
A Wellness day for teammates to receive preventative care, such as dental cleanings, and physical and vision exams.
Why we're transparently sharing how Buffer teammates take time off
We know that one of the most significant benefits of a fully remote team is our teammates' flexibility and autonomy in organizing their work and schedule. We don't quite want to erode that autonomy by enforcing time away, but we do want to ensure that teammates are taking adequate time off and getting the rest they deserve.
This was the driving force behind us building this dashboard: to evaluate trends and habits related to how teammates take time off and make certain that teammates are taking advantage of our time-off policy to optimize their health and happiness. Below is a quick preview, you can check our full live dashboard here.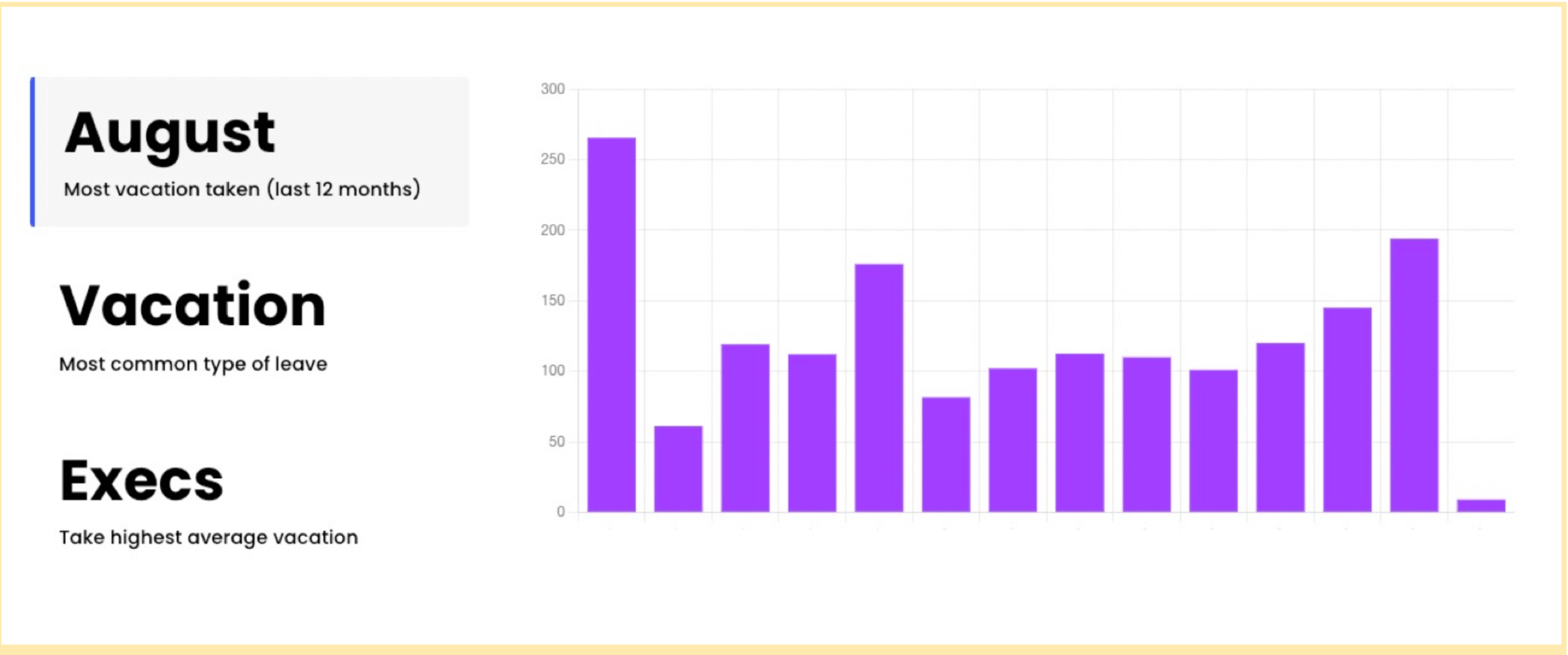 In addition to building out our transparent time off dashboard, we learned that our team has taken a total of 1151 vacation days in 2022 so far, meaning we're averaging about 13.71 days off per teammate. So we should be on track to meet our goal of an average of at least 15 vacation days per teammate by the end of 2022. Additionally, we did a drill-down by team and found that our Engineering team seems to be trailing other teams with how much vacation time they've taken:
Product: Average 16 days
Marketing: Average 15.6 days
Advocacy: Average 15.2 days
Finance: Average 15 days
Executive: Average 14.5 days
People: Average 13.7 days
Engineering: Average 11.8 days
Spotting these trends helps us focus our efforts to ensure teammates feel empowered to take a vacation and explore if there are any barriers to booking that time.
Finding the right balance
To fully disconnect from work and experience the health benefits of a vacation, we'd hope to see team members take advantage of the policy and book at least one whole week off annually. For now, 15 days feels like a solid sweet spot, as we've seen reports (both through external research and anecdotes shared by teammates internally) that teammates feel more well-rested with at least two weeks off from work. Mattress company The Sleep Judge studied how time off policies impact employees' overall well-being. Regarding ideal vacation length times, most participants felt more well-rested, productive, and energized after 11-15 days off.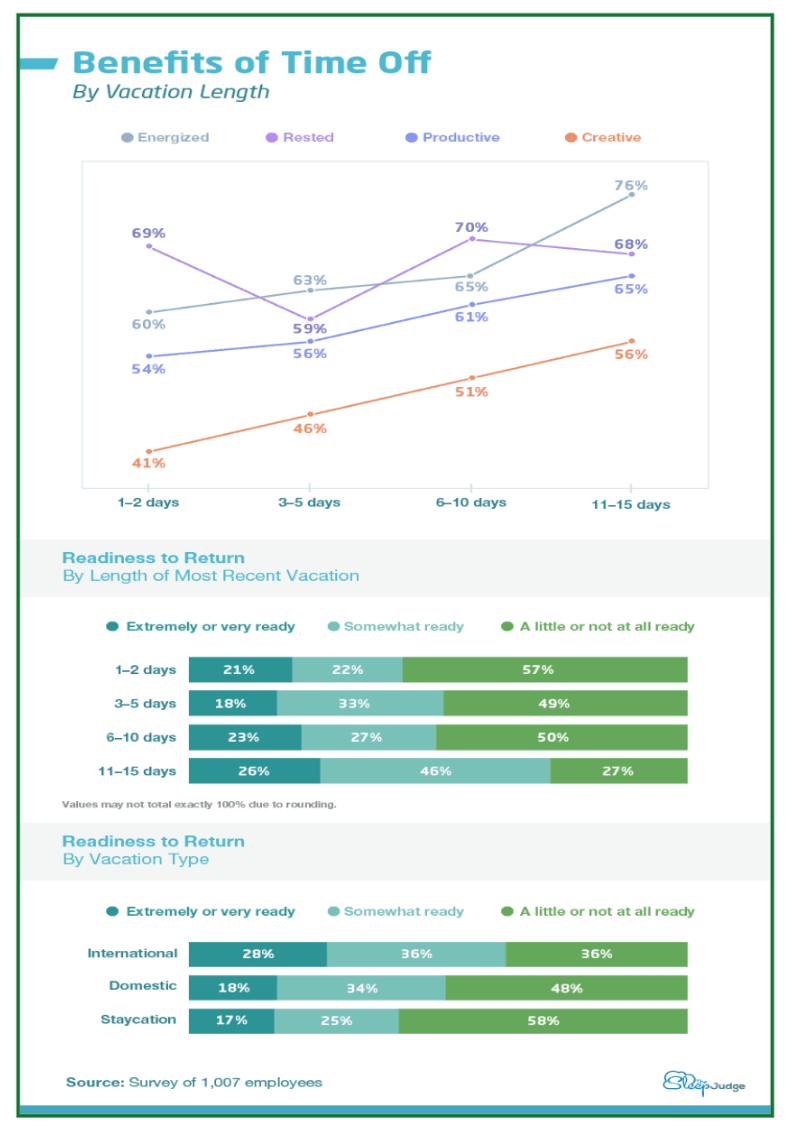 We also see higher rates of return readiness with extended vacations and with actually going somewhere on vacation as opposed to a staycation. We understand that domestic and international trips aren't always realistic options. Still, we hope that encouraging teammates to unplug fully will help them feel more well-rested.
Have 4-day work weeks impacted how much time we take off?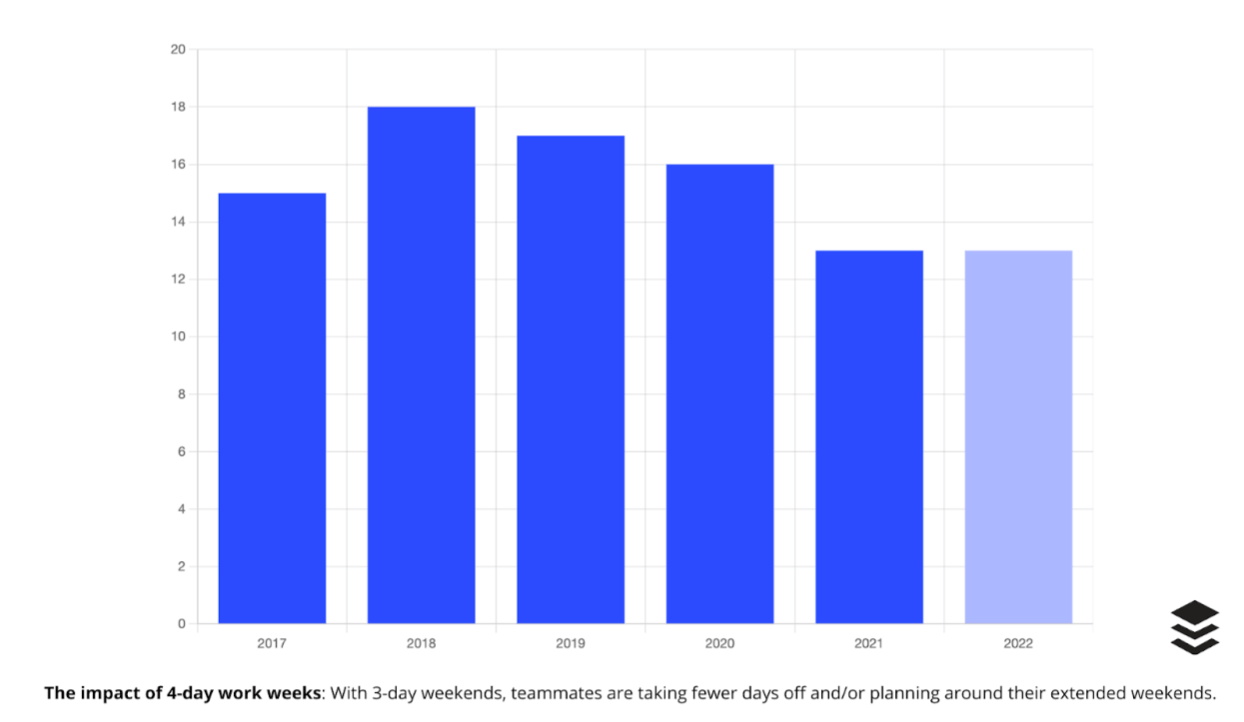 To see how four-day work weeks may have impacted how our team takes time off, we've pulled in historical data from Timetastic (a tool we use to manage and record leave), and in the graph below we can see that our team booked fewer vacation time in 2020 and 2021.
After the introduction of our 4-day work-week in May 2020, we see how much of an effect it's had on how our team takes time off. Many teammates have reported that since the introduction of this new workweek schedule, they've felt a better sense of work-life balance and improved stress levels. As a result, we speculate that this has led to teammates feeling the need to take less time off due to having consistent consecutive three-day weekends. We also considered the following factors:
Long weekends feel like a "mini-break" ahead of each work week.
Taking a week off work uses only four days of vacation allowance rather than the five days previously needed, thus making it possible to book a week away from work and use only four days of your vacation allowance, potentially giving each team member an additional 52 days away from work each year.
Limitations and concerns around travel due to the COVID pandemic may have impacted teammates' willingness to travel.
We're curious to see how this data trends as we move forward, and while it may seem like teammates are taking less time off, it appears that overall our team feels happier with four-day work weeks and can take time off as needed throughout the year easily.
Time off trends may surface some disparities amongst different demographics
We know cultural factors influence an individual's decision about booking time away from work. Research shows that U.S. workers are less inclined to take time off due to the fear that booking vacation indicates a poor work ethic. So much so that in 2018, Americans left over 768 million days of paid time off unused.
We also learned that gender and age can impact time-off habits. For example, in Fortune's article on vacation habits, it was reported that only 44 percent of millennial women use all their vacation time compared to 54 percent of millennial men. In Expedia's Vacation Deprivation report, younger employees (Millennials and Gen Z) take less time off and are more likely to experience burnout than their counterparts aged 50 and older.
Reluctance to take a vacation may also be related to the fact that paid time off in the U.S. is a benefit rather than a statutory entitlement (the U.S. is the only industrialized nation where this is the case). Commonplace at-will employment contracts, where employees can be fired without reason, can also contribute to this reluctance. Being a workaholic might feel like a wise strategy to minimize the risk of falling out of favor with your employer.
At Buffer, we want everyone to take a healthy and enjoyable time away from work and fully disconnect. We see this as one way to hold ourselves accountable to that goal.
Our main takeaways
Through much trial and error, we've found a few benefits that seem to work well for our globally distributed team, and we'd recommend these particular approaches for similarly structured organizations seeking to support their team's health and well-being:
Implementing a four-day work week.
Instituting a minimum vacation policy.
Observing all national and local holidays where teammates are located.
Providing Wellness days so teammates feel empowered to take care of themselves without the worry of planning around their work schedules.
This project, and the research and analysis around it, have prompted a few questions for us. Is there a correlation between planned time away (vacation) and sick time? Between vacation time and salary? Our sample size of 83 teammates is likely too small to generate definitive conclusions, but it could be interesting to explore. We could also look into surveying teammates just before and after a week or more vacation to better understand how vacation impacts well-being and performance.
Thanks so much for reading. Over to you! Is there any information or context that we are missing? Perhaps you'd like to see an annual report based on this data? Send us any questions you may have on the topic on Twitter!