Buffer retreats are special in many ways. Spending time together is probably the biggest benefit for our remote team.
But as we travel to new locations, we also learn to view the world through new eyes. The more places we visit, the more we believe in this quote from Mark Twain: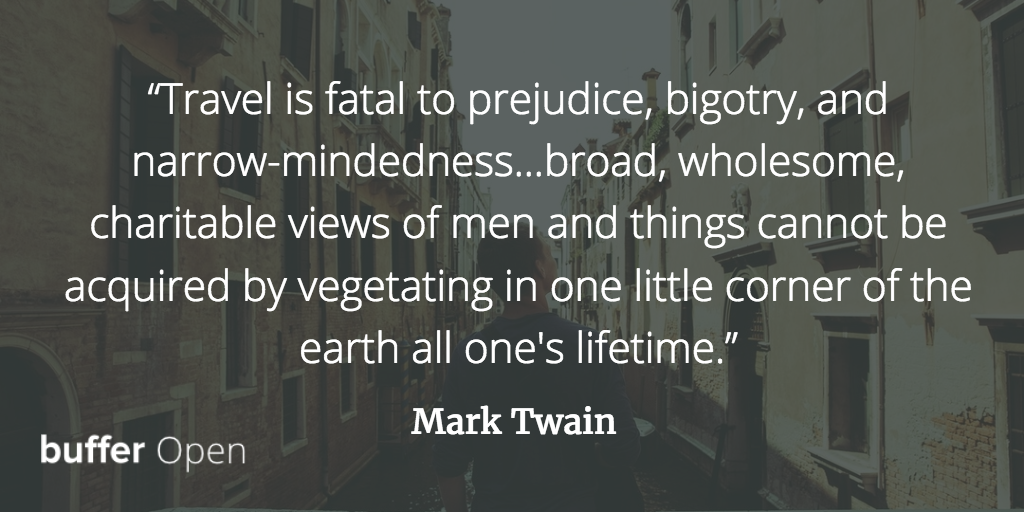 "Travel is fatal to prejudice, bigotry, and narrow-mindedness…broad, wholesome, charitable views of men and things cannot be acquired by vegetating in one little corner of the earth all one's lifetime."
Wherever we go, we try to visit with gratitude and leave the place better than we found it. In Cape Town, South Africa, that looked like donating to an organization that provides support and guidance for children and young people in South Africa. In New York City, it looked like spending some time at the Bowery Mission.
During our last company retreat in Hawaii, we decided to take our efforts further and discussed a variety of ways Buffer could contribute on a wider scale: things like contribution matching, event sponsorship, a Buffer merchandise shop, and finally an employee volunteer program.
Now we're excited to share the first step of these new efforts: A program to support our team members who choose to do good across the globe. Every employee at Buffer can take a full day or two half-days off each quarter to show gratitude by volunteering or otherwise contributing to their community, wherever they may be. Here's more detail about the program!
We discovered team members were volunteering regularly
Before we put a plan into place, we queried our team to see if teammates were volunteering or interested in volunteering. We discovered many Buffer team members already volunteer within their parts of the world in a variety of fields.
Here are a few examples:
Bonnie, Gratitude Champion
Currently Volunteering: Life Skills Mentor at Silver Lining Mentoring (very Buffery! Lots of biases were unpacked in training, forever grateful for that) with young people who are about to age out of foster care.
Niel, Product Engineering Director
Currently Volunteering: Doing code mentorship every three months or so at Railsbridge Cape Town. Also involved in organizing Alterconf Cape Town this year.
Roy, Pablo Customer Researcher
Currently Volunteering: Volunteer for Red Frogs Canada, a nonprofit that safeguards university and high school students (e.g. hydration stations at pubs/parties.)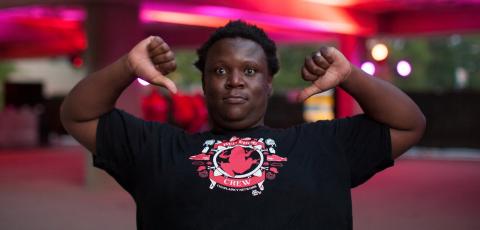 Hailley, PR Crafter
Currently Volunteering: With a not-for-profit for about 4 years now called Girl Gone International. I organize events for expat women in San Francisco (I started the Ottawa chapter and then moved) and it feels amazing to help these women who are away from home connect with other like-minded people and build up a network.
Kelly, Happiness Hero
Currently Volunteering: At Philabundance, a food pantry in South Philadelphia. In the planning stages of starting a Girl Scout troop with some awesome folks at her coworking space!
Many more shared dreams of volunteering in specific areas and causes that they hadn't quite been able to realize yet.
This led us to wonder: What if Buffer supported these personal volunteer initiatives by providing an official program?
Creating our Buffer Volunteers Program
Today, every Buffer team member has the opportunity to take one day or two half-days per quarter to volunteer or serve in any capacity they'd like.
Part of this time off allows for logistics such as traveling and taking time to reflect and write about their experience.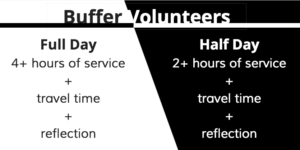 What can you do with this time? That's up to each individual!
Here are a few examples we shared with the team:
Working with an established non-profit or other cause
Finding friends to walk along the beach or around the city, handing out cold water or picking up trash
Taking out a friend or acquaintance who has been having a rough time
Inviting local moms over for a day of pampering
Taking a friend, kids or family to visit a convalescent home and chatting with the folks there
Playing with the animals at an animal shelter
Taking a person who might need help to a doctor's appointment
An ongoing volunteer commitment
Anything else that shows gratitude and spreads positivity to the world around us.
It's important to note, too, that no one on the team should feel pressured to volunteer or serve in any capacity. There's no judgment for any teammate's choice of service or if they choose not to take part in the program.
How we log volunteer time
To take time off, team members chat with their leads to make sure their particular day off works for the team. Then they add it to our shared vacation Google Calendar and add the details to a shared document.
Here's a peek at our template and one team member, Paul's, notes from his time volunteering at Innisfail Young Performer's Competition.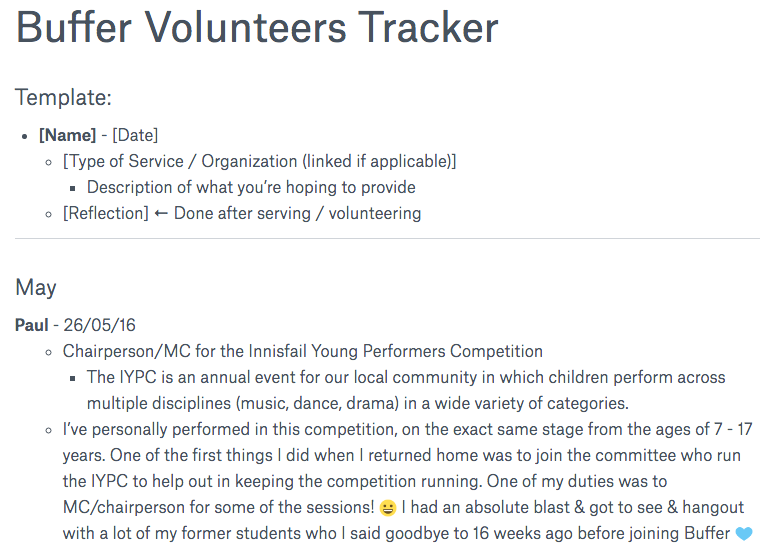 Having this collective document helps us learn more about what everyone is up to and also allows others to peruse for volunteer ideas.
It hasn't been used much yet
One interesting note is that this program definitely hasn't been used very much yet, which is something I'm kind of sad about (although I haven't used it yet, either)!
Why aren't our folks taking advantage of this? I might've missed something in its creation, or teammates don't feel like they have the time.
Maybe they feel that taking the time off for volunteering will take away from time they feel they can take for vacation. Perhaps our new minimum vacation recommendations could help here.
I'd be really curious to hear if you have any thoughts about this or ways we can make the program easier to use or more encouraged.
Get inspired by these cool volunteer programs!
Buffer definitely isn't the first company to enact an employee volunteer program. These companies (and many others!) inspired us in our journey:
IBM has a robust employee volunteer program with over a century (wow!) of experience. They provide their employees with a library of 40 different volunteer kits for teaching at schools and non-profits. Their results? Over 9 million hours of volunteer service by over 140,000 employees and retirees.
Equally astounding is IBM's Corporate Service Corps. Ten to 15 IBM employees are invited every year or so on a service adventure for four weeks in another country to "work collaboratively with their government and community counterparts to understand how to implement socially responsible business practices with measurable results in a global context."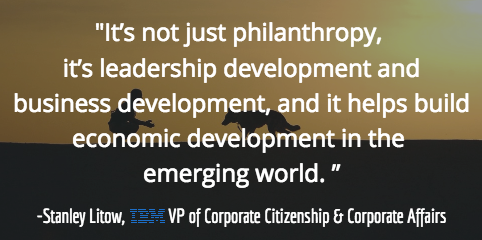 In November 2010, Otterbox launched their very own non-profit, OtterCares, aimed to inspire youth to become entrepreneurs and philanthropists. In addition to having the opportunity to participate in OtterCares-created programs, such as Young Entrepreneur Tournament and Engineering Brightness, Otterbox employees are given 24 hours of paid time off per year to volunteer for OtterCares or beyond.
Employee volunteer programs can look different from company-to-company as the office culture, work environment and location differ.
What's really cool about volunteer programs is that they don't just create space for teammates to do great things in the world—they also tend to make employees better at and more engaged with their work.
"Companies with the highest levels of employee [volunteer] engagement see more than a 19% average annual increase in their operating income…Studies show that employees involved in company cause programs are 28% more likely to be proud of their company's values, and 36% more likely to feel a strong sense of loyalty. This, in turn, can lead to improved job performance and lower turnover." – New York Cares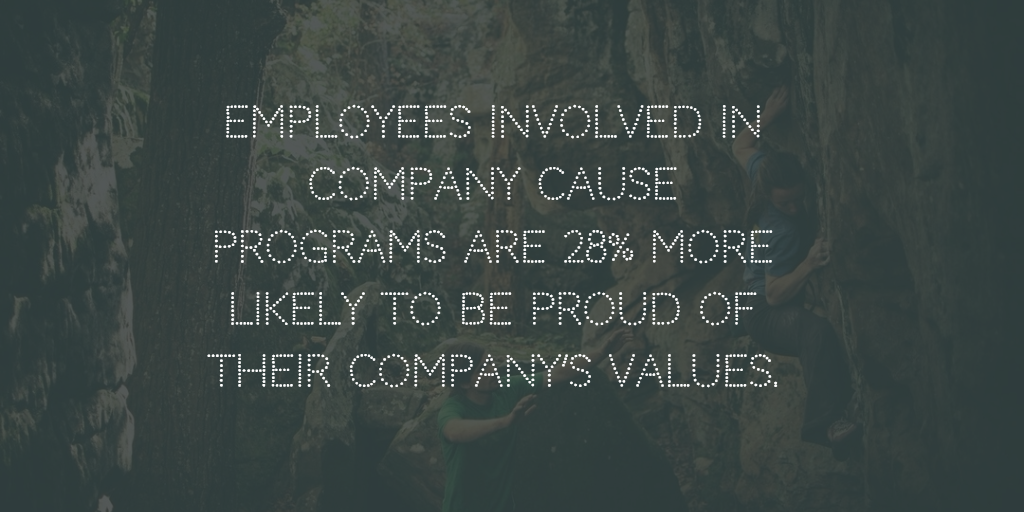 Over to you!
If you might be thinking about volunteering or setting up a volunteer program, here are a few websites we found that might help find organized volunteer opportunities in your area:
Volunteer Match (U.S.)
Hands on Network (U.S.)
Idealist (International)
Volunteer Alliance (International)
Go Abroad (International)
Do you have experience with employee volunteer programs? Do you currently volunteer with any awesome organizations we can check out? We'd love to hear your thoughts in the comments!