On April 8, 2011, Blake Mycoskie, the founder of TOMS shoes, did something radical: He asked everyone to go barefoot for a day.
One Day Without Shoes is now a yearly campaign dedicated to educating the world of how many children in developing countries grow up barefoot and without shoes, putting them at risk of infections and diseases.
TOMS already donates one pair of shoes to a child in need for every pair of shoes it sells. This year, the company took it one step further. For every photo of bare feet tagged on Instagram, they gave a new pair of shoes to a child in need. At the end of the campaign, 296,243 photos were tagged—and the same number of shoes were pledged to children in the developing world.
Mycoskie understood the power of a good story. By making his customers a part of the narrative, he was able to make a much larger difference than if TOMS had simply donated the shoes without a social media campaign.
Every brand, every company, and every person has a story to tell, and visual storytelling is a very effective way of sharing your brand's message and engaging with your customers.
I've uncovered some imaginative ways brands are using pictures to tell compelling stories that generate engagement on Facebook.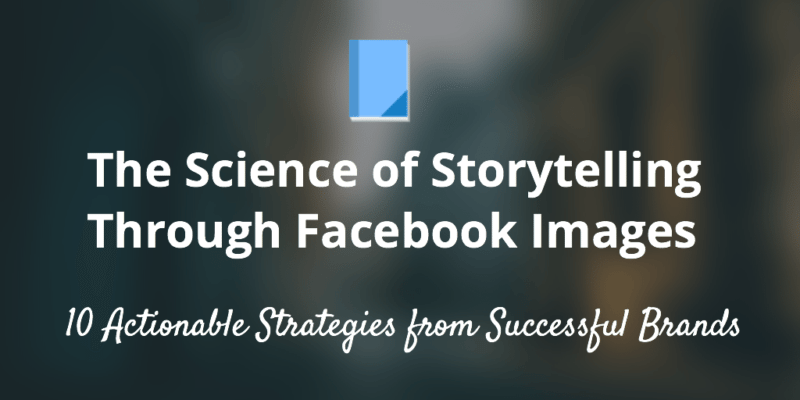 Storytelling in Marketing – Why Tell a Story?
We're wired to respond to stories
Everyone loves a good story. A recent study conducted by Adaptly, Facebook, and Refinery29, found that campaigns on Facebook that told a brand's story—they call it "sequenced content" here—before asking people to buy something were far more effective than those that focused immediately on making the sale.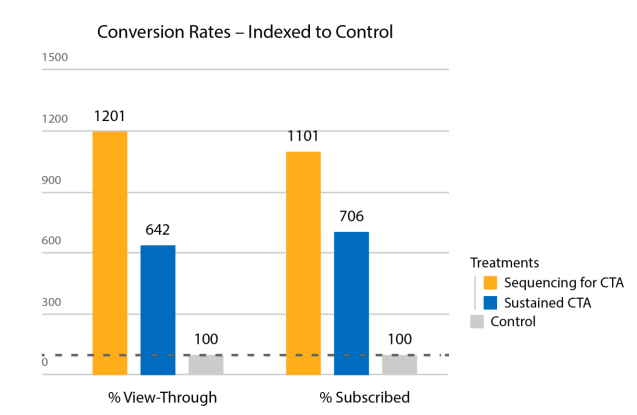 In order to remember something, we first need to pay attention
We're all overloaded with messages that reach us from every phone, tablet, or computer that we touch. It's easy to quickly dismiss information that's not relevant to us or that we don't personally care about.
Storytelling makes information relevant. It makes us care.
As Paul J. Zak, Director of the Center of Neuroeconomics at the Claremont Graduate University, writes on the Harvard Business Review blog:
We discovered that, in order to motivate a desire to help others, a story must first sustain attention—a scarce resource in the brain—by developing tension during the narrative. If the story is able to create that tension then it is likely that attentive viewers/listeners will come to share the emotions of the characters in it, and after it ends, likely to continue mimicking the feelings and behaviors of those characters. This explains the feelings of dominance you have after James Bond saves the world, and your motivation to work out after watching the Spartans fight in 300.
This also explains why we respond to struggles more easily when we identify with the people who have endured them. If your fans view your brand and the people behind it as similar to them, they're much more likely to trust you and continue to engage with you.
How to Tell Your Brand's Story Through Facebook Images
1. Share "behind the scenes" photos
We're curious beings. As marketers, we can satisfy this innate human curiosity by involving our readers and customers and showing them what happens behind the scenes of our businesses.
Zappos.com does this particularly well by sharing team photos and by having employees pose with the brand's products.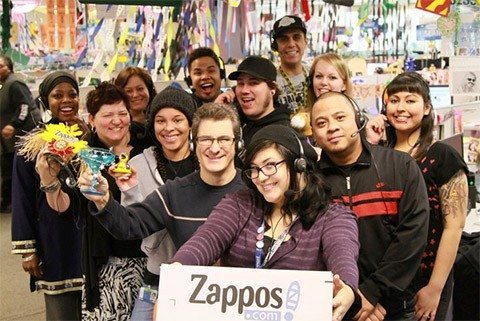 2. Highlight your customers' successes
When in doubt, focus on your customer.
In a recent Content Marketing Institute and MarketingProfs study, B2B content marketers reported that case studies in their campaigns led to a 70% effectiveness rate.
Case studies also act as powerful social proof that allow your fans and users to experience the journey of your product or service through another person's story.
An excellent example is St. Jude Children's Research Hospital's Facebook page, where the stories of current and former patients are shared almost on a daily basis.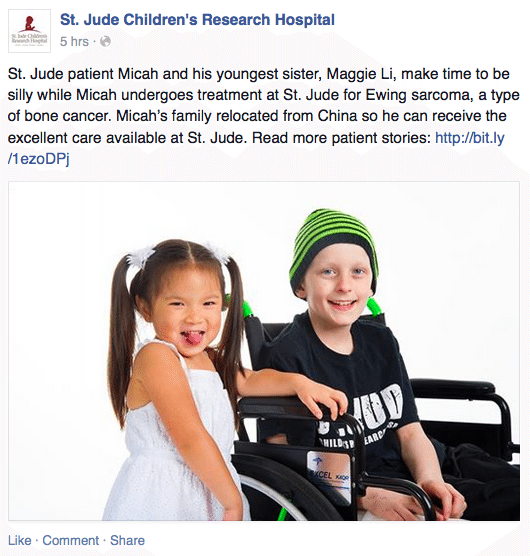 3. Ask your customers to share their photos
We love photos of faces. We love sharing things about ourselves to feel more connected to the rest of the world. Viewing photos of others even helps us make better decisions.
As marketers, it's easy to incorporate all three of those benefits by asking readers to share their own photos, especially of themselves interacting with our brands.
Sharpie does this in several creative ways, including a "Fan of the Week" feature that highlights a Sharpie user along with a work of art they've created using a Sharpie.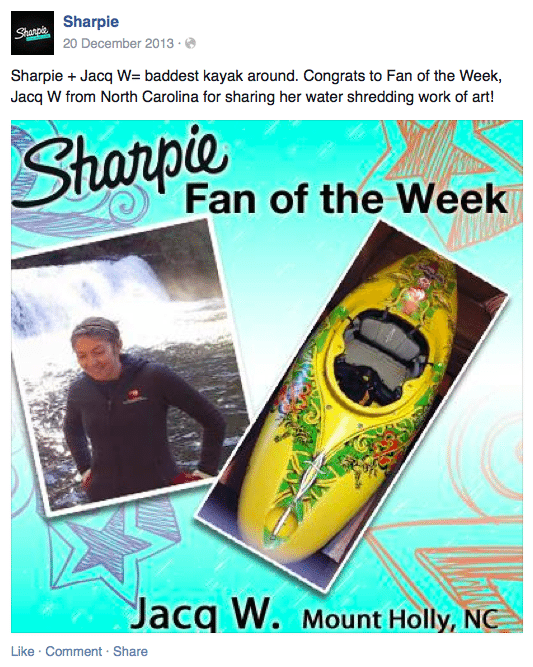 4. Have your photos reflect current events
After the Supreme Court of the United States ruled last month that state bans on same-sex marriage were unconstitutional, brands all over the world, including here at Buffer, changed their profile images on Facebook to rainbow colors as a show of solidarity and support.
This, as it turns out, is a very good idea for increasing Facebook engagement. If your fans are talking about certain social or news events already,try joining in the conversation as a brand.
Indian cooperative Amul does this particularly well in their Facebook feed by posting cartoons that are directly related to something in the Indian or world news. The cartoons are branded incredibly well with recognizable characters from Amul's marketing campaigns and always have a funny or clever twist on the event.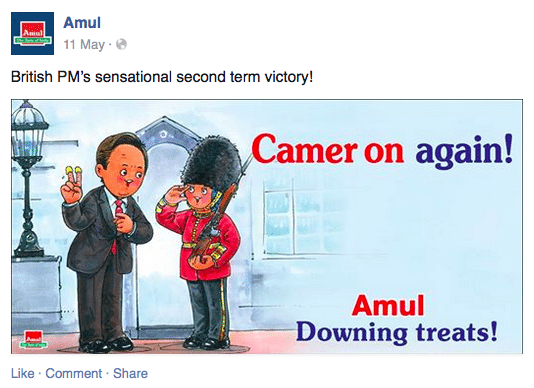 5. Showcase your successes
When you showcase your successes, you make users feel like a part of your company.
As human beings, we need to belong. Research shows, in fact, that belonging is fundamental to our sense of happiness and well being.
Water.org creates this sense of belonging and shared victory perfectly on its Facebook page by highlighting the difference its work—and its fans' charitable dollars—have made in the lives of real people around the world.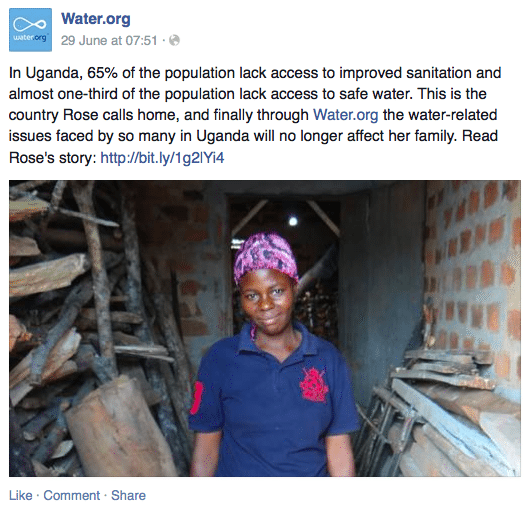 6. Showcase your work/product in creative ways
Science suggests that human beings are biologically wired to like art. In a study in Brain and Cognition, the authors write:
"Art appreciation may be a natural process of the human brain, such that looking at visual works organically triggers memory, emotions like pleasure or fear, and processes that allow people to attribute meaning to new information they absorb."
If you can create images that are creative or artistic in nature, you can engage your users and have their brain synapses firing away to make your brand more memorable and interactive. Nutella does this extremely well by placing a jar of Nutella in fun and creative settings.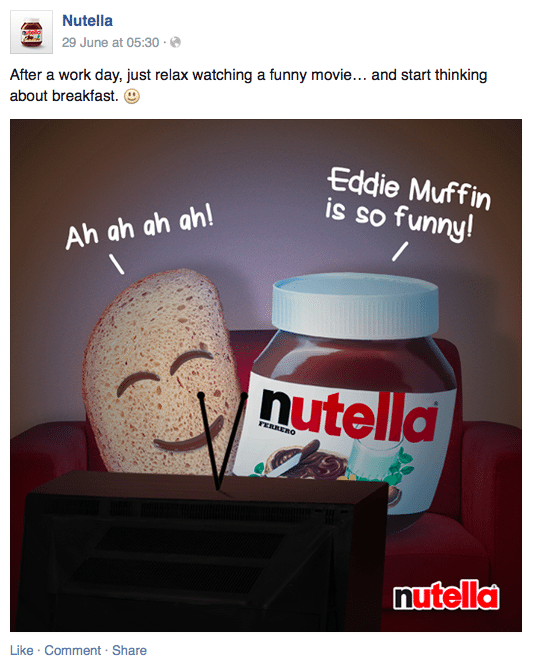 7. Use hashtags
When it comes to Facebook, hashtags aren't always a good idea. But brands such as Oreo have found that by using popular hashtags sparingly around current events or trends, it's easier to be found and become a part of the conversation that users are already having.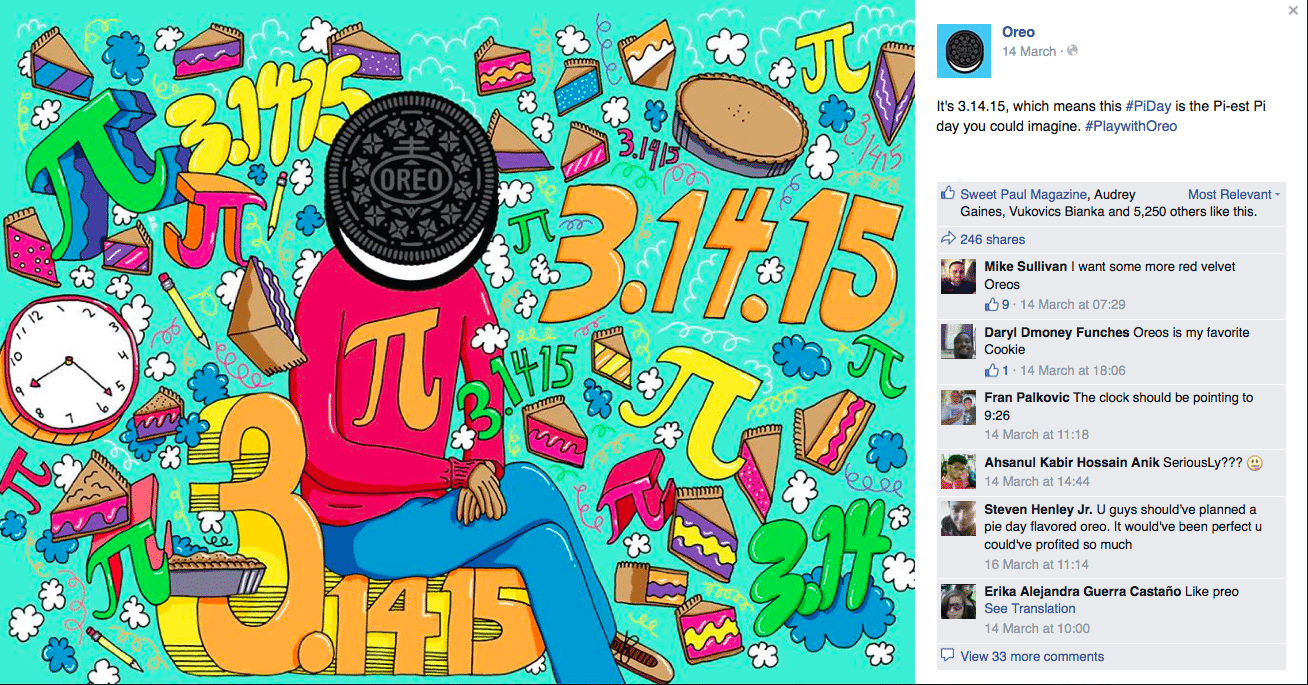 8. Add inspirational quotes to your images
When it comes to inspirational quotes, there's good news and bad news.
The good news is that you can get some likes fairly quickly, especially if you're a new brand, and the message of positivity will often resonate with your fans.
The challenge is that we've been so inundated with quotes and inspirational sayings on pictures that their effectiveness has all but disappeared.
Penguin Random House gets over this little hurdle by sharing motivational images that are related to an author or the writing/reading life in some way. Often, they share something funny and relevant, which make their inspirational images extremely likeable and shareable.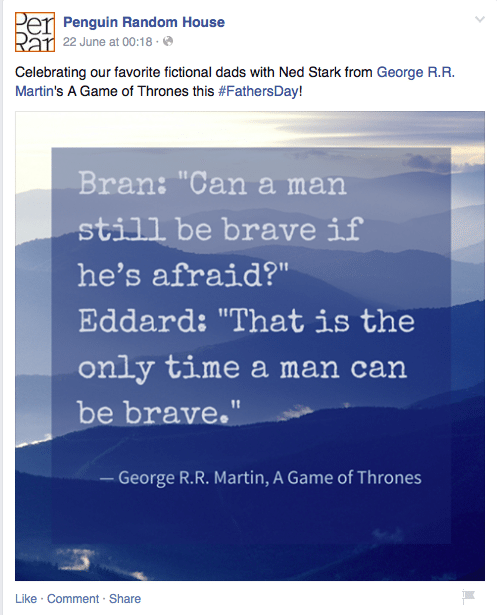 9. Share your history and milestones
Some of IBM's most liked and shared posts are those that go back in time and show how technology has advanced in the years since. By reflecting on your brand's history and past successes and failures, you can make your users feel connected to you and create an emotional connection.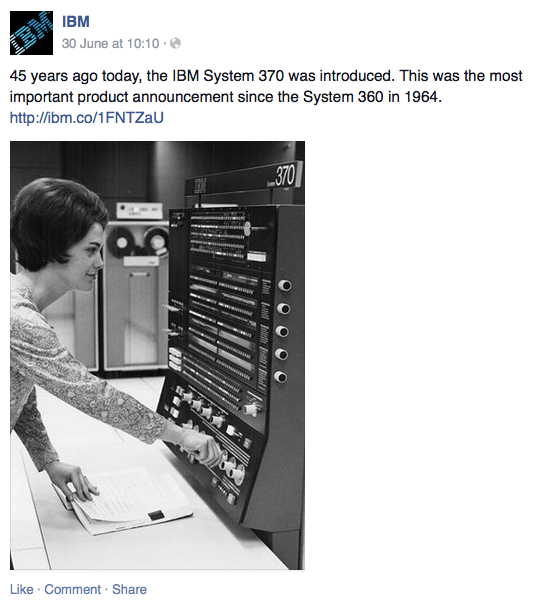 10. Make it personal
If you want a true connection with your fans and followers, open up your heart to them, like Facebook COO Sheryl Sandberg did after the death of her husband, in a post that went viral and inspired countless women to share their own stories.
When you allow your customers to see the strengths and the weaknesses, the highs and the lows of yourself and your brand, you create a connection with them on a basic human level and create fond associations with your brand.
Brands That Are Doing it Right: 5 Fantastic Examples
While storytelling appeals to our basic core, visual storytelling has an even greater impact—images engage with us not just on an intellectual, but also an emotional level.
Brands have quickly caught on to this fact and are using images in some very clever and creative ways to engage with their users and customers and create brand recollection and trust.
Here are some of my favorite examples. Do they give you any ideas that you can use on your own Facebook page?
1. Threadless: Creating Community
Threadless is a t-shirt company that has become immensely popular due to its community building and support of creative artists. On its Facebook page, designers are invited to take part in themed T-shirt designing competitions and Facebook fans then vote on the best designs. The winning T-shirts are created and sold by Threadless.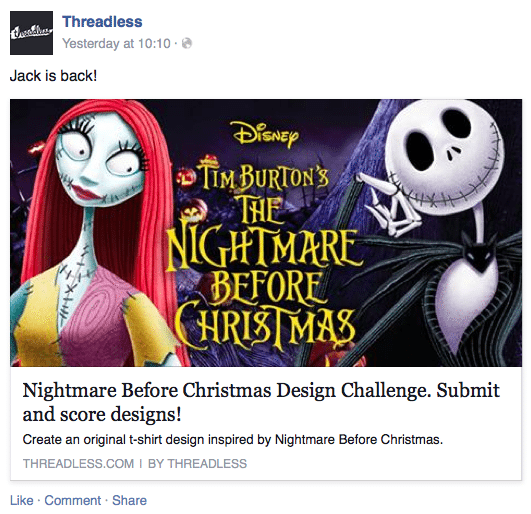 Why It Works: Designers love Threadless because they can come up with creative designs and be paid for them if they win. Customers get to vote on their favorite T-shirts and feel like they have a say in what's being offered to them. And Threadless itself has created a community on Facebook that feeds itself, leading to a lot more interaction, word of mouth, and additional sales.
2. Nike: Inspiring Fans To Achieve More
With its tagline "Just Do It" Nike has been able to reach and inspire people from around the world. In keeping with its inspirational theme and motivational messaging, the company uses its Facebook page to create images that inspire to action.
Why it works: Nike's branded images with the "Just Do It" slogan reach people who like to challenge themselves physically and who identify with the messages in these pictures.
3. Easy Lunch Boxes: Quick, Shareable Hacks for Parents
Anyone who's ever had to pack a lunch for a child knows that you tend to run out of ideas fast. The Easy Lunch Boxes Facebook page has hundreds of lunch ideas for little ones, neatly packed into an Easy Lunch Box. What's better—these pictures often come from bloggers who've used Easy Lunch Boxes and have new ideas to share.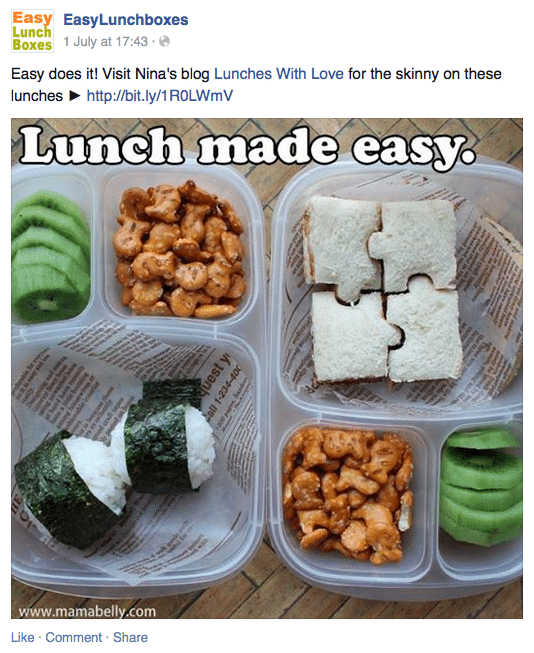 Why It Works: These images work because they provide value to busy moms and dads who routinely struggle with ideas on how to keep their kids' lunches healthy but creative. The product—the Easy Lunch Box—is always a main feature in these pictures, but never steals the show. It's a fantastic way to show off the product without being overly salesy.
4. Fanta: Clever Contests that Boost User Engagement
On Fanta's Facebook page, fans engage with the pictures in a completely new way: Through clues and contests. The images on this page are designed to create intrigue—users click away to Fanta's website, where there are details of the contest and additional ways to interact with the brand.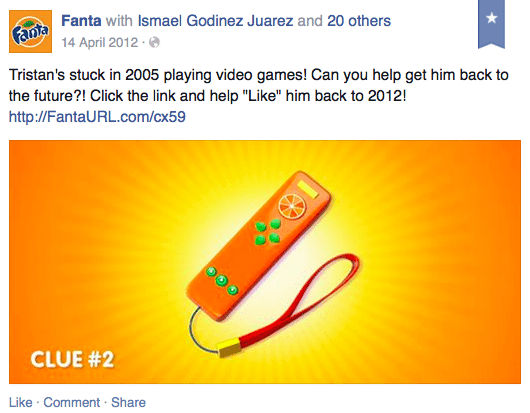 Why it works: The images are bright and immediately visually appealing while also creating brand recollection instantly. The call to action is very subtle—built into the contest itself—but it's powerful nonetheless.
5. Macy's: Image Collections That Showcase Products
Macy's Facebook page is packed full of images, offers, and apps. One of its most popular features is its collection of different items that feature in a set. Macy's features these items with a link to the purchase page where they can be easily ordered.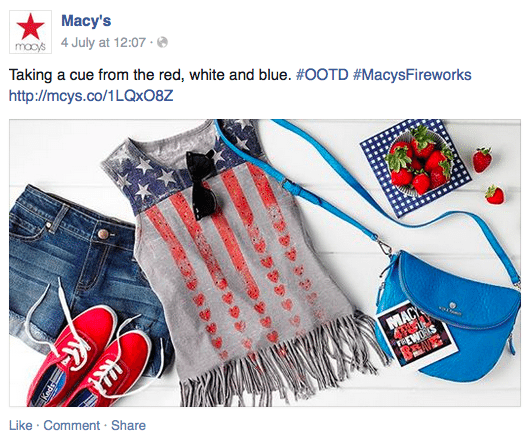 Why it works: Macy's takes the guesswork out of shopping by putting together like items for you to buy in a single click. These generates a lot of likes and shares, but also leads to sales of items that are featured as a result of a special sale, coupons, or current events.
Over To You
How do you use images on your Facebook page?
I'd love to hear about how you use your Facebook page, what images work best for you, and any experiments you've had success with.
Feel free to share your experiences in the comments or post links to other creative images and experiments you've seen on Facebook pages that we can all learn from.