Facebook is introducing Delivery Insights to its Ads Manager tools. Delivery Insights will tell advertisers how their ads are competing at auction and provide recommendations on how to tweak ads to make them more competitive.
The social network delivers ads to its users based on bid price, ad quality and user interest,  evaluating billions of pairings of individual people and individual ads each day, looking for the right mix of message relevance and potential business value.
According to Facebook, the new feature identifies under-delivering ad sets and explains why the under-delivery is happening and highlights suggestions for specific actions an advertiser can take to make their ad more competitive at auction – in-turn helping them to increase the performance of their advert.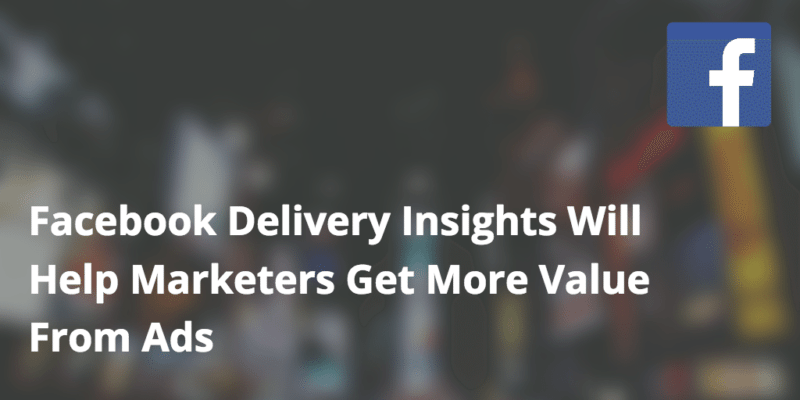 Delivery Insights will begin rolling out globally to Ads Manager in a few weeks, and advertisers will find this feature in the "Delivery" column in the campaign and ad set level, as well as in a standalone tab under "Tools."
John Hegeman, Facebook's director of engineering for advertising delivery, e-commerce and analytics, said in a statement about Delivery Insights:
"We built our ad system to create as much value as possible for people and businesses. With this in mind, we're focused on helping marketers better understand how our ads auction works, and how they can improve their results, through an education program we're launching this week. In the coming months, we'll also begin introducing new insights in our ads interfaces to help marketers ensure their ads are shown to the people they want to reach."
How ads get shown on Facebook
The core belief behind Facebook ads is the idea that people should see ads that are relevant to them and ads should deliver as much value as possible.
With more than 3 million advertisers all competing for attention in more than a billion users news feeds, Facebook use what's called an ad auction to deliver ads.
The ad auction pairs individual ads with particular people looking for an appropriate match. The social network's ad auction is designed to determine the best ad to show to a person at a given point in time.
The auction starts with an advertiser submitting a request for an ad to be shown to people. To submit the request, advertisers define their target audience, set an objective for their campaign and place a price bid for each click or conversion. Then, each time there's a chance to show an ad to a person in the advertiser's selected audience, Facebook run an auction to determine whether they should see the ad from that advertiser—or different ad.
"If you're an advertiser and you're getting a chance to show your ad, you're going to take away the opportunity from someone else," Hegeman explained to Wired.

"The price can be determined based on how much value is being displaced from those other people. An advertiser will only win this placement if their ad really is the most relevant, if it really is the best ad to show to this person at this point in time."
Factors that determine the winner of an auction
To determine which ad wins the auction, Facebook assigns a total bid value to each ad, which is calculated based on three factors:
The advertiser's bid value for the outcome they care about
The estimated action rates that the person seeing the ad will lead to the advertiser's desired outcome
The ad's quality and its relevance to the person
Here's a little more on each of these three factors:
Bid value
When you create an advert on Facebook you're asked to choose how you'd like to bid: automatically or manually.
Automatic: An automatic bid is one Facebook makes for you on an auction-by-auction basis. The bid is calculated with the goal of spending your entire budget and getting you the most of the result your ad set is optimized for.
Manual: A manual bid is one you make that tells Facebook the maximum amount you'd be willing to pay for the result your ad set is optimized for. For example, if you want website conversions and a you know conversion is worth $10 to you, you could set your bid at $10.
Ad quality and relevance
Facebook estimates how interested a person will be in seeing your ad with measures of its quality and relevance. If your advert has received some negative feedback, that could decrease its value here, likewise, positive reactions and the person has a history of being interested in what you're advertising, that can increase its total value.
To keep tabs on your ad quality and relevance Facebook ads manager has a super-useful relevance score for each ad and also enables to you keep tabs on both positive and negative feedback. The relevance score is displayed as a number between 1 and 10 while positive and negative feedback will be shown as a rating of low, medium or high.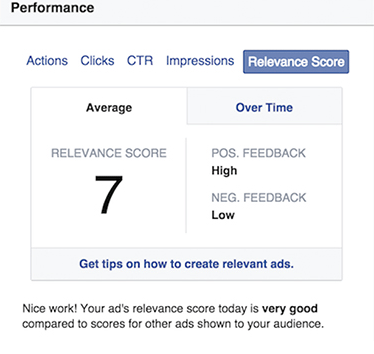 You can find the relevance score and positive and negative feedback from within Facebook ads manager.
Estimated action rates
An estimated action rate is a measure of how likely the eligible person is to take the actions required to get you the result you've optimized for. Below is an example Facebook use to explain how estimated action rates work:
If you're running an ad for cooking equipment that's optimized for purchase conversions, you're probably targeting it to people who are interested in cooking. However, cooking equipment's relevance to someone's interests doesn't necessarily mean they're going to purchase cooking equipment. That's why we factor in estimated action rates. From the pool of people interested in cooking, we try to find those that are most likely to complete a purchase.
Winning an auction
In each auction, the ad with the highest total value wins, and winning means the ad gets shown to the person in consideration. This means an ad that's high quality and very relevant can beat an ad that has a higher advertiser bid, but is lower quality and has less relevance.
Facebook Delivery Insights will help advertisers to see how campaigns are performing and understand what they should modify during the campaign to increase their likelihood of success.
Over to you
I hope you found this post useful and would love to hear your thoughts on Facebook Deliver Insights once they're rolled out globally.
I'd also be keen to hear your tips and best practices for creating highly relevant and high-performance ads on Facebook. Share your thoughts in the comments and I'd be excited to join the conversation.