Is it possible to create the perfect Facebook ad?
One that increases brand awareness, drives engagement, and leads to sales all in one go?
We'd like to think so!
But we needed a true expert on Facebook advertising to find out. One that really knows their stuff.
That's where VP of Marketing at DigitalMarketer, Molly Pittman, comes in clutch. Molly has been experimenting, iterating, and rocking Facebook ads for more than 5 years and currently manages millions of dollars in budget for dozens of clients.
In episode #42 of The Science of Social Media, Molly shares the 5 key elements of a rock-solid Facebook ad and how to seamlessly integrate each into your next ad campaign. They include:
Offer
Copy
Creative
Audience Targeting
Ad Scent
A huge thank you to Molly for packing this episode full of inspiration and actionable takeaways for social media managers and marketers looking to create the perfect Facebook ad.
This episode is available on:
In this episode, here's what you'll learn:
Molly Pittman gets back to the basics and shares 5 key elements of the perfect Facebook ad. Everything from copy to design, this episode is particularly useful for those looking to build a solid foundation in advertising. You'll also learn tons of other great things like:
The challenges marketers face with Facebook advertising
Why Facebook Ads are a lot like dating
The 5 key elements of a Facebook Ad and why
3 key takeaways for marketers looking to create a better Facebook ad experience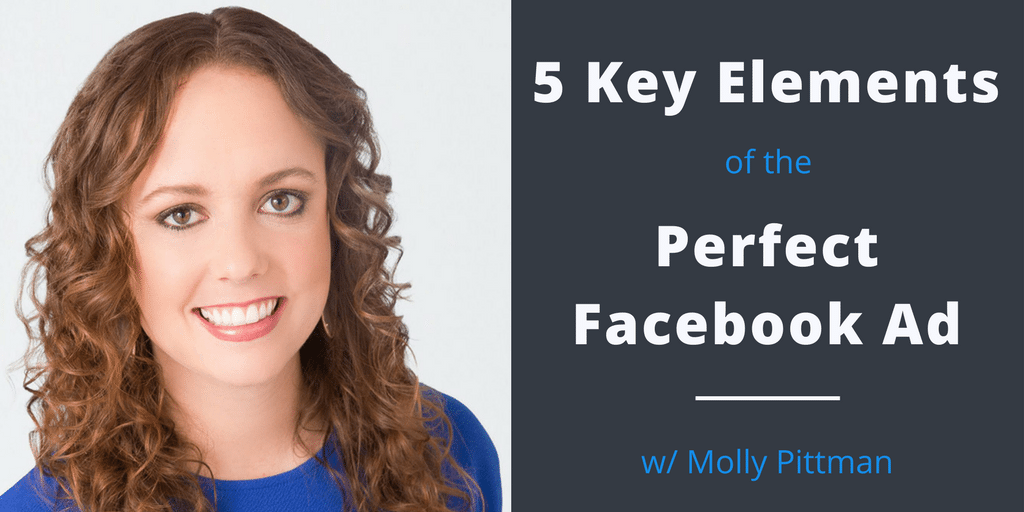 3 Takeaways for Marketers Looking to Create a High-Converting Facebook Ad
In Molly's words…
1. Think of Facebooks ads as a system
Don't expect to set up what I like to call, "one-hit-wonder-campaigns" that are going to raise awareness, leads, sales, and make you a million dollars overnight. Really think about the sequencing and equate it to building a relationship with someone in person.
2. Set expectations based off of the sequence
If the goal of your first Facebook ad is just to drive traffic to a blog post, maybe your success metric there is simply cost per click (CPC). Make sure that you're creating a system and that you're also setting appropriate goals and expectations based off of what you've outlined.
3. Just do it
I've been doing this for five years now and everyone asks how I got to where I am. And, sure, I've taken some awesome courses and I was able to speak with a lot of smart people, but most of what I've learned is from just doing. Consume as much as you can, but just do it. Until then, you won't really know what works for your own business.
A Great Moment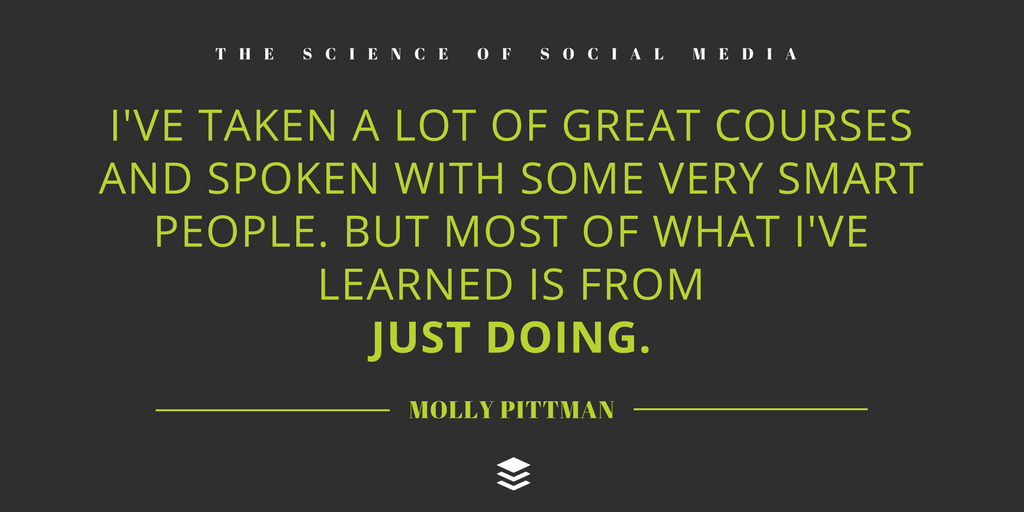 "I've taken a lot of great courses and spoken with some very smart people. But most of what I've learned is from just doing."

– Molly Pittman
Awesome People and Stuff Mentioned in the Show
Favorite Quotes
In terms of an ad platform, in my opinion, Facebook is great from a UI standpoint. But where it becomes hard is if you don't have the right Facebook ad expectations going in. Running a Facebook ad campaign is a lot like dating.
A lot of creating the perfect Facebook ad comes down to managing expectations and learning through trial and error.
Many brands and businesses create a Facebook ad that simply declares their product exists and that they should but, but they're not giving people a really good reason to click.
When creating the perfect Facebook ad, I recommend making the copy as personal, yet actionable, as you possibly can. It's almost as if you were speaking to a friend – identifying their pain point and then offering a solution that your product solves.
At Digital Marketer we call them "lead magnets" and basically it means giving people something free in exchange for the permission to follow up. These could be templates, a checklist, blog posts, white papers, ebooks or lots of other great things.
The creative (your ad copy and all visual elements) and this is the part of the your Facebook ad that will catch most people's attention. And you don't just want to catch people's attention so they stop. You want to catch people's attention if this offer relates to them.
When you're first starting out, it's really (really) important to do a ton of research on the audience "avatar" that you are trying to reach with your Facebook ads.
You want to make totally sure that when someone clicks on your Facebook ad and goes to your landing page that they don't feel like they've landed on another planet.
How to Say Hello to Molly (and us)
Molly is consistently on the forefront of paid and Facebook advertising strategies online. And she'd love to connect! If you'd like to follow along and learn more, you can find Molly on Facebook here, LinkedIn here, or catch more of her work at digitalmarketer.com.
Thanks for listening! We'd love to connect with you at @buffer on Twitter or with the hashtag #bufferpodcast.
Enjoy the show? It'd mean the world to us if you'd be up for giving us a rating and review on iTunes!
—
About the Show
The Science of Social Media is a podcast for marketers and social media managers looking for inspiration, ideas, and results for their social media strategies. Each week, we interview one of the very best in social media marketing from brands in every industry. You will learn the latest tactics on social media, the best tools to use, the smartest workflows, and the best goal-setting advice. It is our hope that each episode you'll find one or two gems to use with your social media marketing!
The Science of Social Media is proudly made by the Buffer team. Feel free to get in touch with us for any thoughts, ideas, or feedback.