F8 2016 is in the history books, and there was certainly no shortage of brilliant new Facebook features and ground-breaking announcements from the social media giant.
In his Keynote, Mark Zuckerberg took us through Facebook's 10 Year Plan with an emphasis on "developing a family of apps to share anything they want with anyone." And although many of Facebook's goals sounded highly ambitious, the company has already laid a solid foundation to successfully execute their plan. At the heart of it all, Zuckerberg's message revolved around the connectivity of the planet and bringing people together one by one.
Now that the speculation of what might be at F8 is no longer, let's jump into the 10 top announcements and new Facebook features we can all expect moving forward. We'd also love to share what that will mean for you as marketers and for your business.
Let's go!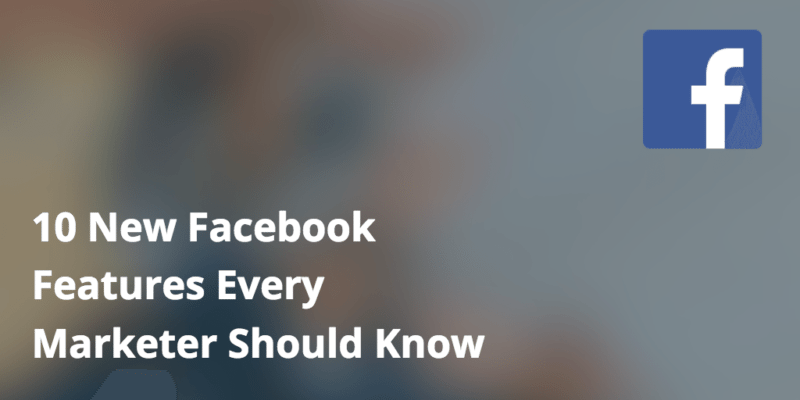 1. Messenger Platform
As was highly anticipated leading up to the conference, Facebook announced at F8 that it has opened up Messenger Platform bots to all businesses. Or, as The Next Web called them, "virtual assistants."
Messenger bots will give businesses the opportunity to connect with customers in new and unique ways with services from subscription automation to customized communications to e-commerce purchases. "I can guarantee you you'll spend way more money than you want on this," joked VP of Products David Marcus. "It's very addicting."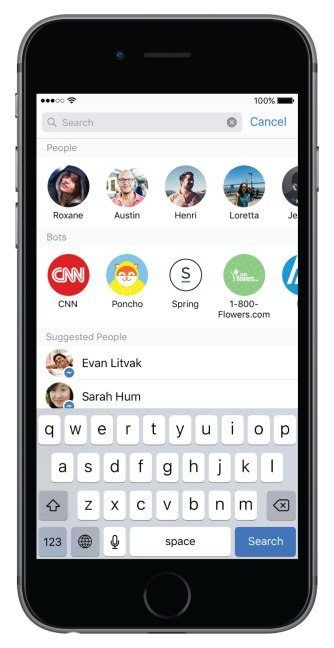 What this means for marketers
Messenger bots will open up an entirely new way for users to connect with businesses and brands in avenues that were previously unavailable. Essentially, it's going to fundamentally change the way we share and interact with social media. And given the 900M monthly users that Messenger currently boasts (that number growing every day), we are seeing a monumental shift from "public" to "private" social media right before our eyes.
Facebook mentioned that all businesses and developers will gain access to documentation and best practices around building their own bots for Messenger. If building bots is outside the scope of your business' capabilities, Facebook will also be offering a list of "bot partners" along with their sophisticated bot engine.
2. Live API
Leading up to F8, it was no secret that Facebook was placing a huge emphasis on the importance of video on social media. That combined with Facebook's effort to create immersive experiences for users, the announcement of the new "Facebook Live API" was welcomed by developers with open arms.
Live API offers "a new way for developers and publishers to join forces to build immersive and interactive live video experiences on Facebook." In other words, businesses can now stream Facebook Live broadcasts from a variety of devices and setups, advancing previous notions of live video from personal phones alone.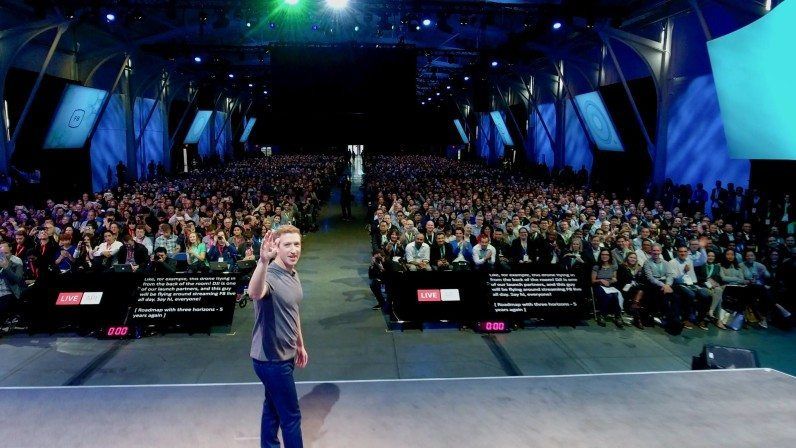 What this means for marketers
Facebook's video views and engagement are off the charts. In January 2016, Zuckerberg stated that users are watching more than 100 million hours of video per day on Facebook, with that number rising by the day. Marketers can expect Live video to be the #1 priority in the Facebook algorithm.
We're also going to see some awesome things come from this API. Previously, users had to have a smartphone in order to live stream, but now brands' options are limitless. Companies that jump on the trend early and figure out new and exciting ways to "go Live" will rise to the top of feeds everywhere.
3. Video Discovery
Just prior to F8 2016, Facebook launched a brand new mobile video browsing hub and video search engine on mobile devices making it easier for users to browse top videos as well as videos from their friends and family. They also integrated Live videos directly into the Facebook Search tab so that users can view Live clips in relation to trending news and topics.
There is an apparent push to be the leader in content discovery and distribution and not simply a channel where users happen to stumble across great content. Video gives users the opportunity to access real, authentic content from anywhere they are with easy-to-use search and share features.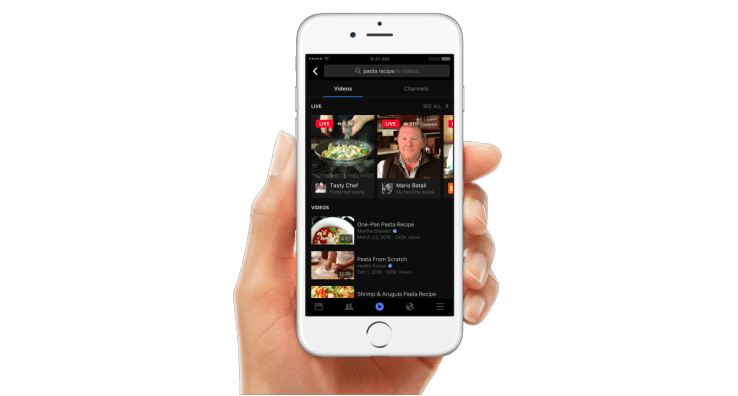 What this means for marketers
For Facebook, becoming a content leader and driving people to watch more videos isn't their only goal. They also are placing a huge emphasis on users sharing more video content as well. As The Information reports, Facebook is struggling to stop a decline in "original" sharing. While users are sharing news stories, they're posting less and less content from their own lives.
The numbers were particularly true for users under the age of 30. Marketers can expect Facebook to gain a share of users back from Snapchat (the fastest-growing video sharing platform) as Live becomes more and more prevalent on social. We encourage marketers to experiment with Live as soon and as often as possible.
4. Profile Expression Kit
In 2015, Facebook launched profile videos which allow users to take or upload a video of up to 7 seconds to use as your profile video. Profile videos appear at the top your profile just like a profile picture.
Currently in closed Beta, Facebook's Profile Expression Kit currently supports six apps: Boomerang by Instagram, Lollicam, BeautyPlus, Cinemagraph Pro by Flixel, Lollicam, MSQRD, and Vine.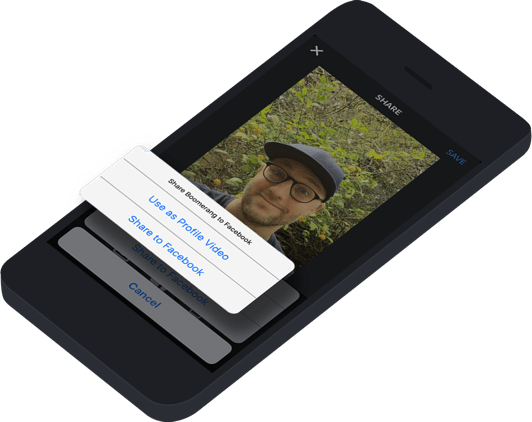 What this means for marketers
Facebook's Profile Expression Kit will be a great opportunity for businesses to bring their profile picture to life and show off their personality. Marketers can think of the kit as yet another way to connect with audience members in an authentic way. Those that do will stand out from the rest.
For apps that incorporate the Profile Expression Kit, it will allow users to upload the videos they take using that app directly to their profile picture in a few simple clicks. For those app developers, they will enjoy the attribution in the Facebook news feed… A win-win!
5. Virtual Reality
One announcement that had the crowd excited at F8 was Facebook's unveiling of their professional-grade 360-degree video camera to film virtual reality (VR) footage. The Surround 360 contains 17 cameras and costs a whopping $30,000 to build.
For personal VR devices, Facebook CTO Mike Schroepfer gave audience members a live and quite amazing demonstration of Oculus Rift. Facebook is calling this technology "social VR" – connecting two or more people in a virtual world. "Proximity would no longer determine who you spend your time with," explained Yaser Sheikh, head of Oculus research.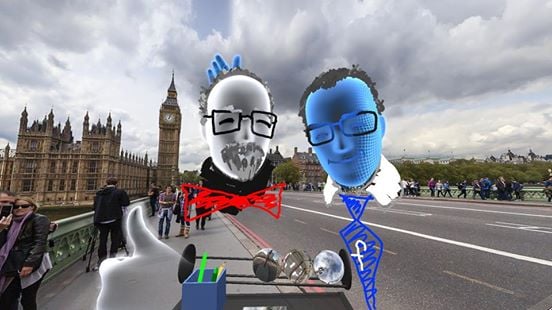 What this means for marketers
Virtual reality is still very much a niche market. Technology is expensive and the computing power needed to create and run full 360 videos is massive. So for the time being, VR is limited to big-budget businesses willing to pay to tap into the VR trend.
Marketers can keep their eye on the development of personal VR devices and production techniques. Creating 360 videos is a top priority for many tech companies, and so we wouldn't be surprised to see the rapid development of affordable and more efficient devices.
6. Quote sharing
Have you ever had any trouble when trying to share a specific quote from an article or book from a mobile device? I know I have! Facebook's new Quote Sharing feature aims to make it extremely easy to share quotes and even add your own thoughts or comments before you share to Facebook.
As you may have guessed from the feature name, Quote Sharing will help users share quotes or lines or text directly from an article, book, or app to Facebook. Facebook is again showing an acute focus on user experience within their mobile platforms.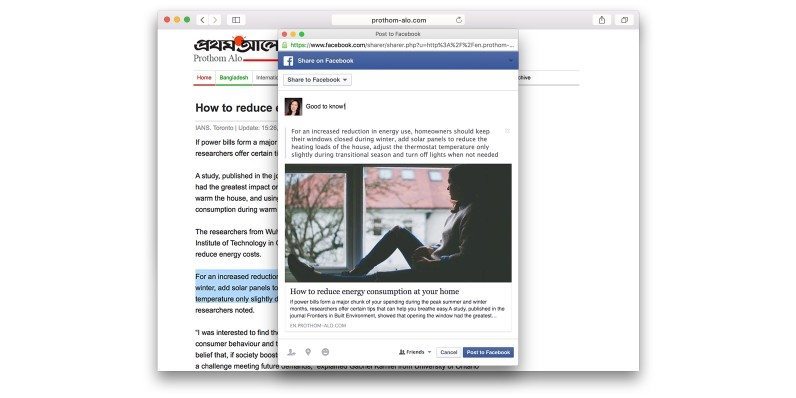 What this means for marketers
Publishers will now have the access to a tool that lets them build share quote buttons directly into their web pages and apps. Which of course could potentially mean more sharing of their content on Facebook simply because the user experience is much smoother.
It's a simple feature, but a feature that represents a brand new way for people to snag their favorite pieces from articles and post them to Facebook – All while driving more traffic back to the publishing website.
7. Save button
Imagine the awesome features of Pocket, but specifically for Facebook. Facebook's new "Save" button is now open for use and allows users to save things they find across the Web – like a new outfit or a Buffer blog post (!) – and save them for viewing later.
Like other platforms that offer this same service, Facebook confirms that you'll be able to view saved links later from any device. Those familiar with the Facebook "Save" button will be pleasantly surprised that it works seamlessly across the web.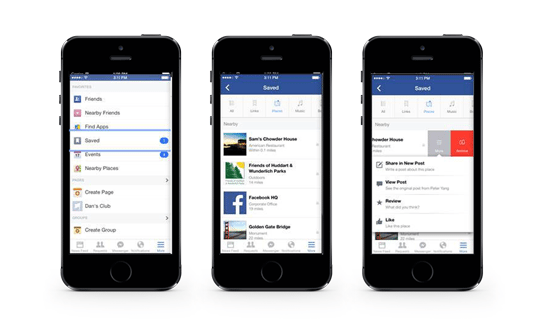 What this means for marketers
Although savings links isn't a revolutionary product feature for marketers, we'll be keeping an eye on the Facebook "Save" button in terms of engagement, link tracking, and post success. With Facebook moving to a focus on Instant Articles, it will be interesting to see how post analytics are integrated together.
Businesses that measure the amount of "Saved" articles they are receiving on Facebook will get a good idea of what's working and what's not. This can help guide strategies and formulate post or content ideas for the future.
8. Account Kit
Account Kit helps developers to grow their apps by giving people a choice to sign in with their phone number or email address without the need for a password.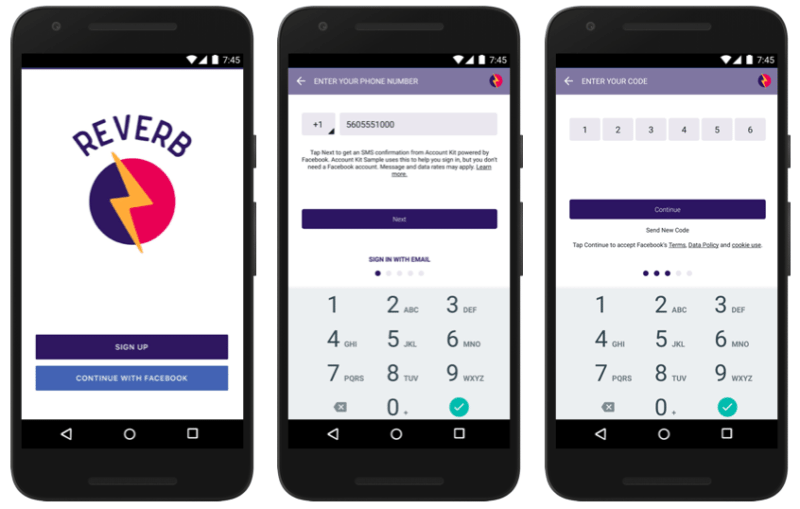 What this means for marketers
People can use Account Kit without sharing any information from their Facebook profile—they don't even need a Facebook account to use it. By removing these major barriers to entry, Account Kit could help marketers to increase sign-ups and expand your audience.
One early success story for Account Kit is Saavn, a music streaming app, which saw over half a million registered phone number users and a 33% increase in daily new registrants within the first two months after integrating Account Kit phone number login.
9. Instant Articles
Though they have been around since May 2015, Instant Articles were opened up to all publishers of any size on April 12 at F8.
Instant Articles makes the reading experience as much as ten times faster than standard mobile web articles – which Facebook say can take up to 8 seconds to load. Instant Articles provides a whole host of interactive features that help stories come to life on mobile, including auto-play video and tap-to-zoom image galleries.
What this means for marketers
Instant Articles could be an excellent way to extend the reach of your blog content and generate more engagement on Facebook. As a starter, the early stats Facebook released alonsgide the annoucemnet look encouraging:
Instant Articles received 20% more clicks than mobile web articles from the News Feed
Once someone clicks on an Instant Article, they're 70% less likely to abandon the article before reading
They are shared 30% more than mobile web articles on average
You can check out our complete guide to getting set up with Instant Articles here.
10. Crossposted video
To simplify posting video, Facebook launched a new way for publishers to crosspost videos easily within and across Pages owned by the same Business Manager account. Page owners can now give other Pages in their Business Manager permission to reuse a video and also create new posts with a previously uploaded video without having to re-upload it.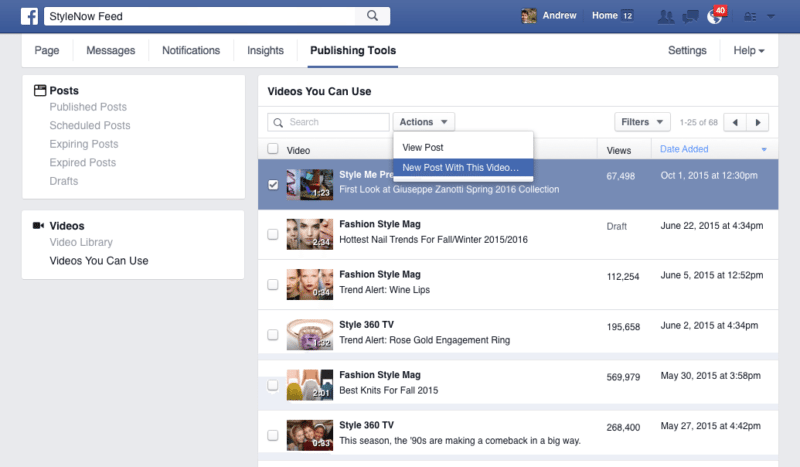 What this means for marketers
Video has been a huge focus for marketers on Facebook over recent years. And with many brands creating multiple Pages to engage different audiences, often the same videos are reused across different posts and Pages. This feature will simplify the video sharing process for many marketers and also make it easier to track performance across multiple pages.
Over to you
Thanks for checking out this post. I'd love to hear your thoughts on all the new features and updates Facebook announced at F8. Which are you most excited about? Let me know in the comments.